This post may contain affiliate links, meaning if you book or buy something through one of these links, we may earn an affiliate commission at no additional cost to you. Learn more
Hearty, full of flavor, and eaten with so many beloved dishes, these Indian breads play an integral role in making the Indian cuisine so many of us know and love what it is today.
Whether you're visiting India or taking a trip to an Indian food market near to you, keep your eyes peeled and senses heightened for these beloved breads, and make sure you try them and take some home with you.
Indian Breads
1 – Parathas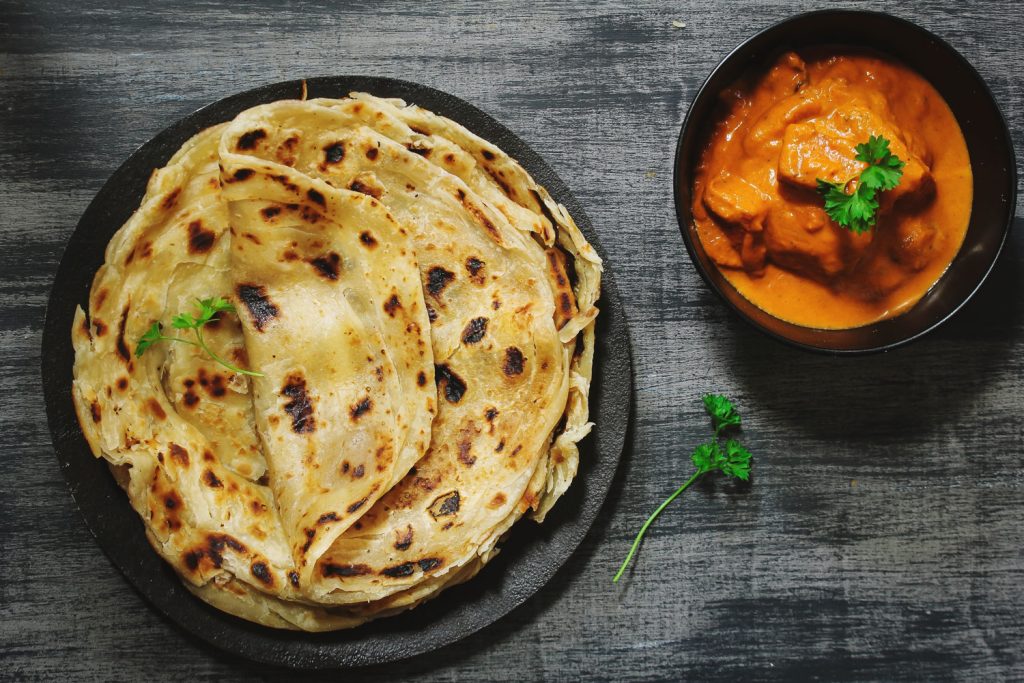 Paratha is an unleavened flatbread made with whole wheat flour that is cooked on a tava, which is a flat wok, or griddle. The paratha can be eaten as it is or stuffed, and some popular stuffed parathas include alu (potato) paratha, gobi (cauliflower) paratha, methi (fenugreek leaves), cheese paratha, paneer paratha, among many others.
A number of vegetables, spices, and herbs can be used to stuff parathas. As the parathas, both plain and stuffed, are cooked with ghee or oil, they are not only packed with flavor and very satisfying to eat, but are also filling and loaded with nutrients.
While usually eaten for lunch or dinner, in some parts of India parathas, or a version of them, are eaten at breakfast. Some popular accompaniments for parathas are Indian pickles, raita (yogurt dip), dal, and curry – which can be with vegetables, paneer, chicken, or lamb.
2 – Kulchas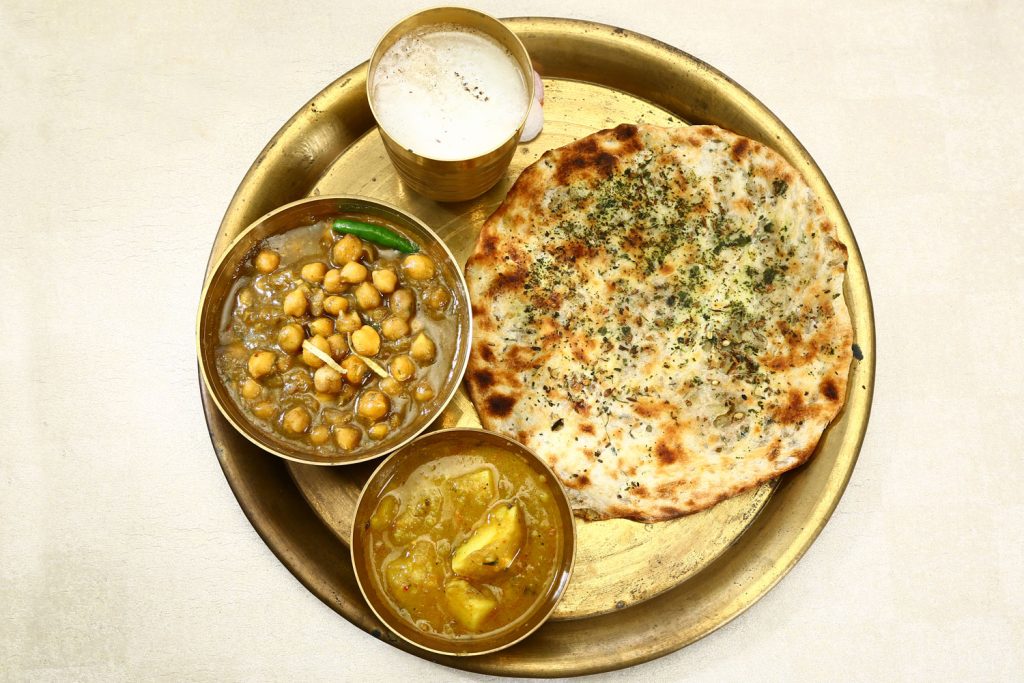 Kulchas are thick, fluffy, leavened breads that are baked in the tandoor or cooked on the tava. Kulcha is usually made with maida, or all-purpose flour, along with water, salt, sometimes a little yogurt, and a leavening agent.
Kulchas can be made as there are or can be flavored with spices and seeds. The bread can also be filled with the likes of spiced potatoes or other vegetables. Like all leavened breads, the kulcha dough too needs to be left to rest for a couple of hours. The dough is usually covered and then allowed to sit out or placed in the fridge for about two hours. This will help the dough rise.
The kulcha requires only a small amount of leavening agent as we only need the kulcha to fluff up a little. Once baked, kulchas can be enjoyed with chole or chana, a type of spiced chickpea curry.
3 – Theplas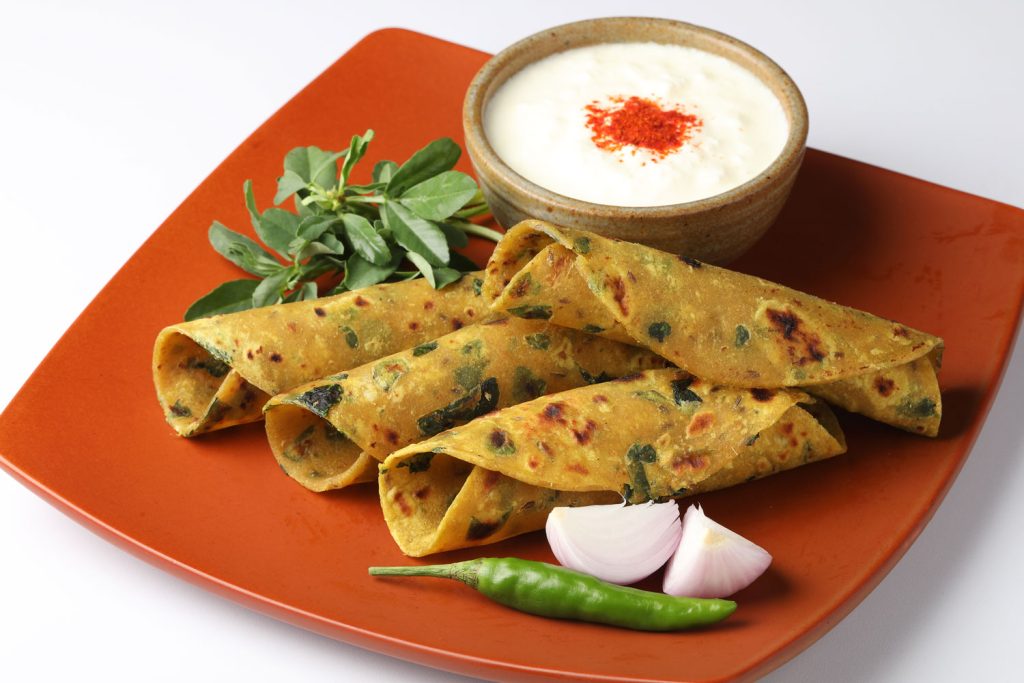 This popular Gujarati bread is not just a humble, hearty, and healthy household staple but a popular traveling food for many Indians. When made correctly, it can be easily wrapped, packed, and tucked away and stays fresh for longer than other breads.
Thepla is often eaten at breakfast or as a snack. It is made most commonly with whole wheat flour, besan (gram flour), methi (fenugreek leaves) yogurt, and a variety of spices. Methi thepla is the most popular variety of thepla, but it can also be made with vegetables like potatoes, carrots, radishes, and bottle gourds.
Ghee or oil is needed while cooking the thepla as the bread can dry out and harden. As it is a quick, easy, and convenient snack, thepla is usually eaten with yogurt, sweet or spicy pickles, a simple side dish like dal, or you can modernize it and add a generous helping of cream cheese.
4 – Parottas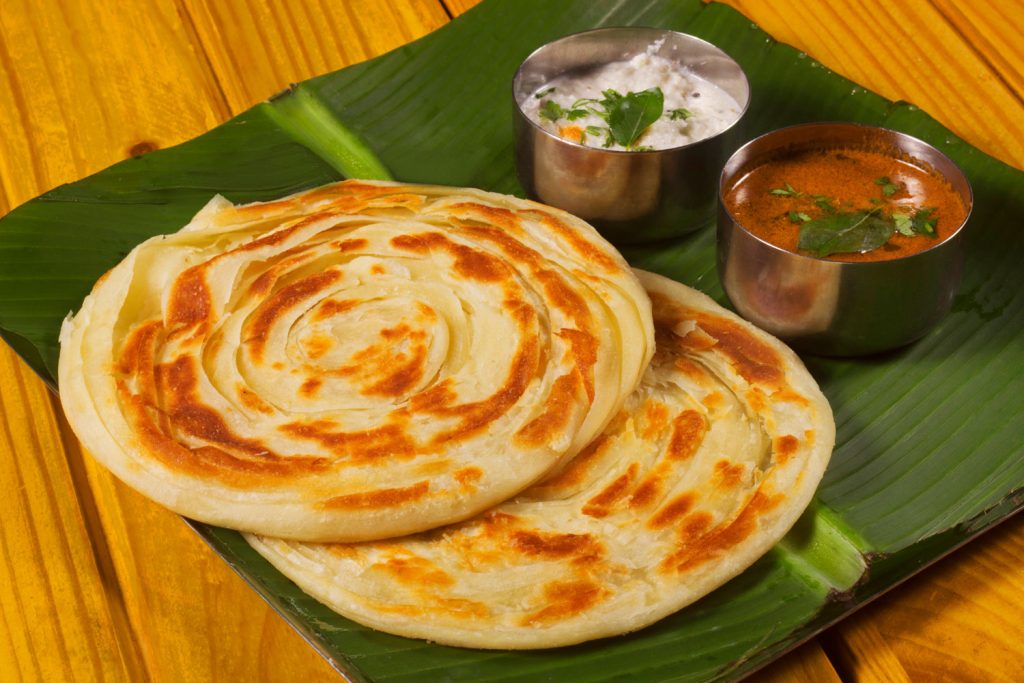 Parotta is a South Indian version of the paratha. However, parotta is usually a flaky, layered flatbread and is made with no stuffing. Parotta is softer and tears apart easier than its North Indian counterpart. This type of parotta is also called veechu parotta or Malabar parotta.
Malabar parotta refers to the State of Kerala, also called Malabar, as it is a hugely popular street food there. In fact, in Tamil Nadu you can find a deep-fried version of this parotta.
Parotta can be made with whole wheat flour or all-purpose flour. It is eaten with South Indian vegetable kurma, which is a vegetable stew that is made with spices and coconut. It can also be enjoyed with chicken curry or a salan, which is a spiced gravy that often accompanies parottas.
5 – Rumali Roti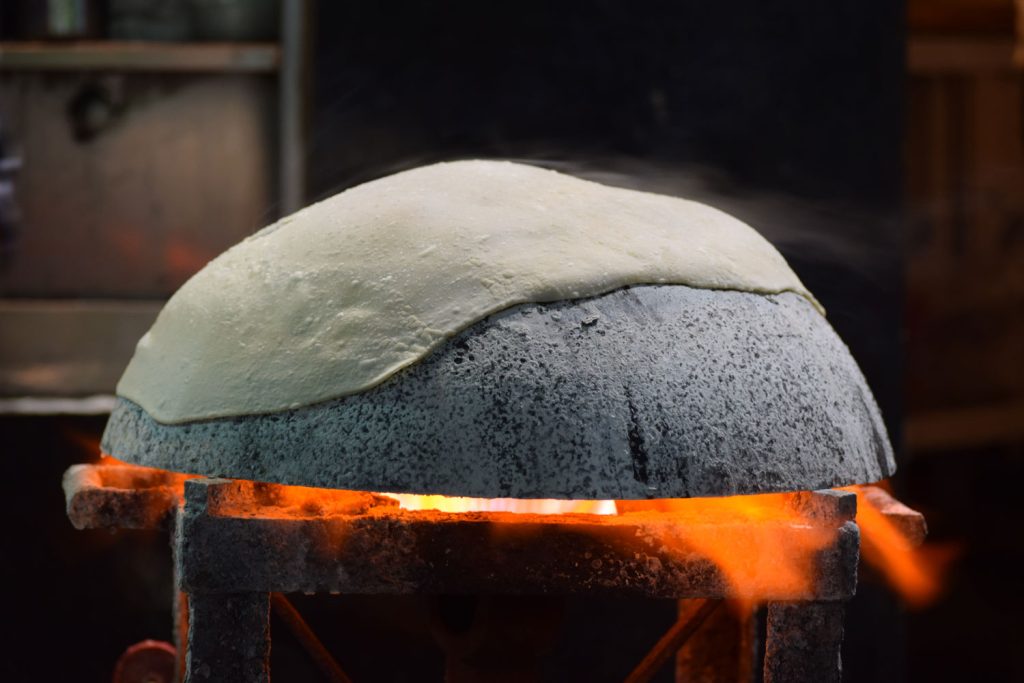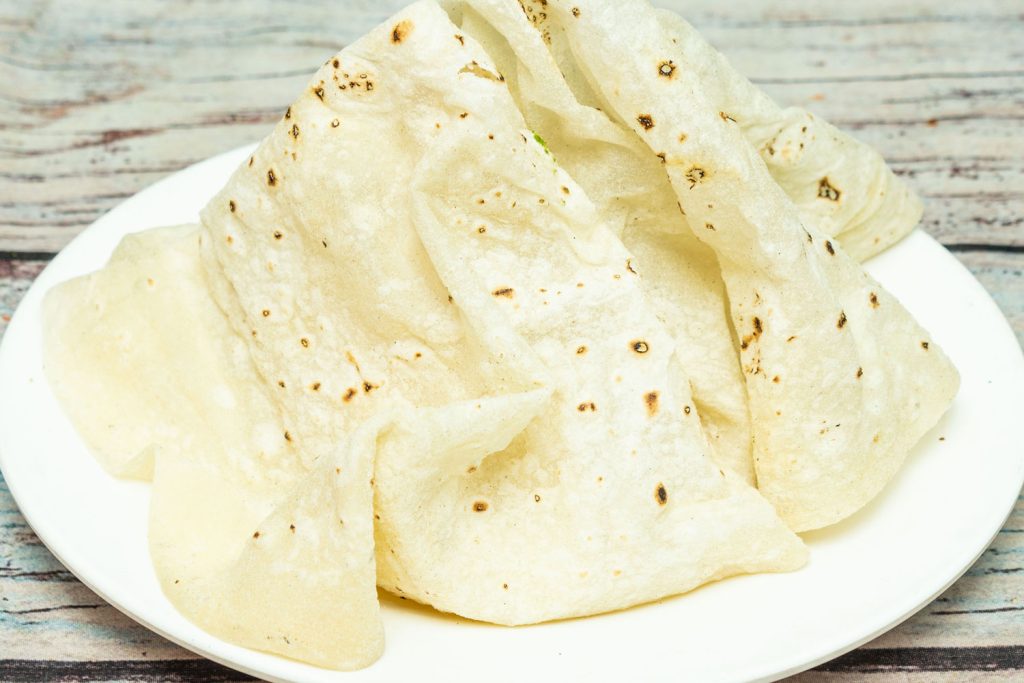 Rumali roti is a soft and paper-thin unleavened flatbread that is traditional to Awadhi cuisine and is said to have had its origins in Hyderabad. Rumal literally translates to "handkerchief," and is so called because of how thin the flatbread is.
Rumali roti is made with whole wheat flour and all-purpose flour. It is rolled out paper thin and often tossed and twirled in the air, similar to pizza in some parts of Italy, before being cooked. The bread is cooked in an inverted kadai, or wok, over a flame.
Rumali roti can be found in different parts of Asia, referred to as manda, paasti, and lamboo roti, among other names. This thin flatbread is often eaten with tandoori dishes like dal makhani, paneer butter masala, and other spiced gravy dishes.
6 – Naan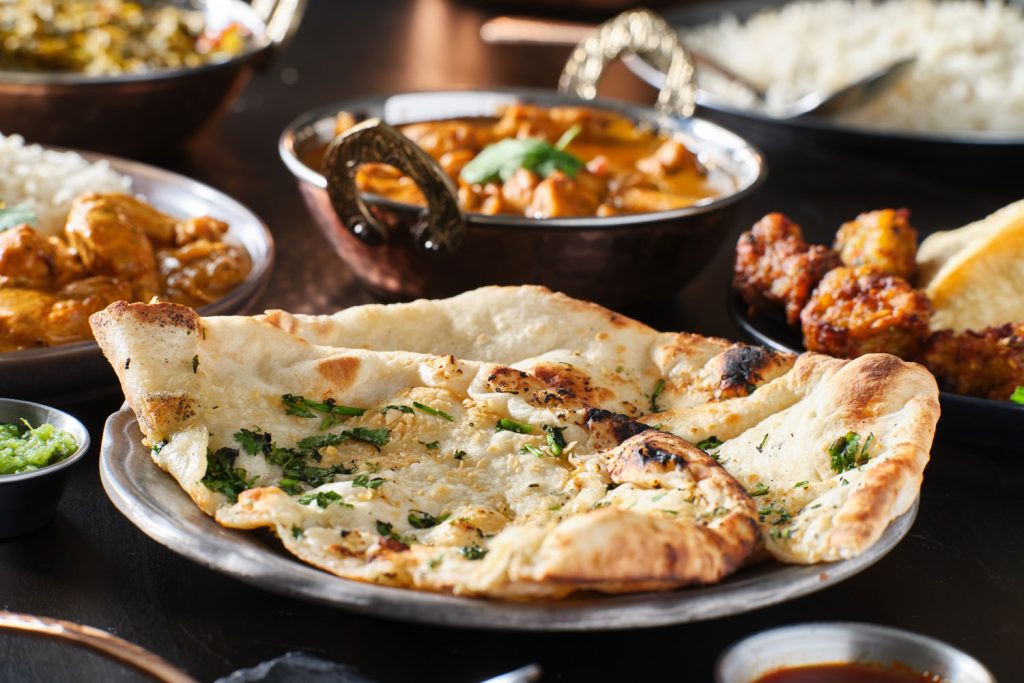 Naan is one of the most well-known and recognizable Indian breads across the world. It is is a leavened flatbread made with a rising agent like yeast or other bread starters and is cooked in a tandoor.
Naan is a soft bread that can be plain or spiced. The most popular varieties of naan include butter naan, garlic naan, pudina (mint) naan, and plain naan among a whole host of others. The Peshawari or Kashmiri naan is a sweet version of the naan, which included raisins and coconut flakes.
While naan found fame as an Indian flatbread, there is some version of the naan in most Central Asian countries. Naan can be eaten with any spiced gravy or curry which includes meat, vegetables, paneer, or a combination, and also goes great with dals.
7 – Chapathi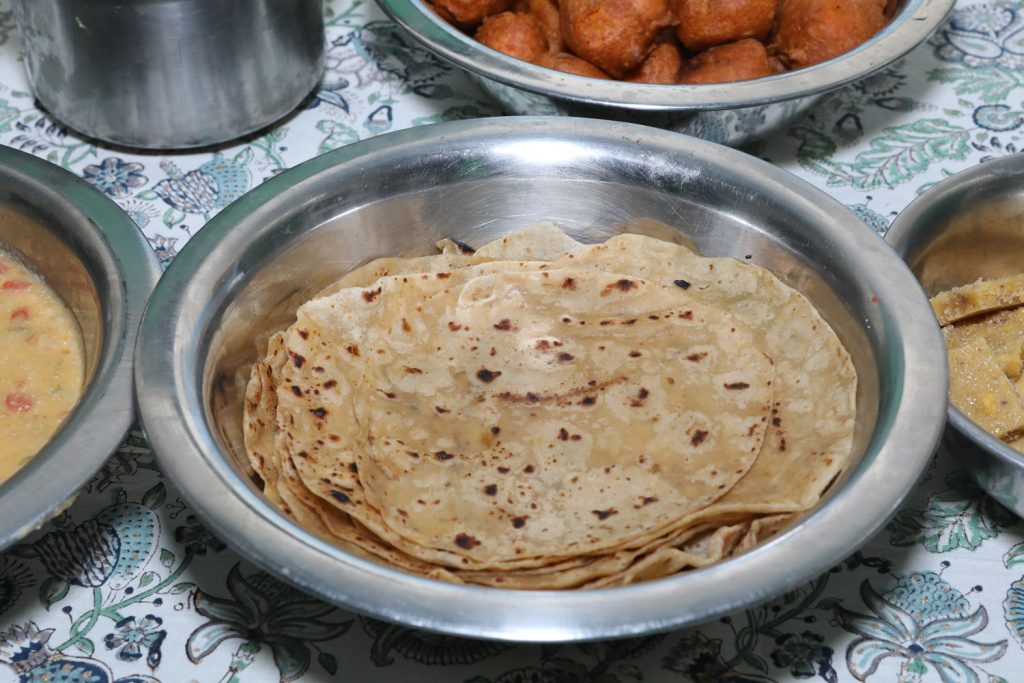 Chapathi is the simplest version of the Indian flatbread. It is made with whole wheat flour and kneaded with water, oil, and salt to form a dough. Chapathi is unleavened and uses no rising agent. It is quick and easy to make, and simpler to digest than other Indian breads.
Once the dough is rolled out, the chapathi is cooked on a tava or flat pan and then directly over the flame where it balloons up. Oil or ghee can also be added to the chapathi to keep it soft and from drying out.
Chapathi is an everyday staple in most households and can be eaten along with different kinds of dals, vegetables like okra, potatoes, and cauliflower, as well as meat and vegetable gravies and stews.
Chapathi has several names, including roti, which is a generic name referring to all Indian flatbreads, phulka, rotli, and poli, among others.
8 – Puri
Puri is deep-fried Indian bread made with unleavened flour. While it is most commonly made with whole wheat flour, it can also be made with semolina flour. The dough is rolled out into small circles and deep-fried in oil, where the puri puffs out when fried and becomes a gorgeous golden brown in color.
Puri is often eaten as a snack or at breakfast. The most popular accompaniment for puri is a potato masala, which is a dish of chopped potatoes that are sauteed along with onions and spices.
Other vegetable gravies can also accompany puri, and in some parts of India, puri is eaten as a sweet treat, dipped in milk and sugar.
9 – Pav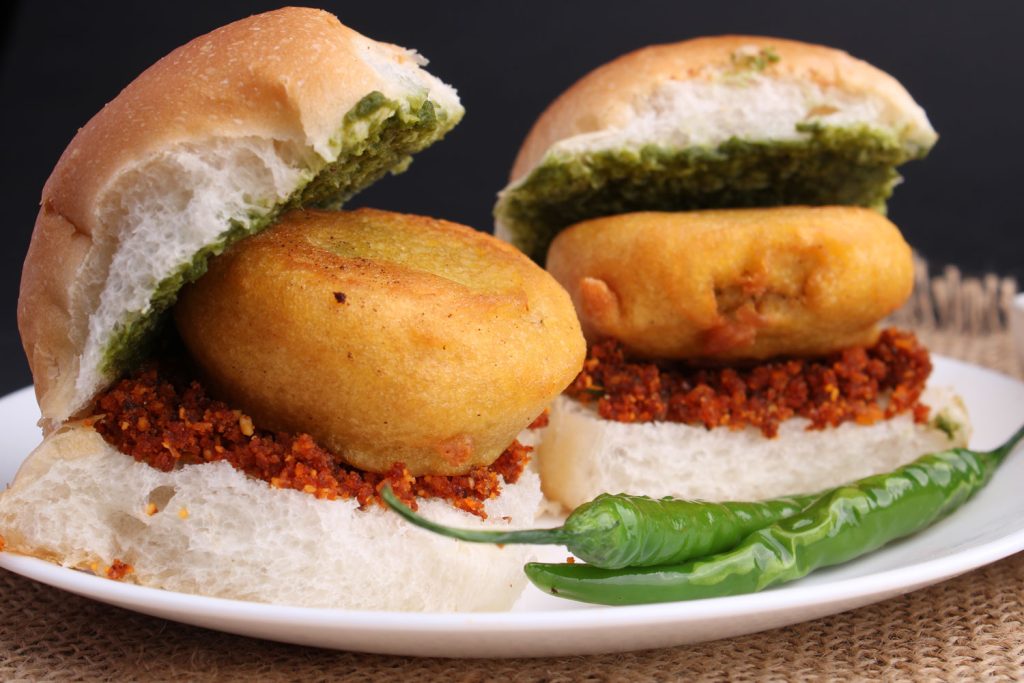 Pav are essentially Indian buns, often used in Indian chaat like vada pav and pav baji. Pav is similar to a dinner roll, and is soft and delightfully bouncy. While pav is available throughout the country, it is especially famous in the state of Maharashtra.
Pav is made with refined white flour and no egg, and is found in abundance in Indian grocery stores. Pav is a versatile snack and is commonly eaten along with a vegetable gravy called bhaji, where the combination is known as pav bhaji.
It is also used in dishes such as vada pav, essentially an Indian burger with a potato patty, usal pav, misal pav, and plenty of other varieties of pav dishes. Despite its versatility, pav itself only comes in two forms: the drier kadak pav and the softer naram pav.
10 – Mangalore Buns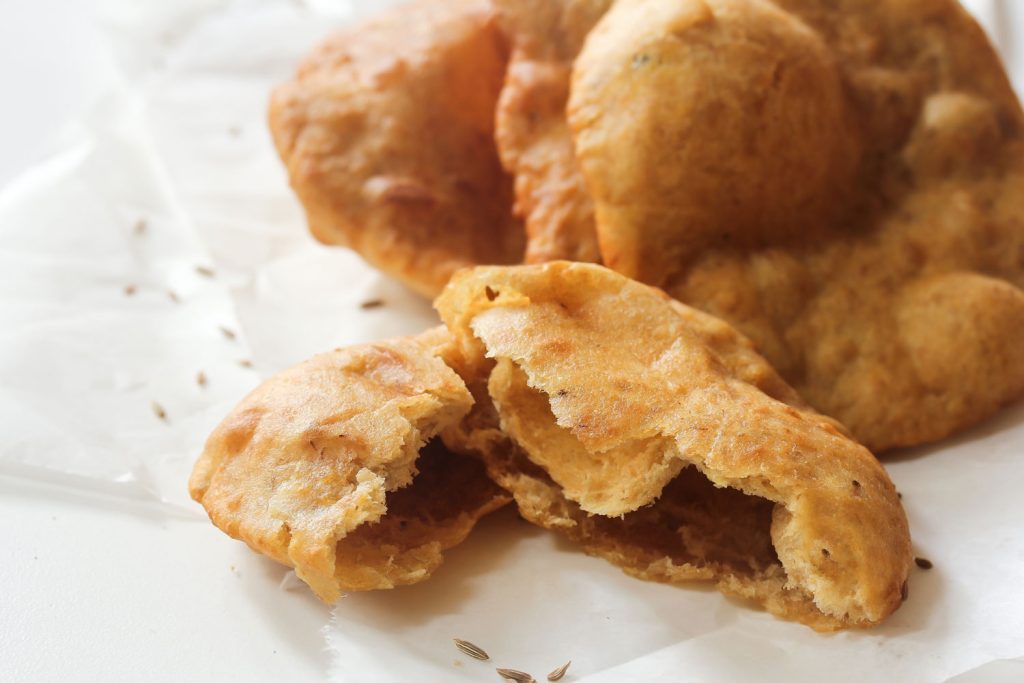 The Mangalore bun is a unique flatbread found in the state of Karnataka, and named after the city of the same name in which they were first made. The bun is similar to a puri, wherein it puffs up when fried. What sets it apart from other breads, however, is the use of mashed bananas in the recipe, hence Mangalore buns are also called banana buns.
The bun is made with ripe, mashed, or pureed bananas, whole wheat or all-purpose flour, sugar, baking soda, oil, cumin, and yogurt. Once mixed, the dough needs to rest for a minimum of 4 hours to 24 hours. It is then rolled out into small circles and deep-fried.
The result is a soft, sweet, and delicious puri that has both sweet and savory notes. It is best enjoyed with milk or as a side to tea.
11 – Makki Roti
Another unique, quintessentially Indian flatbread is the makki roti, a bread made from maize flour. Makki roti is most commonly eaten in North India in places like Himachal Pradesh, Punjab, Kashmir, Gujarat, and Rajasthan.
Each region has its favorite way to eat this bread, but many believe makki roti is best paired with sweet or spicy pickle, ghee, jaggery, or some variation of saag, a leafy green dish made from mustard greens.
12 – Sheermal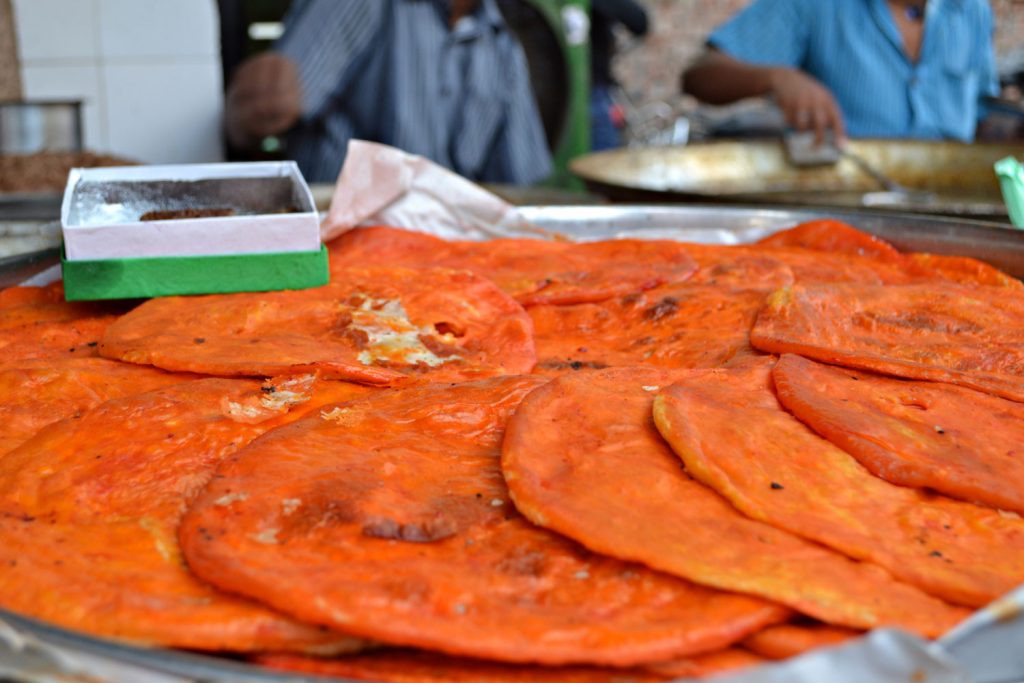 Sheermal is another popular Indian flatbread that is believed to have made its way to the subcontinent by Iran and is now a staple of Lucknowi and Hyderabadi cuisines.
Sheermal is similar to the naan but is a sweeter, saffron-flavored flatbread. It is made with all-purpose flour, milk, saffron, sugar, and cardamom. Sweet sheermal tastes best eaten with dishes like kebabs, alu tikki (potato patties), and lamb curries.
13 – Bhatura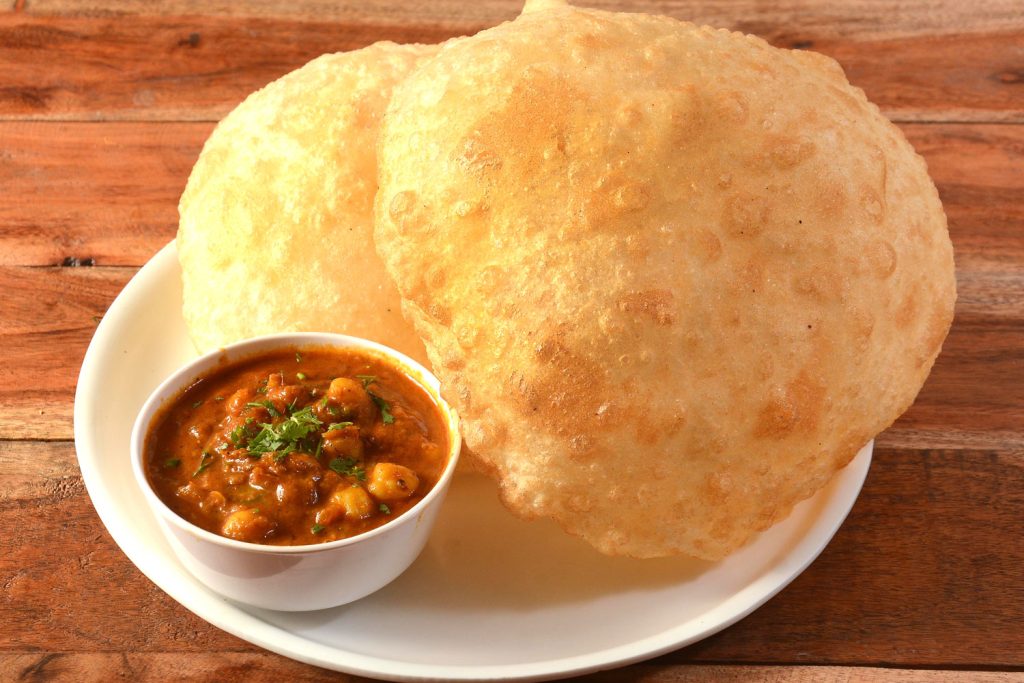 Chana bhatura is easily one of India's most beloved dishes, and can be found in every part of the subcontinent. Bhatura is similar to puri but comparatively gigantic in size.
Bhatura tastes very similar to puris, but are instead made with all-purpose flour, while puri is most often made with whole wheat flour.
Mixed into a dough, rolled, and deep-fried, bhatura is eaten as a snack or at breakfast. Chana bhatura or chole bhatura is arguably themost famous bhatura dish, consisting of a spiced chickpea curry that the bhatura is dipped in.
14 – Puran Poli
Puran poli is a sweet flatbread that is often prepared for and eating during celebrations or festivals. The flatbread is made from wheat flour, chana dal (split chickpeas), and jaggery. It is prepared in a similar way to a chapathi, stuffed with sweetened dal, rolled out, and cooked on a tava.
Puran poli is best enjoyed with a sizeable dollop of ghee. The flatbread is also known as obbattu, bobbattu, hologe, bakshalu, among many other names as there is a version of the puran poli in most parts of India.
15 – Bhakri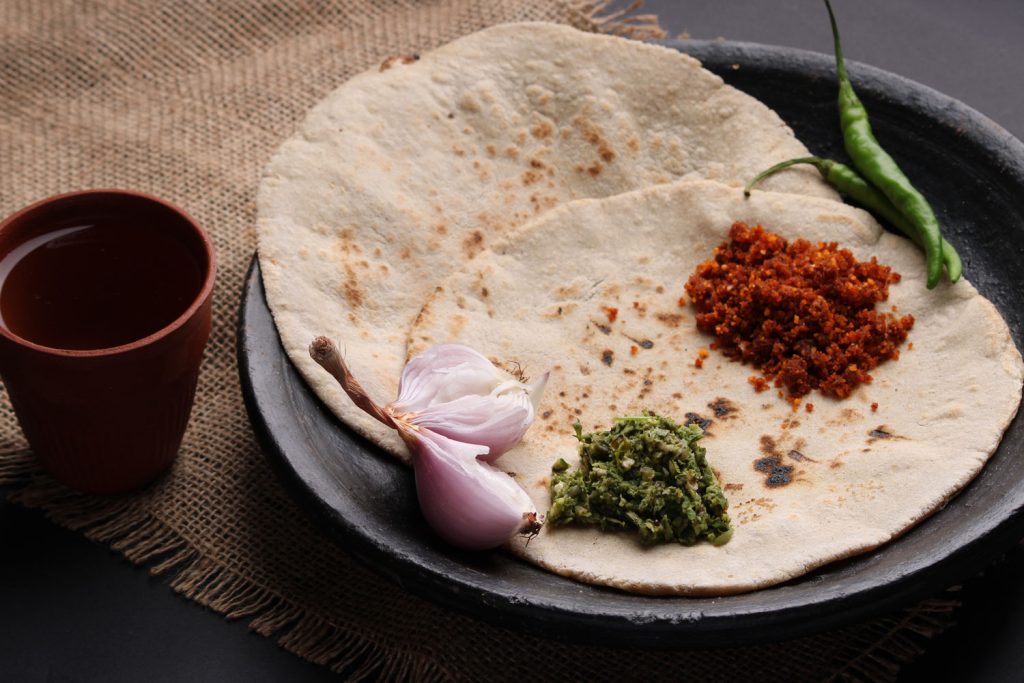 A lesser-known Indian flatbread is the bhakri, made with millets like bajra (pearl millet), jowar (sorghum or great millet), or ragi (red finger millets). These millets are highly nutritious and packed with protein and antioxidants.
The bhakri is made similar to regular chapatis, except that the millets make this type of flatbread a little drier. Bhakri can be made hard and crunchy, or soft, depending on the way it is prepared.
Bhakri is most popular in Maharashtra and Karnataka and is eaten with ghee, yogurt, chutneys, pickles, and other regional sides that include an assortment of vegetables and greens.
Indian Breads Summary
Some of India's most iconic and beloved dishes would be nothing without their trusted bread companions, providing a filling, hearty foundation on which their magnificent flavors can truly come to life.
As you can tell from this article, bread plays such a huge part in Indian cuisine, and whether you love something a little sweet for breakfast, or a thick, filling slice of bread to accompany a hot, spicy dish, there's a bread in India (or several) for both Indians and tourists to fall in love with!
You Might Also Like to Read
Save and Pin for Later
Visiting India soon? Keep this article for safekeeping by saving it to one of your Pinterest boards.
Local Insight Contributor: Nandhini Parthib is an Indian content writer, deeply passionate about Indian culture, travel, and cuisine, who is keen to share more about India through her writing.