This post may contain affiliate links, meaning if you book or buy something through one of these links, we may earn an affiliate commission at no additional cost to you. Learn more
Peruvian food is some of the most unique you'll ever try. The country's cuisine is built on fascinating fusions from other countries, some dating back millennia.
When you visit Peru, we highly recommend trying these incredible local foods. With Japanese, Spanish, and Arabic influence, to name but a few, the different flavors and fusions on offer are truly mind-blowing.
16 Popular and Traditional Peruvian Foods
1 – Ceviche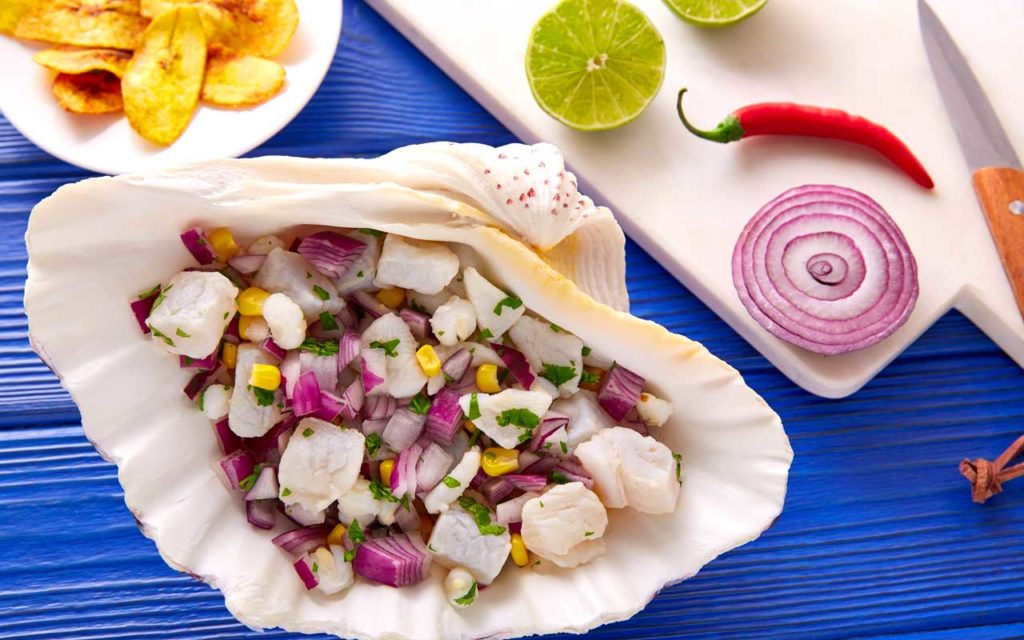 Quite simply, you cannot visit Peru without trying ceviche. Ceviche is a delicious seafood dish popular throughout the country.
Its prime ingredient is raw fish that has been marinated in citrus juice, commonly lemon or lime. Fish often used include bass, snapper, and cod.
Recipes vary throughout Peru. Ceviche, however, is commonly served with chopped onions, chili and coriander. It can be served with a range of sides, such as sweet potato, avocado, and corn.
Sources say the dish dates back 2000 years, first eaten by the Moche. Moche were a civilization that lived along the Peruvian coast. They would ferment raw fish in banana and passion fruit juice.
Ceviche is tender, succulent, and contains an array of intense flavours. From takeaway to fancy resturants, there's so many ways to enjoy it.
2 – Aji de Gallina Empanadas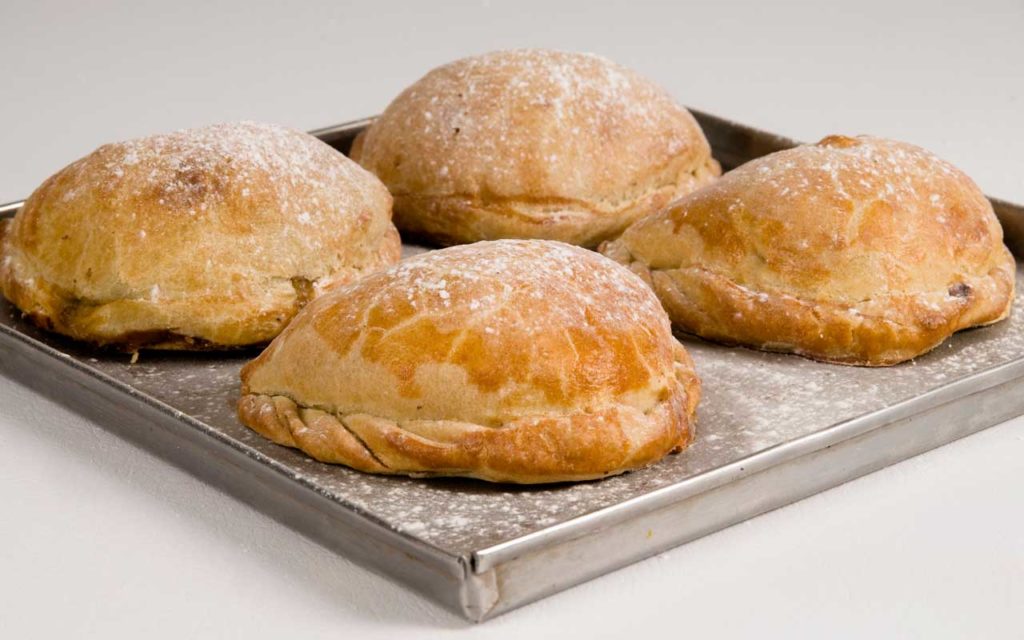 A Latin American favorite, empanadas were filling the bellies of the Spanish in the 1500s long before they arrived in South America.
An empanada is a baked or fried pastry, similar to a British pie or pasty. Their delightful shape comes from folding the dough over the filling.
Empanadas come in so many flavors. Meats, most commonly beef, are one of the most popular recipes. But you can find them with vegetables, cheese, and many other flavorful combinations.
As Peruvian foods go, they're incredibly delicious. Holding that warm empanada in your hand and taking that first bite of crispy dough and tender beef is a wonderful experience.
3 – Lomo Saltado (Beef Stir-Fry)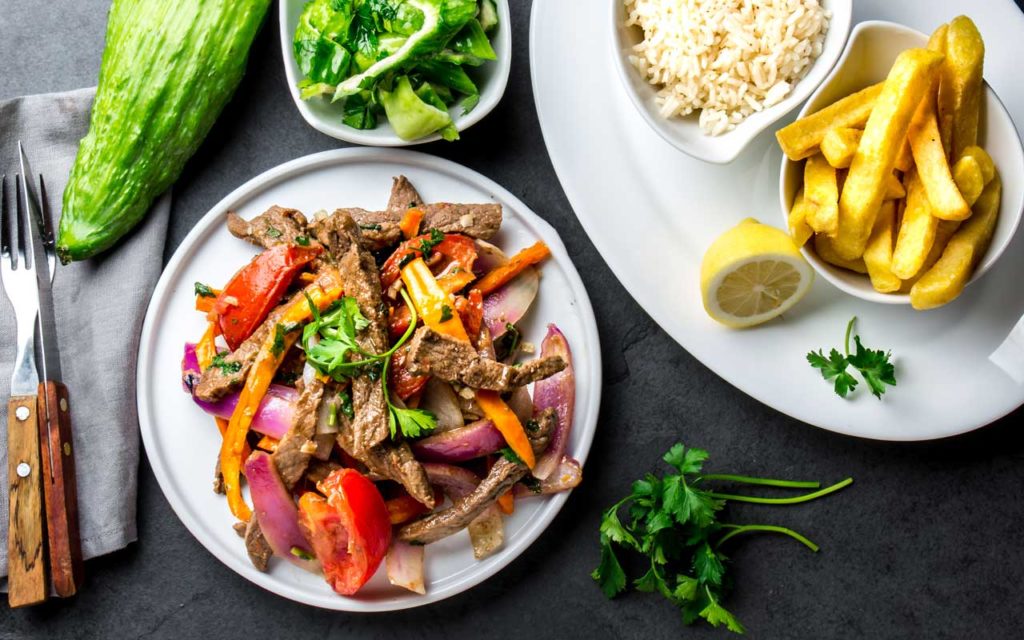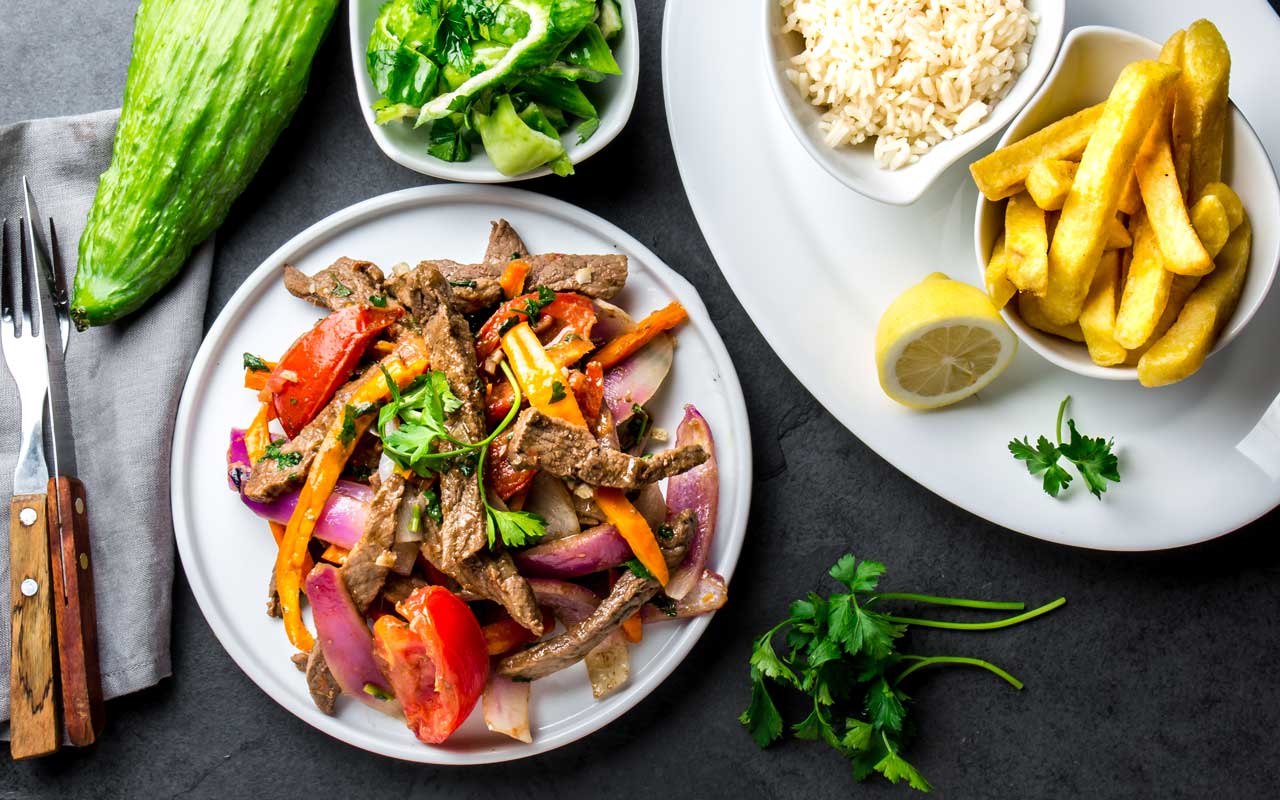 Lomo Saltado is a beloved dish across Peru. It's essentially a Peruvian take on the traditional beef stir-fry.
The key to its delicious taste is in the preparation of the beef. Before cooking, sirloin strips are marinated in soy, vinegar, and spices for several hours.
Once the beef is in the pan, Peruvians love to add red onions, tomatoes, peppers, and other vegetable combinations.
If that's not enough flavor for you, Peruvians then take it a step further. It's a dish commonly served with french fries or rice.
This gives you a beautiful balance of lean, spicy vegetables and beef, with the warmth and hearty feeling of the fries and rice. Delightful.
4 – Tiradito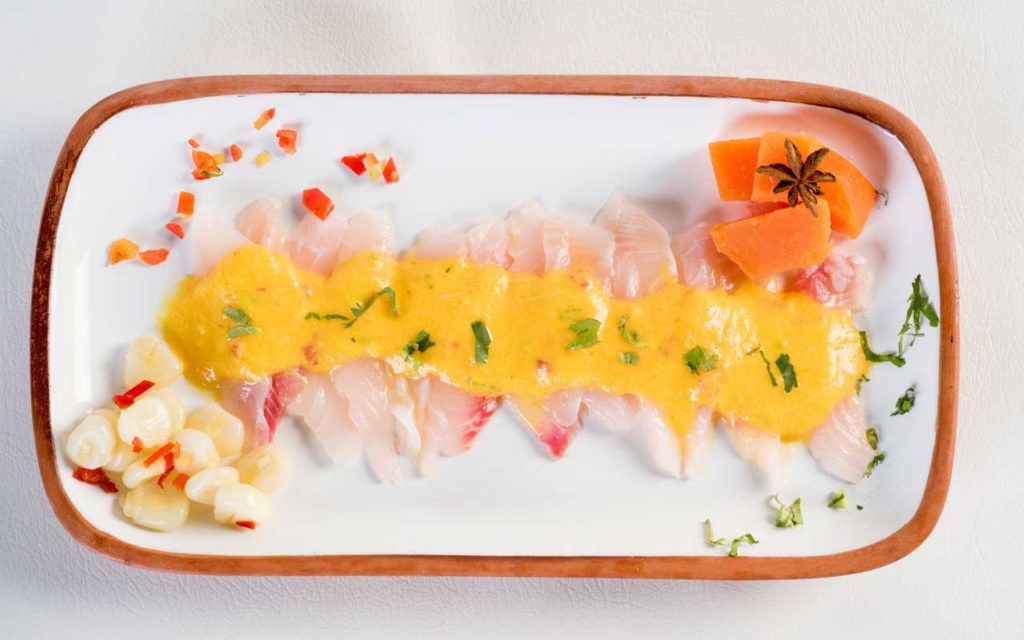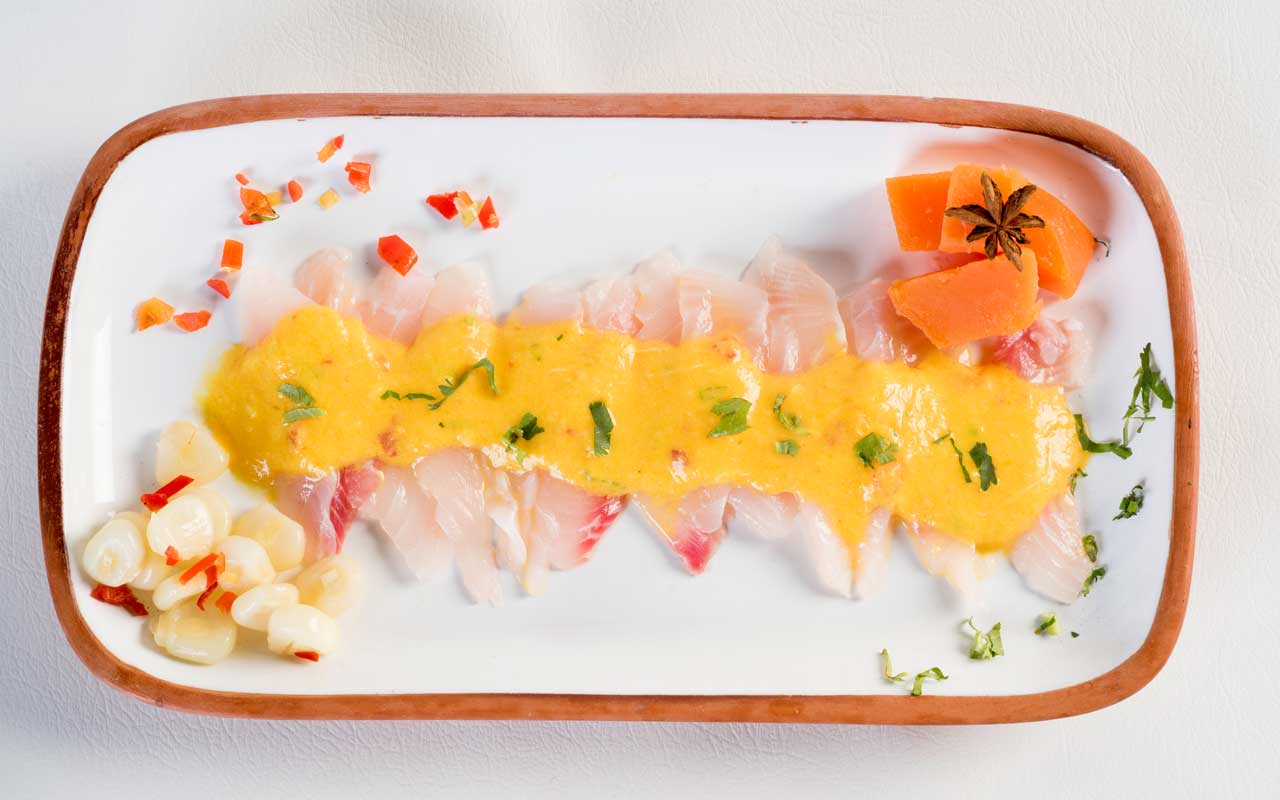 Peruvian food is famous for its fusions. There's an incredible multi-cultural influence on its cuisine. Few foods highlight this better than Tiradito.
In the 1800s, many Japanese sailed across the Pacific and emigrated to the coast of Peru. The allure of gold and work was worth taking the dangerous trip across the unforgiving Pacific waters.
While the intention for the Japanese was to return home, many fell in love with the warm climate and ended up staying. Through Japanese influence, Tiradito was born.
Tiradito takes the delicious raw fish from the coast and prepares them like sashimi. While chefs cube fish for ceviche, they slice it for Tiradito.
The delicious fish is served in a spicy sauce, along with sweet potato or boiled corn. A beautiful fusion of Japan and Peru, it's a delightful Peruvian food.
5 – Aji de Gallina (Chicken Stew)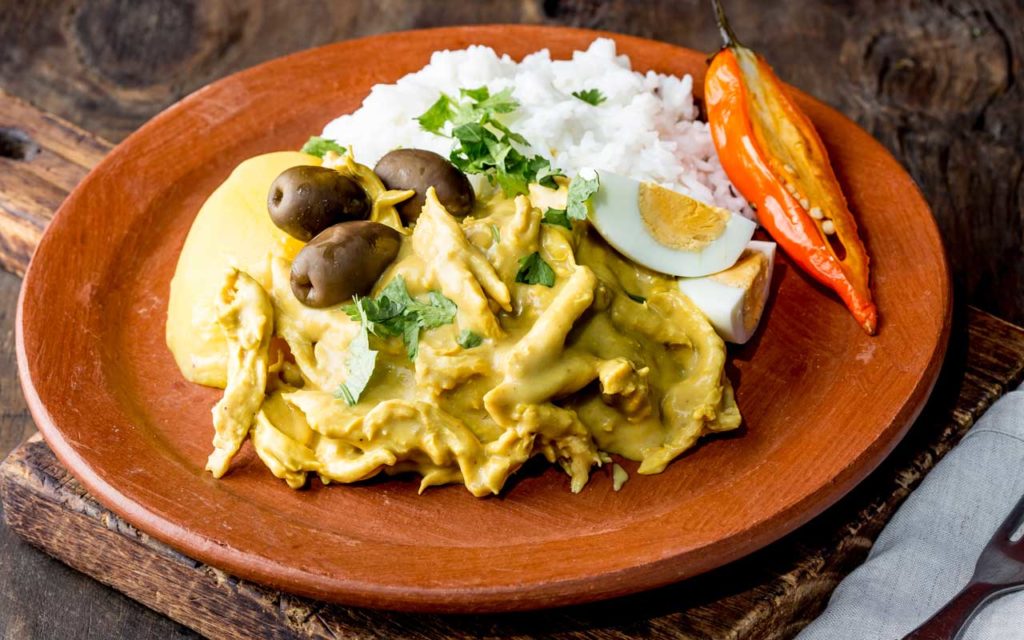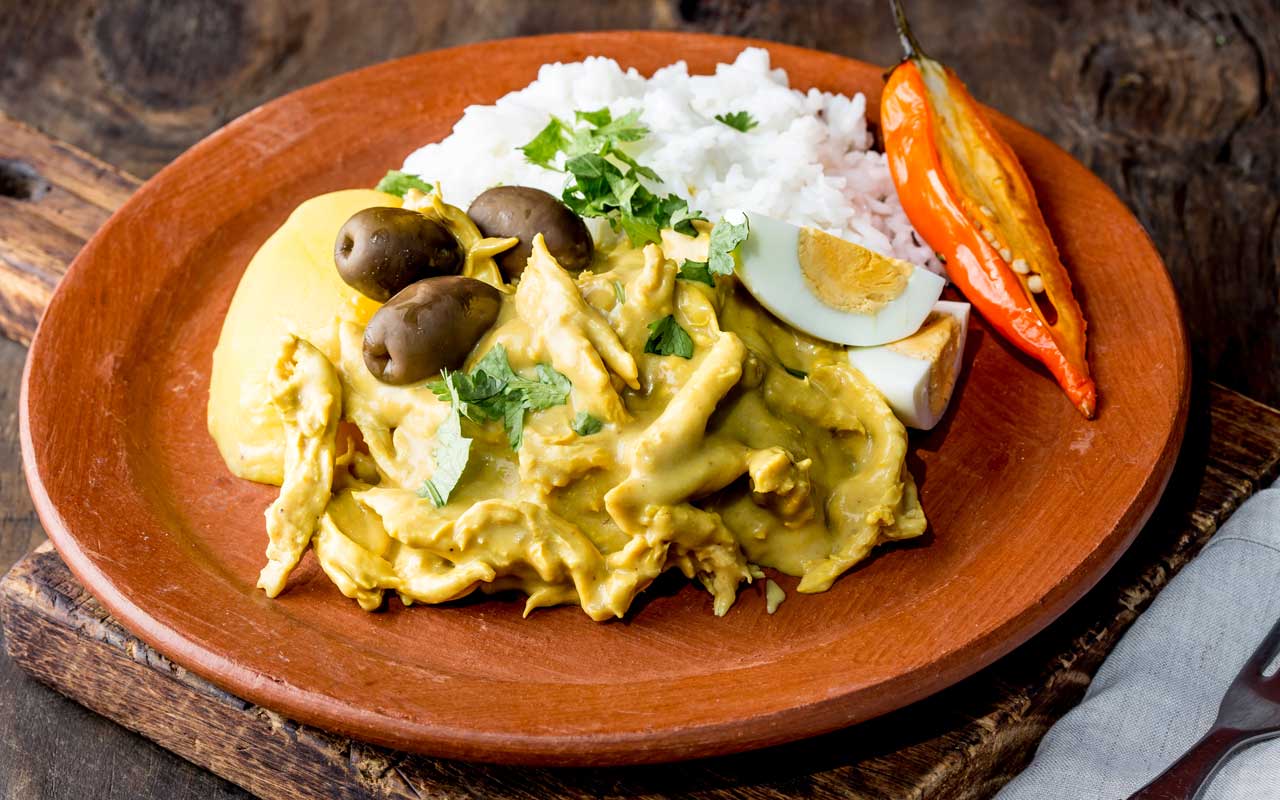 Every country has its much-loved comfort food. For Peruvians, that comes in the form of the flavorful Aji de gallina.
At its core, Aji de gallina is a chicken stew. But the fusion of different influences makes it a striking dish with so many textures and flavors.
It's believed that the Africans brought to Peru by the Spanish in the 16th century introduced the dish into the country. Using chicken scraps and boiled potatoes, it was a meal eaten by the poorest people in the country.
Through the centuries the recipe evolved. Nowadays, Peruvians cook tender chicken with chili, walnuts, and spices. Aji amarillo peppers, famous for their yellow color and spicy taste, are also added, hence the dish's name.
If that wasn't enough to get the taste buds tingling, Peruvians then serve the delicious stew with rice or potatoes. Olives and boiled eggs are added at the end for a final touch.
Aji de gallina is unlike any traditional stew. Loved by millions across the country, it's a Peruvian food that soothes the stomach and soul.
6 – Rocoto Relleno (Stuffed Pepper)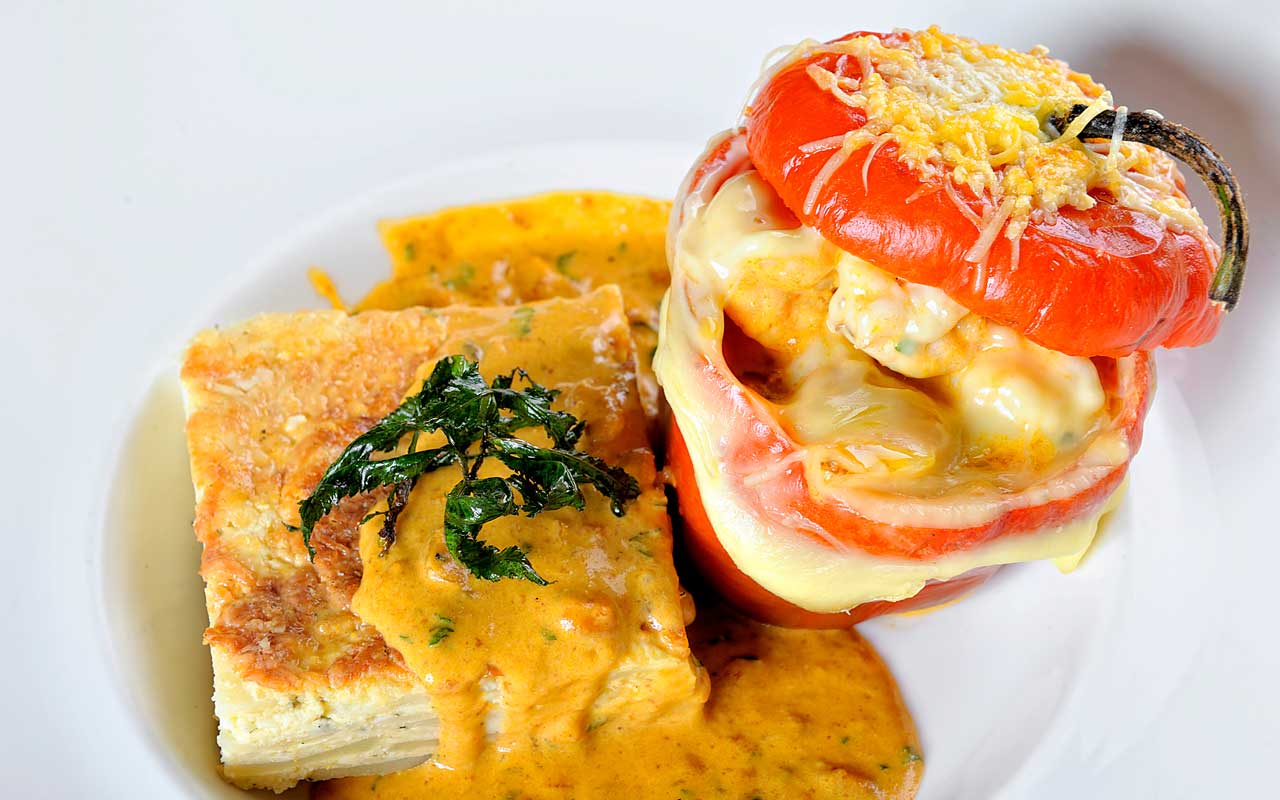 Peppers are juicy and plentiful in Peru. So it's no surprise Rocoto Relleno became a traditional food loved across the country.
It originates from the quaint city of Arequipa, nestled in the Andes in the south. Here, many Spanish-originating recipes have evolved due to the settlers who populated these areas of Peru.
Traditionally, the Spanish would cook rocoto peppers in vinegar and water. They were used to sweet peppers grown in Spain, so this helped remove the spiciness.
Incredibly, rocoto peppers, when raw, are ten times spicer than jalapeno! As you can imagine, the peppers are cooked carefully to make sure they are edible.
To stuff the peppers, Peruvians love to use ground or minced beef and a range of herbs, such as oregano and parsley. Melted cheese coats the top, and it's served as a delicacy and appetizer.
Prepare yourself for hot, intense flavors like no other!
7 – Arroz con Pato (Rice with Duck)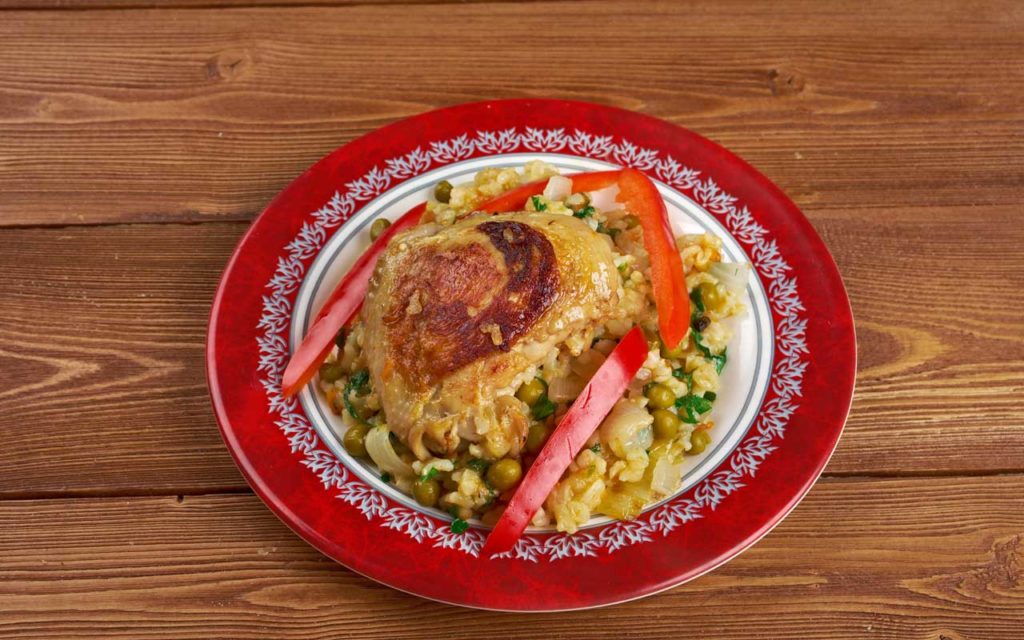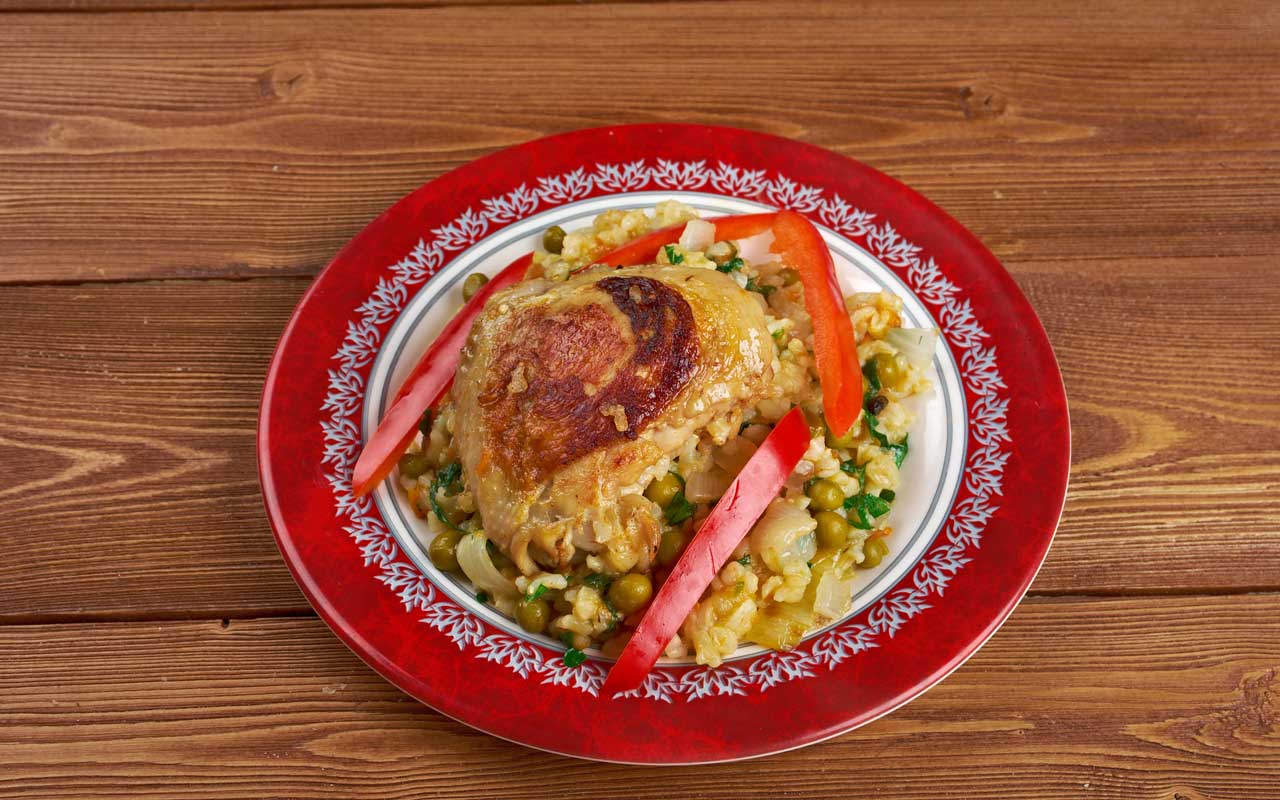 Millions of Latin Americans love meat, and Peruvians are no different. Arroz con Pato is a truly succulent and flavorful dish eaten both along the coast and into the mountains.
It's a spin-off of the popular Arroz con Pollo, substituting chicken for duck in a delicious Peruvian take on an already beloved dish.
Duck leg forms the driving force behind this Peruvian food's delightful flavor. The duck is first fried until golden brown, and then cooked with beer, broth, and pisco.
Pisco is a Peruvian alcohol, and it helps give the duck a truly intense and moreish flavor.
Once cooked, the duck leg is served on a bed of rice. The juices and broth from the pan are drizzled over the dish. It's also cooked with a range of tasty vegetables, such as peas, carrots, and peppers.
8 – Papas a la Huancaina (Potatoes in Cheese Sauce)
Simple and filling, Papas a la Huancaina is another Peruvian food for those comfort-seeking afternoons and evenings.
Although taking its name from the mountain-surrounded city of Huancayo, it was first created in Lima, the capital.
What makes this dish so unique is the sauce. Named huancaina suace, it's made from white cheese, aji amarillo peppers, evaporated milk, and vegetable oil.
Many Peruvians add their own touches to give the sauce different flavors. These include garlic and saltines. The sauce is so popular that it's used in many more Peruvian dishes.
Papas a la Huancaina is traditionally served cold. Once the sauce is thick and the potatoes boiled, you let them cool.
Over a bed of lettuce, the potatoes are laid. Then, the creamy sauce is poured over the dish. Finally, olives, corn, and hard-boiled eggs are added as a garnish.
Papas a la Huancaina is a much-loved holiday food. It's also a popular dish Peruvians prepare for hikes, picnics, and weekends away.
9 – Cuy al Horno (Guinea Pig)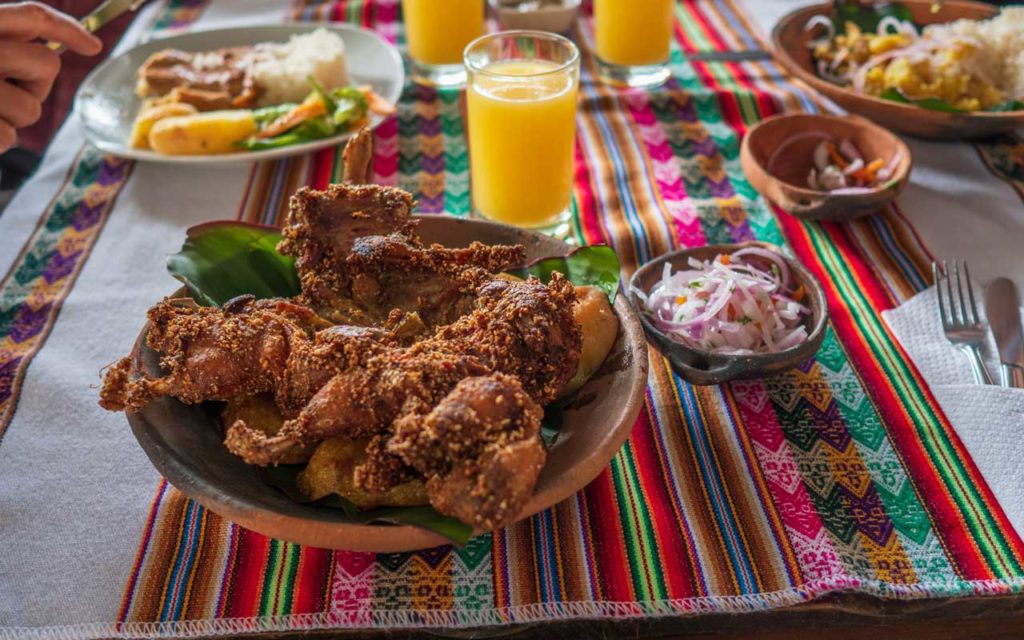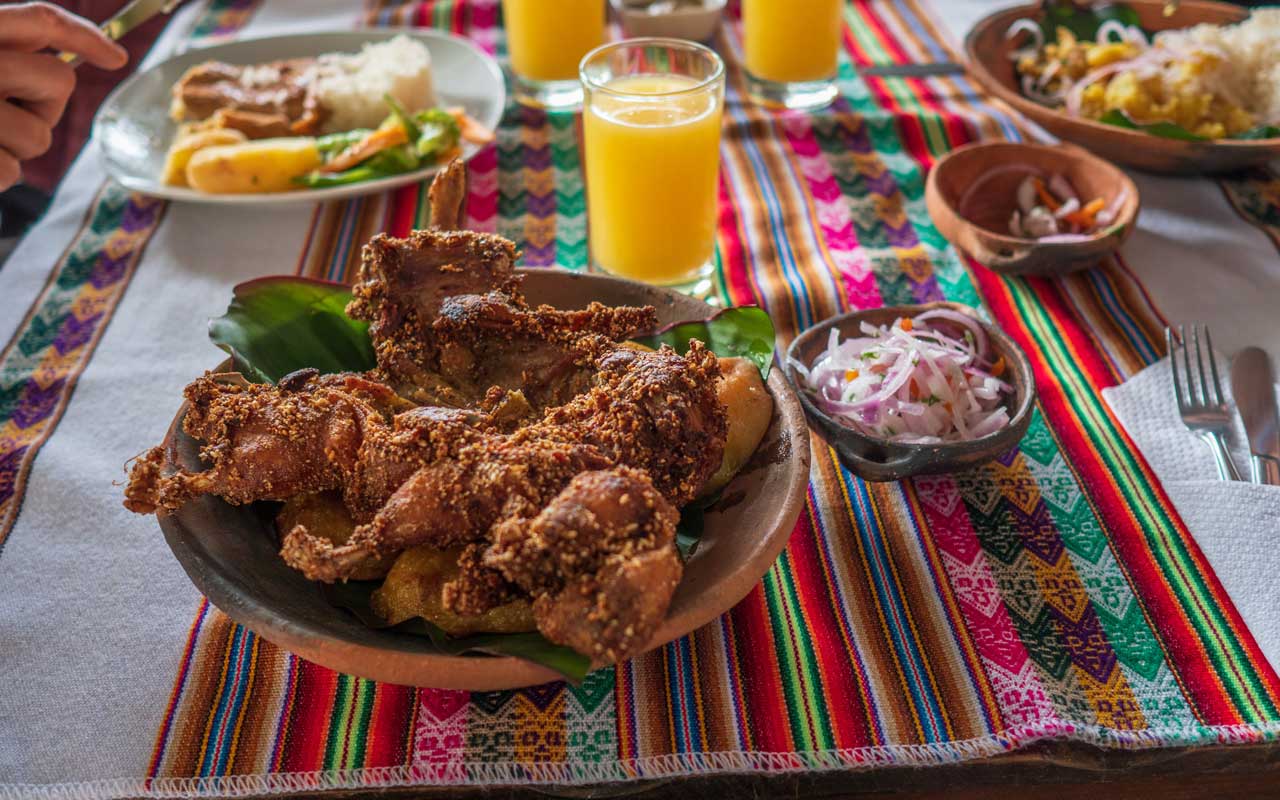 A well-known Peruvian delicacy, guinea pig has been eaten in Peru since the Inca Empire occupied the land.
Cuy al Horno was traditionally only served on special occasions. Nowadays, you can find this historic Peruvian food in special restaurants across the country.
Cuy al Horno means the meat is served baked or spit-roasted. You can also order Cuy Chactado, which is the meat fried with spices.
The most tender of dishes will be found in the higher altitude areas. If you explore the Inca ruins and other areas, you will find it in most restaurants in the area.
Cuy is commonly served with salsa and potatoes but many delicious variations exist.
It is definitely a Peruvian food for the more adventurous traveler. But it is also one that will take you back in time to the origins of Peru.
10 – Causa (Potato Casserole)
Peruvian causa is a unique and hugely popular take on one of its most beloved ingredients: the potato.
Hundreds of adaptations and takes on causa exist in Peru. But, at their core, they all follow the same principle.
This, simply, is the process of layering different fillings between beds of creamy mash potato.
This tower-like dish is done using a ring mold. This allows causa to form its eye-opening shape and colorful composition.
The intense yellow color comes from Peru's yellow potato. Other variations use white potatoes, which gives the tower less color but a sturdier structure.
The fillings in this cold casserole vary through recipes. But tuna, chicken, avocado, and aji amarillo paste, are firm favorites.
Olives and hard-boiled eggs add the finishing touches to this Peruvian dish enjoyed by millions.
11 – Pollo a la Brasa (Roasted Chicken)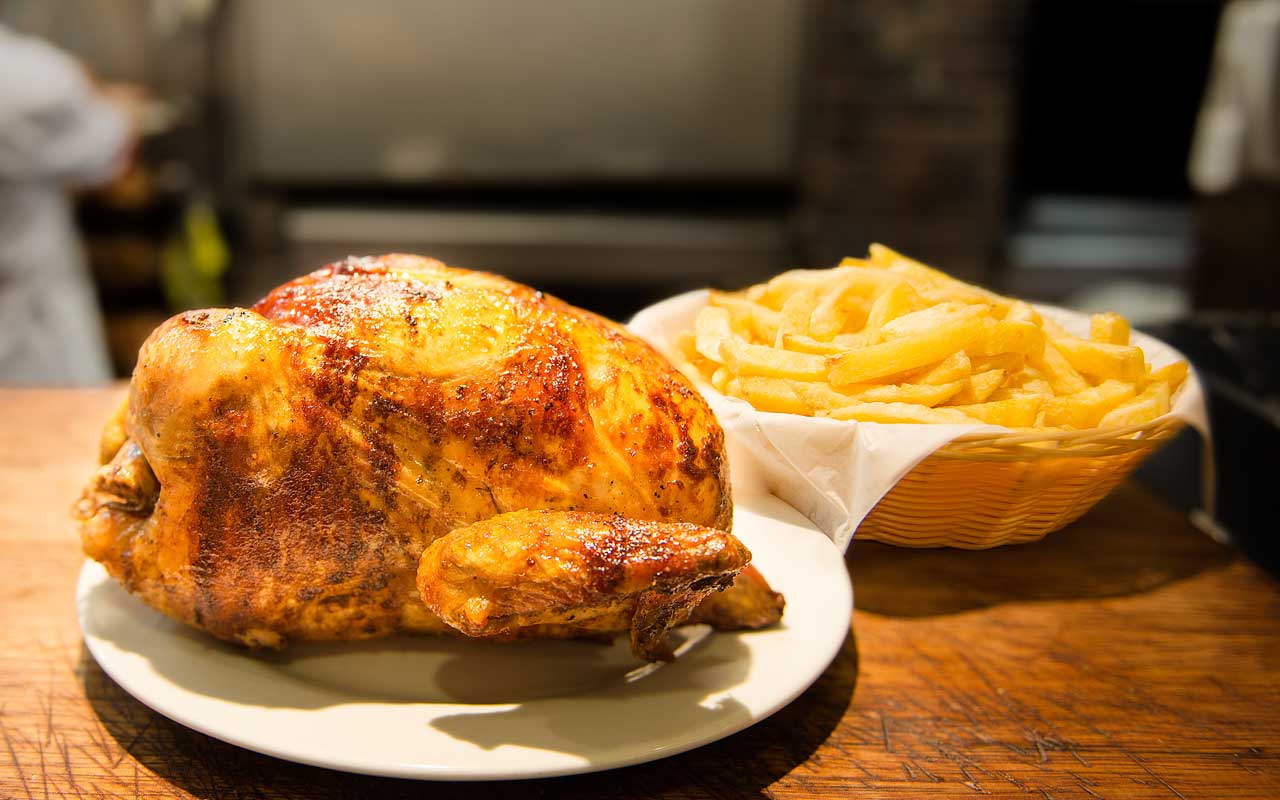 When a country devotes a national day to one of its foods, you know it must be good!
Pollo a la Brasa, simply, is Peruvian roasted chicken. And while the premise sounds basic, the technique and flavor most definitely are not.
Interestingly, Peru actually owes this national dish to the Swiss. The technique was developed by Roger Schuler and Franz Ulrich in the 1950s.
Schuler owned hotels in Lima and first began adapting the recipe after watching his chefs cook in the kitchens.
This rotisserie-style chicken dish was first served in the Granja Azul restaurant in Lima and quickly became popular among the upper classes through to the 1970s.
In today's Peru, this style of chicken is enjoyed by all. Served with fries and salad, it's a Peruvian food that's so simple yet utterly delicious.
12 – Palta a la Reina (Stuffed Avocado)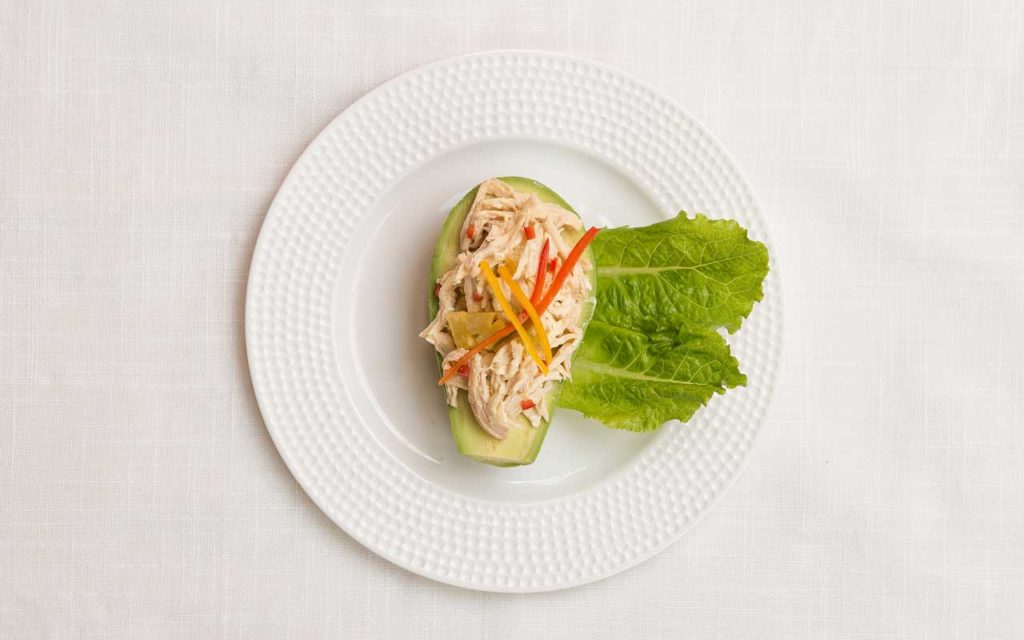 Commonly served as an appetizer, palta a la Reina is delicious and hearty enough to be a meal in its own right.
Peru is one of the few countries on Earth where avocados are grown. And its unique indigenous variety are thick and fleshy in texture.
If the taste of the avocado wasn't enough, the fillings add another dimension of flavorsome combinations to satisfy any palette.
Tuna or chicken are commonly used as the meat in the filling. And the traditional recipes will stay true to the foods grown in the area.
So you'll commonly see peas and corn in this classic Peruvian dish, along with a host of other ingredients.
Lime or lemon juice give the whole meal a real kick. Once again, Peru's fascination with fusions never ceases to amaze.
13 – Chupe de Camarones (Shrimp Chowder)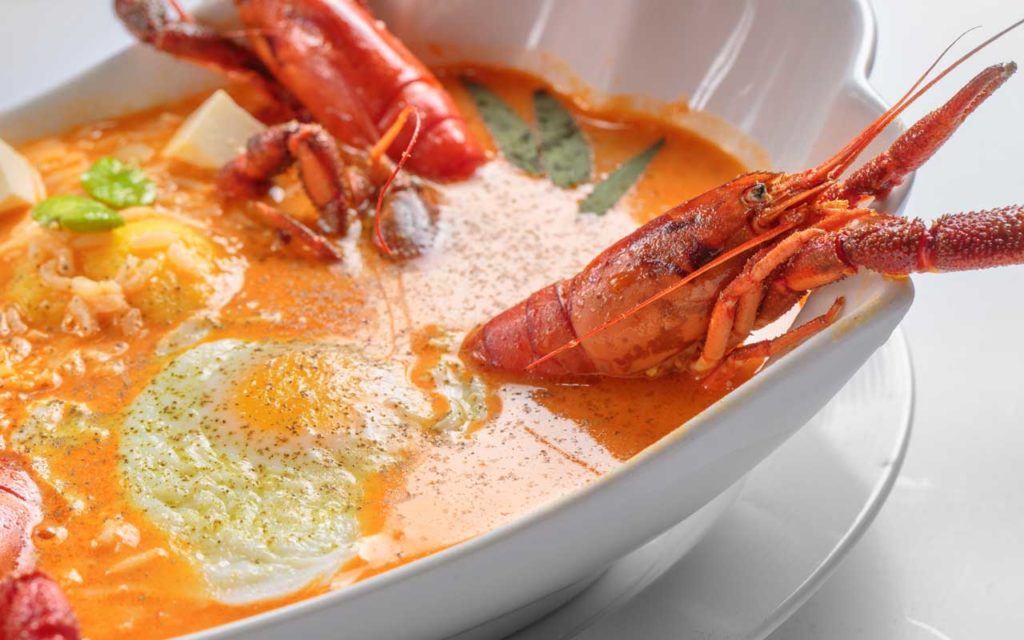 Chupe is another delicious national dish of Peru. Many variations of this beloved soup exist, but one in particular captures hearts across the country.
Seafood caught by the fisherman from the waters of the Pacific is some of the most tender and flavorful in the world.
And those crayfish and shrimp have been eaten as far back as the indigenous Incas. They were known to cook up this delicious seafood soup.
But it was the arrival of the Spanish that evolved the chupe recipe into the one that is much-loved today.
The Spaniards added milk and eggs to Peruvian cuisine. This allowed the chowder to evolve into a unique recipe.
Try this beautiful blend of flavors in coastal towns, such as Arequipa. There, you'll get fresh seafood and truly intense flavor.
14 – Butifarra (Ham Sandwich)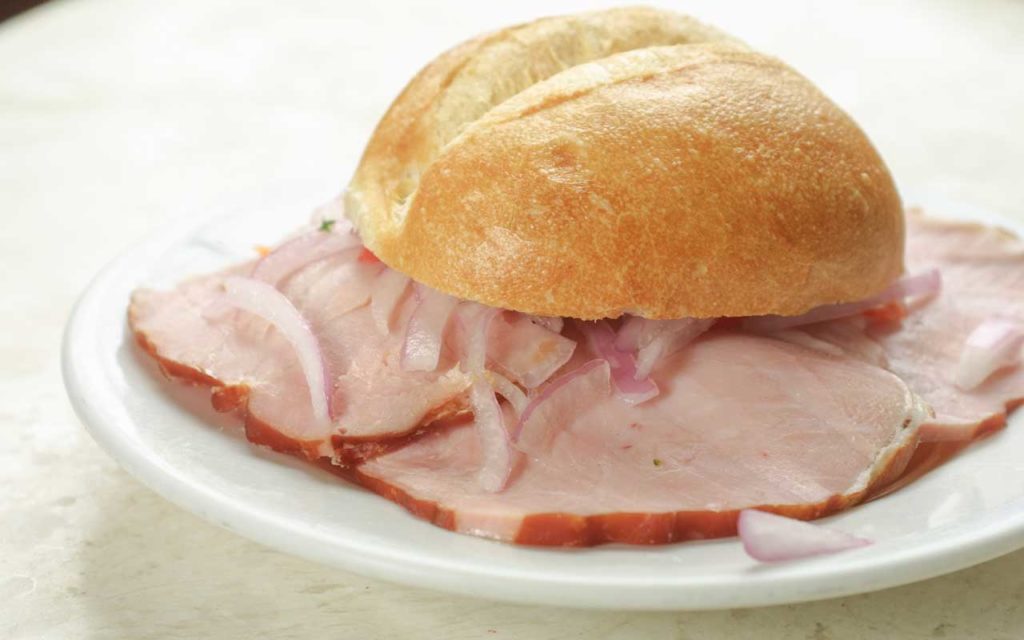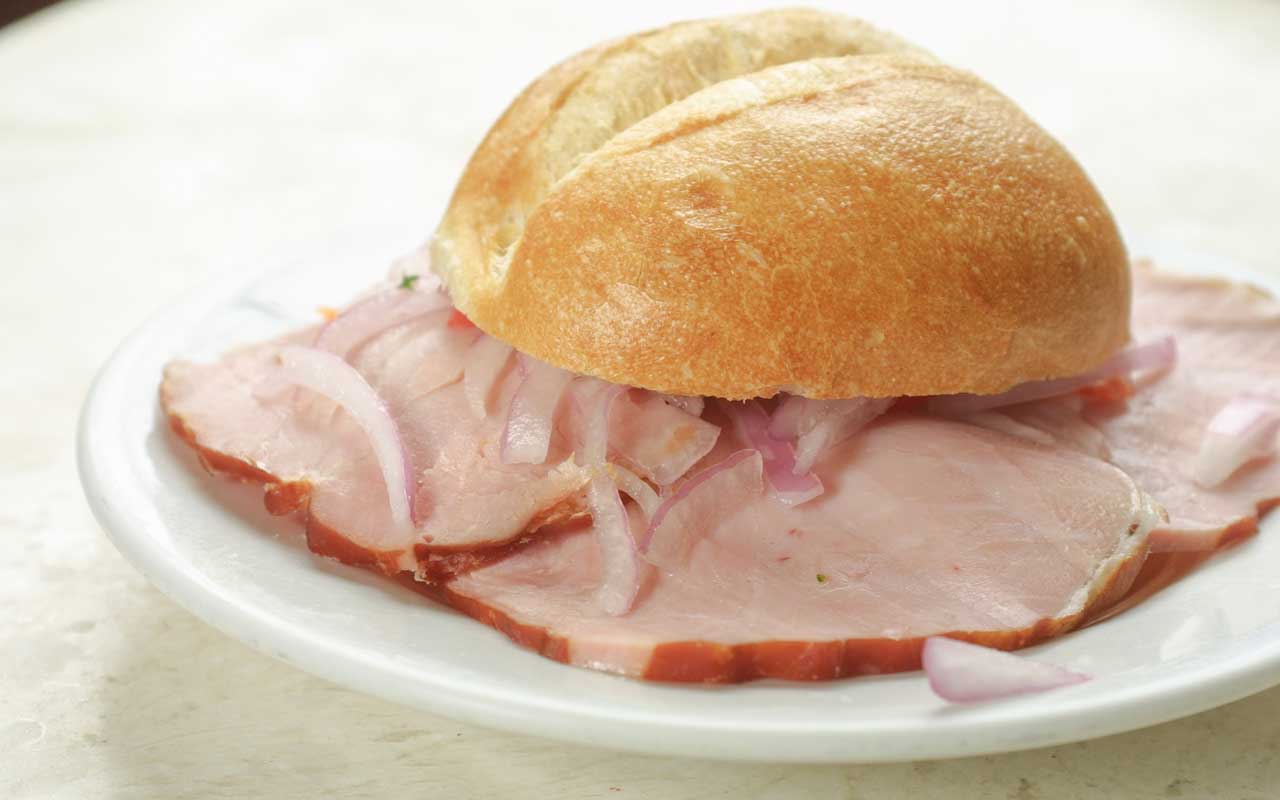 Ham sandwiches may not sound the most exciting. But butifarra's origins and flavor make it so much more.
Jamón del País, a type of Peruvian ham, is the key ingredient in any butifarra.
The powerful flavor comes from the way it's cooked. Jamón del País is traditionally made by cooking pork leg in a mixture of garlic, cumin, achiote, pepper, oregano, and lard.
It's other defining feature is the crispy bread used, known as roseta. Roseta is round, and forms the perfect hold for the tender ham.
Butifarras are commonly eaten with radish, lettuce, chili or salsa. Some however enjoy just the ham and bread.
It's a true comfort food. And these sandwiches are eaten in bakeries, takeaways, and homes, across Peru.
15 – Leche de Tigre (Tiger's Milk)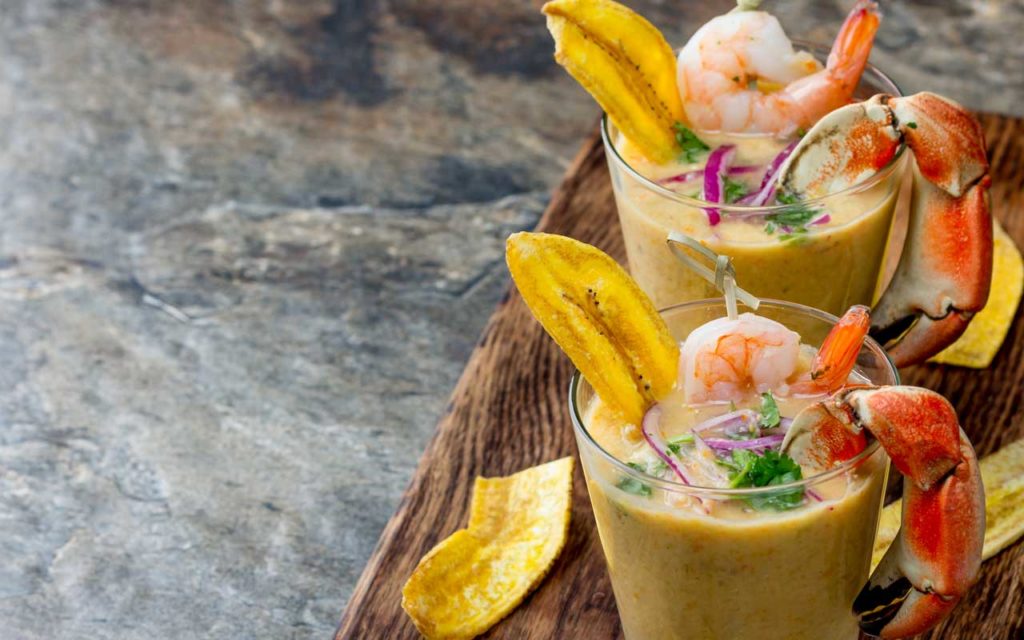 You don't develop a world-famous cuisine without being resourceful. Leche de Tigre, or Tiger's Milk, is a perfect example of this.
Leche de Tigre is the marinade in which seafood for ceviche cures. Boasting an intense array of flavors, there's plenty that goes into this Peruvian delicacy.
The marinade is always citrus-based, commonly lemon. Within, you'll also find lime juice, onion slices, chili, and pepper.
The juices from the seafood also seep into the marinade. This salty fresh flavor fuses beautifully with the zest of the citrus.
This utterly unique liquid, rather than wasted, is served alongside ceviche.
It's poured into a tall glass, and garnished with ceviche ingredients.
Full of flavor and citrus explosion, many Peruvians drink it as a hangover cure. And some even believe it helps increase desire and drive!
16 – Alfajores (Dulce de Leche Cookies)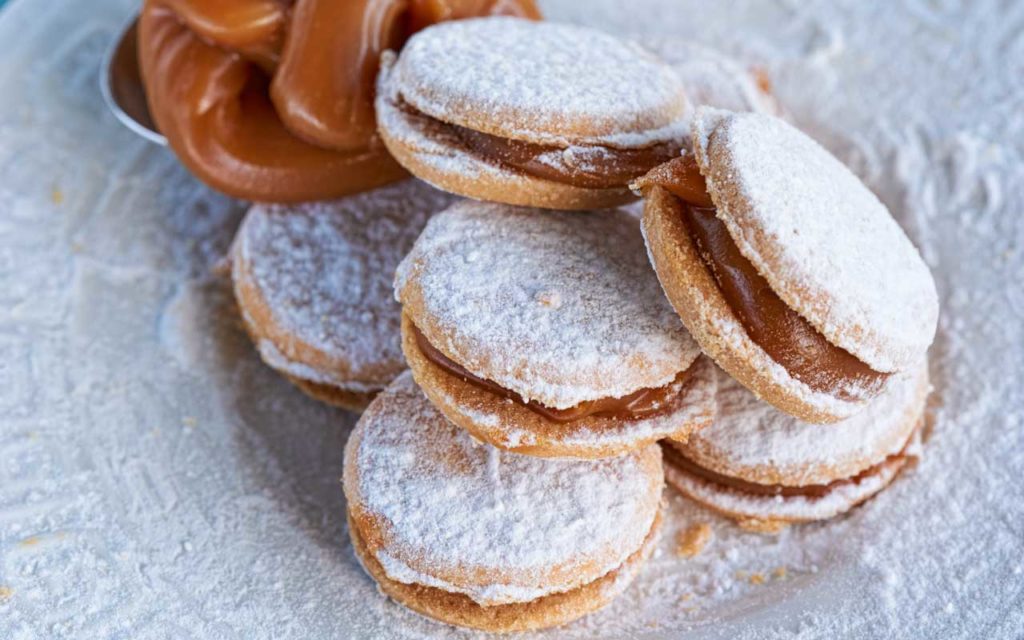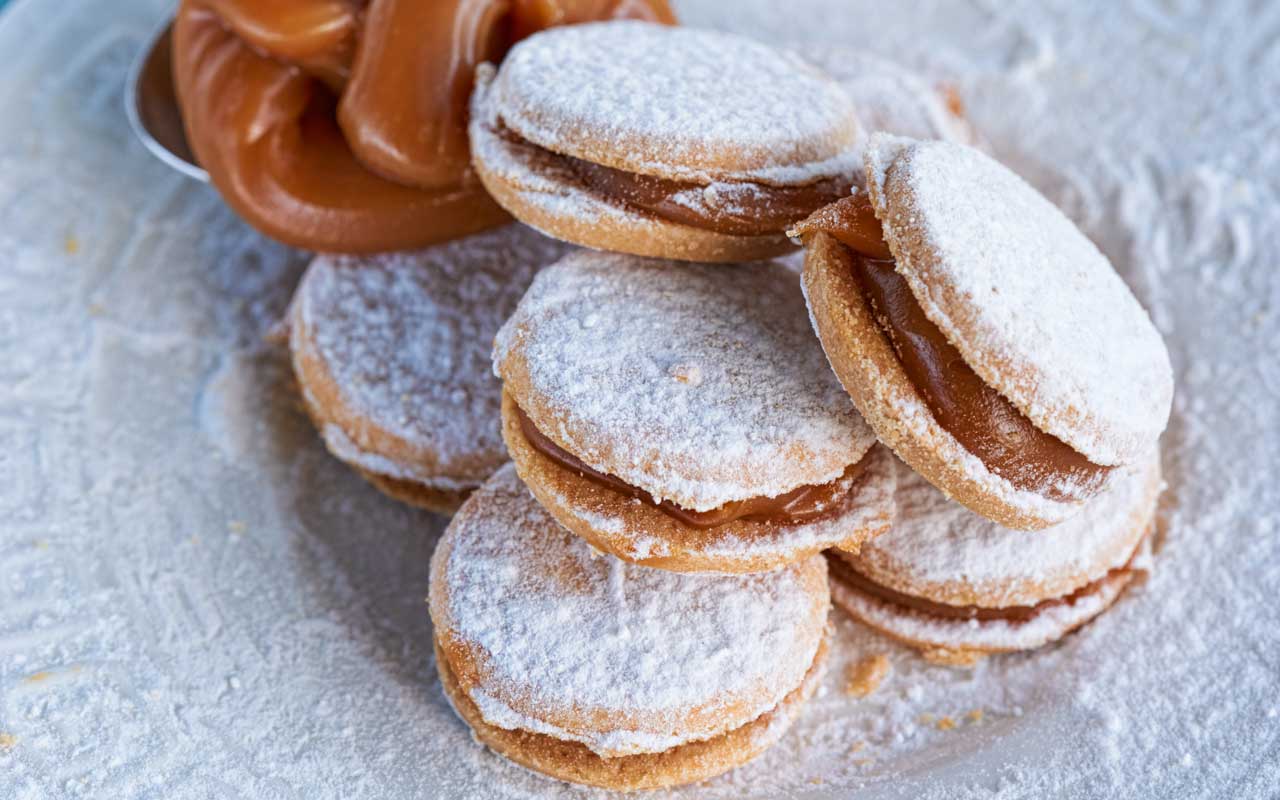 Our final stop on our whirlwind tour of Peruvian food serves us up a dessert that's made a name for itself all over the world: Alfajores.
And oh my, has this dessert traveled. Historians trace this dessert all the way back to the Arabic regions of North Africa.
General Musa ibn Nusayr's conquest of the Visigothic Kingdom led to an Islamic influence on Spain's cuisine through the proceeding centuries.
Once the Spanish arrived in South America, they, in turn, began to influence the cuisine in the region.
Early versions of the dessert vary, but today's Alfajores all have one important thing in common: the delicious dulce de leche filling.
Dulce de leche is made by heating sweetened milk. The resulting caramel is smooth, rich, and incredibly moreish.
Nestle a splodge of that delicious dulce de leche between two shortbread-like biscuits, sprinkle with coconut, and you have alfajores.
You can't fail to find this incredible dessert, Alfajores are sold in shops, bakeries, and resturants all across Peru.
Peruvian Foods Summary
Awash with color and bursting with different flavors, there's a reason many foodies point to Peruvian cuisine as one of the world's most exciting.
The fusions are plentiful. From Japanese-prepared seafood to Arabic-influenced desserts, there's so much variety on offer.
And then, there's the geography. Peru is lined with beautiful coast, and vibrant rainforests run through its center.
All these factors combine to create a cuisine full of the freshest ingredients, utilizing the recipes of regions from all over the world.
Lima is home to not only some of the best Peruvian restaurants but some of the best restaurants in the world. The fusions and high-end food they serve up are truly mind-blowing.
But if you're on a budget, get out of Lima to cities like Cusco and Arequipa to experience traditional Peruvian food on a whole new level.
You Might Also like to Read
Save and Pin for Later
Love your food travel and planning to head to Peru soon? Save this article to one of your Pinterest boards. You can revisit it at a later date and note down our list of incredible Peruvian foods.