This post may contain affiliate links, meaning if you book or buy something through one of these links, we may earn an affiliate commission at no additional cost to you. Learn more
Famous for its fresh seafood, starchy staples, and alluring spices, Portuguese food is one of the world's underrated cuisines.
Together, let's dive into this exquisite cuisine and stimulate our senses through fifteen of the most unique and tempting Portuguese foods.
Portuguese Food
1 – Pastéis de Nata (Portuguese Custard Tarts)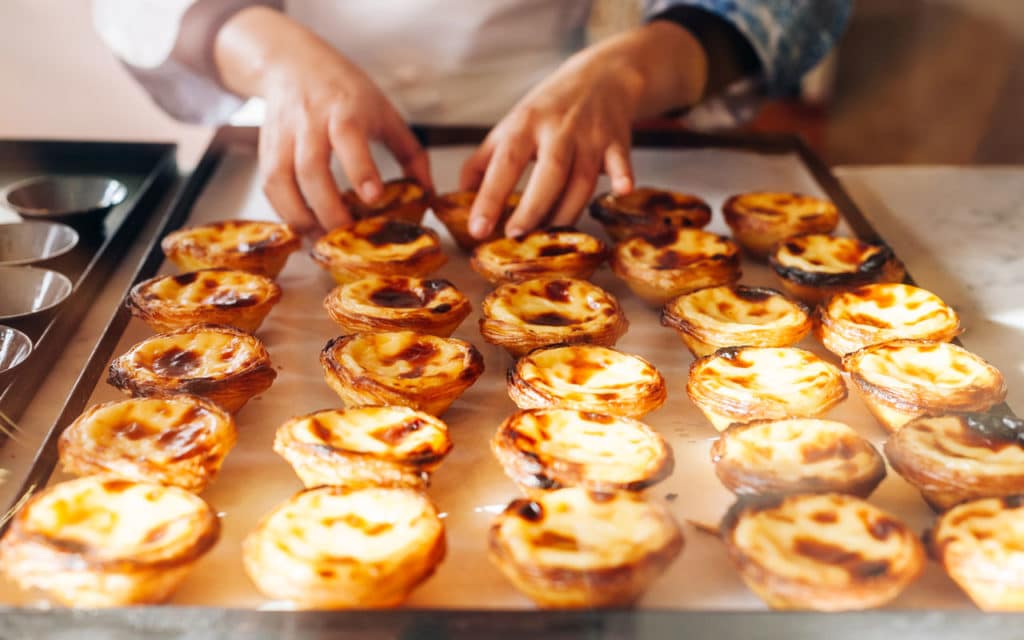 There's simply only one place to start with Portuguese food, and that's with Pastéis de Nata.
Pastéis de Nata are truly scrumptious egg tart pastries. They are wildly popular throughout Portugal and have a unique history.
Pastéis de Nata were first baked at the Hieronymites Monastery in Belem, Lisbon, in the seventeenth century.
During this time, staggering amounts of egg whites were used to starch the clothes of both monks and nuns. This led to large amounts of unused egg yolks.
So, convents got creative, and used the egg yolk to create a number of delicious pastries to feed the monastery.
In 1820, the Liberal Revolution in Portugal meant that monasteries across the country faced closure. So, the monks got creative.
To make money, they sold the recipe to these delicious pastries to a local sugar refinery.
This refinery, known to this day as Fábrica de Pastéis de Belém, officially opened in 1837. And it has been selling Pastéis de Nata ever since.
Natas are defined by their crispy outer base and fluffy, cinnamon-infused eggy centers.
They are incredibly moreish and can be found in bakeries across Portugal.
If you can, buy them from Belem, Lisbon. Here, they stay true to the original recipe. But in all shapes and sizes, Pastéis de Nata are mind-blowingly delicious.
2 – Chouriço (Traditional Portuguese Sausage)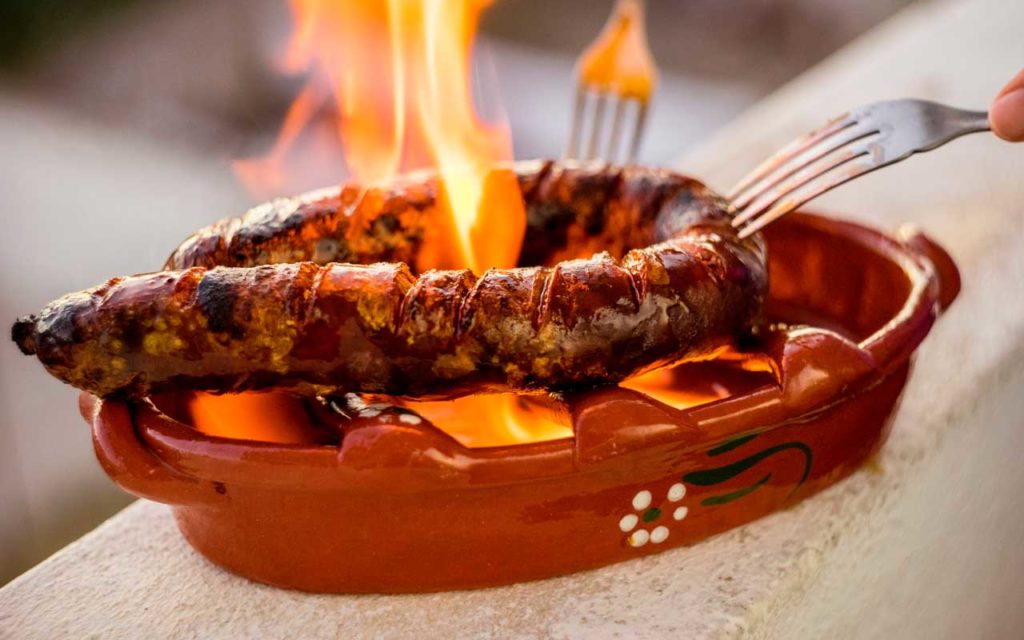 Spanish chorizo needs no introduction. But the Portuguese have a mouthwatering take on this beloved and rich meat.
Portuguese chourico starts out as minced pork, with plenty of fat. A number of flavors are then fused with the rich meat.
These include Portuguese wine, plenty of garlic, paprika, and heavy seasonings of salt and pepper.
This delicious meat mixture is stuffed into a long casing and smoked as it dries.
Both Portuguese and Brazilian cuisine have got incredibly creative with chourico. The variations and flavors are an assault on the senses.
Chourico a bombeiro, however, is where the magic happens. This involves slicing the top of the chourico to release the flavour.
Then, it is placed inside a special earthenware dish, with a splash of alcohol. This dish is then flame-cooked at the table, in front of restaurant customers.
This type of cooking unleashes all the flavors packed inside the sausage.
Chourico pairs so well with a wide range of sides, or it can be devoured as a simple meat dish. Mind-blowing.
3 – Bacalhau (Salted Cod)
As Portuguese food goes, few have the historical significance as bacalhau (salted cod) does.
For centuries, Portuguese fishermen have been catching some of the freshest, most succulent fish from the waters of the Atlantic.
Preserving cod in this way began in the 1500s. With no fridges or freezers, fishermen had to preserve their catches through salting and drying.
And while the introduction of freezing techniques in the 1900s led to many countries abandoning the drying and salting of cod, the Portuguese continued the tradition.
Today, bacalhau is a Portuguese culinary delicacy. Traditionally, it is served with hearty white potatoes and white rice.
However, it wouldn't be Portuguese cuisine if there wasn't plenty of culinary creativity.
Thousands of bacalhau recipes are served across the country. A particular favorite of mine is Bacalhau a Gomes de Sa, from Porto.
This pairs the intense, salt-infused cod with onions, olives, and potatoes in a rich and wholesome casserole dish.
Bacalhau is a Portuguese food you simply must try. Its preparation is a dying art, and one the Portuguese are holding onto with love and care.
4 – Pastéis de Bacalhau (Salted Cod Fritters)
On the topic of bacalhau, here's another Portuguese recipe that delivers intense flavor.
Pastéis de Bacalhau are essentially salted cod fritters. Wander around a Portuguese city for a little while, and it won't take you long to notice how much they love fried food.
The recipe sees iconic Portuguese salted cod mashed with russet potatoes. Chopped onion, parsley, and eggs are then added to the mixture.
Once you have a thick and flavorsome cod and potato combination, the mixture is then split and rolled into cake-like shapes.
Finally, these cod cakes are deep-fried in a pan of smoking hot oil. Once browned and crisp, they're ready to be served.
Perfect with a squeeze of lemon juice, pastéis de bacalhau can be enjoyed as both an appetizer or a main.
A recipe originating in the north, this bacalhau dish was popular among the poorest Portuguese. Now, it is a Portuguese dish loved by most people.
5 – Chicken Piri Piri
Millions of us across the globe adore that iconic spicy piri-piri taste. But did you know, the recipe was originally founded by the Portuguese?
And not even in Portugal, either! From the 1400s onwards, the Portuguese Empire spread to many parts of South America and Africa.
One of those countries was Mozambique, located on the southeast coast of Africa.
Intrepid Portuguese explorers happened across a very spicy species of chili while exploring the tropical forests of Mozambique.
This hot chili, known as 'pilipili' in Swahili, was soon being cultivated by the Portuguese for cooking.
Its intense, spicy flavor was soon a hallmark of many Portuguese foods. These foods then spread across the Portuguese Empire.
Today, piri-piri sauce fuses the chilis with a range of delicious ingredients. These include zesty lemon, peppers, garlic, and paprika, among others.
With piri-piri glaze across the charred skin of a smokey chicken leg and a side of crispy fries, you get a zingy, spicy flavor few chicken dishes can match up to.
6 – Bifanas (Portuguese Sandwiches)
Bifanas are beautifully simple and so succulent. These pork or steak sandwiches are enjoyed at bars and bakeries throughout Portugal.
The taste will differ depending on where you are. In the south, where bifanas originate from, you get a meatier, garlic-infused taste.
In the south, Portuguese use larger slices of pork or steak. These are loaded up inside a lightly toasted bread roll and enjoyed with a dollop of mustard.
In the north, however, in cities like Porto, the bifana takes on an entirely different form.
There, the pork or steak is brewed in a pot of spicy sauce and generous seasonings.
These tender pieces of meat, dripping with delicious sauce, are then stuffed inside a bread roll. The juices, soaked into the bread, enhance the flavor.
From street food vendors to Portuguese bakeries, you won't be too far from tasty bifanas. It's a bite-sized snack with plenty of punch.
7 – Francesinha Sandwich (Portuguese Croque-Madame)
Many of the world's most beloved sandwiches boast some truly incredible flavors. Francesinha is a Portuguese food that lives up to that mantra.
This stuffed sandwich comes from Porto and was created by French chef Daniel da Silva.
Francesinha was his attempt at adding a taste of French cuisine to Portuguese food.
Influenced by croque-monsieur, Francesinha was first served at A Regaleria, a resturant in Porto, in 1953.
The sandwich itself is packed with meaty goodness. Cured ham, smoke-cured sausage, steak, or various roasted meats are all stacked between two thick slices of bread.
The sandwich is then smothered in layers of melted cheese, giving it that vibrant yellow colour.
The magic of Francesinha happens in the sauce, of which the recipe remains a secret.
What is known to us however is the sauce's core ingredients. These are largely beer and tomato-based sauces, that vary in spiciness depending on where you eat them.
Drenched in secret sauce, Francesinha is a beloved Portuguese food. It's full of flavor and heart. You'll struggle to finish it in one sitting!
8 – Caldo Verde (Portuguese Traditional Green Soup)
If you're looking for a lighter Portuguese dish, caldo verde is a flavorful soup with rich Portuguese heritage.
Caldo verde comes from the north of Portugal. For a long time, it was a simple and filling food eaten by the poorest people in the country.
It traditionally utilizes simple and plentiful ingredients. Starchy potatoes, olive oil, salt, and pepper all make up this soup with a core green ingredient.
Kale traditionally was used in the recipe. Other greens, such as cabbage and broccoli, have also added their flavors to the broth.
Today, caldo verde is commonly prepared for celebrations and holidays. Portuguese love eating this delightful soup with a side of crusty white bread.
Some also enjoy it with a thick slice of chourico or smoked sausage. A belly-warming favorite, caldo verde is a Portuguese food you have to try.
9 – Grilled Sardines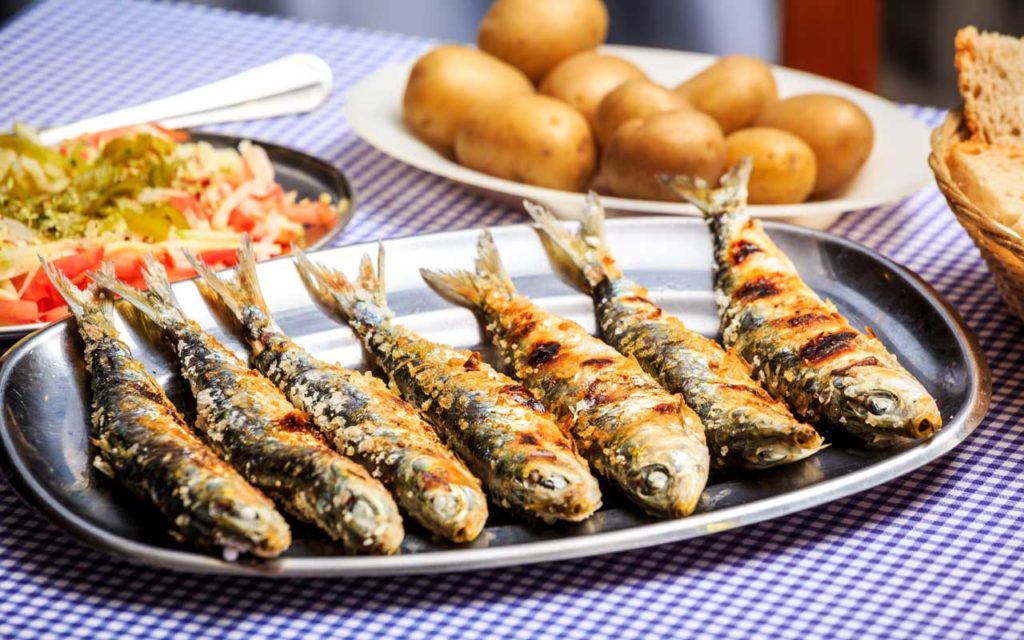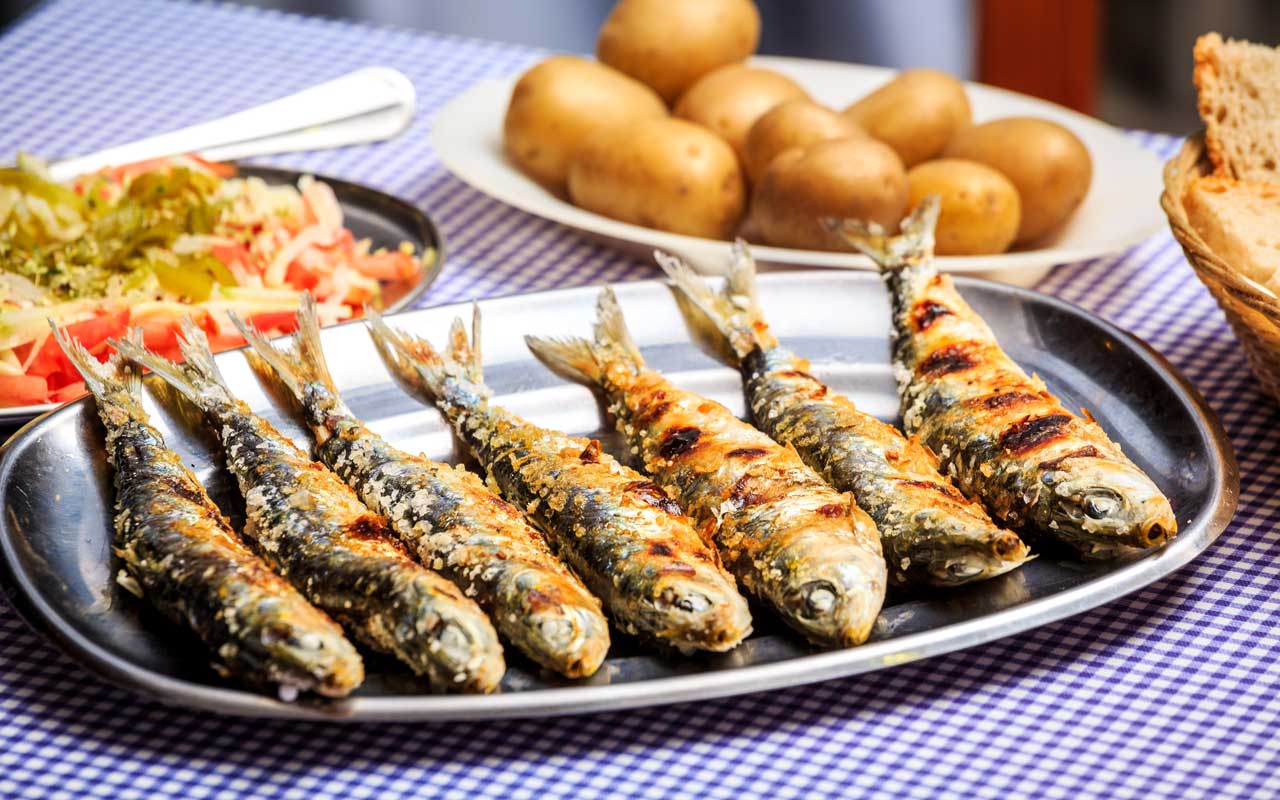 Portuguese cuisine's incredible seafood flavors come from simplicity. The fresh, salty taste of the Atlantic alone is enough.
Grilled sardines are delicious in Portugal. Venture to restaurants by ports and fish markets, and you'll be treated to tender seafood caught that very day.
I vividly remember wandering south of the Ponte Luis in Porto to the humble district of Gaia. There, I watched a chef grilling sardines straight off the boat.
Portuguese chefs love to grill them wrapped in foil to seal in the flavor. Locals often won't even strip the fish. They'll eat the charred skin too.
All you need is a little seasoning and maybe a splash of lemon juice. With boiled potatoes and some greens, you'll be dining like a local.
10 – Mixed Fresh Seafood
As mentioned above, seafood in Portugal is truly divine. There's something special about those Atlantic Ocean waters.
The elaborate, expensive regions of Portugal, naturally, get creative with seafood dishes. For poorer, local people, it's very common to eat seafood as it is.
Platter combinations are a great way to sample many of the wonderful tastes of the ocean.
At vendors or restaurants in local regions, seafood is simply seasoned and grilled or boiled.
Served with a tray of boiled potatoes and hearty greens, you'd be amazed at how delicious seafood can be cooked this way.
Seafood from the Atlantic comes with a fresh, tender taste that supermarkets and stored food just cannot compete with.
Shrimps, prawns, muscles, and squid are just some of the many seafood flavors you can try in Portugal.
Visit seaside towns or port-based regions and watch the fishermen come in with the day's catch.
That seafood will be on the plates of local restaurants within hours.
11 – Polvo à Lagareiro (Traditional Portuguese Octopus Dish)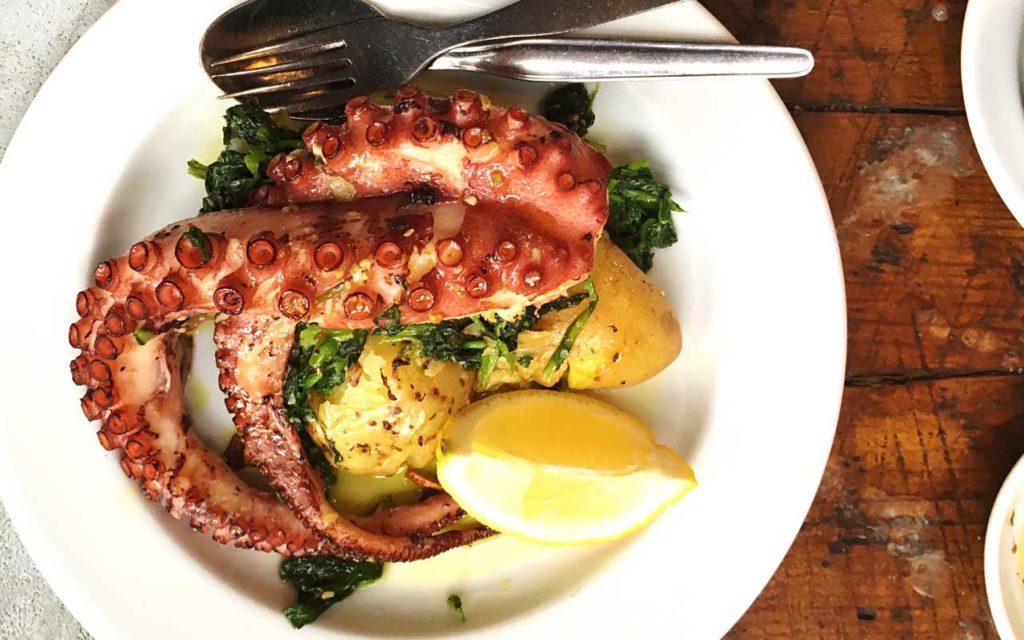 Polvo à Lagareiro is a simple and delicious octopus dish. It's another Portuguese food that brings the unique taste of Atlantic Ocean seafood to the table.
The term 'lagareiro' is a style of cooking that dresses various types of seafood in generous amounts of extra virgin olive oil.
Polvo à Lagareiro takes the octopus through two stages of cooking. Firstly, the octopus is boiled in water.
Once the meat is soft, the octopus is removed and drained. It's then cut into pieces.
Next, the octopus is grilled or roasted until lightly charred. This method fuses a delightfully crisp texture with a fresh, salt-laden meat taste.
Polvo à Lagareiro pairs wonderfully well with skin-on roast potatoes, onion, and garlic.
Finally, once assembled on the plate, the octopus is dressed with extra virgin olive oil.
Polvo à Lagareiro is a truly unique Portuguese food. It proves that as long as you have quality ingredients, delicious foods do not have to be complex.
12 – Queijos (Portuguese Cheeses)
Portugal is not as famous worldwide for its cheeses as it is for its wines.
But Portuguese cuisine is blessed with a healthy number of flavorsome cheeses.
Azeitão Cheese is one of its most popular. This strong, earthy cheese is made from unpasteurized ewe's milk.
Thistles are used in its production. This gives its creamy interior, when ripe, a wonderous hint of herb-like sweetness.
Hailing from the Arrabida Mountains, near Lisbon, Azeitão is one of many Portuguese kinds of cheese made from ewe's milk.
From the spiciness of Castelo Branco to the buttery texture of Bica de Queijo, there's a taste for all cheese-lovers in Portgual.
Farmer's markets are a great way to sample these cheeses. Trips into the mountainous, rural areas, will also get you closer to a range of cheeses and cheesemakers.
13 – Feijoada (Bean Stew)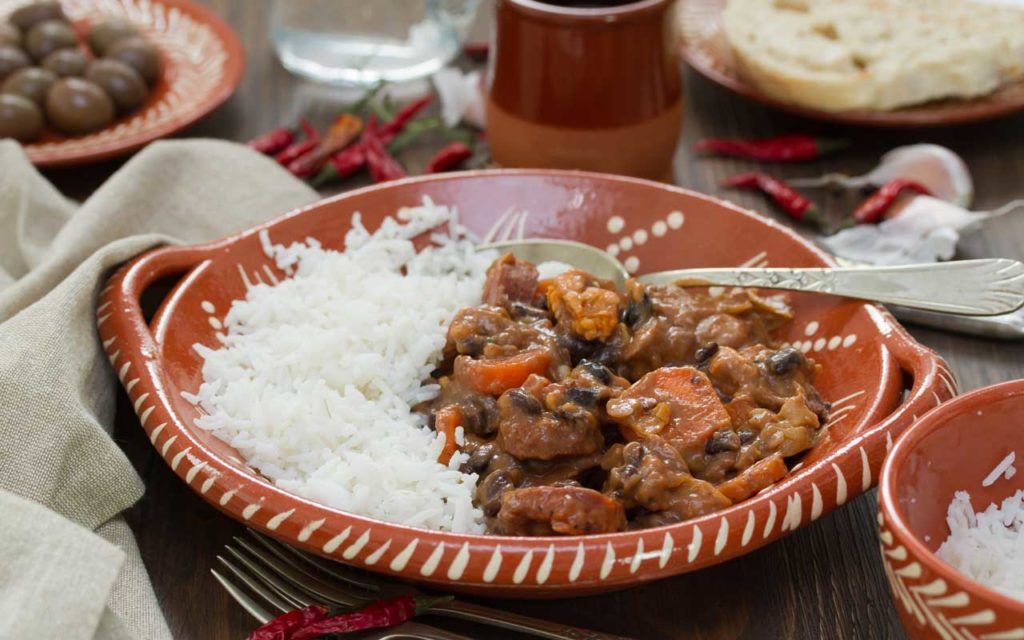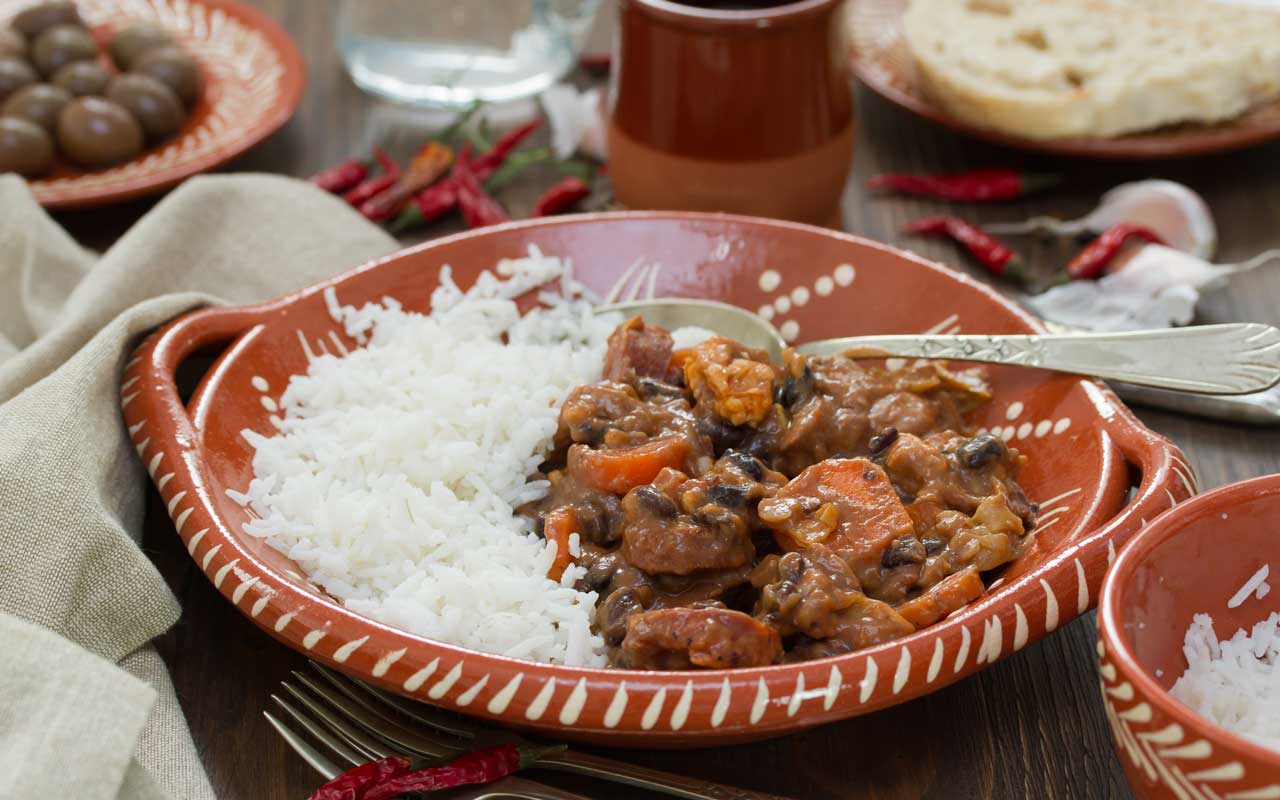 Feijoada is a wholesome bean and meat stew. Its place in Portuguese cuisine dates all the way back to the Roman conquest of Iberia.
Traditionally, feijoada was cooked in a thick pot over low heat. To this day, many Portuguese and Brazilians still cook it using this ancient technique.
Feijoada's core ingredients are beans with succulent chunks of beef or pork. The slow cooking technique allows the juice from the meat to disperse into the broth.
Recipes use a wide range of beans. You'll commonly see black beans used in the Brazilian recipe and white or red beans in Portuguese feijoada.
Garlic and chili help give the stew some kick, and traditionally it's served with a side of steamed rice.
You'll also see feijoada served with slices of orange. This helps offset the high iron intake from the red meats used.
A true comfort food, feijoada has a rich history and is loved by millions across Portgual.
14 – Bife com Ovo a Cavalo (Steak on Horseback or Steak & Eggs)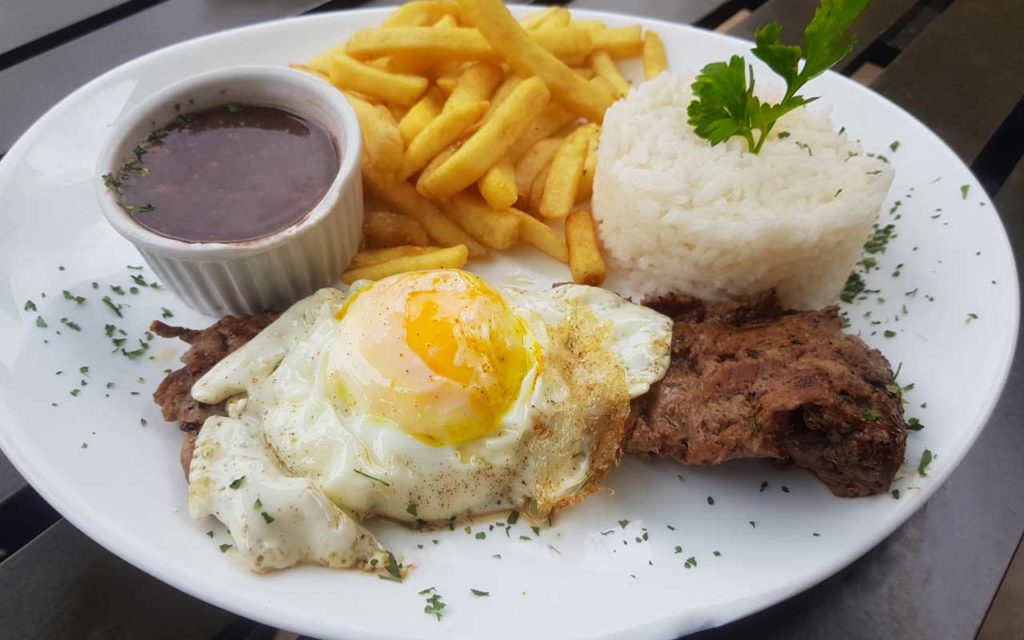 Who'd have thought two classic cuisine staples would work so well together? Step forward Bife com Ovo a Cavalo.
This traditional Portuguese dish tops a lean, grilled cut of steak or pork with a fried egg. It's then served with fries, rice, or a crisp, green salad.
The Portuguese love to eat this food at lunchtime. You'll often see lunch menus and placards outside restaurants regularly feature this dish.
As you can see from the name, the term 'on horseback' refers to the way the egg sits atop the lean cut of meat, as though it were riding the meat.
This dish originates from Beira, where workers on the olive farms would cook cuts of meat in the ovens at the olive oil mills.
The key to a flavorsome Bife com Ovo a Cavalo is in the marinade. Traditionally, leaner and lower quality cuts of meat were used. So heated and spicy marinades gave the meat an extra level of flavor. Massa de pimentão, a sweet red pepper marinade, is a popular choice.
For an authentic taste of local, honest Portuguese cuisine, you simply must try this simple yet satisfyingly filling dish.
15 – Port Wine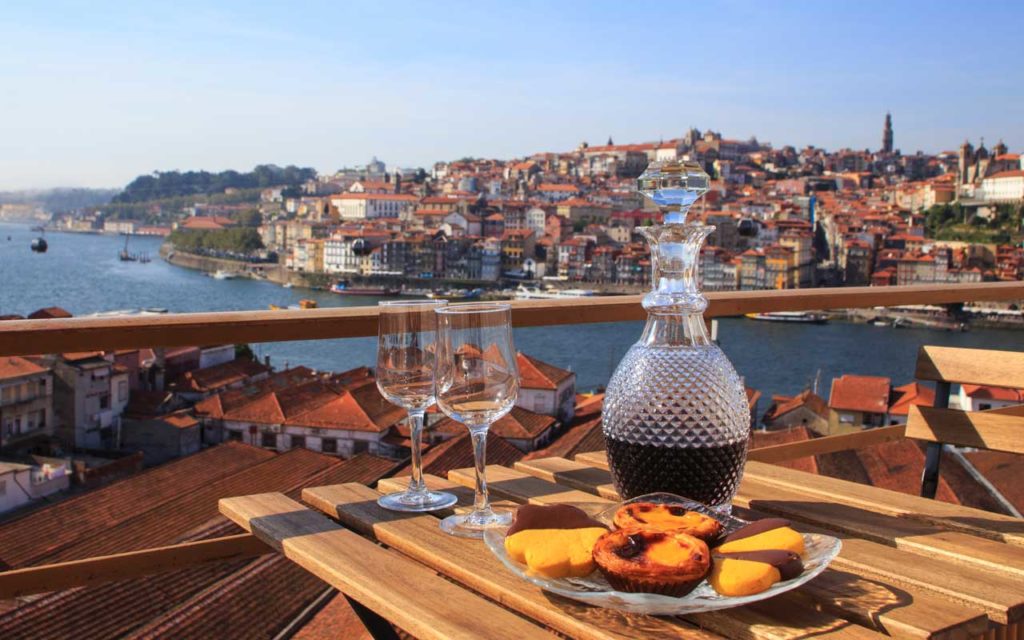 Finally, a trip to Portugal is not complete without at least a sip of sweet and soothing port wine.
Port wine is exclusively produced in the Douro Valley region, in the north of Portugal.
If you visit Porto, it's very straightforward to book a wine tour or visit this truly stunning area of Portugal.
There are also some fascinating port wine cellars you can visit, right in the heart of downtown Porto.
Port wine itself has a very rich, sweet taste. It's a much-loved dessert wine, and it pairs well with many Portuguese dishes.
Its dark red color comes from the luscious grapes grown in the Douro region.
During production, aguardente, a neutral grape spirit, is added to cease fermentation at a certain time.
This leaves residual sugar in port wine, giving it such a sweet taste. The process also raises the alcohol content.
Port wine, named after the city of Porto itself, is adored in both the north and south of the country. You simply have to try it.
Read more: Portuguese Desserts You Need to Try
Portuguese Food Summary
Sure, Portuguese food boasts some of the freshest seafood you'll ever taste. But as we can see, there's so much more to this wonderful cuisine.
Any food with Mediterranean influence will be full of flavor.
Then, throw in both Japanese and African ingredients, and you have a unique blend of tender meats, fresh vegetables, and seductive spices.
Whether you visit the sweeping coastline or beautiful mountains, great food will never be too far from you in Portugal.
And, no matter where you go, be sure to visit the Duoro Valley region. The wine is wonderful, and the views are utterly breathtaking.
You Might Also like to Read
Save and Pin for Later
Keep these delicious Portuguese foods in a safe place by saving this article to one of your Pinterest boards.
---