This post may contain affiliate links, meaning if you book or buy something through one of these links, we may earn an affiliate commission at no additional cost to you. Learn more
Planning a trip to the beach? Use our beach packing list, complete with over 50 items, to make sure you pack everything you need for a fun, safe, and memorable day out, no matter where you're going or who you're with.
Beach Packing List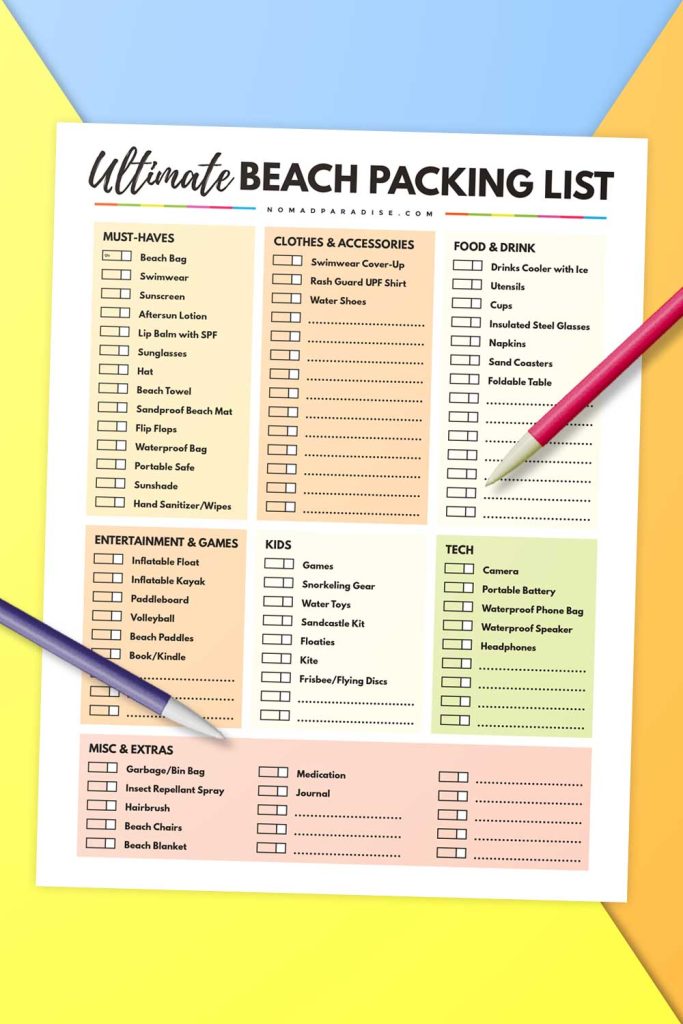 Want to get this comprehensive beach packing list for free? Scroll to the end of this article to find the download link. From there, you can print it off and leave no stone unturned when it comes to packing everything you need.
Must-Haves
1 – Beach Bag
The first thing you're going to need is a proper beach bag to hold all your things. If you can, try to opt for a lightweight, waterproof bag like this YETI Camino Carryall (available on Amazon).
There are lots of options, but try to pick one that closes, ideally with a zipper, to be able to safely store your stuff and avoid it getting filled with sand or damaged by water.
2 – Swimwear
Swimwear is definitely an essential item on your beach packing list, at least for most beaches. On a day trip, wear it under your clothes to avoid having to change at the beach, even if you're unsure if the weather will be nice enough for sunbathing.
Bring a change if you're spending several days at the beach, so you always have a clean one.
3 – Sunscreen
Do not forget the sunscreen! It doesn't matter if it's cloudy or not very warm, you should always wear sunscreen to avoid damaging your skin.
Ideally, wear it before going out and bring it with you, so you can reapply it regularly, especially after swimming.
4 – Aftersun Lotion
Aftersun is almost as important as sunscreen. Especially during the first days of sunbathing, make sure to apply aftersun lotion at the end of the day to moisturize and provide some relief to your skin.
5 – Lip Balm with SPF
This is often overlooked, but your lips also need protection. Get a lip balm with SPF and apply it regularly while at the beach or whenever you get exposed to the sun.
6 – Sunglasses
Don't forget to protect your eyes. Sunglasses are a must when visiting any beach destination. Make sure they have good lenses and wear them as much as possible.
7 – Hat
Another protection item that is worth carrying is a hat. Whether you choose a straw hat, a bucket hat, or a baseball cap, make sure you choose one that fits well, so it doesn't get blown by the wind.
Wearing a hat is important to not only protect your face and skin but also avoid heatstroke.
8 – Beach Towel
Another must-have is a beach towel. You can choose between several options. Thicker, cotton towels are more absorbent but may take up more space in your luggage.
Cotton Turkish towels such as this one on Amazon are a good alternative, as they are lighter and pack smaller. Ideally, look for something that absorbs water but also dries fast.
9 – Sandproof Beach Mat
For some extra protection from the sand, you may also carry a sand-proof beach mat like this Sandlite mat on Amazon. This is handy to avoid placing your beach towel on the sand.
Furthermore, beach mats are more rigid and less likely to get blown away by the wind. You can even find beach mats that fold into a tiny bag, making them easy to carry.
10 – Flip Flops
Flip flops can come in very handy at the beach or for showering. Make sure to pack light, easy-to-clean, fast-dry pair of flip flops in your beach bag.
You can find flip flops made from rubber, plastic, foam, or even fabric, although the latter may take longer to dry.
11 – Waterproof Bag or Portable Safe
It's a good idea to have a small waterproof bag or a portable safe (like this one on Amazon) to protect your valuables, such as documents and money, from water damage. A portable safe is also useful in case of theft, so it may be an even safer option.
12 – Sunshade
If you'd like to enjoy some shade on the beach, it's a good idea to bring a sunshade. This can be useful, especially during the warmest parts of the day, around noon. Don't forget this item if you plan on spending long days at the beach.
13 – Hand Sanitizer or Antibacterial Wipes
You may not always have access to a bathroom and soap to wash your hands, so carrying hand sanitizer or some antibacterial wipes is a must.
Sanitizer usually lasts longer as you only need a few drops, and you don't create any waste. If you prefer the more practical wipes, make sure to dispose of them properly and never leave them on the beach.
Clothes and Other Accessories
14 – Swimwear Cover-Up
A great thing about warm summer days and beach destinations is you don't even have to bother wearing proper clothes. A swimwear cover-up is a fashionable yet comfortable item to wear from your hotel to the beach.
15 – Rash Guard UPF Shirt
While initially made for surfers, rash guards are now commonly used to protect yourself from UV rays. If you spend a lot of time in the water, swimming, or doing water sports, these are great to protect you from getting a sunburn when sunscreen is likely to lose some of its effects.
16 – Water Shoes
These are a must if you're visiting pebble beaches, cliffs, various rock formations, or natural pools. Water shoes are great to avoid slipping or cutting your feet on pointy rocks. They are also great for keeping your feet warm in very cold water.
Tech
17 – Waterproof Action Camera
To capture the best moments of your beach holiday, don't forget to bring your camera. If you're into photography, you could even invest in a waterproof action camera that will allow you to take pictures in the water.
18 – Portable Battery
Avoid finding yourself with your phone dead and no idea how to find your way back to your hotel. Always carry a portable battery with you, and make sure to recharge it regularly. Go for one that has more than one charge, so you don't need to recharge it every day.
19 – Waterproof Phone Bag
A waterproof phone bag is a great idea for many reasons. Not only do you get to protect your phone from water damage, but you can also take it with you when you go for a swim and take pictures or videos. This is especially handy if you don't have a waterproof camera.
20 – Waterproof Speaker
If you want to listen to music at the beach, a waterproof speaker like the JBL Flip 4 will allow you to do so without worrying about water damage.
You can even buy small yet powerful speakers that take very little space in your luggage.
21 – Headphones
If you'd like to listen to music without bothering your beach neighbors, be sure to bring your headphones. They are also handy if you wish to listen to an audiobook or podcast while relaxing and sunbathing.
Food & Drink
22 – Food and Snacks
Don't forget to pack some snacks, especially if you're spending long days at the beach. Try to opt for nutritious snacks like fresh fruit, granola bars, or sandwiches. Make sure to pack them properly and eat the fresh things first before they get ruined from the heat.
Related: Best Road Trip Snacks to Pack
23 – Drinks
Remember to hydrate. Always carry with you a bottle of cold water to replenish your liquids throughout the day. You may also carry your favorite drinks, but water is definitely a must.
24 – Drinks Cooler with Ice
To keep your drink cool throughout the day, consider carrying a cooler with ice. This is handy if you travel in a big group or with your family and want to spend long days at the beach. As an alternative, you can buy a cooler sleeve for your water bottle.
25 – Utensils
If you wish to bring proper meals, you may want to buy yourself Tupperware or, even better, a stainless-steel container. If you're packing salads or cooked meals, remember to also bring utensils.
To avoid single-use cutlery, buy a reusable utensil kit made from bamboo or wheat straw. These are lightweight and easy to carry as they usually come with a box or pouch.
26 – Cups
Another must for beach meals is cups. You also have several options for these, from reusable plastic ones to bamboo, wheat straw, or stainless steel. As for utensils, make an eco-friendly choice and avoid using single-use plastic cups.
27 – Insulated Stainless Steel Glasses
To keep your drinks either cold or hot, consider buying insulated stainless-steel glasses. These are great if you wish to bring your morning coffee with you or an ice-cold soft drink.
28 – Napkins
Remember to also pack some napkins in your lunch bag. Just make sure to always dispose of them in the appropriate bins and never leave any garbage on the beach.
29 – Sand Coasters
You've probably been in the situation when you're drinking a glass of water or juice on the beach, and you don't know where to place your glass to keep it from falling. Sand coasters are a great invention just for these moments.
30 – Foldable Beach Table
While this option may not always be ideal, it's great if you're traveling by car to an easily accessible beach. Bring a small foldable table to enjoy a proper lunch or even dinner at the beach.
Entertainment & Games
31 – Inflatable Float
On calm days when the sea is flat, nothing feels more calming than lying on a float and enjoying the sun. An inflatable float is easy to carry and is guaranteed to make your beach day much more relaxing and enjoyable. Consider bringing an air pump to inflate it easier.
32 – Inflatable Kayak
If you're into water sports and adventures, an inflatable kayak is a great way to have fun at the beach. Furthermore, you may be able to visit remote places like sea caves that you wouldn't otherwise be able to reach.
33 – Paddleboard
If you're visiting places with calm waters, bring a paddleboard and practice your balance with stand-up paddleboarding.
34 – Volleyball
Beach volley is a classic beach game. If you're traveling with at least one other person, bring a volleyball and enjoy a few games on the sand. Others could join in, and many beaches also have nets set up.
35 – Beach Paddles
Another classic beach game is beach tennis. The great thing is that beach paddles don't take much space, so you can carry them even if you want to pack light.
36 – Book or Kindle
If you'd rather relax reading a good book, don't forget to pack that book you never find time to read at home, as the beach is a great place for reading. A Kindle Paperwhite is a great alternative to save some space and carry as many books as you wish.
For Kids
37 – Games
To keep your kid occupied at the beach, don't forget to bring their favorite games. Whether it's board games or their favorite truck or doll, remember to pack a few games and/or toys in your bag.
38 – Snorkeling Gear
Snorkeling gear is great to have fun with the kids while also teaching them about marine life. Pack a diving mask, a snorkel, and a pair of fins and enjoy exploring the shallow waters of the sea.
39 – Water Toys
From water guns to floating pool noodles and other floating toys, you have several options to choose from when it comes to water toys.
40 – Sandcastle Kit
Another classic beach activity for kids is building sandcastles. Pack a sandcastle kit with buckets, shovels, and different shapes, and have fun building amazing sandcastles.
41 – Arm Floaties and Donut-Shaped Floatie
For children just learning to swim, arm floaties and donut-shaped floaties are great ways to teach them to swim while keeping them safe in the water.
42 – Kite
Windy days are for flying kites, and a great way to have fun with your kids is flying a colorful kite together. As a bonus, you'll even get a little physical activity from running along the beach.
43 – Frisbee/Flying Discs
Whether you are traveling with kids or even with your dog, frisbees and flying discs are great ways to have fun at the beach.
Miscellaneous
44 – Garbage/Bin Bag
Remember to always take your garbage when leaving the beach and throw it in the appropriate bins. Carry an old bag or a bin bag where you can place all the trash throughout the day and drop it in a larger bin once you leave.
45 – Insect Repellant Spray
Depending on your destination, it may be useful to carry an insect repellant spray with you, especially when staying at the beach in the evening. To avoid bites, apply insect repellant regularly.
46 – Hairbrush
If you have long hair, it's a good idea to bring a brush so you can brush and untangle your hair after going for a swim.
47 – Beach Chairs
If you're traveling by car or your accommodation is close to the beach, bring your own beach chairs to be more comfortable when sitting down and relaxing.
48 – Beach Blanket
A beach blanket is a great idea for colder days or if you want to enjoy the sunset at the beach. You can lay it down and use it as your base.
49 – Medication
If there is any medication you must take regularly, remember to bring enough of it for the duration of your stay to avoid having to spend your time looking for pharmacies rather than enjoying the beach.
Also, it can be useful to have some of the usual medication, like pain relievers, cold medicine, or allergy meds on hand, just in case.
50 – Journal
Journaling can be a great practice to pass the time, record your memories, or simply reflect on what you are grateful for. Why not pack a journal and a pen and take some time at the beach to write down your thoughts?
Beach Packing List Summary
While beach days and vacations can be some of the most memorable trips you take, failing to pack appropriately for them can often lead to lots of problems and frustrations.
Don't leave things to chance. Pack accordingly, account for all scenarios and free up your time and energy to actually enjoy your time there, rather than looking around for items and essentials you need to buy.
You Might Also Like to Read
Save and Pin for Later
Planning a beach day soon? Keep this article for safekeeping by saving it to one of your Pinterest boards.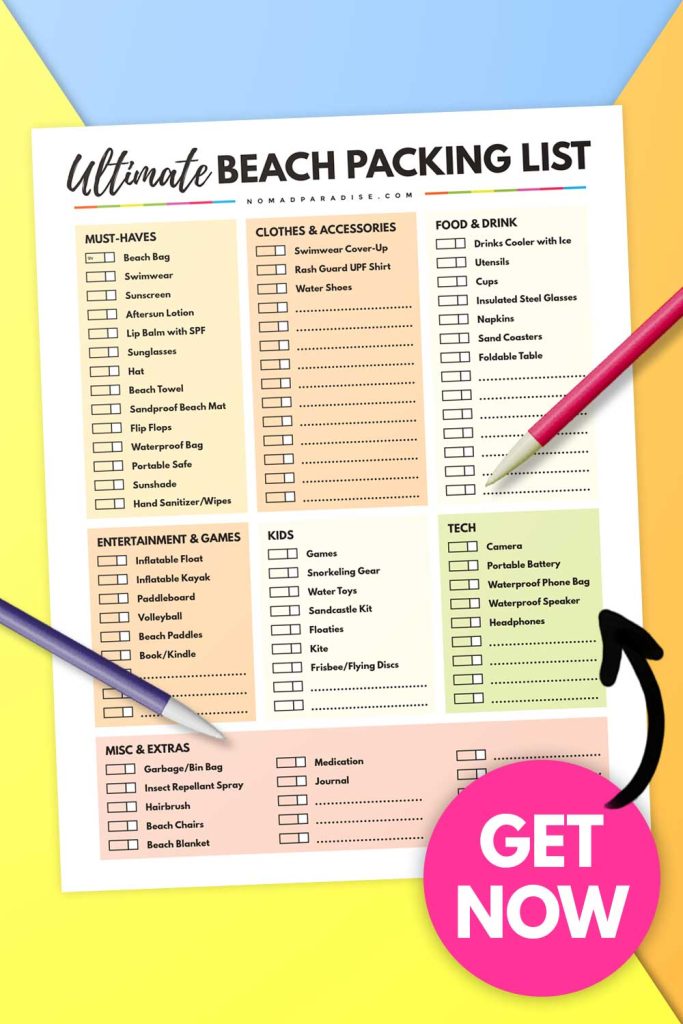 Author: Dale Johnson is a content writer and graphic designer, who has traveled to and lived in 30 countries and counting.