This post may contain affiliate links, meaning if you book or buy something through one of these links, we may earn an affiliate commission at no additional cost to you. Learn more
Ecuadorian food plays host to a staggering array of flavors. This diverse cuisine is heavily influenced by the altitude of the region you are in.
From the coastline to the mountains, there's so much diversity in the food. But the rich tastes and the succulence are always strong, no matter where you are.
Join us on a culinary adventure through this beautiful country as a native Ecuadorian takes us through sixteen must-try Ecuadorian dishes.
16 Popular and Traditional Ecuadorian Foods
1 – Tigrillo – Scrambled eggs, green plantain, cheese, and onions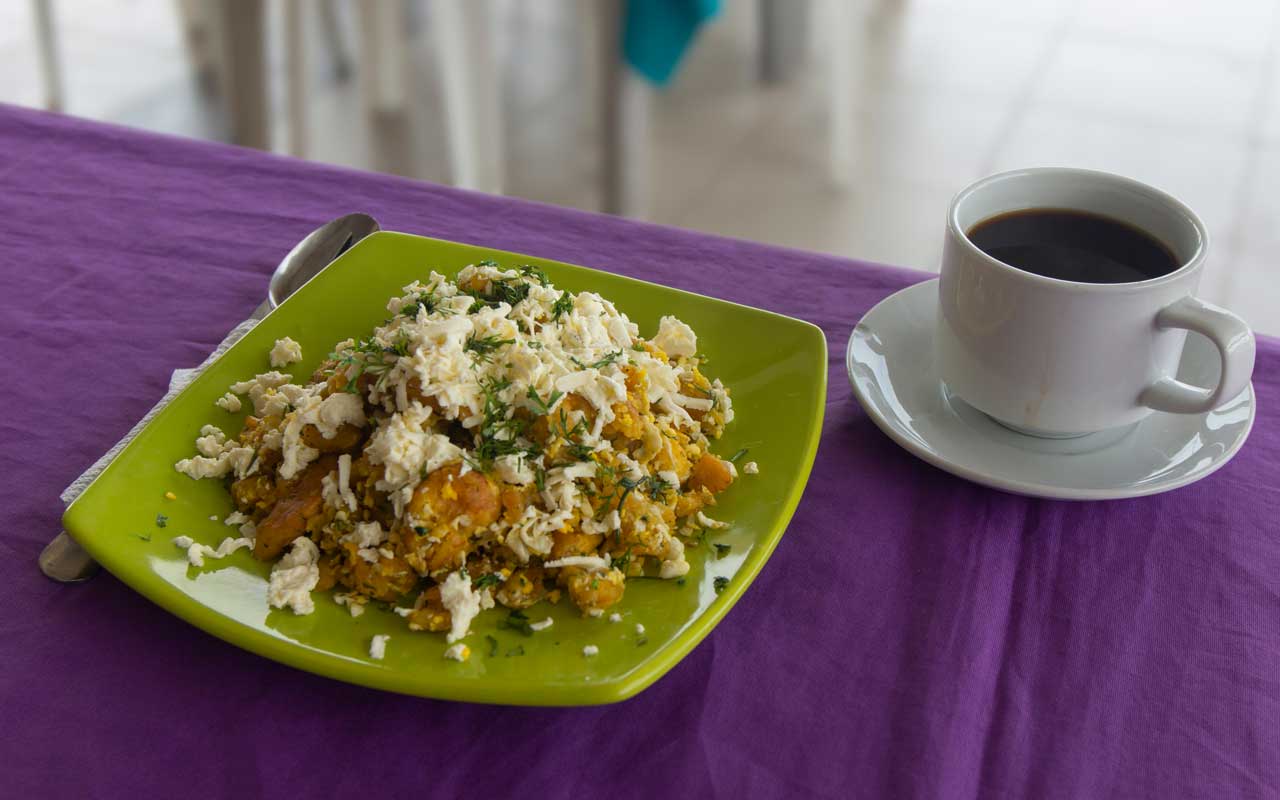 Originating from the Oro province, Tigrillo (translated as 'little tiger') is a delicious breakfast for true Ecuadorians.
To make this calorie-rich dish, you first need to fry the green plantains, cut them in circles, mash them, and let them cool.
Then, fry some chopped onions in another pan and add the mashed plantains, eggs, and ground cheese. Any type of fresh cheese would be perfect for this dish.
Stir the mixture until all the ingredients are well mixed together and fully cooked.
Tigrillo is served warm and with chopped cilantro on top.
It is a satiating breakfast and a favorite among early-morning workers across the country who need an extra energy boost.
It's always served with a cup of warm coffee.
2 – Mote Pillo – Scrambled eggs and hominy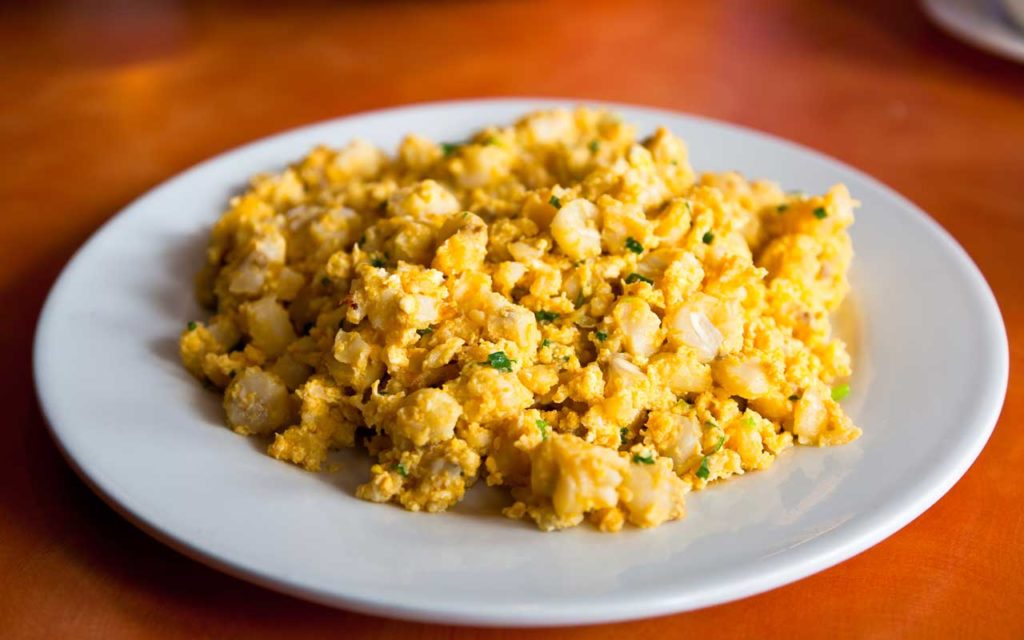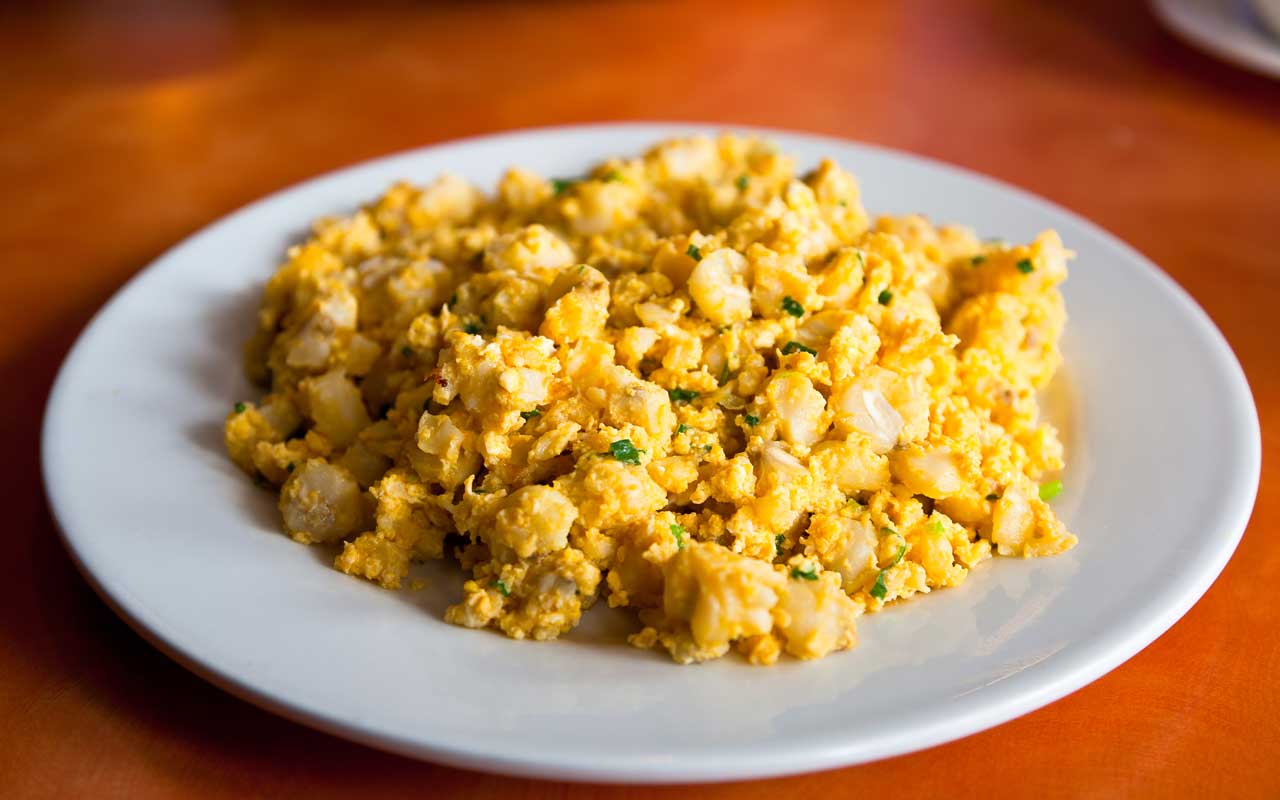 If you ever visit the highlands of Ecuador, you must try mote pillo, scrambled eggs with hominy.
This delicious dish contains a delicious mix of fried spring onions, boiled hominy, and scrambled eggs with milk.
The key is to fry all of these ingredients in achiote, a colored oil commonly used in Ecuadorian cuisine.
Some people love adding fresh cheese to mote pillo, and of course, chopped cilantro.
Mote pillo is a typical dish that you can find on every corner in the city of Cuenca, and it's considered as one of their traditional breakfast dishes.
Generally speaking, hominy is part of almost every dish in the highlands.
3 – Bolón – A ball of green plantains and cheese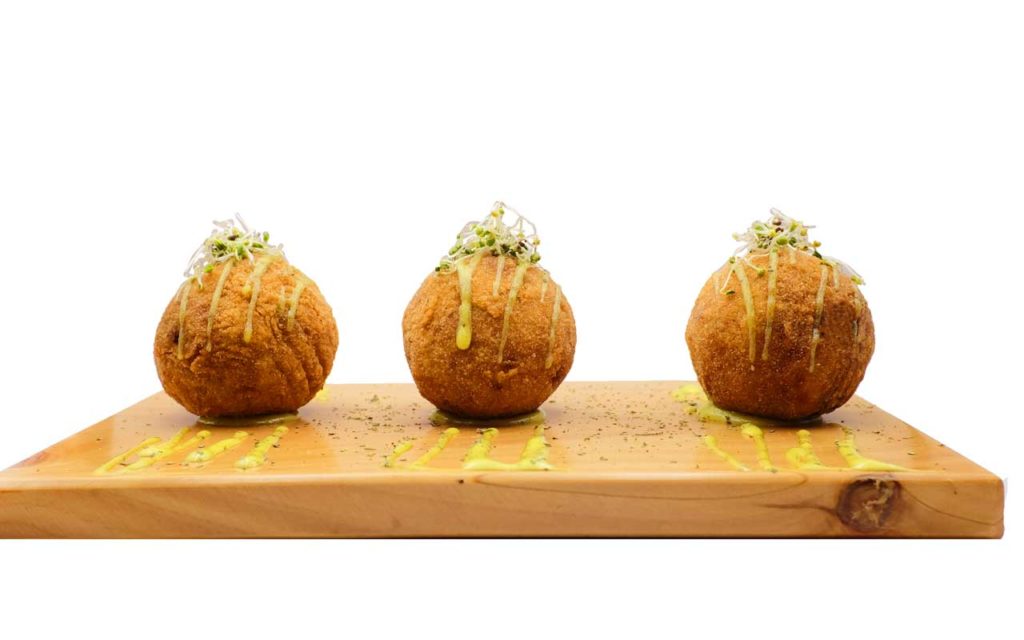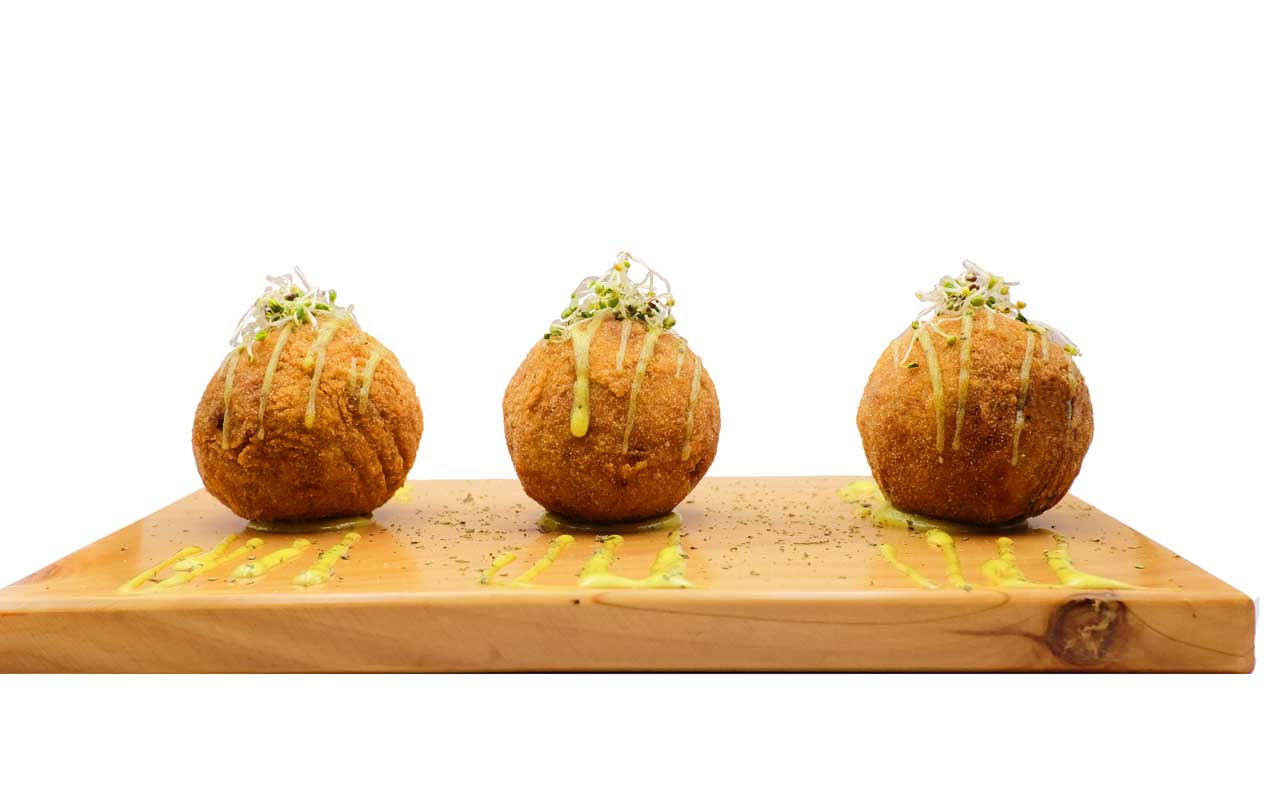 Bolón, meaning a big ball, is another Ecuadorian breakfast dish that is commonly found along the Ecuadorian coast.
It's larger than a tennis ball but smaller than a handball. It has incredible texture, aroma, and flavor.
This dish is easy to make, and it requires chopped, fried, and mashed green plantains, mixed with cheese, butter, salt, and pepper, all rolled into balls.
The key to a delicious bolón is to fry it after shaping the ball for an extra crunchy flavor.
Meat-lovers add chopped chicharron (Ecuadorian sausage) to the mix, for an even richer taste.
Bolón is usually served with one fried egg and a cup of warm coffee.
4 – Encebollado – Albacore & onion soup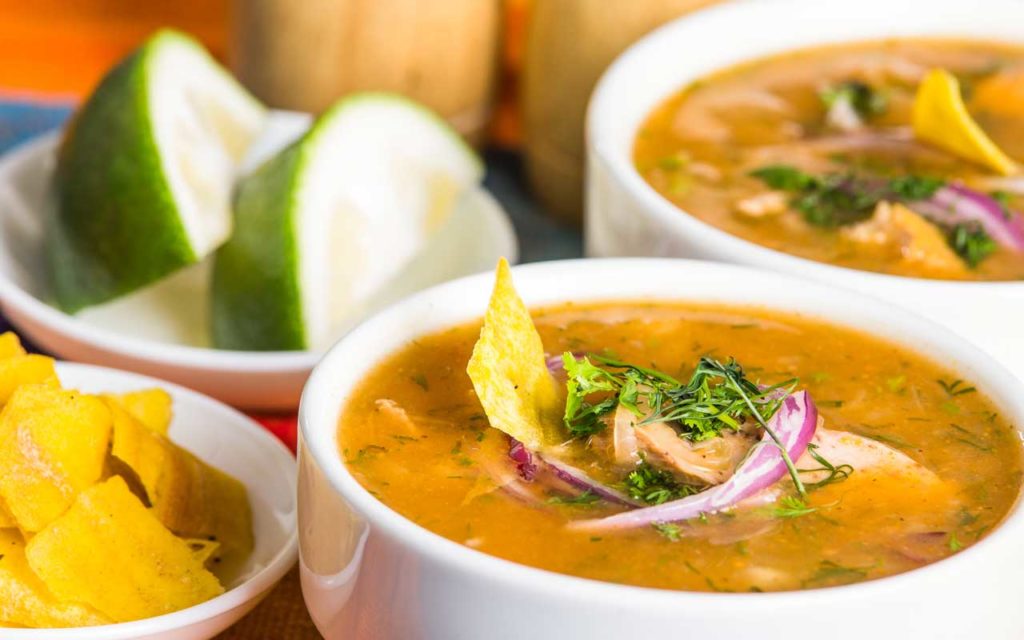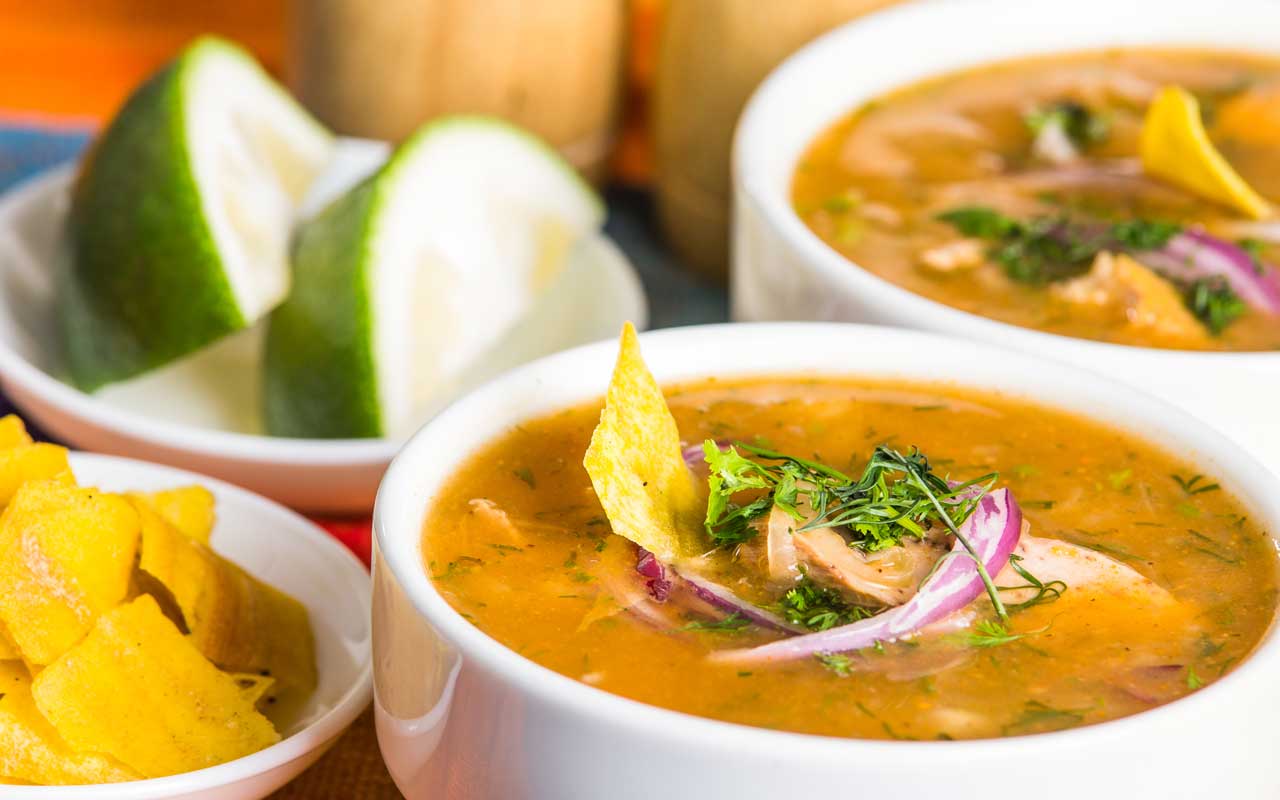 The Ecuadorian coast means party, and a party means hangover, and here's where encebollado plays the leading role.
Encebollado is a soup made from the famous albacore fish, a lot of onions, cilantro, yucca, and fresh lime juice.
This Ecuadorian food is the traditional chuchaqui (hangover) cure that wipes out a headache in an instant.
The mixture of albacore, onions, and the softness of the yucca root gives this soup a specific flavor that penetrates all senses and makes you come back for more.
The spicy sauce made out of reddish, carrots, chili peppers and lime boosts encebollado's power, helping people to start a new day fresh and ready to roll.
Encebollado is always eaten with chifle (long, green plantain chips), which you can dip in the soup.
5 – Cuy Asado – Roasted guinea pig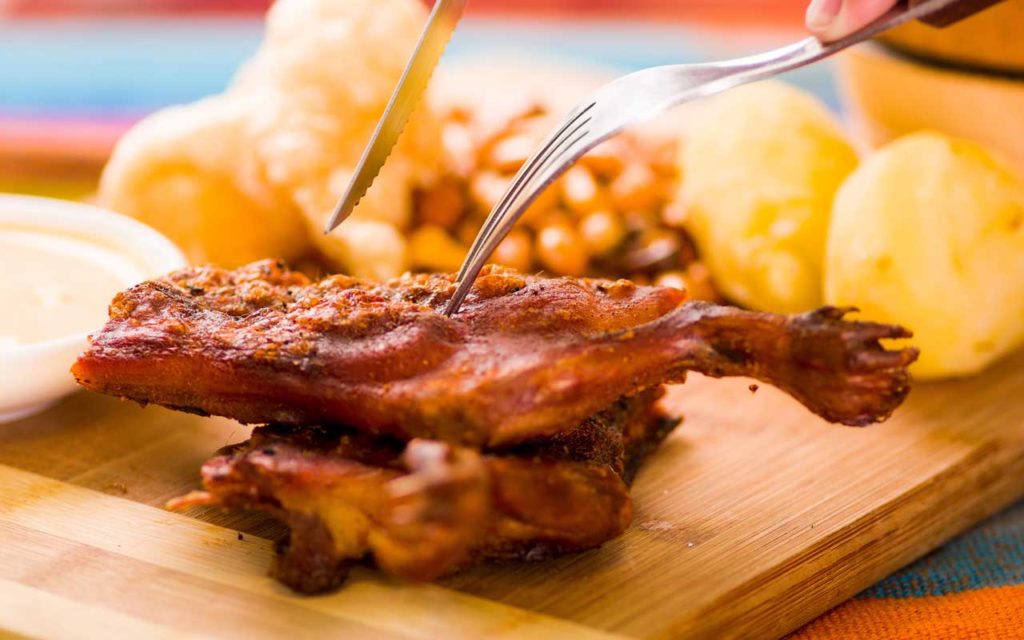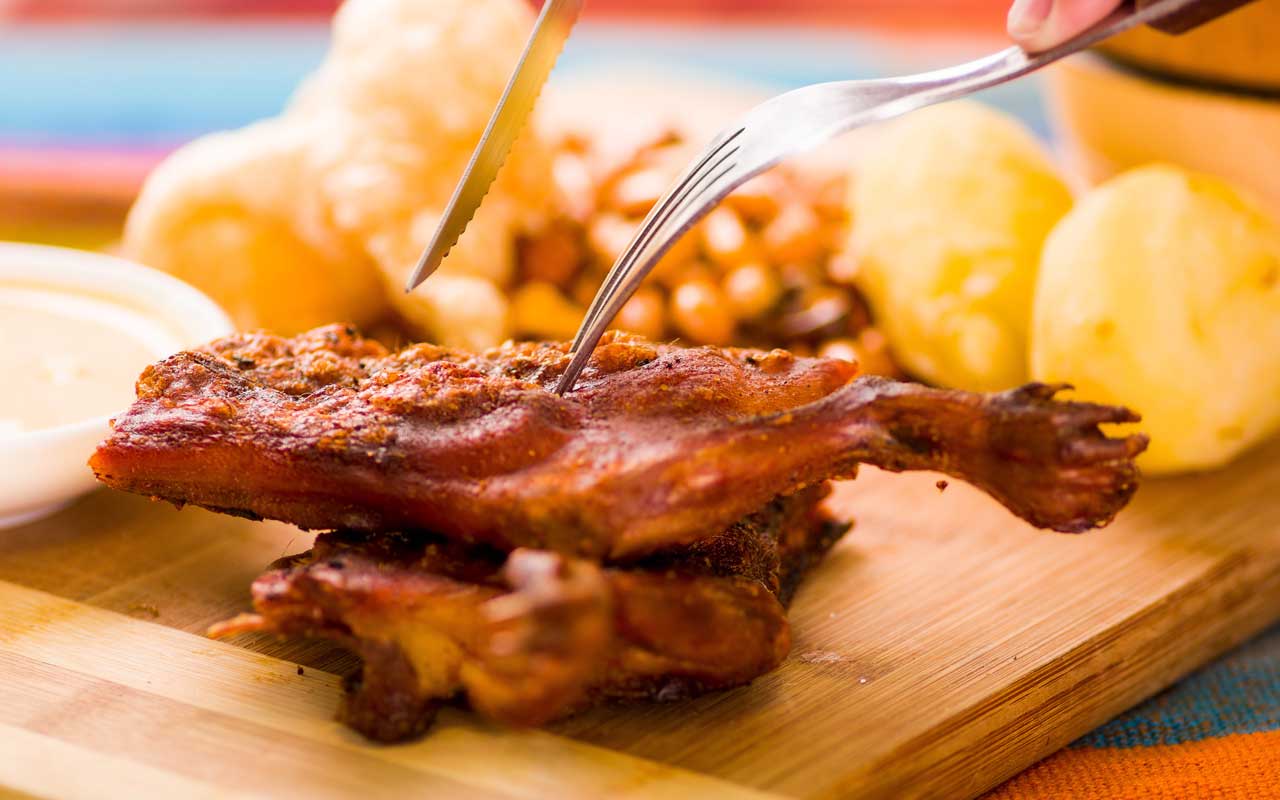 No matter how awkward this may sound, roasted cuy is part of patrimonial Ecuadorian cuisine.
Futhermore, it's one of the tastiest meats you will try in your life.
Typical for the Andean people across the South American continent, roasted cuy is a must-try whenever visiting Ecuador.
It's served with potatoes, corn, chili sauce, and a salad that the locals call salsa (made of tomato, lettuce, onions, and lime).
A lot of visitors feel suspicious about eating a guinea pig, but after trying the soft and tender meat, they understand why we all love it.
Roasted cuy is a trademark for the Ecuadorian highlands cuisine. If you ever travel through this part of the world, don't miss the opportunity to try one.
6 – Ceviche de camaron – Shrimp ceviche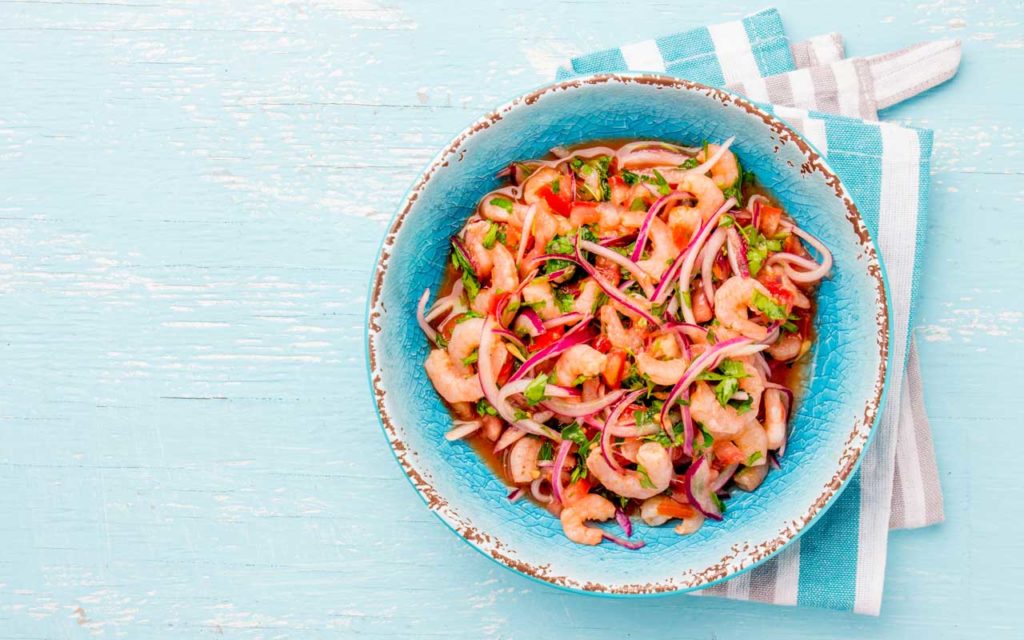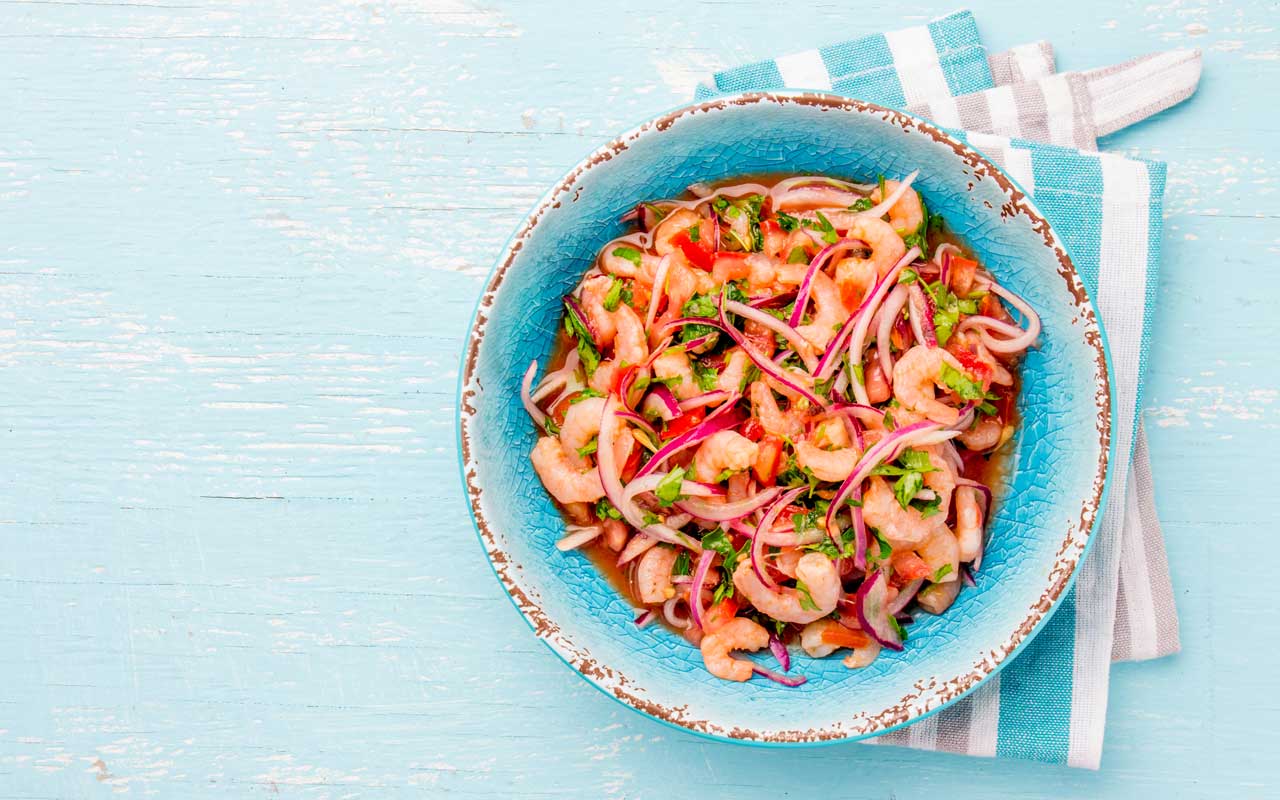 The king of all coastal meals – ceviche de camaron! Ceviche de camaron is raw shrimp marinated in a lot of lime juice.
After marinating in the lime juice, the shrimp is not as raw anymore, and it gains incredible texture and turns every bite into a bliss.
Ceviche also contains salt, black pepper, chopped cilantro, chopped red chili peppers, green peppers, onions, and tomatoes.
So, after mixing all of these ingredients, you get a delicious dish, perfect for the hot coastal weather.
Some people eat ceviche with chifle, while others prefer patacones (green plantain "crackers").
Ceviche can also be made with fish, oysters, octopus, or mixed seafood.
7 – Patacones con Queso – Fried green plantain "crackers" with cheese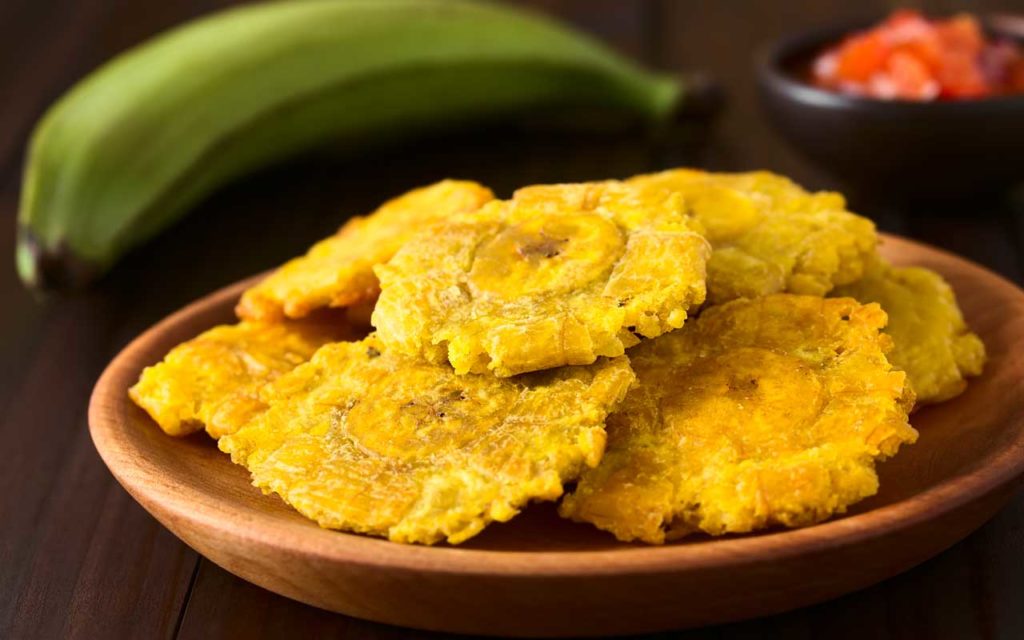 Patacones are something that goes along with every Ecuadorian dish, and is a true staple of Eduadorian cuisine.
It can also be eaten on its own as a snack with cheese or sometimes ever as a dinner meal.
Easy to make and rich in calories, patacones are the best snack-type food that you can order just like you order fries in the western world.
Patacones are green plantains cut diagonally and then deep-fried. After cooling down, the patacones are pressed until they become round in shape.
From there, they are fried once again. People will often sprinkle fresh ground cheese on the patacones while they're still warm.
A cup of warm Ecuadorean coffee is an absolute must to make this combination perfect.
8 – Tonga – Chicken, rice, peanut butter wrapped in banana leaf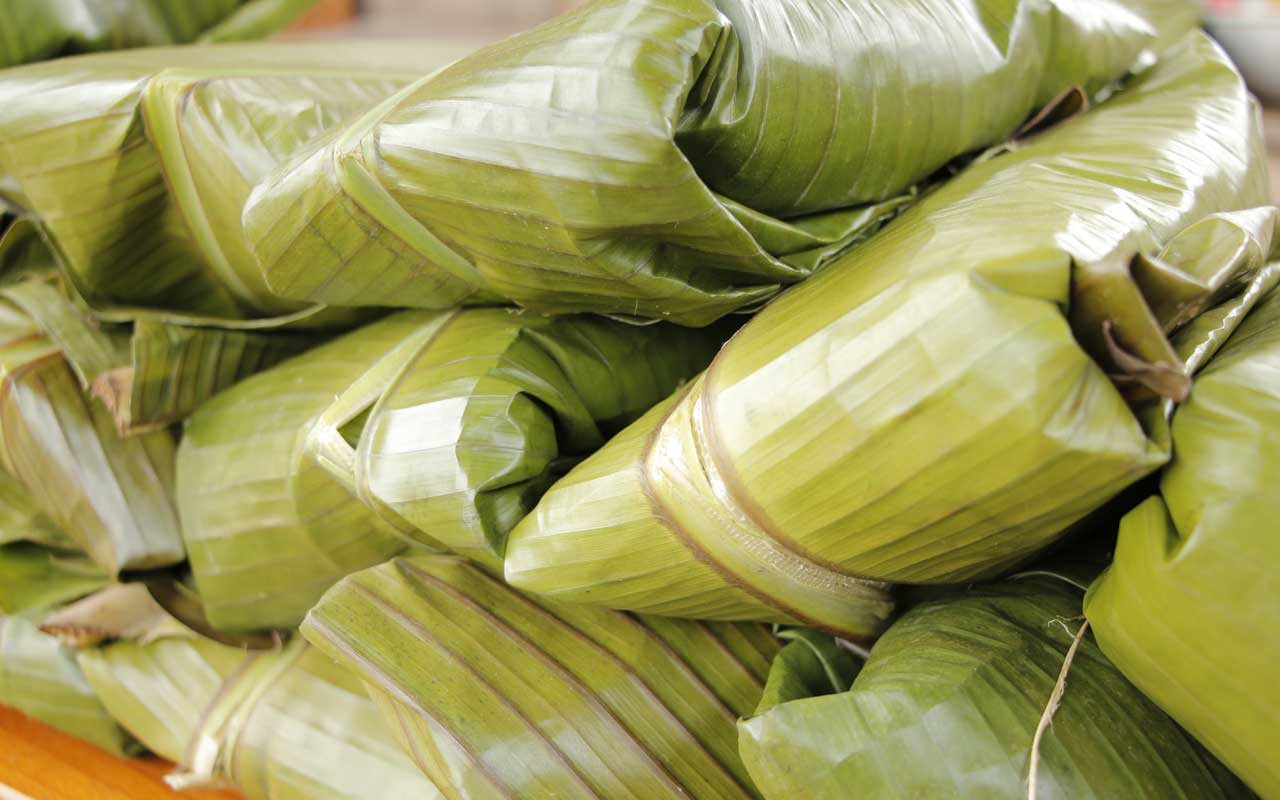 Tonga is an exquisite dish coming from the province of Manabi, on the Ecuadorian coast.
Tonga consists of homemade peanut butter, cooked white rice, chicken cooked in tomato, onion, or green pepper sauce, and slices of fried banana.
All of these Ecuadorian foods are wrapped together in banana leaves and baked for 15 minutes.
When served, tonga looks like a birthday present wrapped in banana leaves. When opened, it releases a mind-blowing aroma.
Tonga is a large dish that is served as a meal and doesn't need any side dishes or salads.
It's one of the oldest and well-mastered dishes of Manabi, and it can also be made with shrimp instead of chicken. This dish is never found in other parts of Ecuador.
9 – Llapingachos – Potato tortillas filled with cheese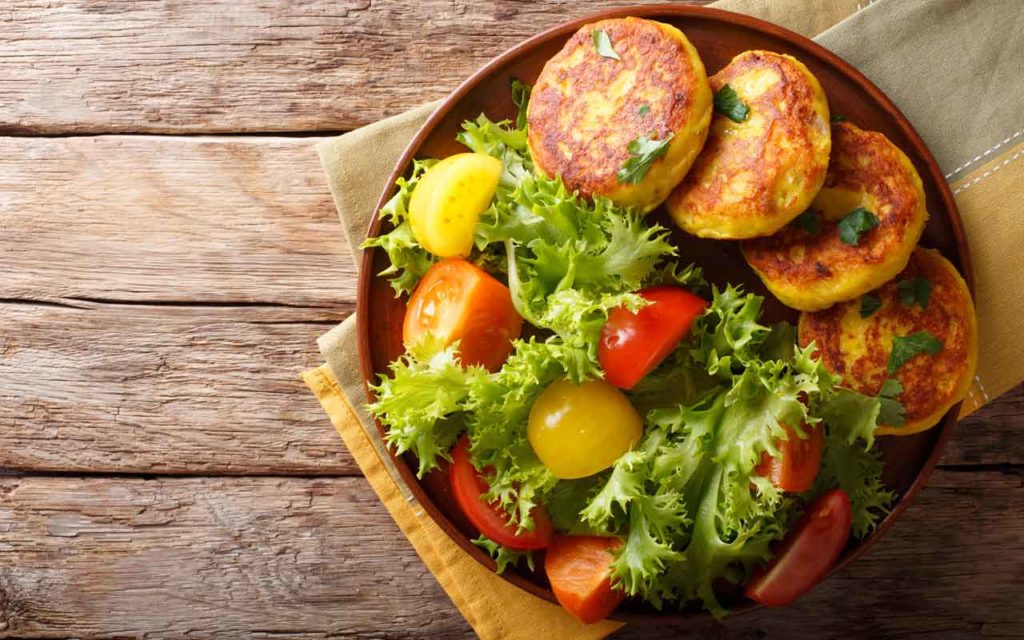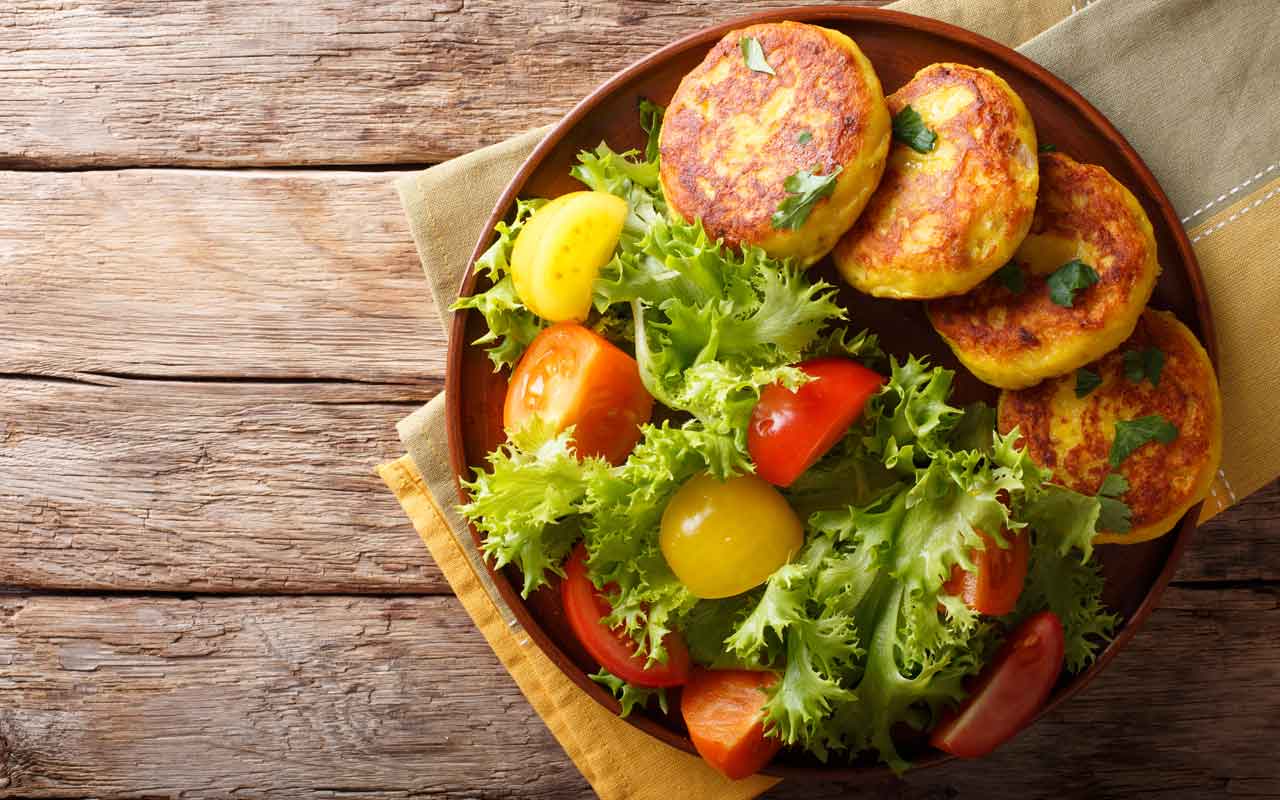 Llapingachos is a typical light dish from the Ecuadorian highlands. It is easy and cheap to make, so it's quite widespread in almost all restaurants of the Sierra.
Llapingachos are boiled potatoes mixed with cheese, made into tortillas, then fired and bathed in peanut butter.
It's a simple, easy to make, and energy-boosting dish that can be served as either a breakfast or a dinner.
Llapingachos are generally served with a fried egg, sliced avocado, chorizo (sausage), and a tomato/onion salad.
Llapingachos origin is from Tunguraghua province, where a lot of natives live.
The name comes from the Quechua word "llapin," which means "smashed." If you ever come to this region, don't miss the llapingachos.
10 – Locro de papa – Potato stew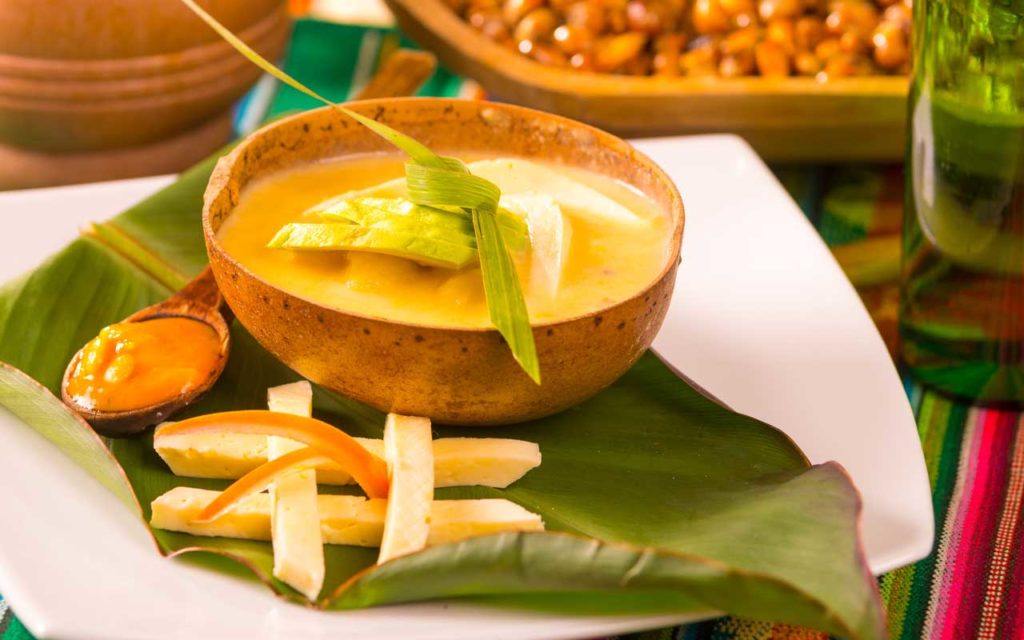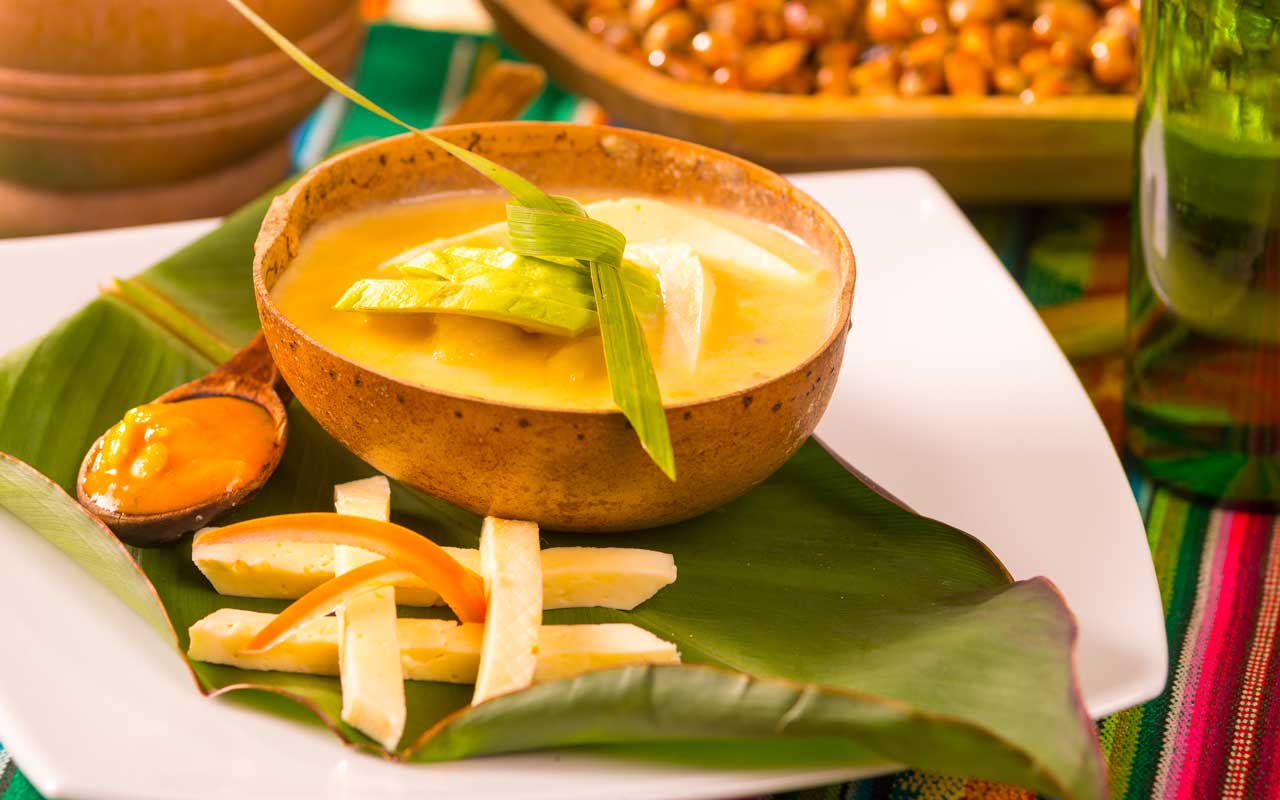 Locro de papa is without a doubt, one of the jewels of Ecuadorian gastronomy.
It is a creamy, thick potato soup served with toasted corn, and in some parts of Ecuador, even popcorn that you can sprinkle in the stew.
Locro de papa is a basic dish that all local people eat at least twice a week.
The best part of this dish is the added cheese slices that melt into the creaminess of the potato stew.
Even though it's served hot, it's also beloved in the coastal region, but it's more popular in the colder parts of the country.
If you need to recuperate your strength after an Andean hike, then locro de papa is your best bet.
11 – Helado de Paila – Bronze pan Ice Cream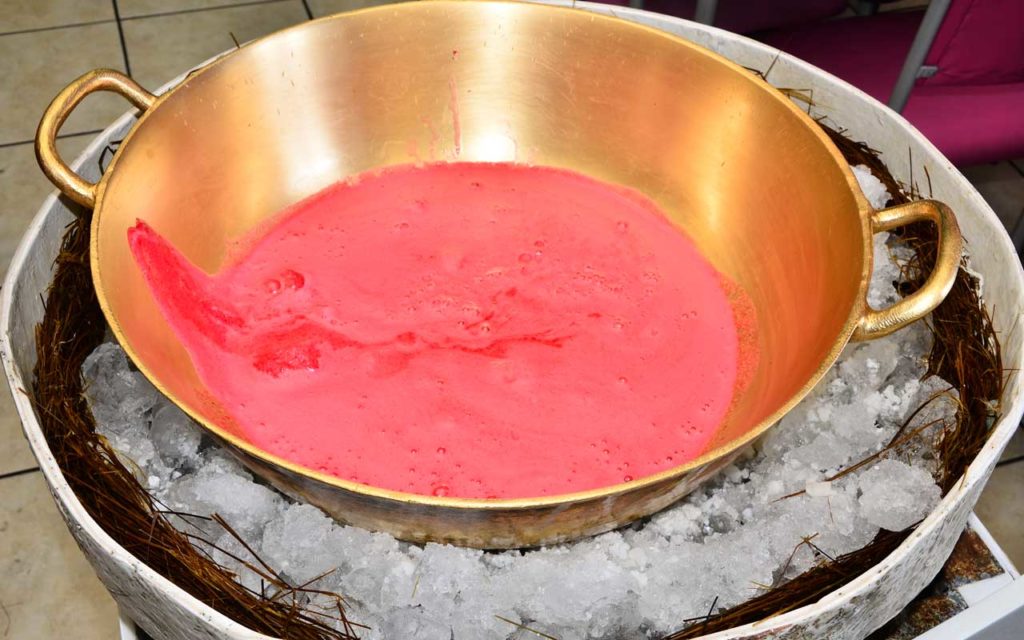 Like many other dishes and unusual ways of preparing food, Ecuador also has its own, unique way of making ice cream, by hand.
Without any electric mixers or blenders involved, the helado de paila is homemade ice cream, a favorite among the local population.
It's made of fruit juice and sugar added to a large bronze pan (paila), on top of a pile of crushed ice sprinkled with salt grains.
While the ice keeps the paila cold, the ice cream maker stirs the juice until it turns into a cream and starts hardening.
Helado de paila is a typical tradition in the city of Ibarra, and it's mostly seen in the highlands.
This is an antique desert that people of all generations love.
12 – Encocado de Pescado – Fish in Coconut Stew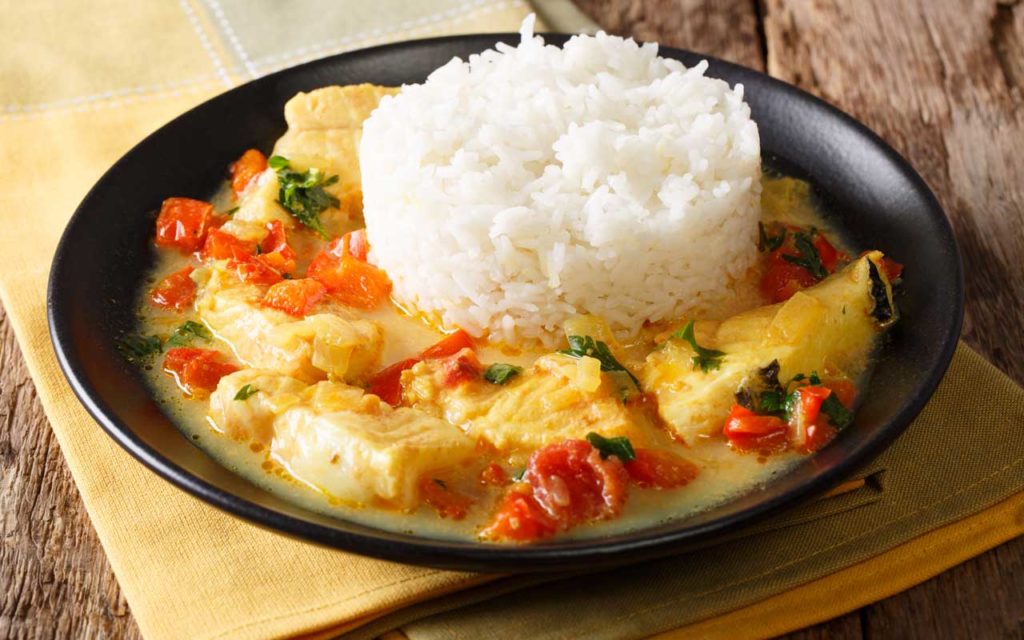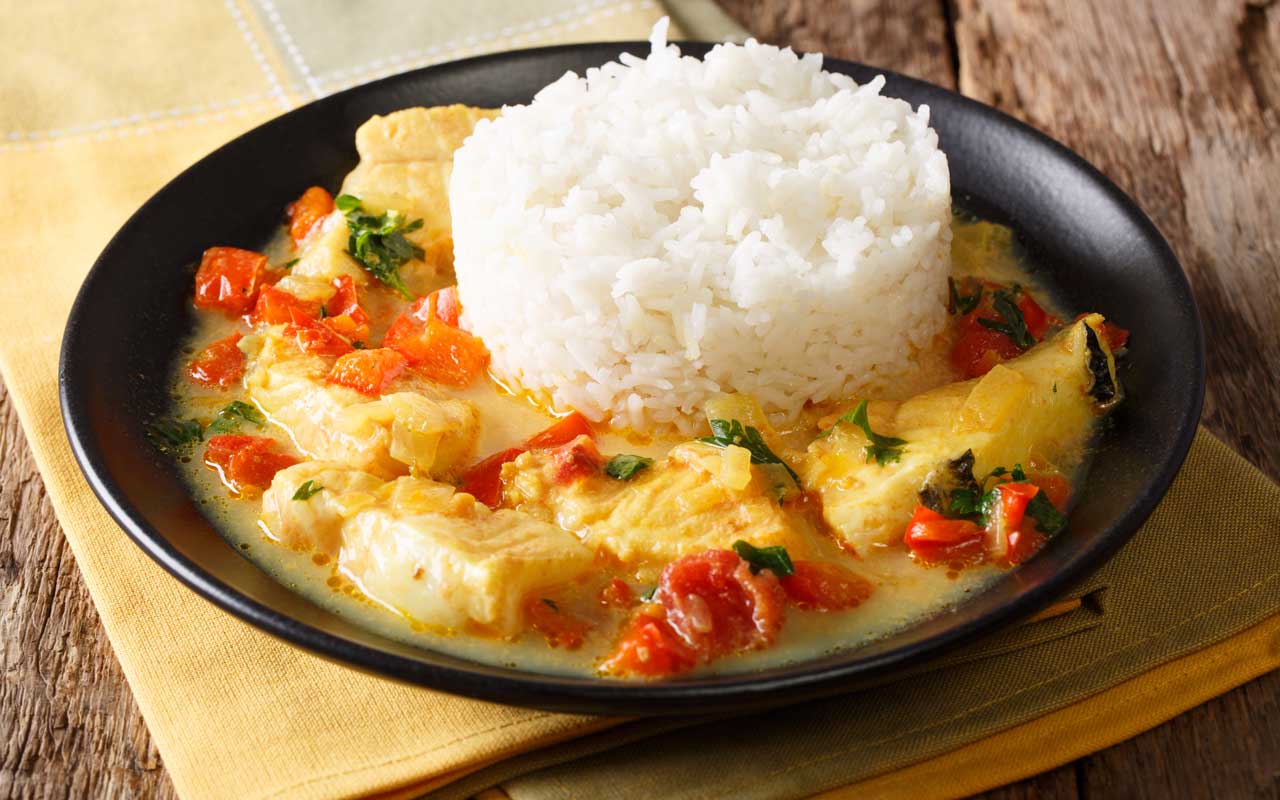 Back to the coast again, and here we have the irreplaceable Encocado de Pescado. This extraordinary dish is an eclectic mixture of flavors that tickles the palate of everyone that tries it.
Encocado de Pescado is made by frying tomatoes, onions, garlic, green peppers, cilantro, parsley, then adding coconut milk.
When all the ingredients turn into a juicy and creamy stew, throw fish steaks in and wait until they turn soft.
The mixture of sweet coconut milk, fresh fish, and aromatic veggies and herbs results in an extraordinary dish.
This Ecuadorian food is typical for the entire Ecuadorian coast, obviously because of the fresh fish and the coconut palm trees that grow there.
13 – Humitas – Steamed corn husk filled with ground corn and cheese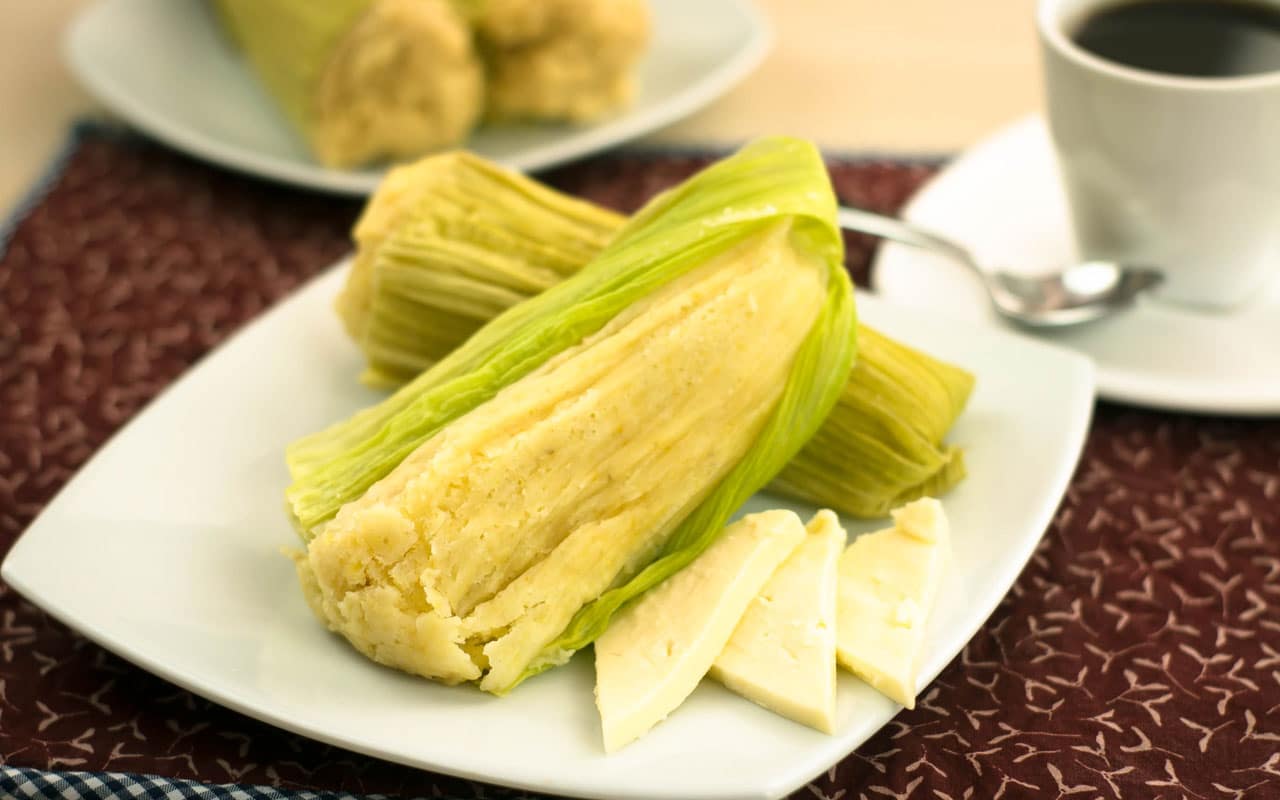 Humitas can be served as a salty appetizer or as a breakfast dish, typical for the highlands. When visiting the Sierra, you can see humitas stands on every corner.
Humitas are actually corn husks filled up with a mixture of ground corn and cheese.
The husks are wrapped and tied with a slice of the husk, and steamed in a special pot.
Humitas are always served with a cup of hot coffee.
A dish similar to the humita is called tamal, but instead of wrapping the corn husk, people use a banana leaf.
The filling can be with cheese, plantain, and or chicken.
Humitas are a light snack that you can have between meals or even eat a couple of them for lunch.
14 – Estofado de Pollo – Chicken Stew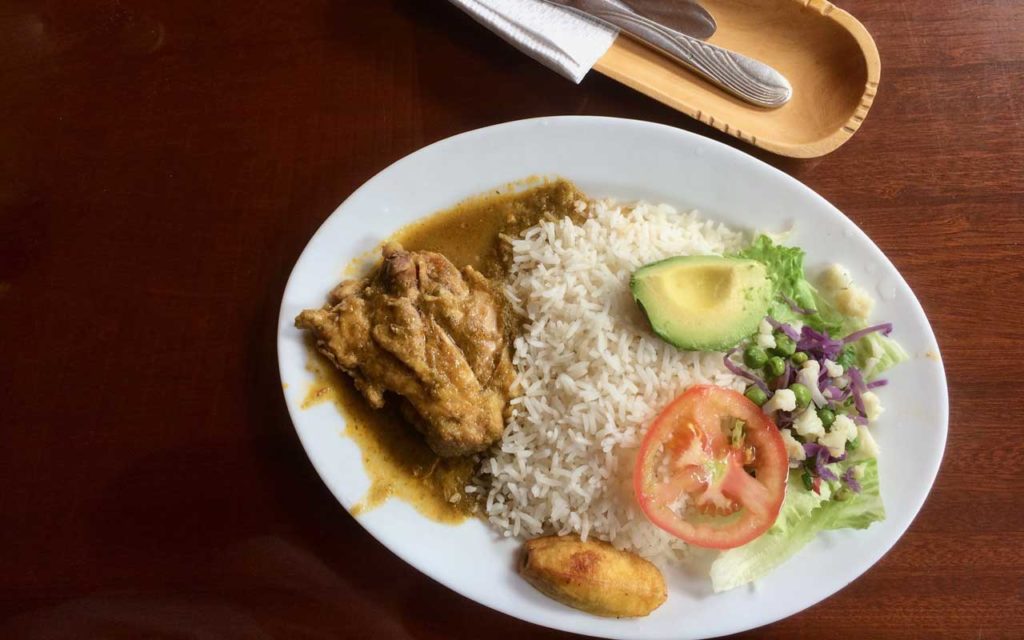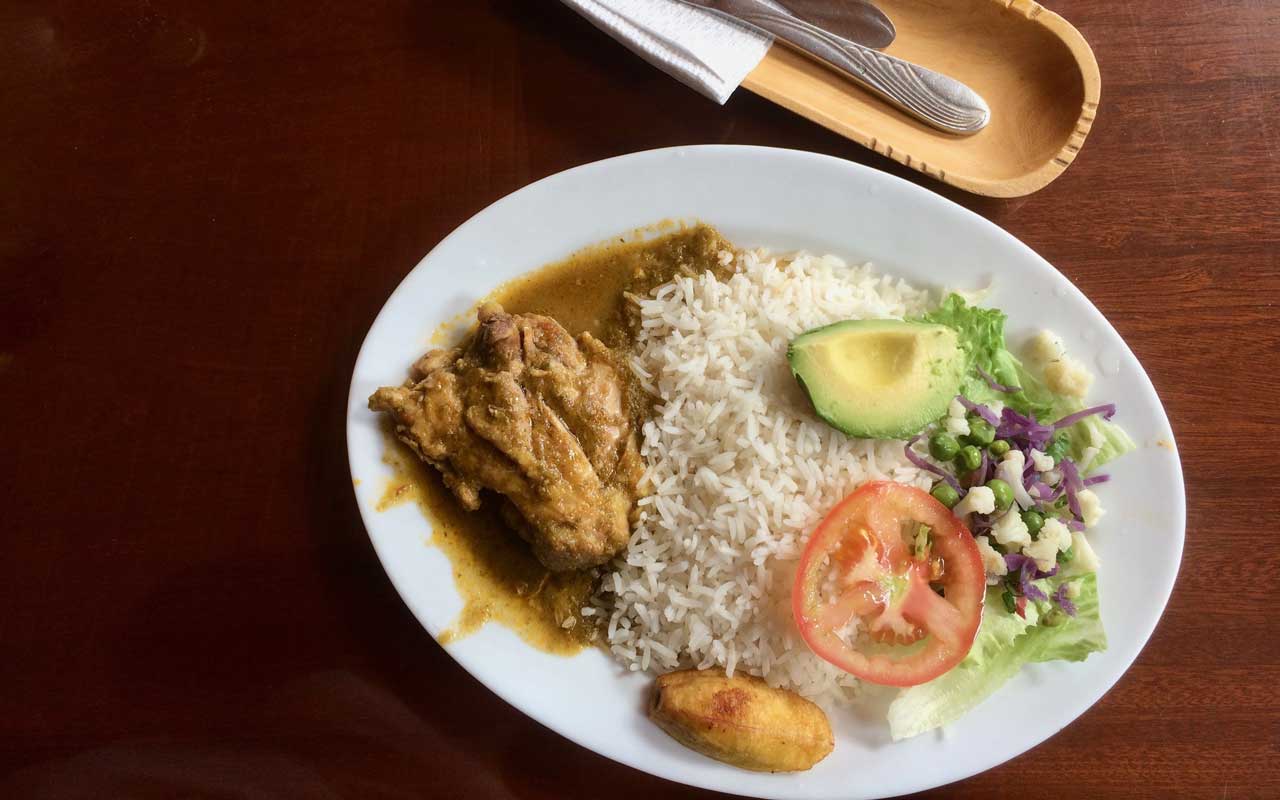 Estofado de Pollo is one of the most popular dishes in Ecuador.
It takes around thirty minutes to prepare, and it's often served for 'almuerzo,' a lunch menu at local restaurants.
Estofado is made with onions, spring onions, green peppers, tomatoes, carrots, potatoes, and chicken that gets soaked in the veggie mixture.
All these ingredients cook together, until the mixture turns soft and receives all the flavors.
Estofado is considered a main dish, although it can sometimes look like a soup.
This stew can also be made with fish, shrimp, pork, or beef, depending on the province you're visiting.
If you ever lay your eyes on a sign that says 'Estofado de Pollo', check it out. You won't regret it. It's a delightful food of Ecuador.
15 – Dulce de tomate de arbol – Tree tomato sweets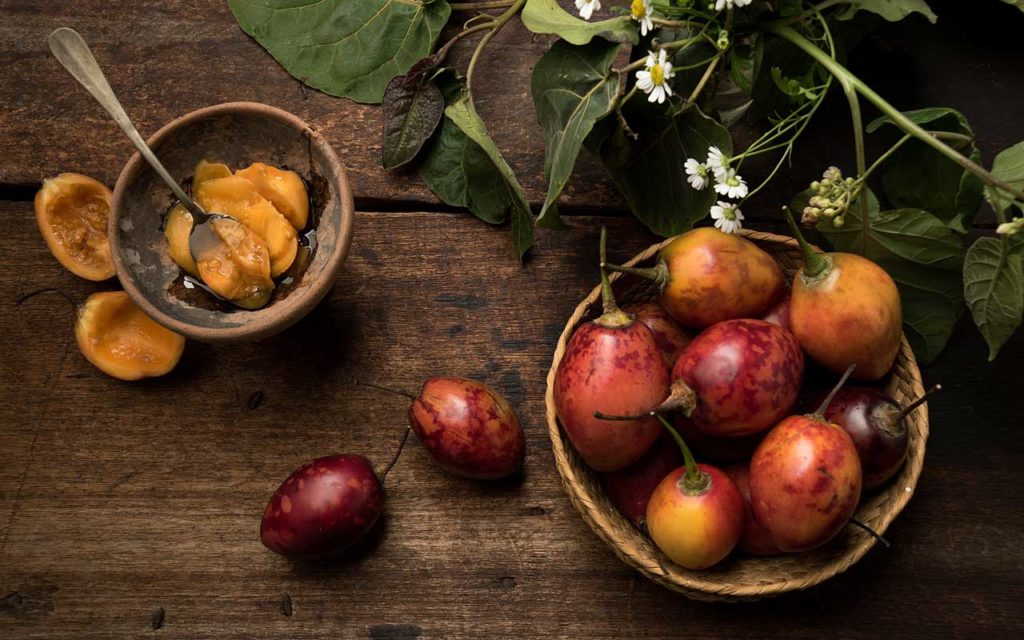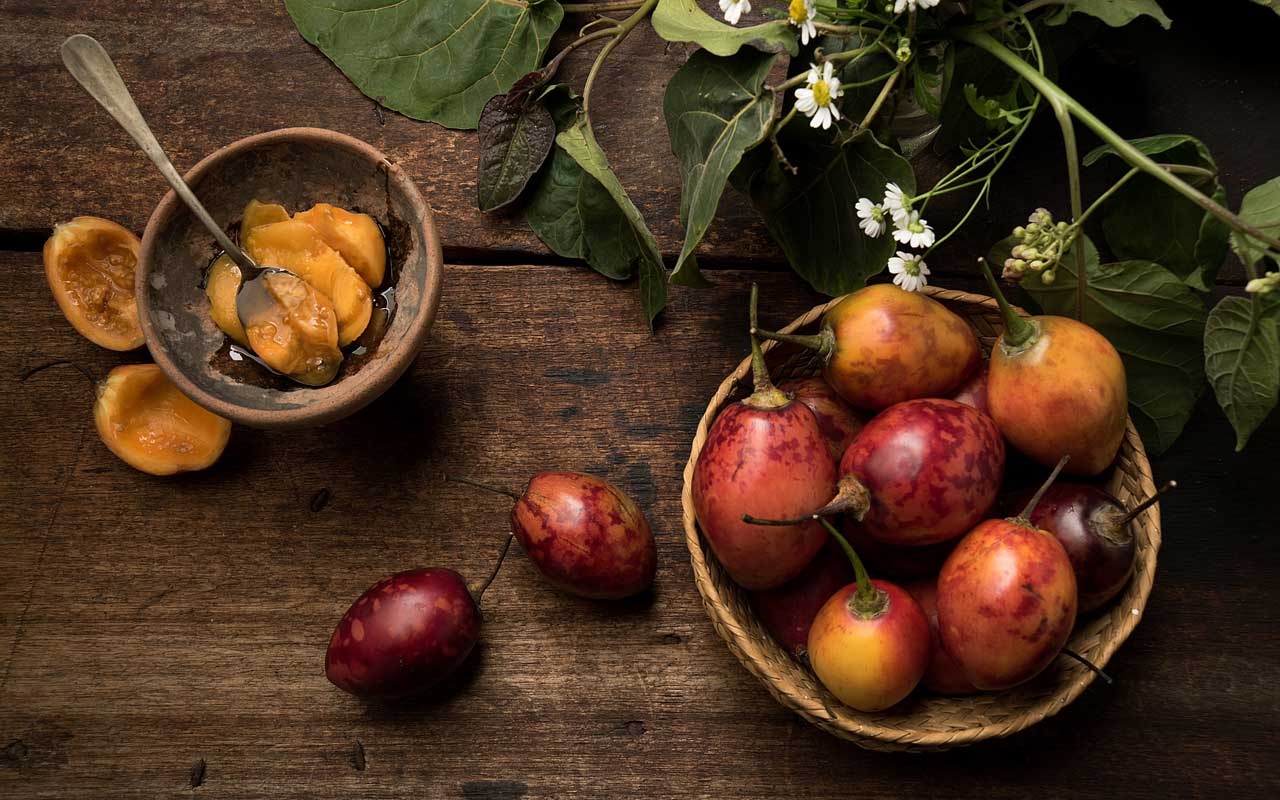 Ecuador is popular for a variety of fruits, and one of the most specific ones for this region is the tree tomato.
These fruits look similar to regular tomatoes, though brighter in color, and they are used to make the simplest sweet dish.
All you need to do is boil a couple of tree tomatoes, let them cool down, and peel them.
Then, boil them again with raw sugar cane (panela) and a little bit of water until it all melts together.
Dulce de tomate de arbol is a typical dessert from the highlands, where this fruit mostly grows.
Considering the amount of sweetness, prepare yourself to skip lunch on the day you try this traditional Ecuadorian sweet treat.
16 – Papas con Cuero – Potatoes with pork skin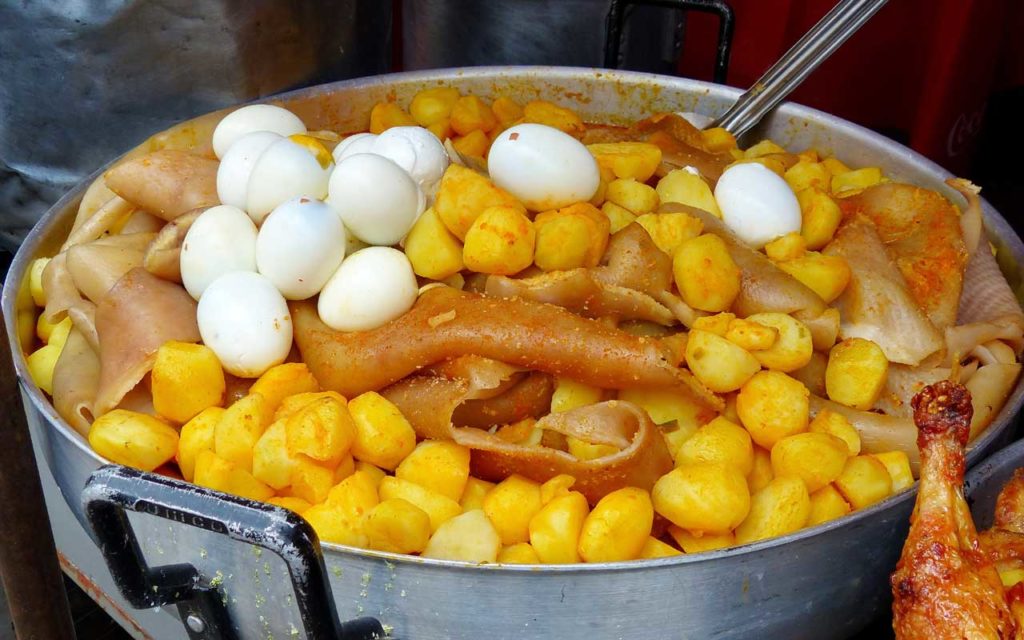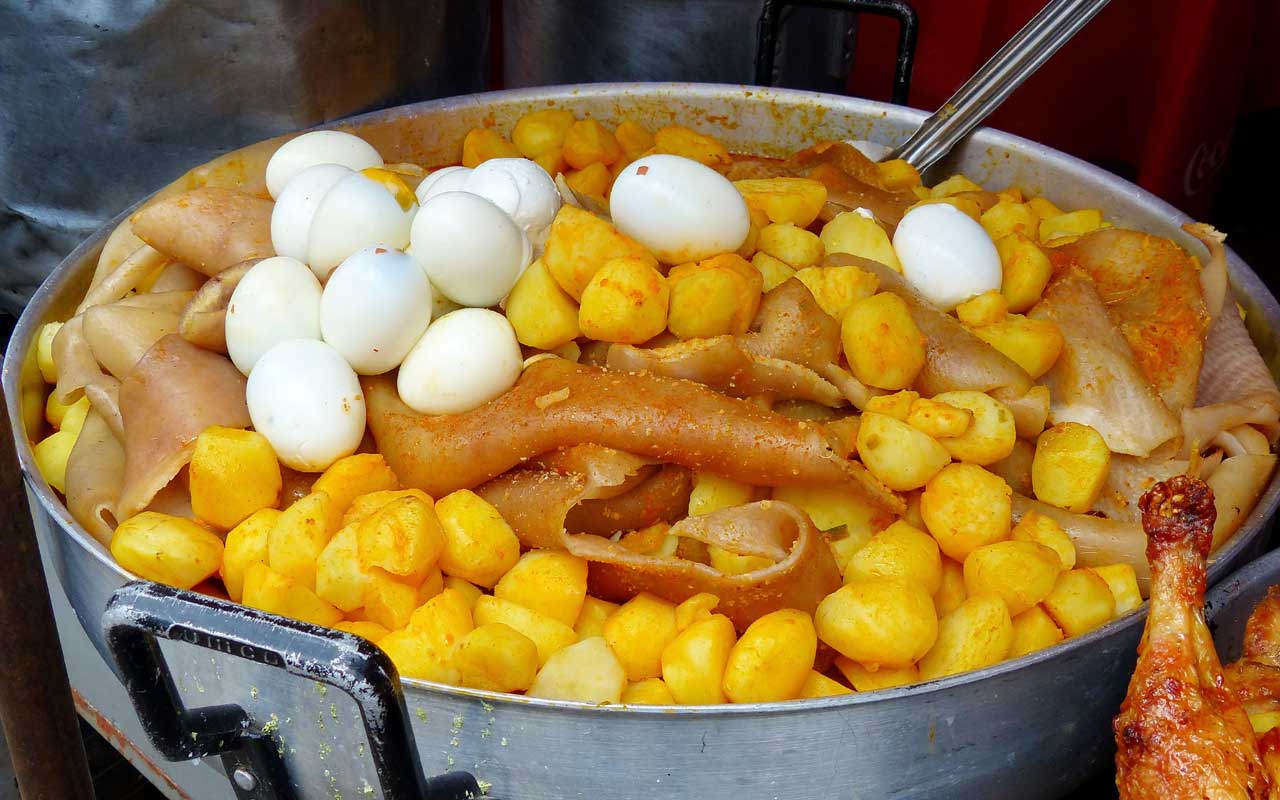 Ecuadorian people don't let any part of an animal go to waste. It's one of the ways Ecuadorian food is so resourceful.
One of the most typical recipes from the city of Cuenca contain boiled pork skin with boiled potatoes, spring onions, cumin, cilantro, salt, and pepper.
Papas con cuero is a type of stew, but it can also be eaten dry, letting the water evaporate.
What gives this dish a special touch is the peanut butter melted in warm milk that's added to the mix while boiling.
The final result is a delicious bowl of soft potato chunks and flavored skin pieces that can be eaten for lunch or dinner.
Papas con cuero is served with sliced avocado, and some even add a boiled egg to it. If you ever visit Cuenca, try this Ecuadorian cuisine jewel.
Ecuadorian Foods Summary
As we've discovered together, Ecuadorian food boasts an incredible range of tastes and flavors. Within the country there's so much diversity and flavor.
Spend your time at the coast, and you'll be treated to tender seafood dishes with plenty of hearty carbohydrates.
Venture into the mountains, and tender chicken, beef, and pork dishes await. All use the rich, fresh vegetables from the mountains.
Fruits are also plentiful in Ecuadorian cuisine. From golden plantains to juicy passionfruit, many of these fruity flavors make it into both mains and desserts.
Whether you're visiting Ecuador soon, or want to experience a taste of Ecuadorian cuisine at home, there's so much on this list to get excited about.
Traditional Ecuadorian food is full of life, color, and flavor. It represents both the people and culture of Ecuador so well.
You Might Also like to Read
Save and Pin for Later
Want to keep all of these delicious Ecuadorian foods in a safe place. Save this article to one of your food or travel boards on Pinterest. That way, you'll also be able to find this amazing list of Ecuadorian foods.
---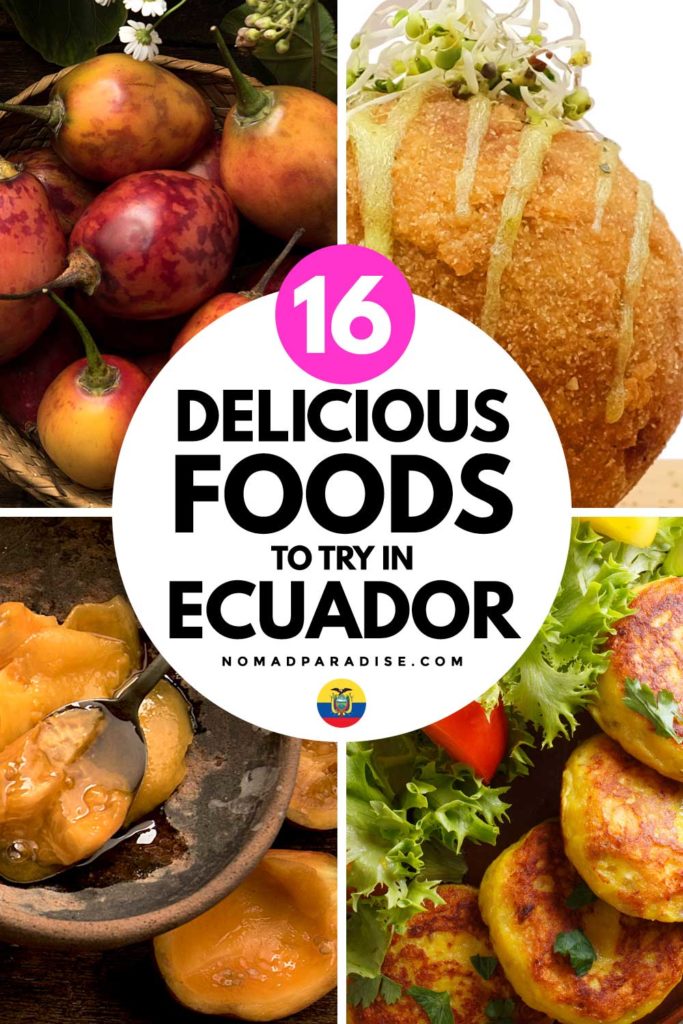 ---
Author: Stef Zisovska is a writer from Olon, on the eastern coast of Ecuador. She writes creatively in the health and travel sectors and is deeply passionate about sharing Ecuadorian cuisine and culture with others.