This post may contain affiliate links, meaning if you book or buy something through one of these links, we may earn an affiliate commission at no additional cost to you. Learn more
Whether you're looking for a satisfying salty crunch or a generous dose of sweetness in between meals, these popular American snacks are some of the country's most beloved go-to foods.
From hiking to clubbing, watching sports to watching sunsets, there's always room in your stomach for some, if not all, of these delightful pick-me-ups, no matter where you are in the States.
American Snacks
Savory Snacks
1 – Cheez-Its
Check Price on Amazon
These crunchy, crispy crackers have been an American favorite since the 1920s. Cheez-Its are made with real milk and cheese, giving them a savory, salty, and of course, cheesy flavor that makes it hard to stop snacking on them.
There are a bunch of different flavors of Cheez-Its, so if you don't like one, make sure to try the others! Some popular flavors include white cheddar, pepper jack, and hot and spicy.
2 – Potato Chips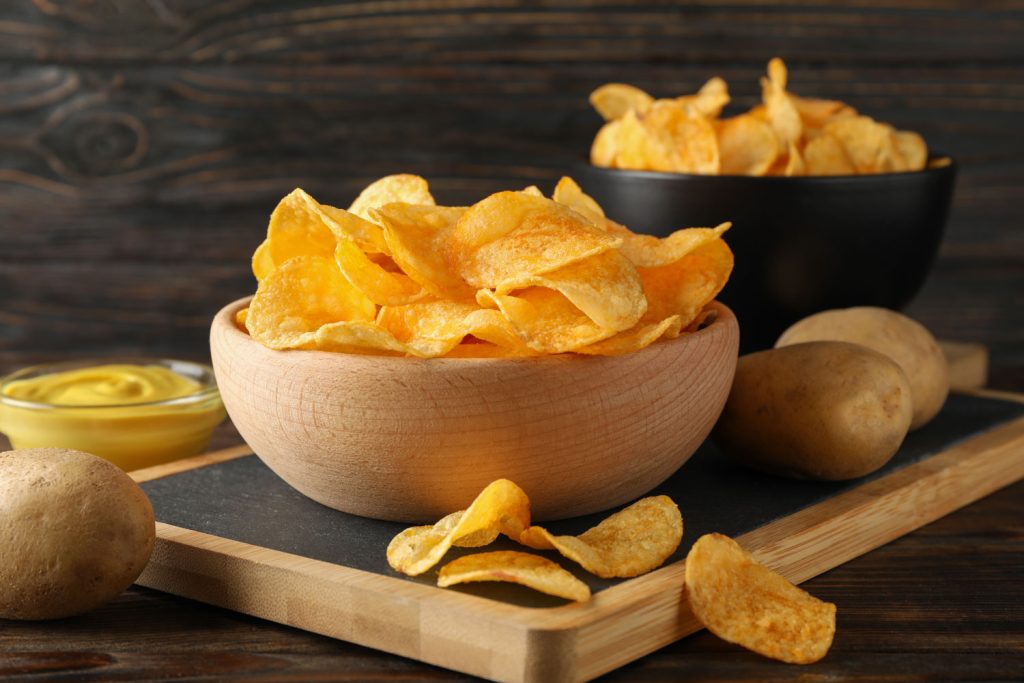 This beloved American snack food was actually created as a joke! Chef George Crum made them for a customer at his restaurant who claimed his fries were too thick and soggy. They ended up loving it, and today potato chips are one of America's favorite snack foods.
A ton of styles of potato chips have developed since their invention, including kettle-cooked and ruffle-cut, as well as many flavors, such as barbecue, sour cream, and onion.
3 – Chex Mix
Check Price on Amazon
This snack mix combines a ton of tasty and popular snacks in one bag, making it a delicious, well-rounded treat to munch on. One of its main ingredients is Chex cereal, a light and crunchy cracker that perfectly complements the pretzels, mini-breadsticks, and various other crackers that make up the mix.
While it's mainly a salty, savory snack, you can also try sweet versions or various other flavors of Chex Mix, such as cheddar and buffalo ranch.
4 – Goldfish
Check Price on Amazon
"The snack that smiles back" is at the top of almost everyone's list for the best treat to have on hand. This baked, fish-shaped cracker has been produced in the United States since 1962, when Pepperidge Farms founder Margaret Rudkin discovered a similar snack in Switzerland and recreated it.
Over the years, Goldfish have grown in both popularity and diversity of flavors, with some favorites being Cheese, Pretzel, and Pizza.
5 – Cheetos
Check Price on Amazon
The U.S. is a big fan of cheese-flavored snacks, and Cheetos are the proof. In 2010, this savory treat was the top-selling brand of cheese puffs in the country.
They are known for their unique texture, which is crunchy on the outside and slightly softer on the inside, as well as their addictive, cheese-flavored coating. In addition to the original version, you can also try puffed Cheetos, which have a texture similar to Cheese Balls.
6 – Doritos
Check Price on Amazon
This triangle-shaped corn chip can be found in vending machines and cabinets across the United States. The first version of the Dorito was released in 1966 and actually wasn't flavored — it was just called Toasted Corn.
But over the years, Doritos have become known for their bold, punchy flavors, including classics like Nacho Cheese and Cool Ranch. Their ultra-crunchy texture and snackable size and shape make them a great food for taking on the go.
7 – Peanuts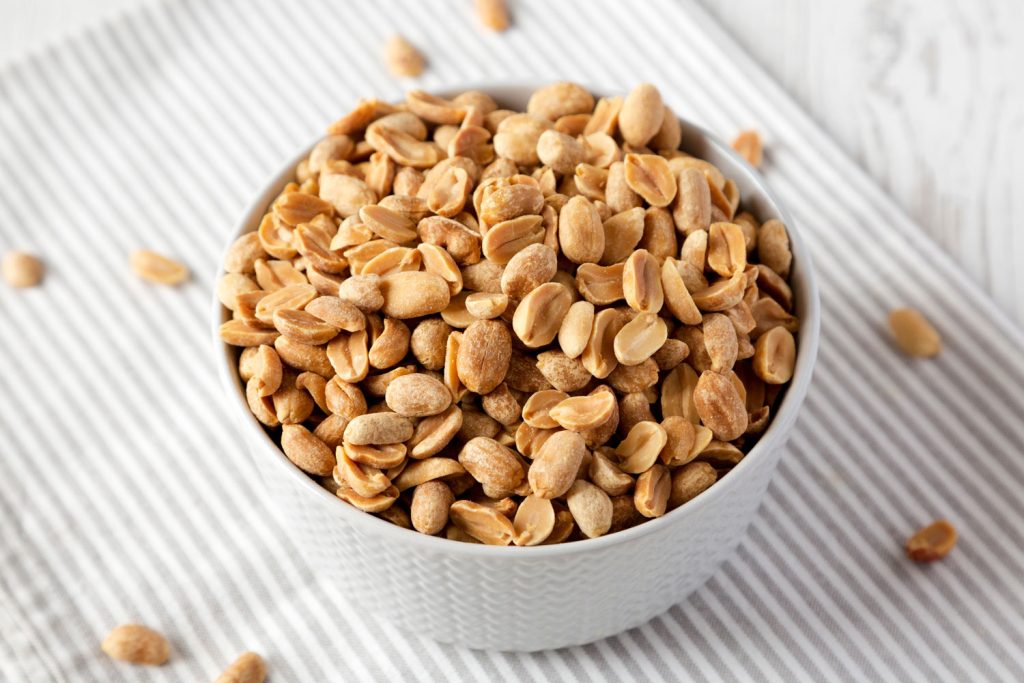 Peanuts are a versatile food that is popular worldwide, but they've become a classic snack in the U.S. that you can find in stores, vending machines, and at parties and events. They became more popular after the Civil War, when new equipment and processing techniques expanded the peanut industry.
Today, the most popular flavors are roasted, salted, and honey-roasted, but brands also create their own bold, unique spice blends to pair with this protein-rich snack.
8 – Pringles
Check Price on Amazon
This potato chip is an American favorite that's known for being packaged in its signature tube. This packaging, as well as the curved, stackable shape of Pringles, helps keep the chips fresh and makes them super easy to take on the go.
The chips themselves are thin, crunchy, and salty, made from corn, wheat, and potato flour. Besides the original, some of the most popular flavors of Pringles are sour cream and onion, cheddar cheese, and BBQ.
9 – Fritos
Check Price on Amazon
This flavorful corn chip has been making a name for itself since 1932, when the creator of the snack began selling them out of his garage. The name Frito comes from the Spanish word for "fried," which is exactly how they're made: frying strips of cornmeal dough until they're crispy.
Besides being a tasty snack on its own, you can turn Fritos into a variety of other dishes, from seven-layer dip to stuffed peppers to the popular American dish Fritos Pie.
10 – Sunflower Seeds
Moving away from chips, sunflower seeds are a delicious snack and are great for taking on the go. They're small and oval-shaped with a tough shell, giving them a nice, crunchy texture.
Their flavor is nutty and slightly sweet, sometimes paired with seasoning blends such as BBQ and ranch. If you need one more reason to try them, sunflower seeds are also a great source of nutrients such as Vitamin E and magnesium.
11 – Beef Jerky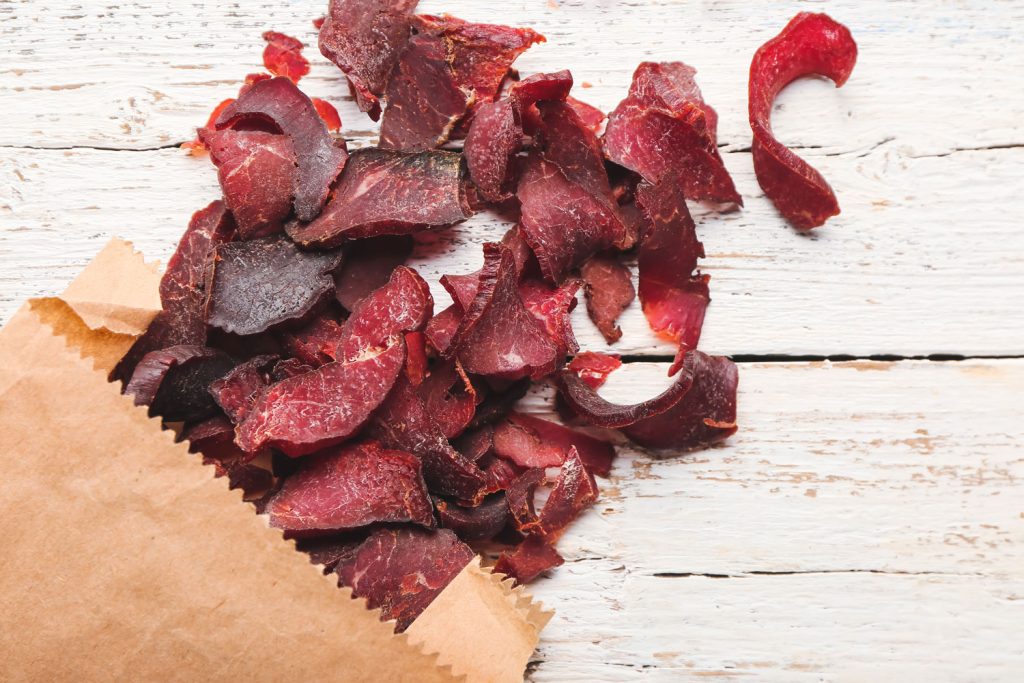 This beloved snack is made from lean cuts of beef that are trimmed of fat, seasoned, cut into strips, and dried until they're chewy and firm.
Beef jerky dates back to the 1500s, when an indigenous South American tribe called the Quechua used the drying process to preserve meat. Today, it is a savory, high-protein snack that many love for its tough texture and variety of flavors, including spicy and teriyaki.
12 – Popcorn
Popcorn is another popular snack that has been around for thousands of years! The oldest evidence of popcorn was discovered in New Mexico and is about 4,000 years old.
Today, this light, puffy snack is popular for its airy texture and slightly sweet corn flavor. It can be topped with butter, salt, sugar, spices, and a ton of other flavors, and it can be found at the movie theater, concerts, sports games, and at home.
13 – Takis
Check Price on Amazon
Spicy lovers, this is the snack for you. These corn tortilla chips are coated in a mixture of powdered chili pepper, cayenne, habanero, garlic, and lime, giving them their signature bold and spicy flavor.
After being seasoned, Takis are rolled into small cylinders and fried for an ultra-crunchy texture that complements the heat. While Takis were originally invented in Mexico, they've quickly become a U.S. favorite that can be found at most convenience and grocery stores.
14 – Pretzels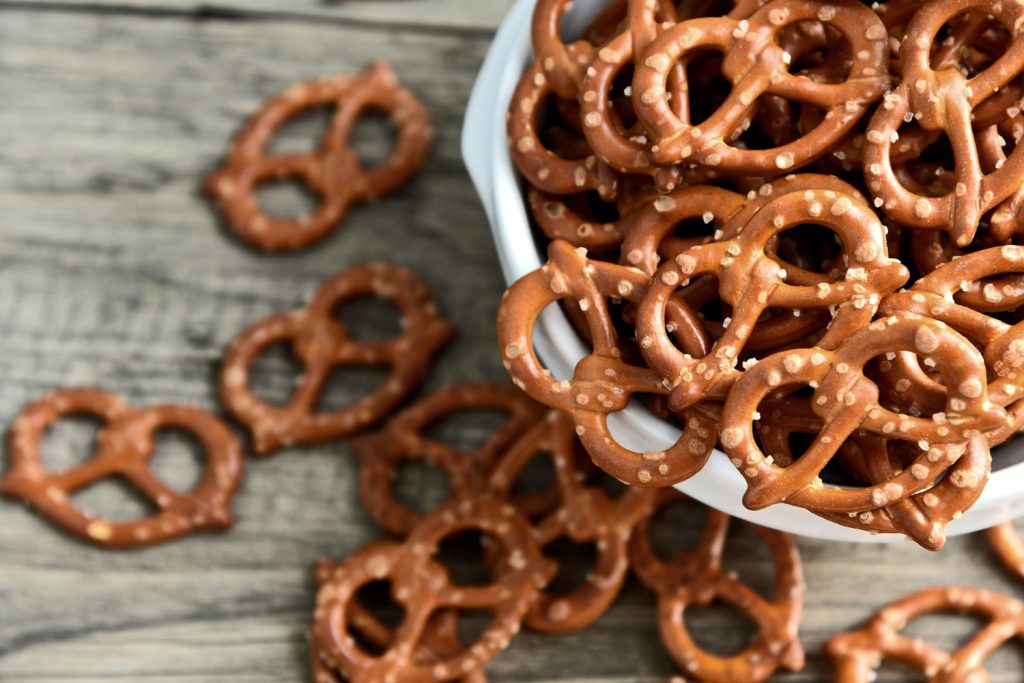 This iconic snack has a far-reaching history, making its way over to the United States from Germany in the 1700s. Rumor has it that the first hard pretzels were created when a baker fell asleep, leaving his pretzels in the oven too long — but today, hard pretzels are made and enjoyed intentionally.
While the classic crunchy, salty pretzels are a fan favorite, this snack comes in all sorts of varieties and flavors that are worth checking out.
Sweet Snacks
15 – Reese's Peanut Butter Cups
Check Price on Amazon
This sweet treat appeals to both peanut butter and chocolate lovers, catapulting it to the top of the list of the most popular candies in the United States. The salty, slightly grainy peanut butter filling is coated with smooth, sweet chocolate, which creates the perfect texture and flavor complement.
And with sizes ranging from the classic Miniatures to the massive Big Cup, Reese's Peanut Butter Cups are a great snack for any kind of craving.
16 – Snickers
Check Price on Amazon
If you can't get enough chocolate and peanuts, Snickers should be next on your list. This candy bar has a center of peanuts, caramel, and nougat, and it is coated with smooth milk chocolate.
While they come in a lot of different flavors like peanut butter, almond, and brownie, the original Snickers is wildly popular for being a tasty and filling snack (but the Snickers ice cream bar is a great choice if you're looking for a cold, refreshing treat).
17 – Little Bites
Check Price on Amazon
Little Bites are tasty pastries you can take on the go. These sweet muffins are bite-sized and come in a bunch of different flavors like blueberry, chocolate chip, brownie, crumb cake, and more.
They were first sold in 1898, when their parent company Entenmann's opened in New York City. Entenmann's sells various other cakes, muffins, and pastries, but Little Bites is a classic snack that's delicious and portable.
18 – Girl Scout Cookies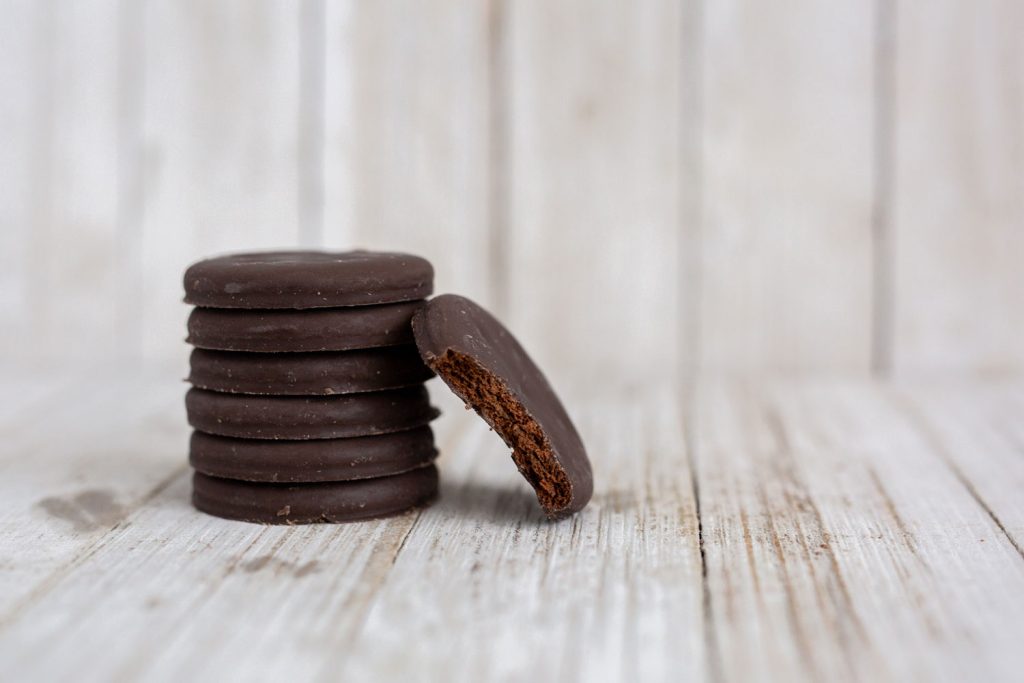 During Girl Scout Cookie season, this brand of cookie takes the United States by storm. Girl Scout Cookies are made by licensed bakers and sold by Girl Scouts between January and April of each year to raise money for their organization.
Their many delicious and indulgent flavors, such as Thin Mints, Caramel De-Lites/Samoas, and Tagalogs, have become staples in American households during the season — often causing heated debates about which kind is the best!
19 – Pop-Tarts
Check Price on Amazon
These sweet pastries are a popular breakfast, dessert, or snack. Pop-Tarts are made from a layer of pastry dough stuffed with fillings such as blueberry, strawberry, or chocolate. They're topped with sugary icing that adds an extra punch of sweetness.
Their portable packaging makes them super easy to take on the go, but you can pop them in the toaster oven or microwave if you have some extra time and are feeling fancy.
20 – Twinkies
Check Price on Amazon
These sugary cakes were invented in 1930 and have since become a huge part of the United States' snack scene as well as its pop culture. They are small, oblong, yellow cakes filled with a sweet, creamy filling and are known for their soft, spongy texture.
You can try lots of varieties of Twinkies, including chocolate and strawberry. A popular way to eat this snack in the U.S. is deep-fried, which melts the cream and gives the Twinkie a soft and warm interior.
21 – Fruit Snacks
Check Price on Amazon
Fruit snacks are a great way to finish up your tour of American snack foods. A little bit lighter than the other sweet treats on this list, fruit snacks are small, fruit-flavored gummies often formed into the shapes of fruits or other images.
One of the most popular brands of fruit snacks is Welch's, which are made with real fruit, but there are tons of different brands and styles you can try.
American Snacks Summary
The United States is a land of boundless adventure and immense discovery, and all this exploring, no matter where it be, requires you to be fuelled and energized, ready to take on the next big challenge.
These American snacks are the perfect way to enjoy the wonders of American cuisine in bite-sized mouthfuls, giving you delectable mouthfuls of sweet or savory while being quick and easy to find and pack.
Try as many as you can, and see what other savory delights and sweet treats you can find when traveling through the US!
You Might Also Like to Read
Save and Pin for Later
Keep these American snacks for safekeeping by saving this article to one of your Pinterest boards.
Contributor: Madeline Marks is a writer who resides in Savannah, GA. She enjoys blogging, journalism, poetry, and fiction, and when she's not writing, she likes to read and spend time in nature.