This post may contain affiliate links, meaning if you book or buy something through one of these links, we may earn an affiliate commission at no additional cost to you. Learn more
If you're eager to take your culinary adventures in Italy's capital city to new heights, these popular and traditional foods to try in Rome are a must for rich, humble, and authentic dining.
Don't let the allure of continental restaurants and established chains make you miss out traditional dishes that helped shape the history and culture of this wonderous city through the centuries.
These 18 traditional Roman dishes come highly recommended by a resident of the city, complete with suggestions for places where to try them. Buon appetito!
Foods to Try in Rome
1 – Carbonara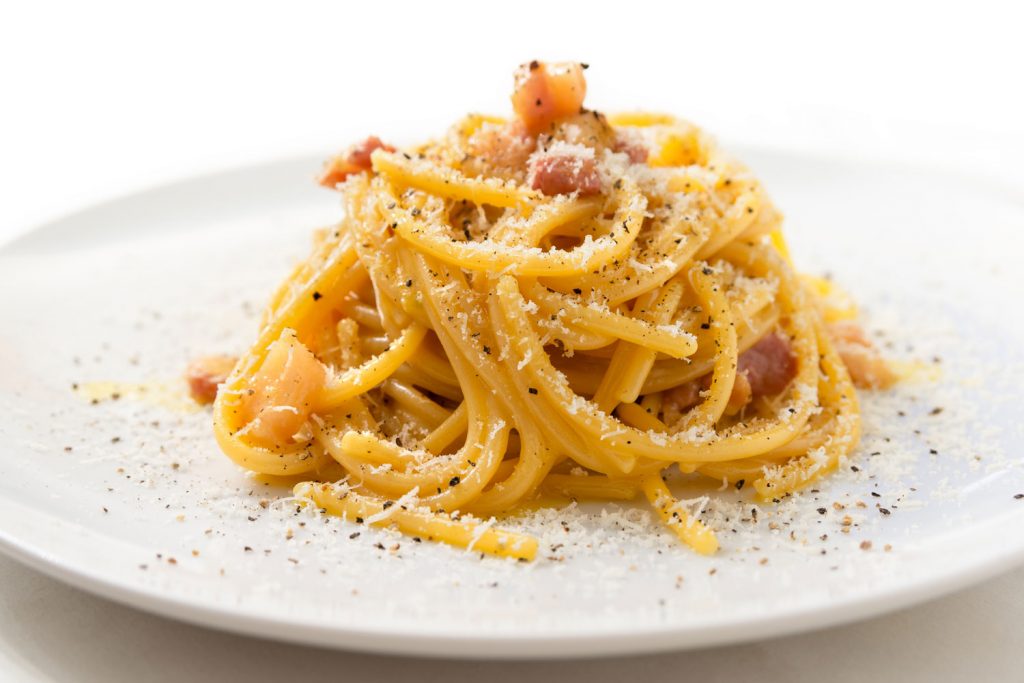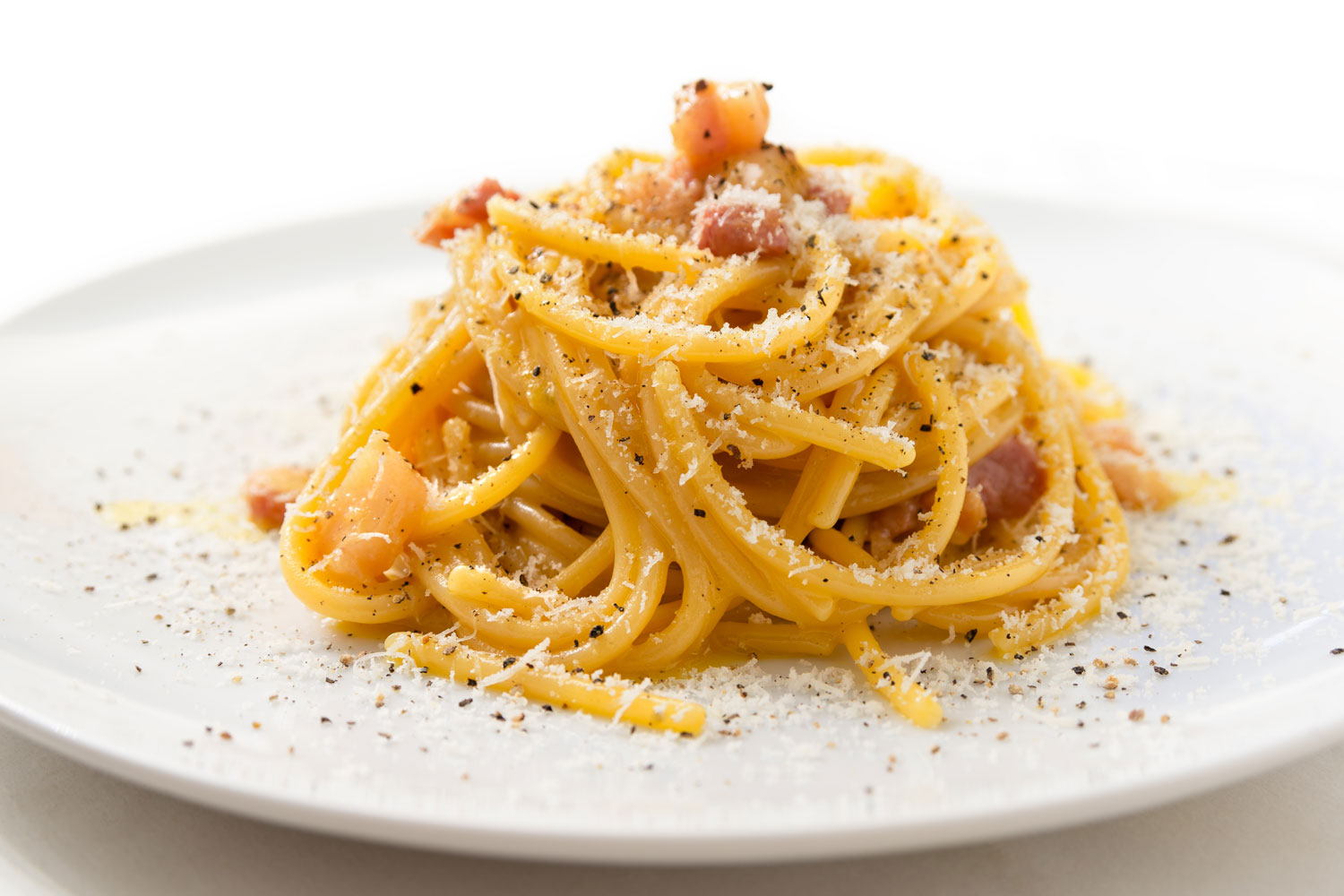 Nothing says Roman cuisine like Carbonara. Incredibly, however, carbonara was unheard of before the Second World War. It is believed it was the meal of choice for American soldiers who brought bacon to Italy.
Since the main ingredients available at the time were eggs, pasta, and bacon, Italians came up with the idea to mix them all, inspired by another local recipe, Gricia. Since then, Carbonara has become a staple of Roman cuisine, and bacon was replaced by local 'guanciale', a cut similar to bacon, but from the pork cheek (guance).
There are two schools of thought regarding the type of pasta to use, spaghetti or rigatoni, which to this day is hotly debated. Nevertheless, there's no doubt about the sauce, which should only contain eggs, ideally yolks, pecorino cheese, guanciale, and black pepper.
Don't let a Roman hear you mention cream as an ingredient of the carbonara! And for a great Carbonara with a nice view, try it at Armando al Pantheon.
2 – Amatriciana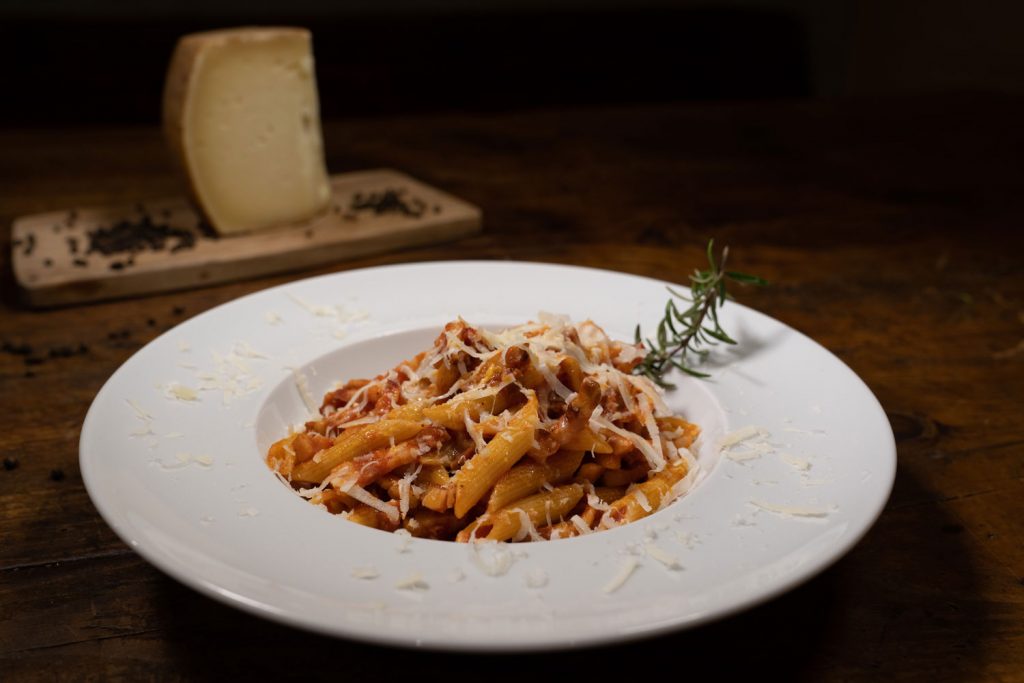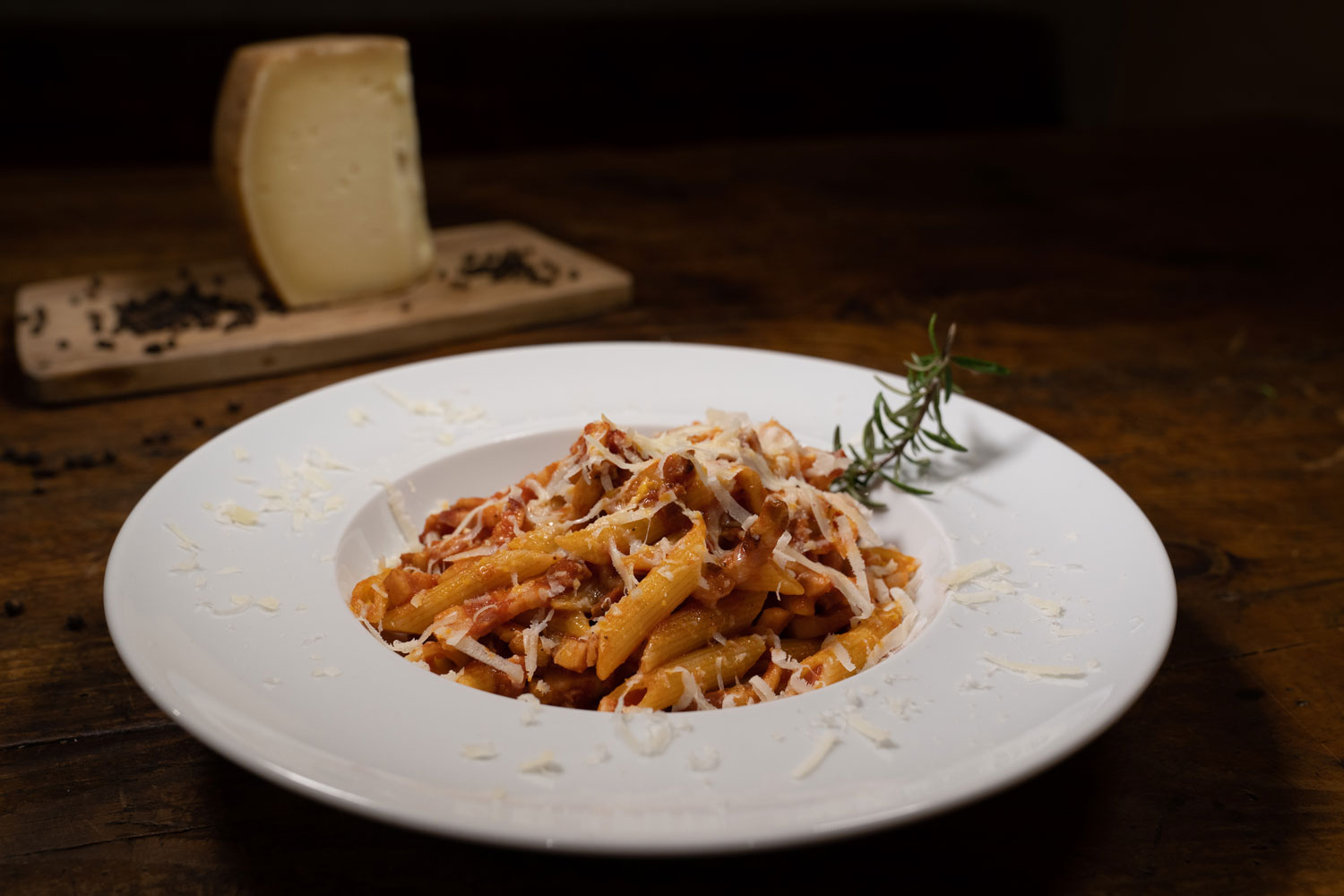 Another popular main dish in Roman cuisine is Amatriciana. Unlike Carbonara, Amatriciana has a much deeper history, and its city of origin is Amatrice, about two hours from Rome. Amatriciana came to being when tomatoes were introduced to Italian cuisine, and the locals from Amatrice decided to add them to another popular dish, Gricia.
The city of Amatrice, once part of the Abruzzo region, became a part of Lazio in 1927. Since many cooks in Rome were originally from Amatrice, they brought the recipe with them to the city, and resultantly, made it famous. Spaghetti was substituted by the more traditional bucatini, and the Amatriciana as we know it today was born.
Amatriciana sauce is a rich, delicious combination of tomato, guanciale, and pecorino cheese. Try this dish at Matricianella, tucked away in a little side alley of the shopping street Via del Corso.
3 – Gricia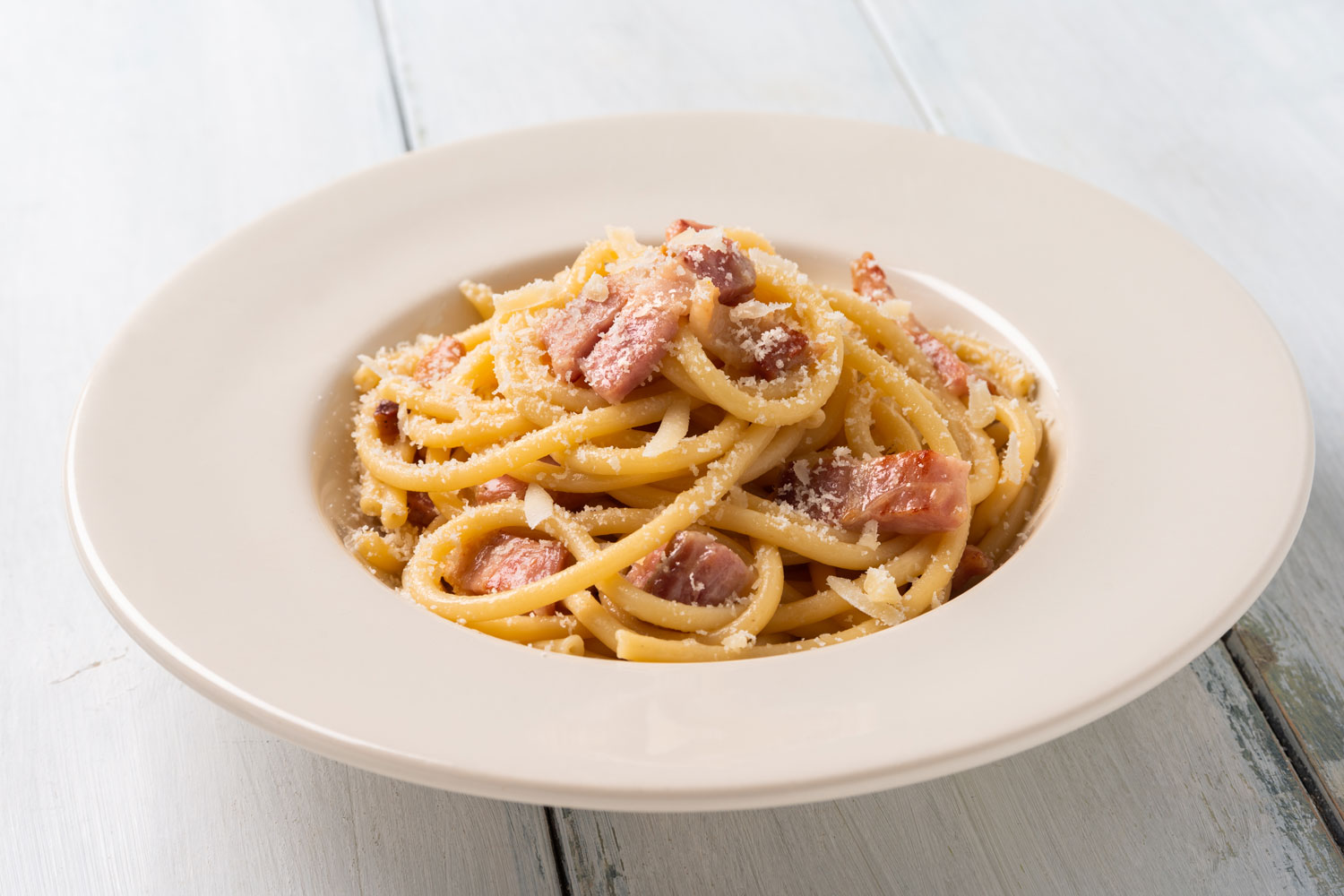 The dish that precedes both Carbonara and Amatriciana is called Gricia. This type of pasta dish is essentially a carbonara without eggs, or an amatriciana without tomato sauce. Gricia is also known as "white Amatriciana", or in Italian 'Amatriciana in bianco'.
Gricia is one of the must-try pasta dishes in Rome, and it is ideal if you're a fan of cheese and not a vegetarian. The recipe is quite simple, like most pasta dishes. However, just a few basic ingredients are enough to make some great pasta.
Gricia consists of melt-worthy guanciale, creamy pecorino cheese, black pepper, and of course pasta, either spaghetti or rigatoni. This pasta dish is difficult to find anywhere else in Italy, so Rome is truly the place to try it. If you want local's advice, get outside the tourist areas and try it at the cozy and laid-back trattoria Da Cesare al Casaletto.
4 – Cacio e Pepe
Cacio e pepe is another pasta dish of pecorino cheese and black pepper, and is a great choice for both pasta lovers and vegeterians.
By now, you may think that Romans are not that creative when it comes to pasta dishes, but despite their similarities, all the dishes bring unique flavors to the table. While the origins of many Roman pasta dishes are uncertain, it's very likely that Cacio e Pepe is where it all started. This simple recipe was popular among farmers and poorer families centuries ago as it contains inexpensive ingredients that were easy to find.
The best pasta choice for Cacio e Pepe is tonnarelli, a type of fresh pasta, similar to spaghetti but thicker. An excellent place to try this dish is at a restaurant called Tonnarello. In the heart of one of Rome's more lively neighborhoods, Trastevere, Tonnarello serves all pasta dishes directly in small frying pans. It's a true gem of Rome and one you should definitely stop by for a bite to eat.
5 – Pajata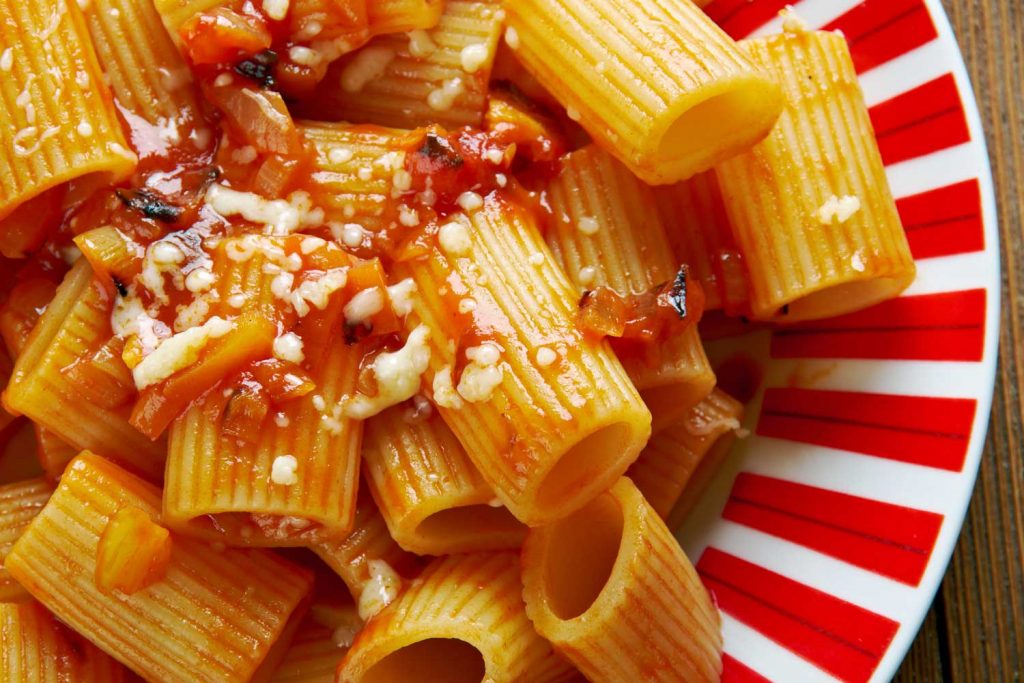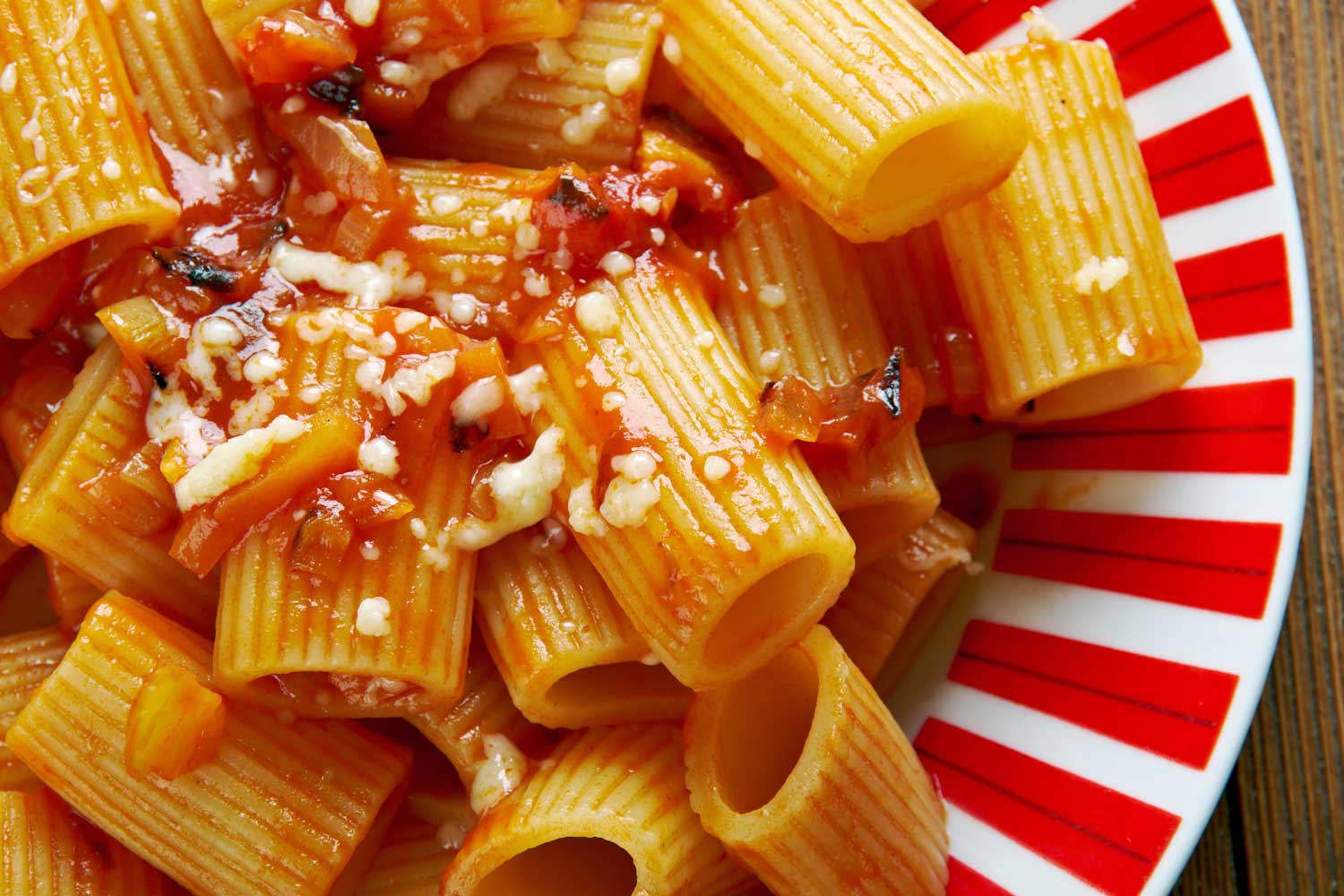 This dish is so traditionally Roman, even its name is from Roman dialect. Known as 'pagliata' in Italian, you'll find pajata served through Rome. It is a wholesome dish, steeped in Roman history, of calf intestine mixed with rich tomato sauce. Although pajata can be served as is, it is commonly served with pasta, preferably rigatoni.
The origins of this dish, like many other traditional dishes, are linked to the peasant foods of the late 18th century. Especially in the neighborhood of Testaccio, once home to a large slaughterhouse, locals would recover the entrails of animals and would use them in their recipes.
For a truly traditional pajata, try Lo Scopettaro, in the Testaccio neighborhood. The restaurant (look for the Italian word 'osteria') opened in 1930 and regularly feeds celebrities, with many Italian actors and comedians dining at the restaurant through the decades. You may even bump into a treasured Italian celebrity while eating your rigatoni con la pajata!
6 – Coratella
Entrails are widely used in Roman cuisine. Coratella is a dish made of lamb entrails, including hearts, liver, and lungs. The diced meat is cooked with either red or white wine, and plenty of chopped onions. You can also find another variation of this recipe, popular throughout Rome, that uses artichokes.
While coratella might not sound the most appealing dish, it's definitely worth trying. Historically, it was a dish exclusively eaten by peasants, but nowadays Romans form all walks of life love it, especially during easter holidays.
Try it in a classic old-style trattoria in Trastevere, like Da Enzo al 29, or at the recently opened and already highly recommended Trattoria Pennestri, near Piramide.
7 – Saltimbocca alla Romana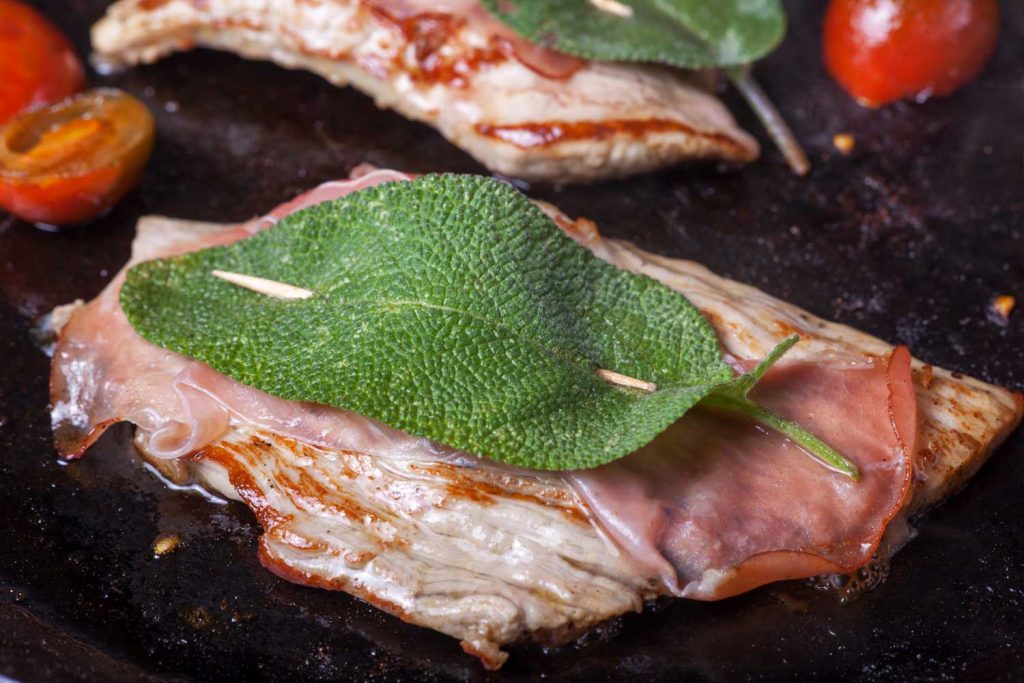 Need to take a break from all the pasta? Saltimbocca alla Romana is a must-try dish for meat lovers and curious foodies alike. As the name suggests, Saltimbocca alla Romana is a traditional Roman recipe of thin veal slices, covered with prosciutto (cured ham) and sage. The rich meat slices are then cooked in olive oil and butter until they become tender enough to practically melt in your mouth.
The name of the dish means 'jumps in the mouth', which is aptly named considering how addictive the dish is. It is best enjoyed with a side of fresh vegetables or crispy roast potatoes.
You'll find Saltimbocca in most restaurants in Rome. However, I would recommend trying it at a restaurant that has the name of the dish, Saltimbocca, near piazza Navona.
8 – Carciofi alla Giudia o alla Romana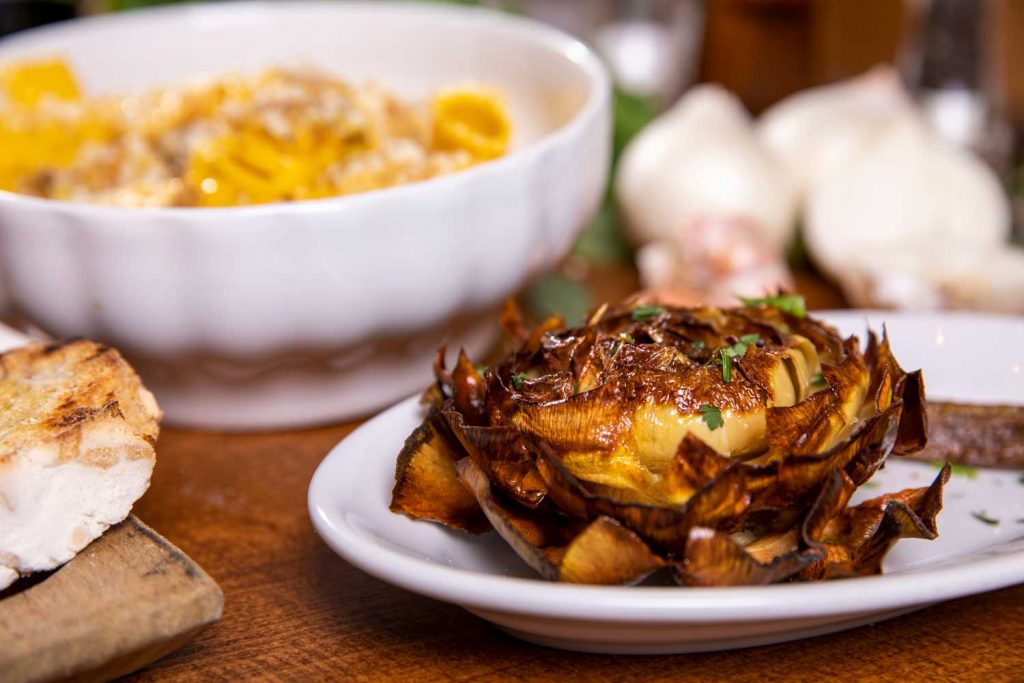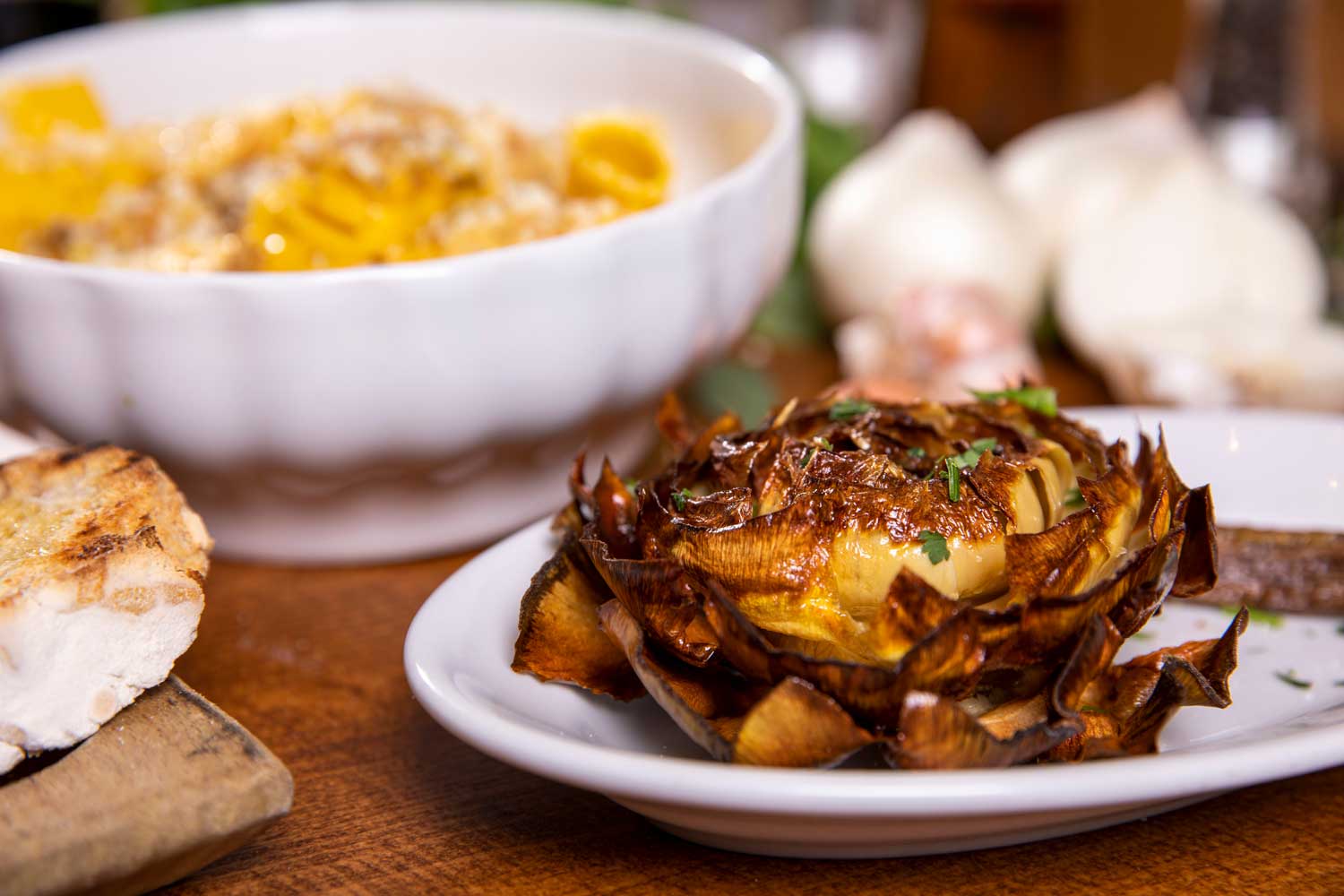 While most Roman dishes are meat-based, there are several vegetarian and vegan-friendly dishes you can try. Artichokes are a staple in Roman cuisine, especially during their peak seasons, in spring and autumn. There are many ways to cook artichokes, but the most traditional dishes in Rome are alla Giudia or alla Romana.
Carciofi alla Giudia is an old recipe from Roman Jewish cuisine. In this dish, the artichokes are deep-fried until crunchy and served steaming hot.
Carciofi alla Romana, on the other hand, is a dish of artichokes cooked slowly in olive oil and water and seasoned with parsley, lemon, garlic, and lesser calamint (a sort of mint). When served, the artichokes are tender and flavored.
One of the best places to try both dishes is certainly the Roman Ghetto. Nonna Betta and BaGhetto are both great Kosher restaurants, famous for their artichokes.
9 – Porchetta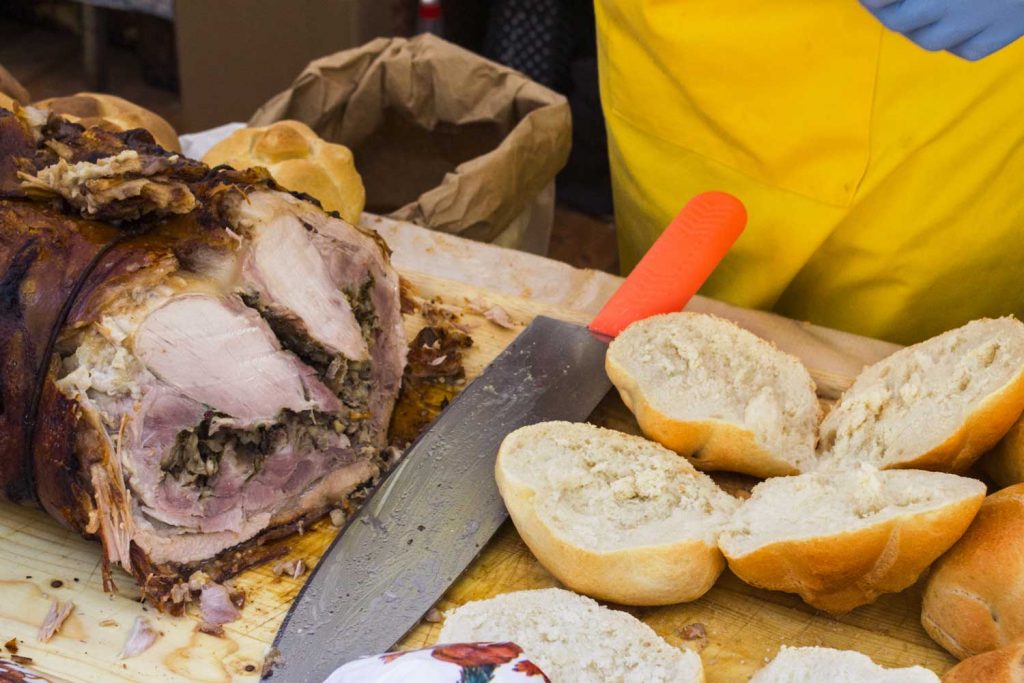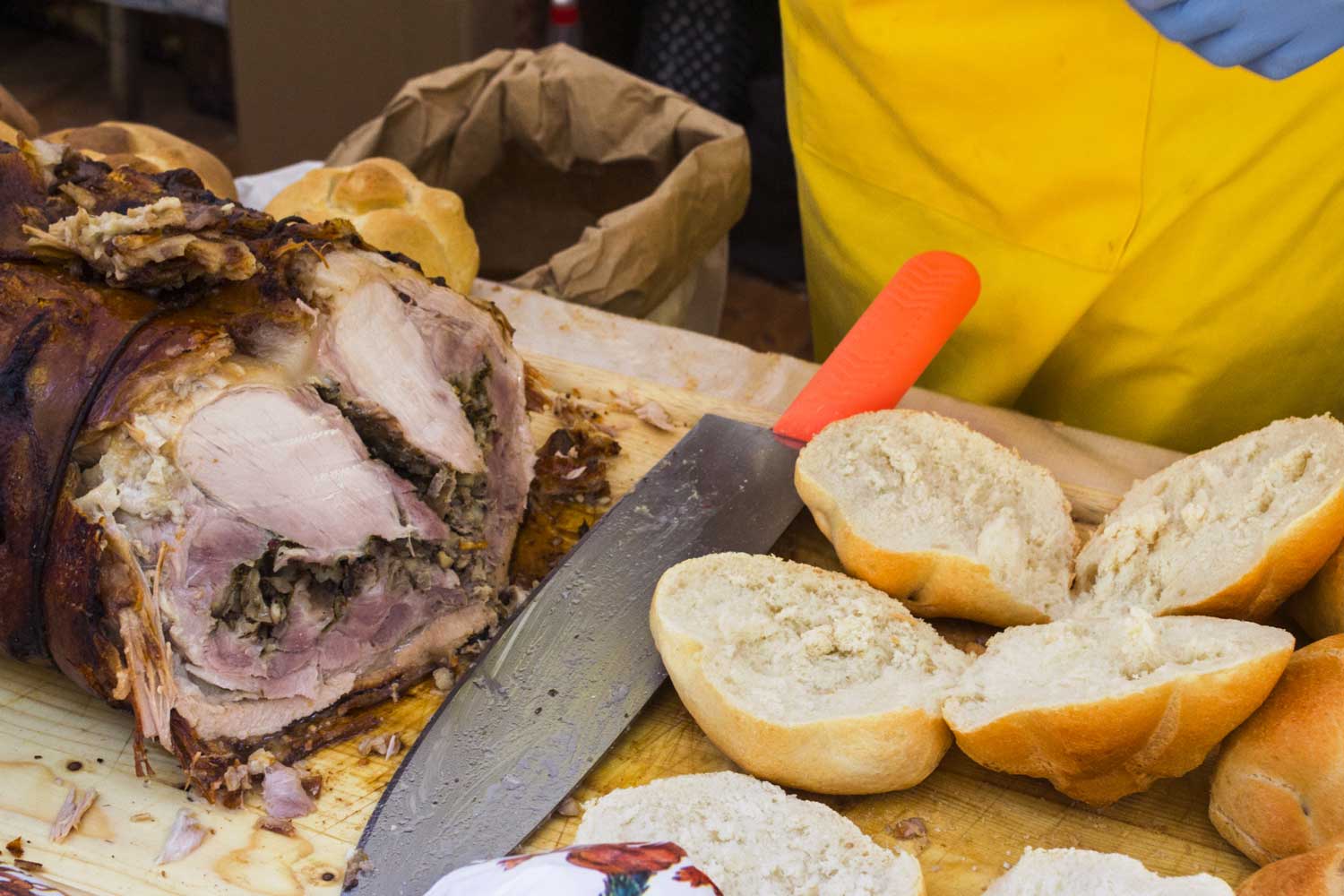 Porchetta simply cannot be left out from any list of Roman dishes. This pork roast seasoned with herbs and garlic is especially popular at fairs and markets. The classic way to eat this traditional street food is in a sandwich; just ask for panino con la porchetta.
If you have the chance to visit the surrounding areas Rome, you should visit Castelli Romani, or Roman Castles. Nestled in the Alban hills, near the lakes of Albano and Nemi, these beautiful towns are ideal for a day trip and renowned for their porchetta.
During summer and autumn, there are many festivals where porchetta and other street foods are served. The most famous festival is Sagra della Porchetta, held in the town of Ariccia, usually taking place in September.
10 – Coda alla Vaccinara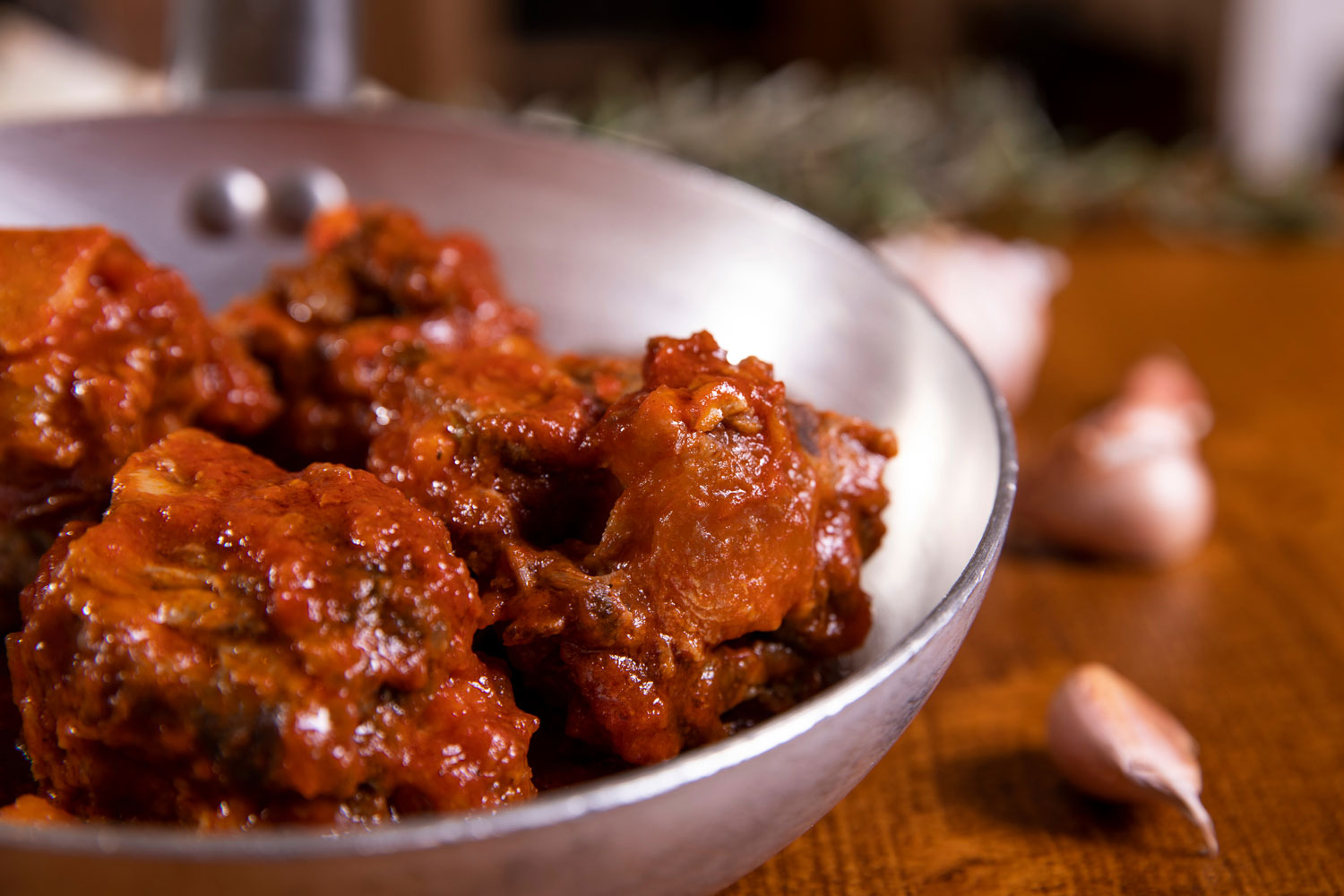 By now you've probably realized that Romans are very creative when it comes to using any part of the animal in their dishes. Coda alla vaccinara is an oxtail stew, made with tomato sauce, red wine, celery, carrots, and a mixture of herbs. The stew can be served on its own, as a main dish (secondo piatto), or as a pasta sauce.
Oxtail is a part of what Romans call 'quinto quarto', meaning the fifth quarter. This is a mix of all those parts of the animals that remain after the highest quality cuts and parts (the four quarters) have been sold to wealthier people, including the tail, entrails, tripe, heart, and other organs.
Like most traditional dishes, you'll find coda alla vaccinara in most restaurants. A renowned eatery for the oxtail stew is Flavio al Velavevodetto, in the neighborhood of Testaccio.
11 – Abbacchio a Scottadito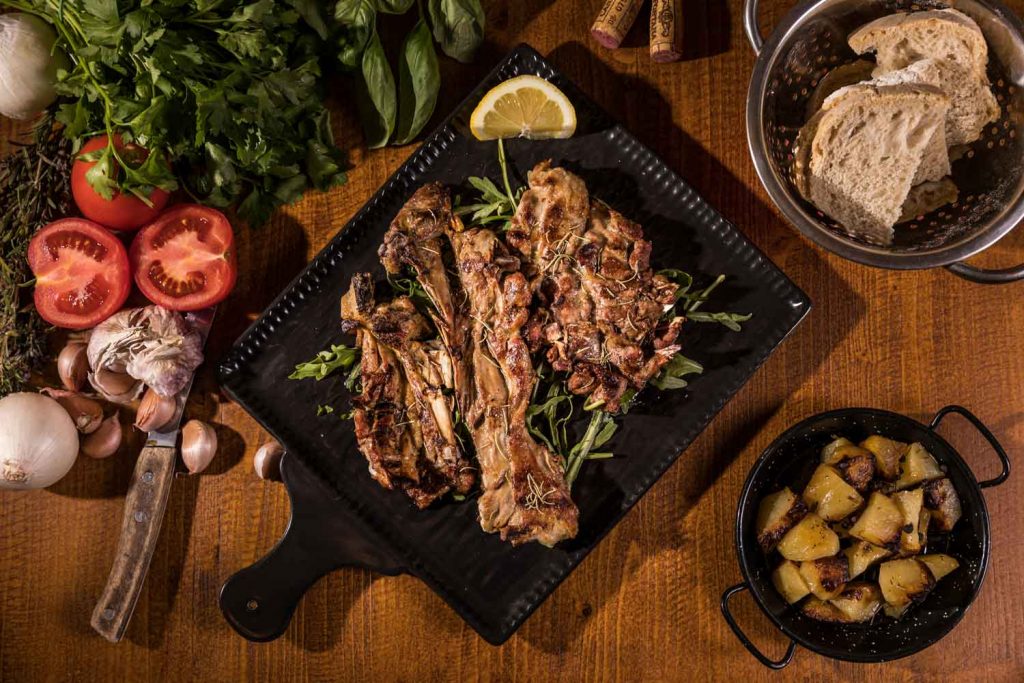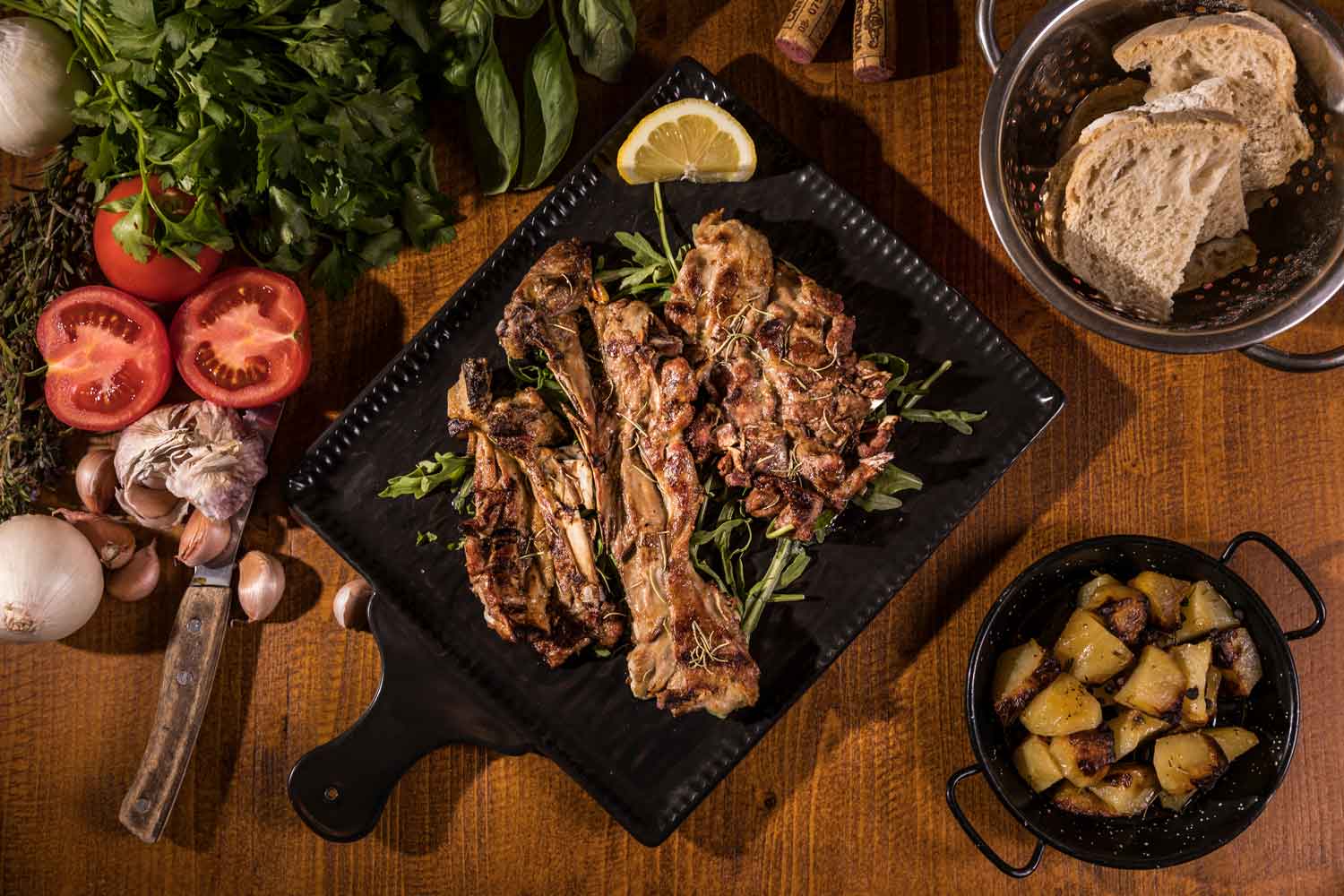 A typical Easter dish, abbacchio a scottadito is a very simple yet delicious Roman food. It consists of lamb chops, marinated in a mixture of olive oil, salt, pepper, garlic, and rosemary, cooked on a grill or grill plate.
The name of the dish, 'a scottadito', which literally translates to 'finger burn', refers to the way in which it should be eaten, burning hot off the grill, so much that it will burn your fingers!
While this recipe is very popular during the Easter season, you'll likely find it all year round in many restaurants. Try it at the restaurant Impiccetta, in Trastevere, with a side of roast potatoes.
12 – Filetto di Baccalà
While fish is an important ingredient in Italian cuisine, it's not so popular in Roman dishes. However, there are a few traditional seafood options you can try in the city.
The most popular type of fish in Roman cuisine is codfish, and it's another staple of Roman Jewish cuisine. The most famous fish-based Roman recipe is fried cod fillets.
It is a delicious dish of cod fillets, covered in a batter made of flour and sparkling water, deep-fried until crispy. The result is crunchy batter encasing a tender fillet of cod.
A famous place to eat fried cod is Er Filettaro, an institution in the Roman Ghetto. Filettaro literally means fillet maker. Here you can have a full meal, maybe seated outside if the weather is nice, or you can just grab a few cod fillets to go and eat them as you continue your sightseeing.
13 – Gnocchi alla Romana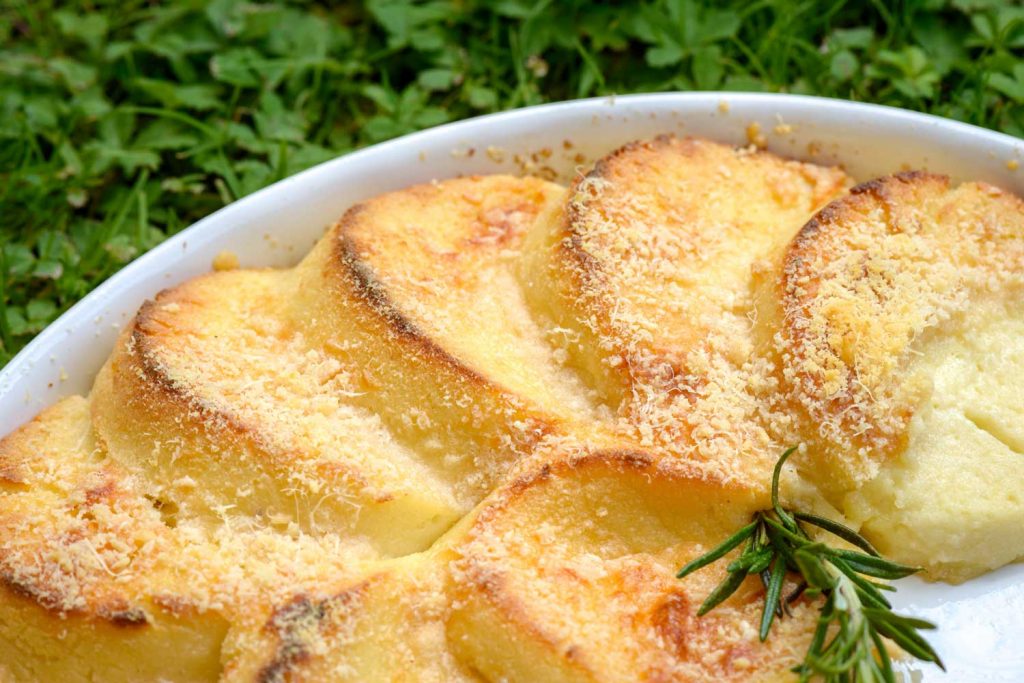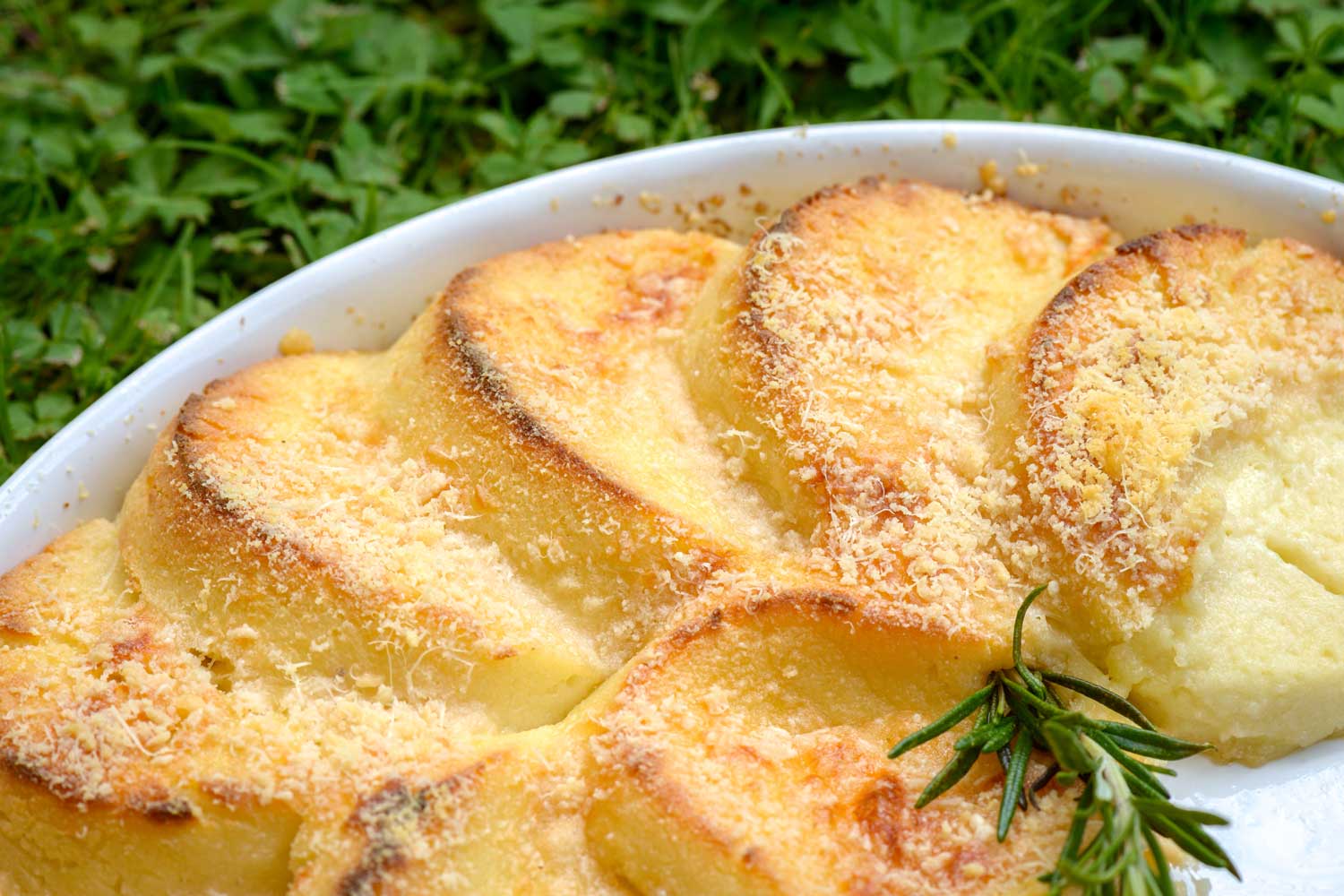 One of the few vegetarian options on this list of Roman dishes, gnocchi alla Romana has nothing to do with the other type of gnocchi, made with flour and potatoes.
This Roman dish consists of large, round, flat disks, made of semolina, milk, and egg, which are then covered in butter and parmesan, and finally baked in the oven. For some reason, in Rome, Thursday is traditionally the day to eat gnocchi. There's even a saying for it: 'giovedì gnocchi.'
No matter the day of the week, gnocchi alla Romana is a flavorful, heartwarming dish. It's hard to say where you can eat the best gnocchi in Rome, but Ristorante Pinseria Da Massi, in Trastevere, is a great place to try it.
14 – Vignarola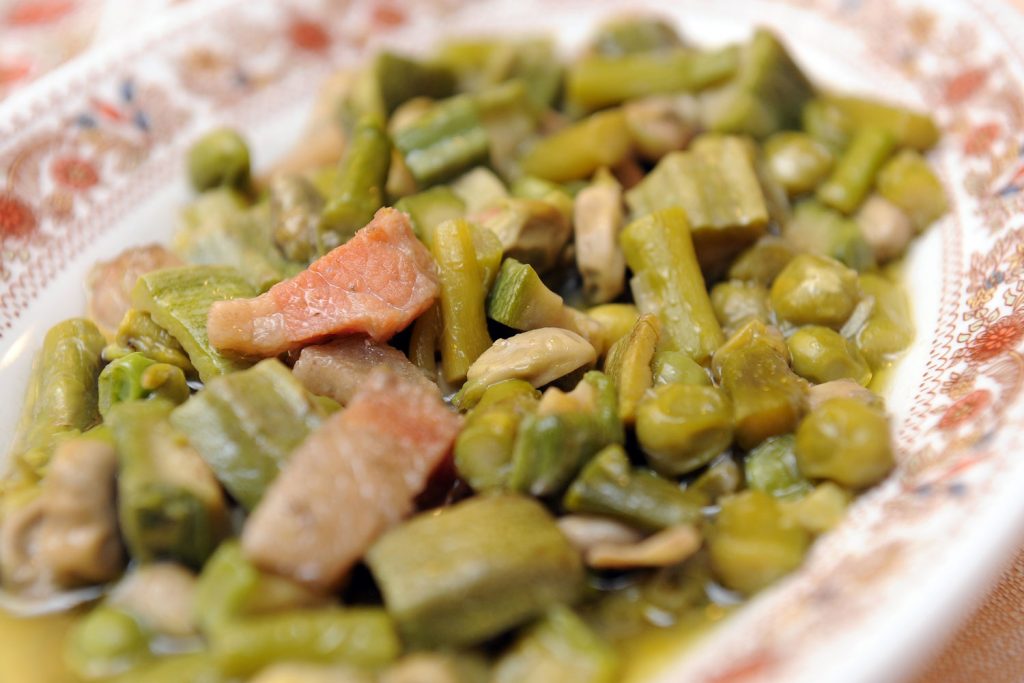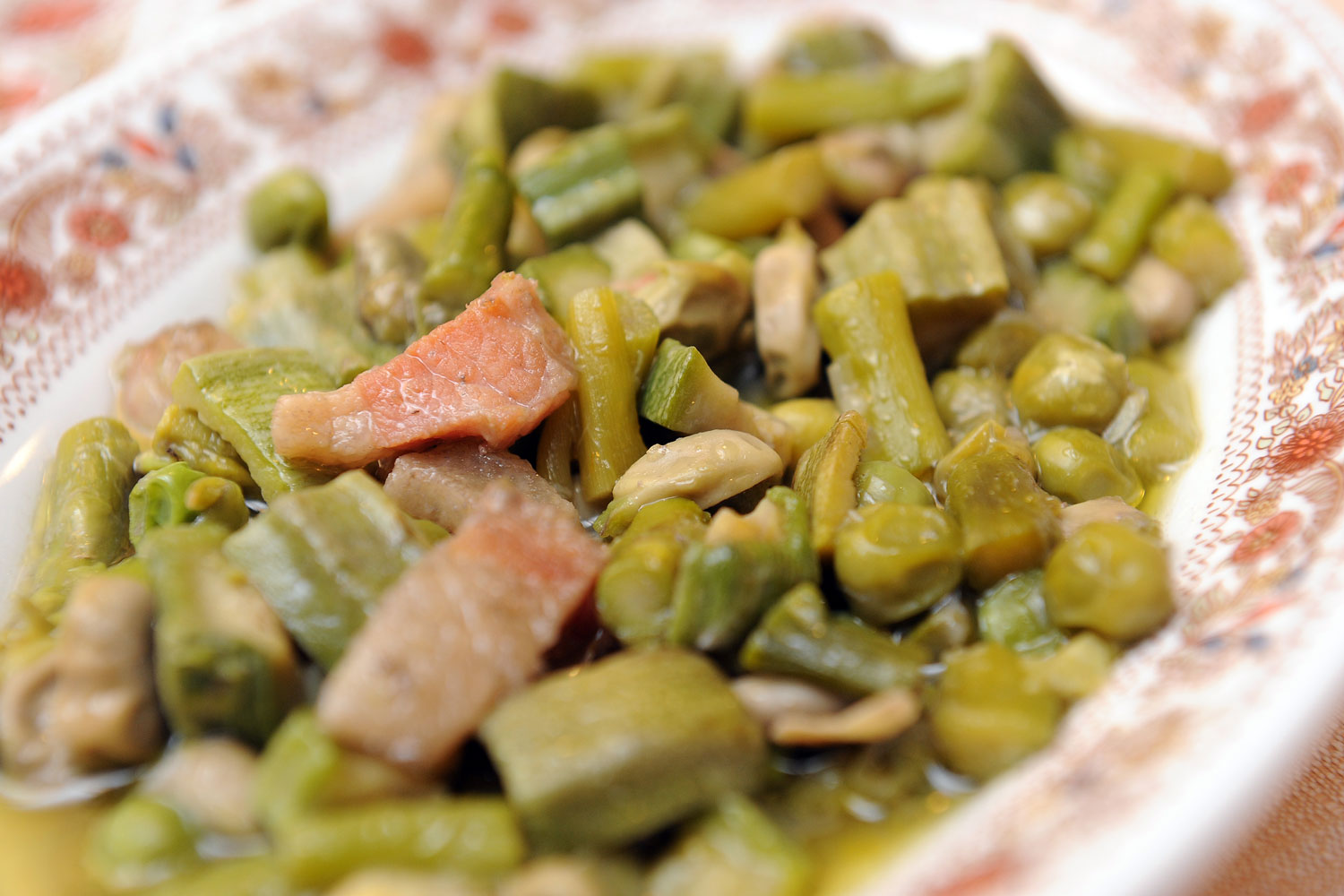 This is one of the least known dishes in Rome and its surroundings, and is originally from Velletri, a town south of Rome. This makes it even more of a treat if you get to try it.
The dish is very popular in spring when its main ingredients are in season. The original vignarola is vegan-friendly, made with artichokes, green peas, lettuce, onions, and fava beans. The fresh and delicious mixture of vegetables is cooked with white wine and olive oil. It can be served on its own, or with pasta, and there is a variation of the dish that contains guanciale.
If you want to try the vignarola in its place of origin, take a day trip to Velletri and go to La Vecchia Taverna. In Rome, try Felice a Testaccio. However, keep in mind that you'll likely only find this dish during springtime.
15 – Trippa alla Romana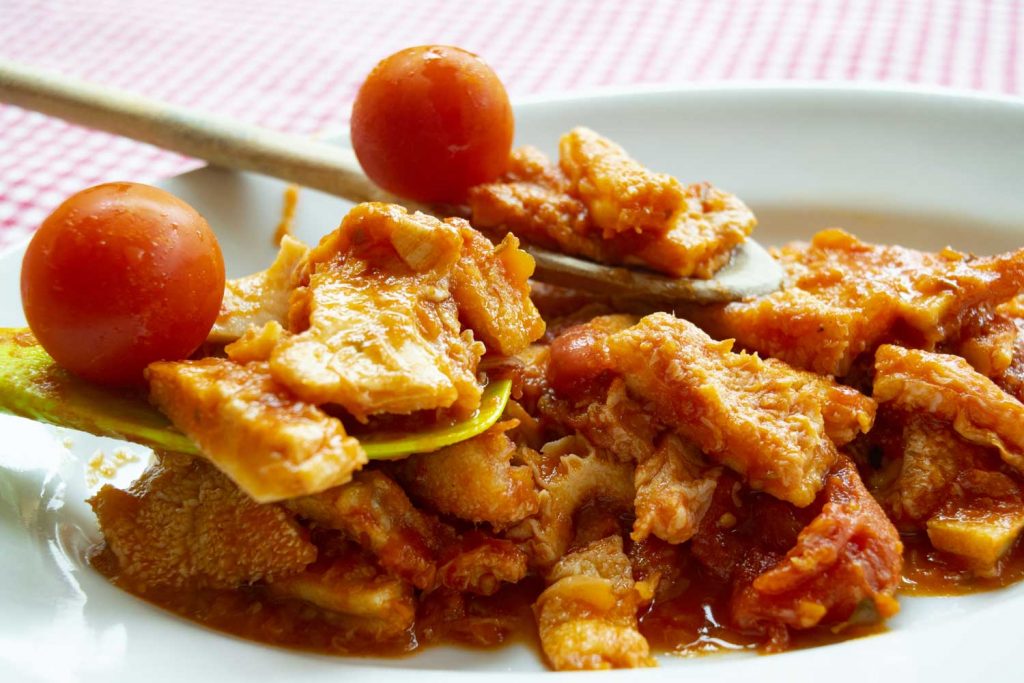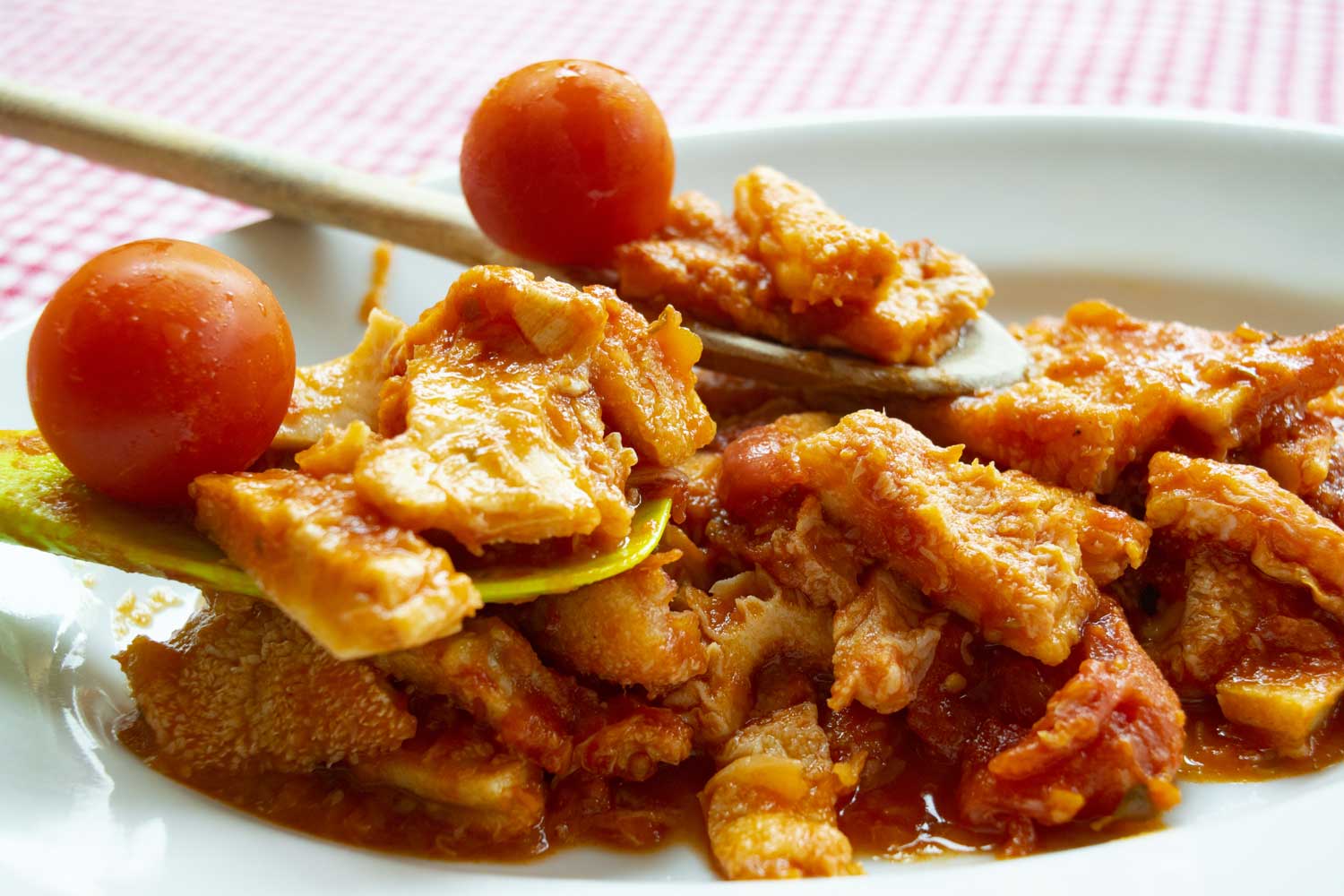 Another part of the 'fifth quarter,' tripe is the main ingredient in this Roman dish, which also consists of peeled tomatoes, onions, carrots, pecorino cheese, and herbs.
Historically, tripe was the meal Romans would eat on Saturdays at lunch. Even today, you can see signs outside restaurants saying 'Sabato trippa,' meaning 'Saturday's tripe.'
To try delicious tripe cooked in many different ways, you must go to L'Osteria della Trippa, in the lively neighborhood of Trastevere. Here you can try trippa alla Romana, trippa fritta (deep-fried), tripe salad, and even tripe balls.
16 – Fagioli con le Cotiche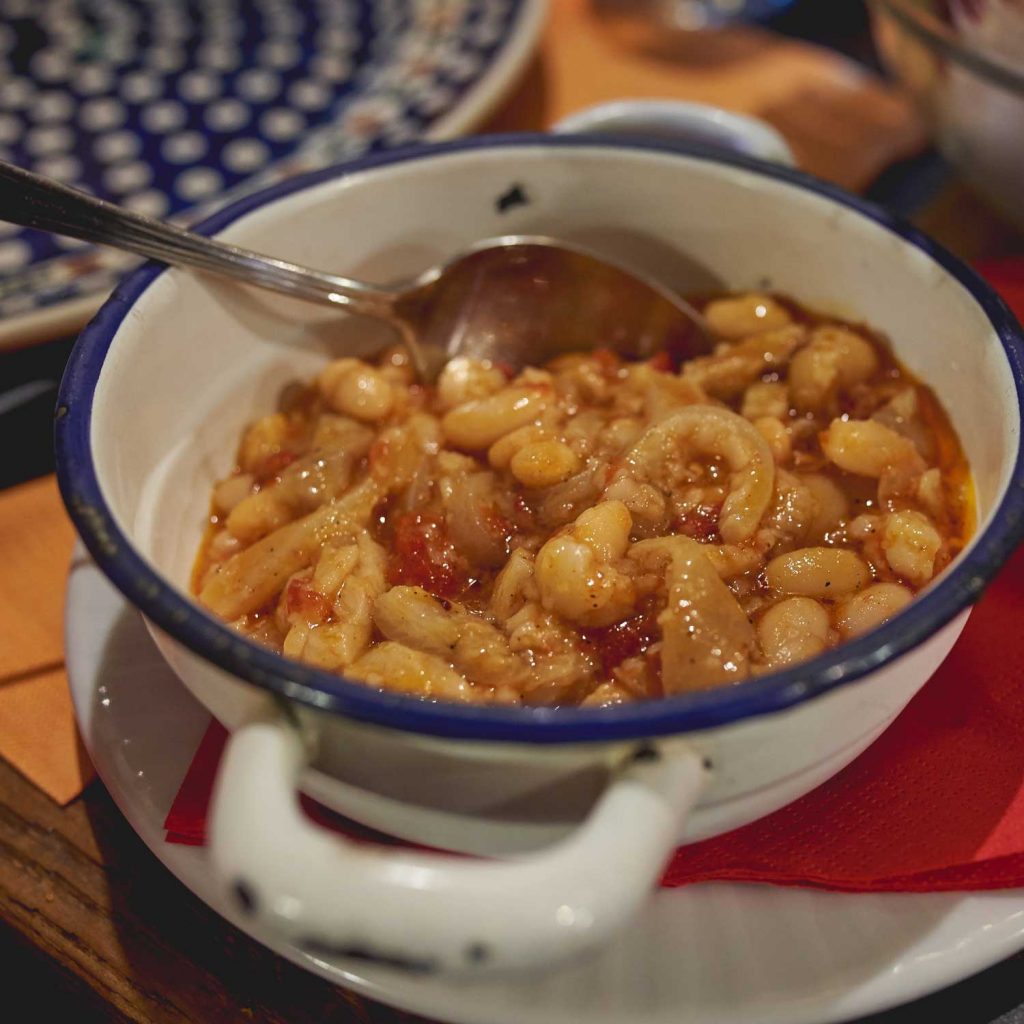 Fagioli con le cotiche has two main ingredients: beans and pork rind. Mixed with onion, garlic, tomatoes, and herbs, this dish is heartwarming and comforting.
Like most local recipes, the origins of this bean stew can be traced back to the peasants of the city. Beans and pork rinds were ingredients that were easily accessible to the city's poorest, hence the use of them in stews. Today, however, this dish is very much a comfort food that nearly all Romans love and enjoy.
If you're looking for a place to eat this simple savory dish among locals, try Trattoria Pizzeria Vecchi Sapori. It's a little outside the tourist area, in the Monteverde neighborhood, but locals love it and that's usually a guarantee of quality food.
17 – Maritozzo con la Panna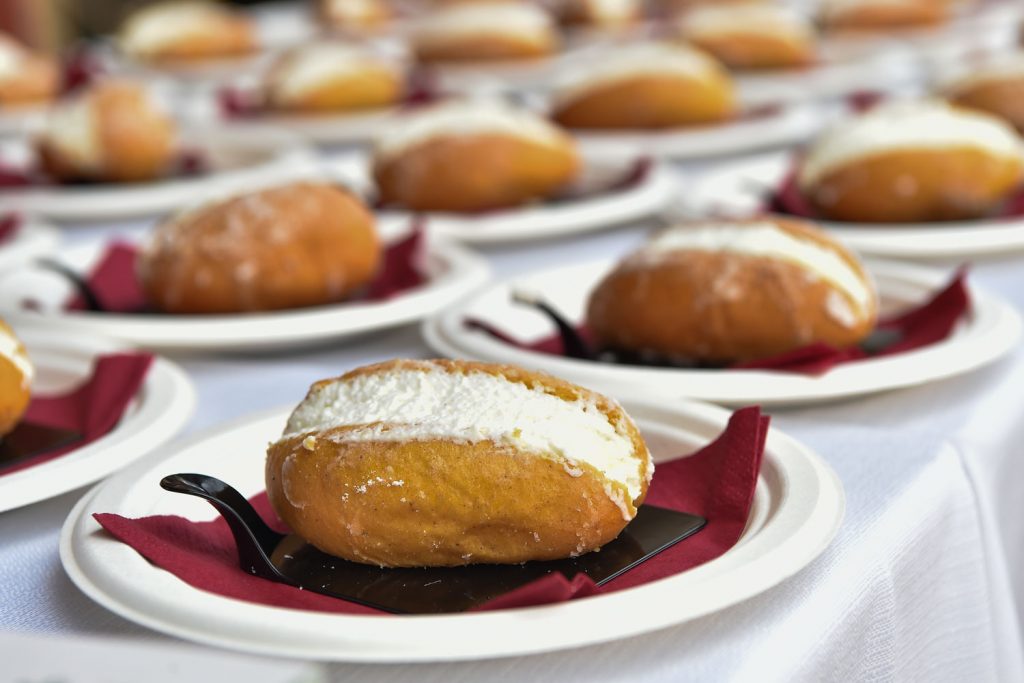 A sweet and fluffy open-top bun, filled with thick whipped cream, may not be everyone's idea of breakfast, but that's how you do it in Rome! This pastry is one of the few traditional sweet dishes in Rome, and it is a great alternative to the usual croissant for breakfast.
The name of this pastry came about with the emergence of a popular tradition during the Medieval era. Young, engaged men would give this pastry to their betrothed and would hide a wedding ring inside. Hence the name of the pastry, 'maritozzo', from marito, meaning 'husband.'
Most pastry shops in Rome sell the famous maritozzo con la panna. However, as you may have guessed by now, there's a place that takes the name from the recipe. For a truly local experience, have breakfast at Il Maritozzaro and try this Roman pastry.
18 – Crostata Ricotta e Visciole
To end on a sweet note, another dessert that is closely linked to the Jewish community in Rome is crostata ricotta e visciole.
This pastry has an interesting history. Apparently, in the 18th century, Jews were not allowed to sell dairy products to Christians. Jewish bakers decided to hide the ricotta inside a sweet tart.
As opposed to a traditional crostata, which is covered in lattice pastry and shows the filling, this crostata has a concealing pastry top, beneath which is stuffed a delicious ricotta filling below a thin layer of sour cherry jam. It is simply a must-try dessert when in Rome.
Pasticceria Boccione in the Roman Ghetto is a bakery that serves one of the best crostata ricotta e visciole in Rome.
Foods to Try in Rome Summary
I think we can all agree that the age-old saying of 'when in Rome, do as the Romans do' absolutely should apply to the foods you eat in the city.
Roman dishes are a sumptuous and fascinating fusion of resourceful cooking, fresh ingredients, and various influences from other countries and cuisines.
Finding Roman food, however, isn't always that straightforward. You definitely need to move away from the tourist areas and search down cobbled alleyways or in lesser-known neighborhoods to find authentic restaurants and eateries.
But however long or adventurous your stay in Rome is, be sure to try as many of these dishes as you can. They are at the heart of this great city's heritage and culture and bring so many flavors, textures, and techniques to the dinner table.
You Might Also Like to Read
Save and Pin for Later
Keep these traditional Roman dishes in a safe place, ready for an upcoming or future trip to Rome, by saving this article to one of your foodie travel Pinterest boards.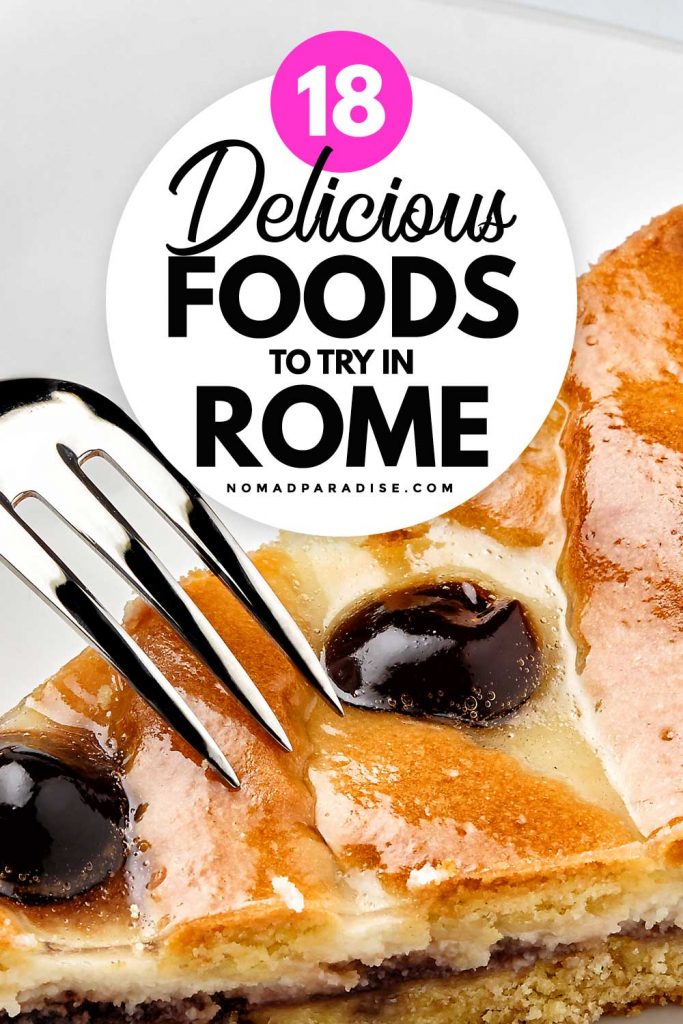 Author: Roxana Fanaru is a Romanian-born journalist and content writer who has lived in Rome for nearly two decades. She writes about fashion, travel, and cuisine, among other topics, for many publications.
Images licensed via Shutterstock