This post may contain affiliate links, meaning if you book or buy something through one of these links, we may earn an affiliate commission at no additional cost to you. Learn more
Discover a side of Indian cuisine that has found admirers across the world with these wonderful Indian curries. Succumb to their aromas, become enthused by their rich and intense flavors, and get excited to try as many as you can when you visit India.
Indian Curries
1 – Chana Masala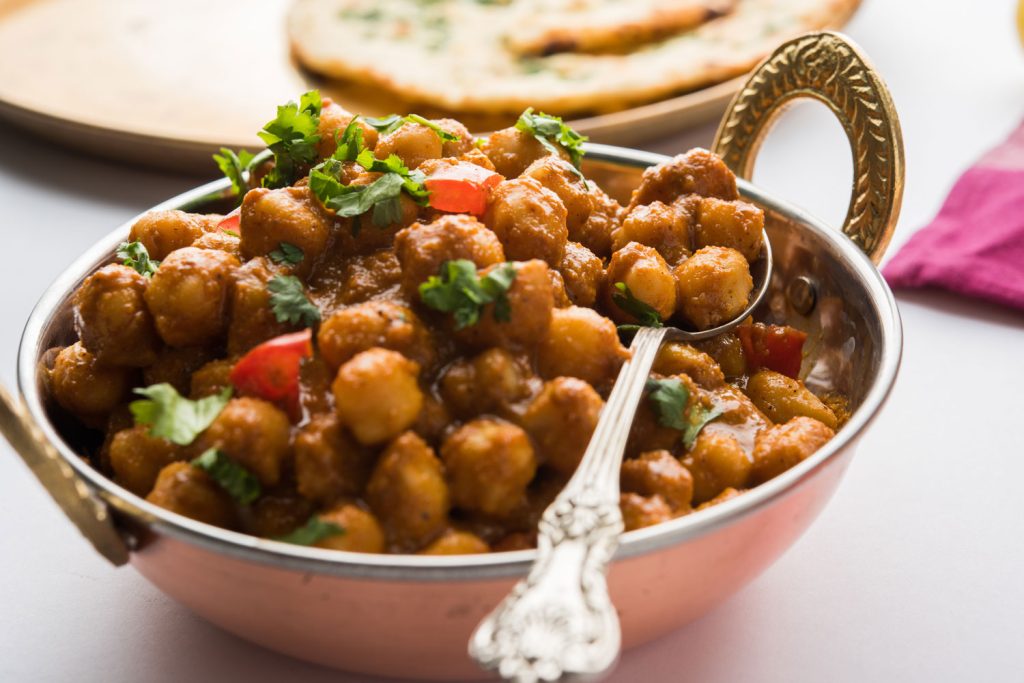 One of the most globally beloved Indian curries, chana masala is a delicious and spicy garbanzo bean curry. Made in a tomato-onion gravy with a whole host of spices like turmeric, red chili powder, cumin, coriander, and garam masala, this dish is loaded with flavor, and it is incredibly rich and satisfying.
It is often garnished with fresh cilantro (coriander) or a squeeze of lemon to add a little bit of acidity and zest. Chana masala can be eaten with roti (Indian bread), rice, or puri.
2 – Sarson ka Saag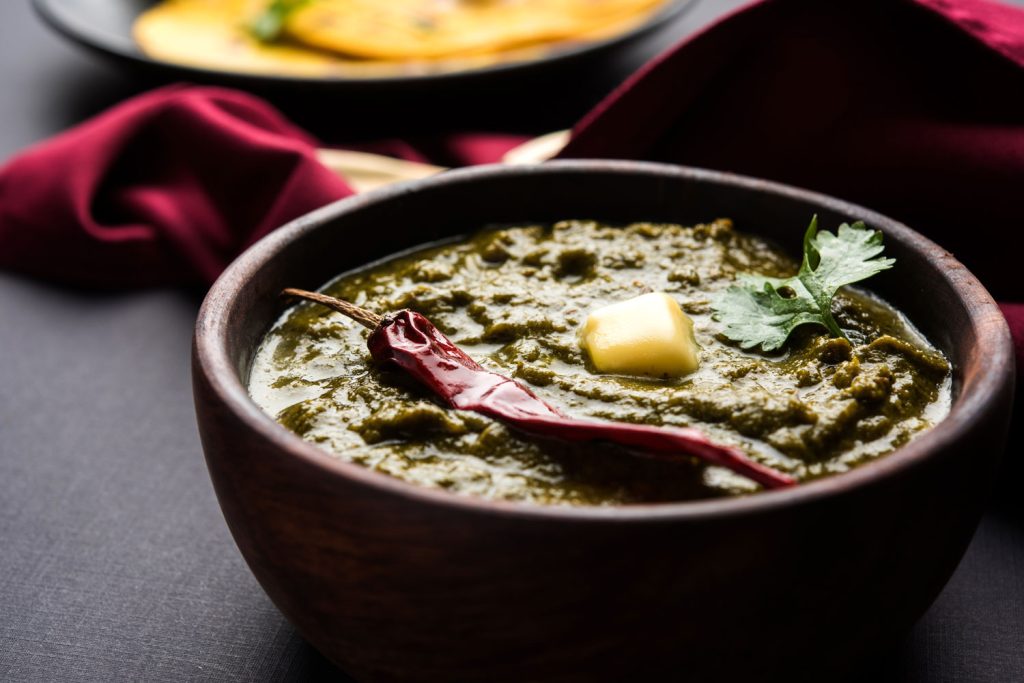 Sarson ka Saag is a classic winter curry that is a staple across North India. Mustard greens are the main ingredients of this dish, which has a rich, creamy, slightly bitter flavor.
Sarson means "mustard" and saag means "greens," hence the name sarson ka saag. This curry can be made with other ingredients and greens like spinach, fenugreek leaves, spices, and seasoning.
Sarson ka saag is most often eaten with makki roti, but it can be enjoyed with rice or any other type of Indian bread.
3 – Chicken Chettinad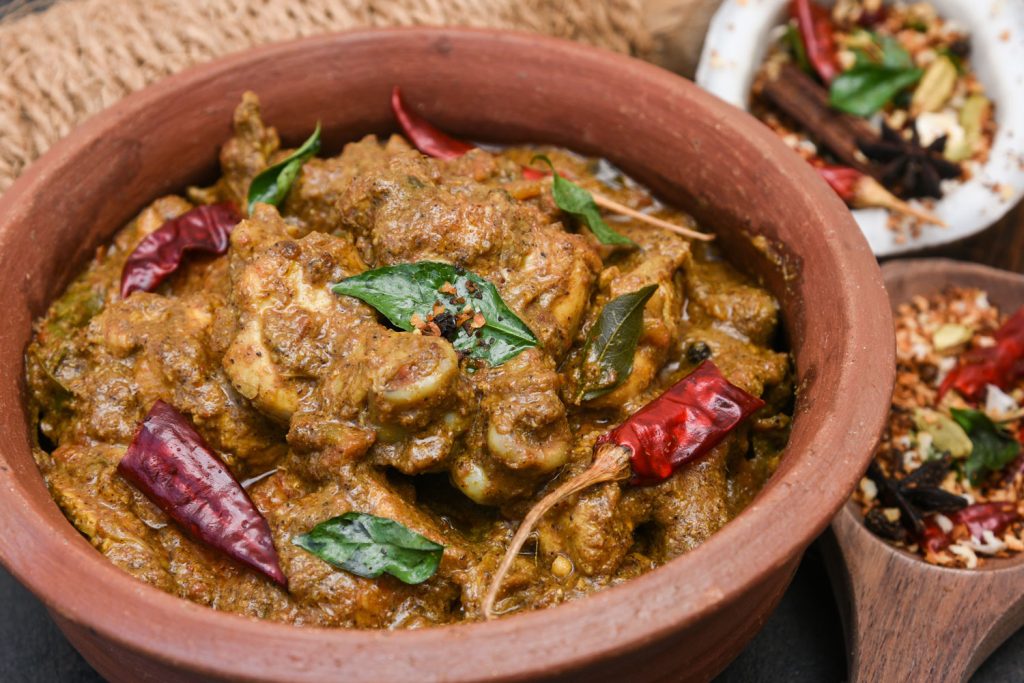 The spicy, rich, and delicious Chicken Chettinad hails from the Chettinad region of Tamil Nadu, known for its unique, flavorful cuisine.
Chicken Chettinad uses freshly ground spices, herbs, and juicy, tender chicken that has been well-marinated. Chicken Chettinad has a bit of kick as it uses a lot of whole and ground spices, and a wonderfully pleasant aftertaste due to the use of kalpasi, a mixture of stone flower and curry leaves, which really elevates the flavor profile.
Chicken Chettinad is a fiery chicken dish that is usually eaten with plain white rice that has been generously topped with ghee or sesame oil.
4 – Meen Moilee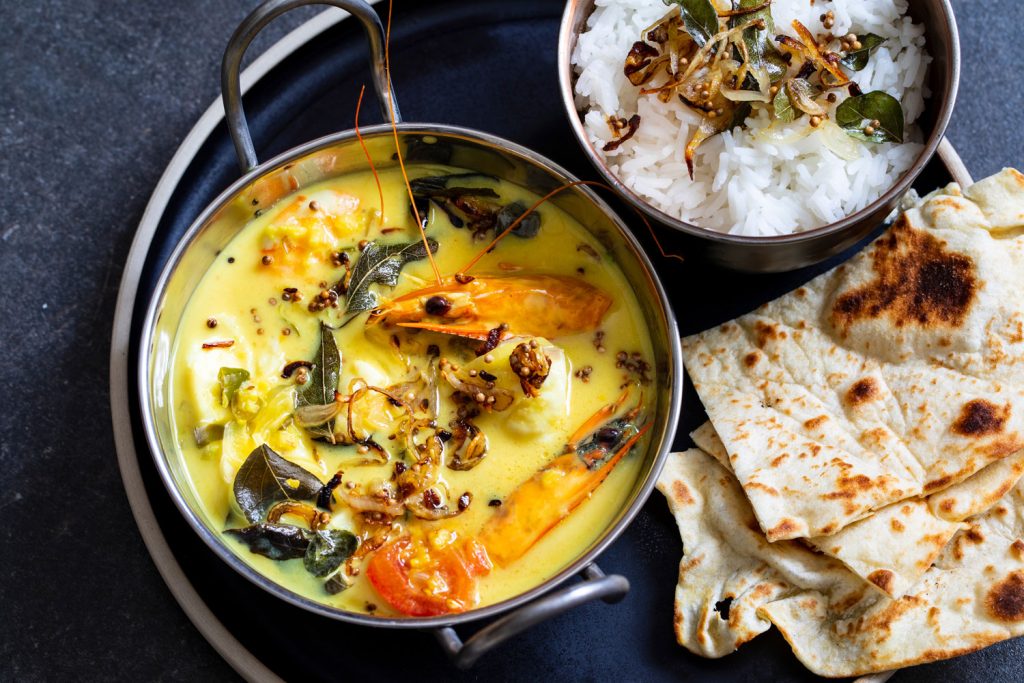 Meen Moilee is a traditional Kerala fish curry simmered in a creamy, coconut gravy, loaded with flavor and spices.
This fish stew has a bit of a kick due to the use of green chilis, and you can up the kick a notch by adding black peppercorns or tone it down by reducing the number of green chilis.
Meen Moilee is most often made with King Fish and is a staple curry in many Kerala households. Meen Moilee can be eaten with rice, parotta, or appams.
5 – Pork Vindaloo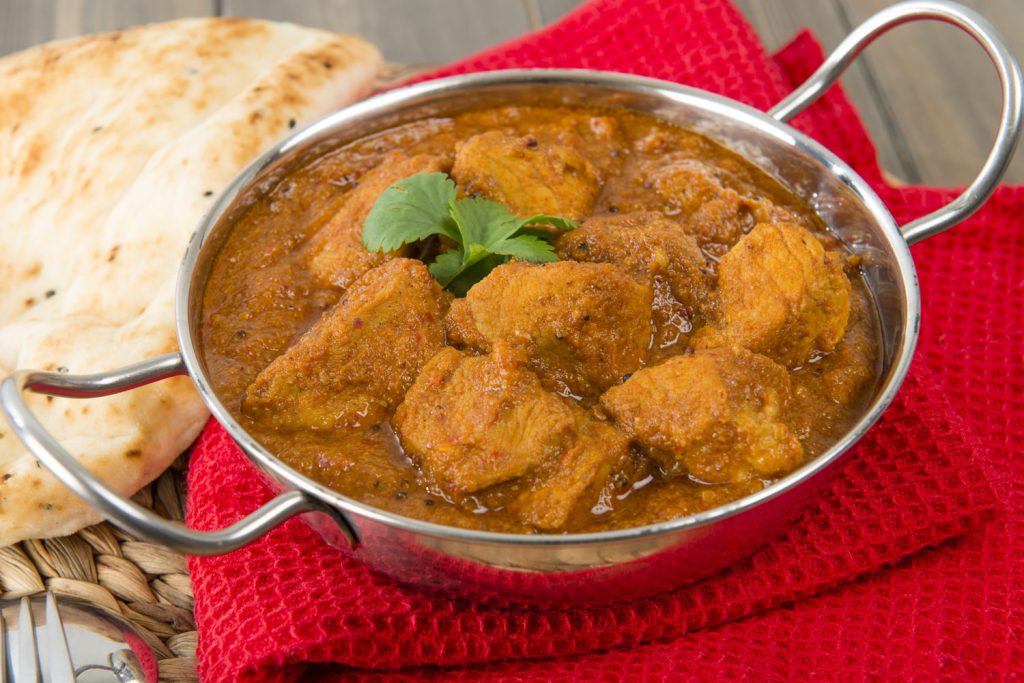 Vindaloo is a world-famous curry hailing from the State of Goa, inspired by the Portuguese dish carne de vinha d'alhos. Carne de vinha d'alhos means "meat in garlic marinade or sauce," and while vindaloo can be made with any meat, pork is the most popular and well-known version.
The pork is marinated in garlic and vinegar and then cooked with spices. Pork vindaloo is one of the spiciest curries and is usually eaten with white rice or some kind of Indian bread. Vindaloo can be made with pork, lamb, beef, chicken, fish, prawns, and even tofu and potatoes, and due to its spiciness is not for faint-hearted foodies!
6 – Paneer Butter Masala
One of the most popular paneer dishes is the paneer butter masala. It consists of delicious, rich, cubed paneer simmered in a creamy onion-tomato-cashew sauce.
The soaked and ground cashews are what give the dish its richness. Paneer butter masala is delicately spiced with a little bit of red chili powder as well as green chilis, but the spiciness is offset by the creaminess of the curry.
Paneer butter masala is garnished with cilantro (coriander), giving a bit of brightness and zest to the dish, as well as a dollop of butter, ghee, or cream, further adding to its delicious creaminess. Paneer butter masala can be enjoyed with pulao, basmati rice, parathas, or any kind of Indian bread.
7 – Butter Chicken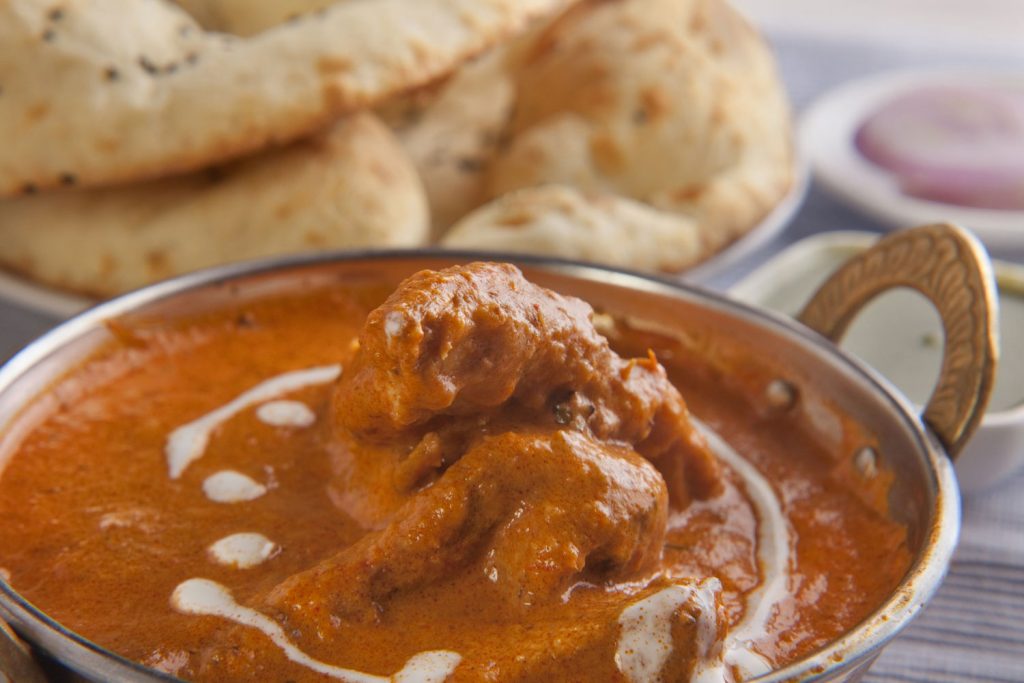 Similar to its vegetarian counterpart, paneer butter masala, butter chicken is one of the most popular Indian curries throughout the world.
The chicken used in the dish is marinated and then cooked in a creamy onion-tomato gravy with either yogurt or ground cashews, making it even creamier. This curry has enough spices to give you a bit of heat, while the rich gravy makes it indulgent.
Butter chicken is known for its rich and creamy taste as well as for the perfectly balanced flavors of all the spices and chicken. The dish is eaten with rice or Indian bread.
8 – Kerala Vegetable Stew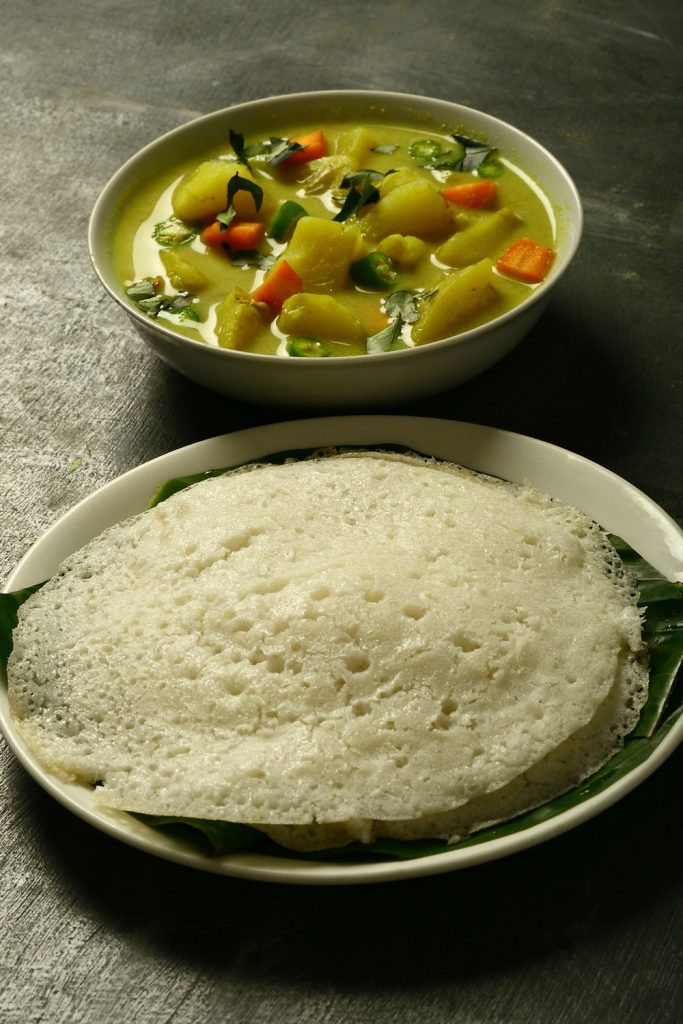 Kerala appam and stew go together like bread and butter. While stew usually refers to any light curry, the Kerala vegetable stew is a spicy, delicious curry that is full of flavor.
This vegetable stew is made with an assortment of vegetables like carrots, green beans, potatoes, and peas that are simmered in a coconut milk gravy. What lends flavor to this iconic dish is the use of a variety of dry spices like cinnamon, cardamom, red chilis, and ginger, to name a few.
Kerala vegetable stew is often enjoyed with traditional appam (hoppers), and can also be eaten with idiappam (string hoppers), parotta, and rice.
9 – Vegetable Kurma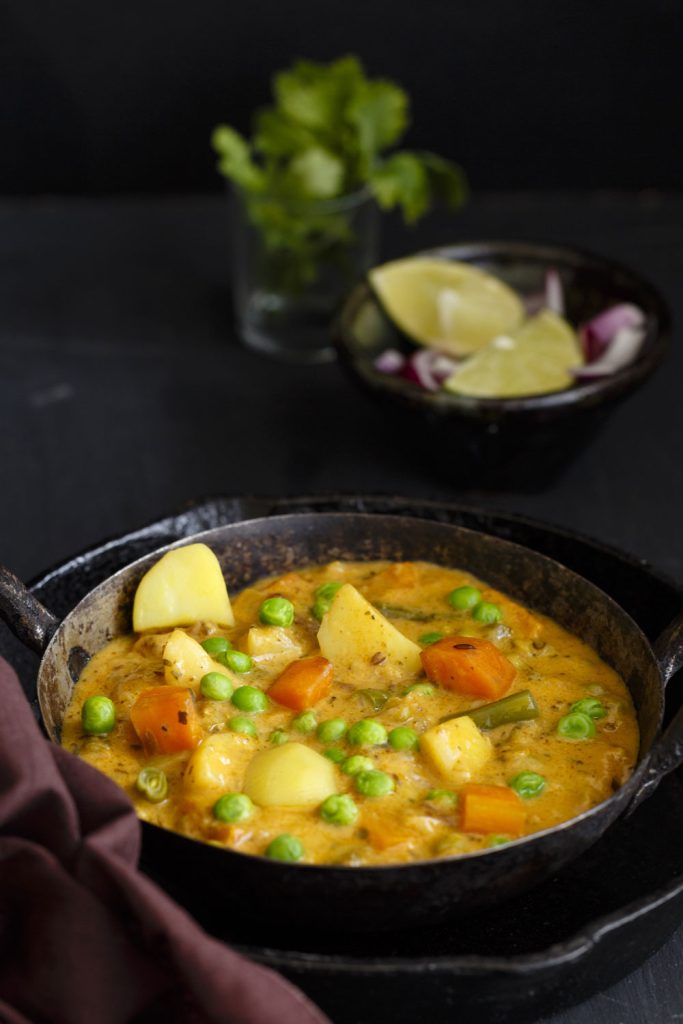 Vegetable kurma or korma is another iconic Indian curry that has found favor all over the world. An array of vegetables like potatoes, peas, green beans, and carrots are cooked in a flavorful, spicy gravy to make this beloved dish.
The North Indian korma is made in an onion-tomato sauce with plenty of spices and seasonings and eaten along with rice or roti.
The South Indian kurma, on the other hand, has a gravy that also includes coconut paste, which is a paste of desiccated coconut that has been ground along with spices like cumin seeds, green chilis, and black peppercorns. South Indian kurma is most commonly eaten with parotta.
10 – Avial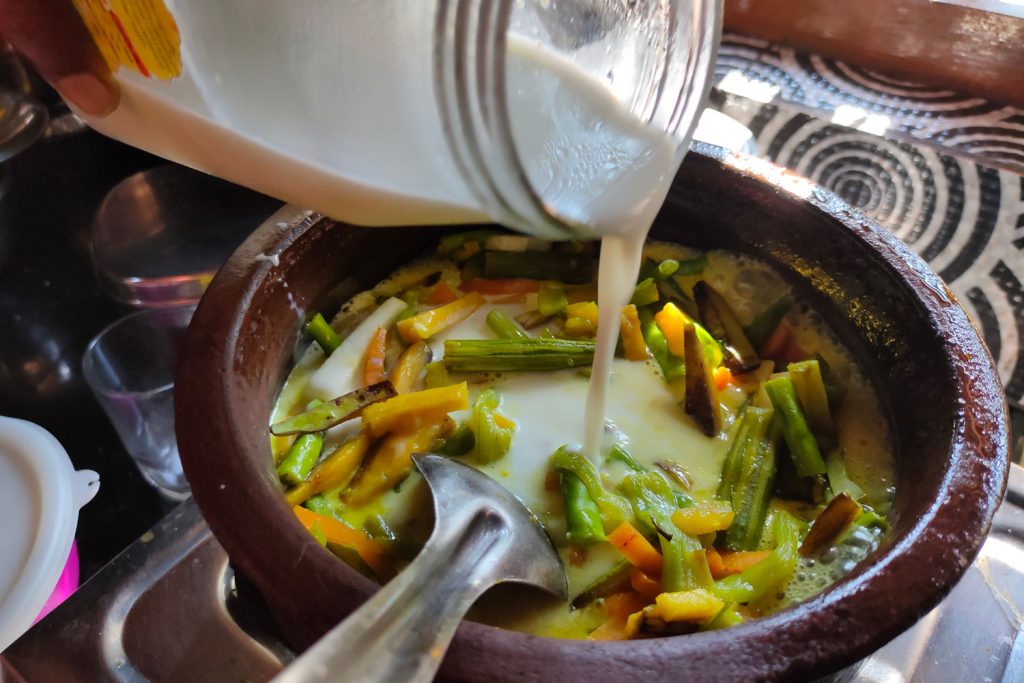 This mixed vegetable curry is a South Indian specialty that is similar to a vegetable stew but is thicker and made with a spice-coconut paste, instead of coconut milk.
Avial is traditionally cooked with vegetables like gourds, and squashes, besides other vegetables like drumsticks, eggplants, carrots, potatoes, and green beans. Avial is cooked in a yogurt and coconut gravy and eaten with rice, and is popular in Kerala, Tamil Nadu, and the Udupi region of Karnataka.
11 – Kadhi
Kadhi is a yogurt-based curry that is a staple in Rajasthan and Gujarat. The yogurt is diluted and cooked with whole and ground spices and gram flour, and the flavors from the spices blend perfectly with the creaminess of the yogurt.
Kadhi sometimes has fritters added to it, which is then called kadhi pakora, giving the curry some added texture. The Gujarati kadhi often has a delicate hint of sweetness, and an aftertaste of heat from the spices makes for a truly unique and wonderous mouthful. Kadhi is usually eaten with kichdi, white rice, and rotis.
12 – Shaak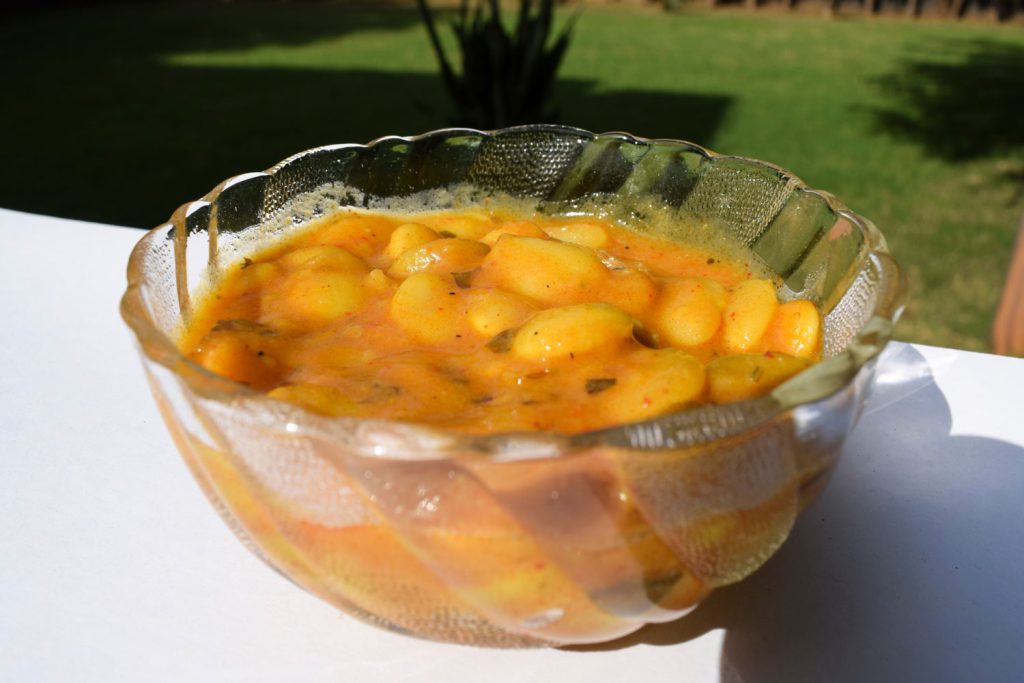 In this Gujurati dish, legumes or vegetables are cooked in a spicy, tangy gravy, making for a delicious, wholesome dish. Shaak literally means "cooked vegetables" or "subzi" in Indian, which in turn refers to vegetables.
Shaak is a household staple in Gujurat, with families having their own variations and styles. Some of the ingredients found in shaak are jaggery, tamarind, gram flour, tomatoes, and an assortment of spice powders and whole spices. Besides vegetables, shaak is also made with different kinds of legumes and is eaten with rice and roti.
13 – Macher Jhol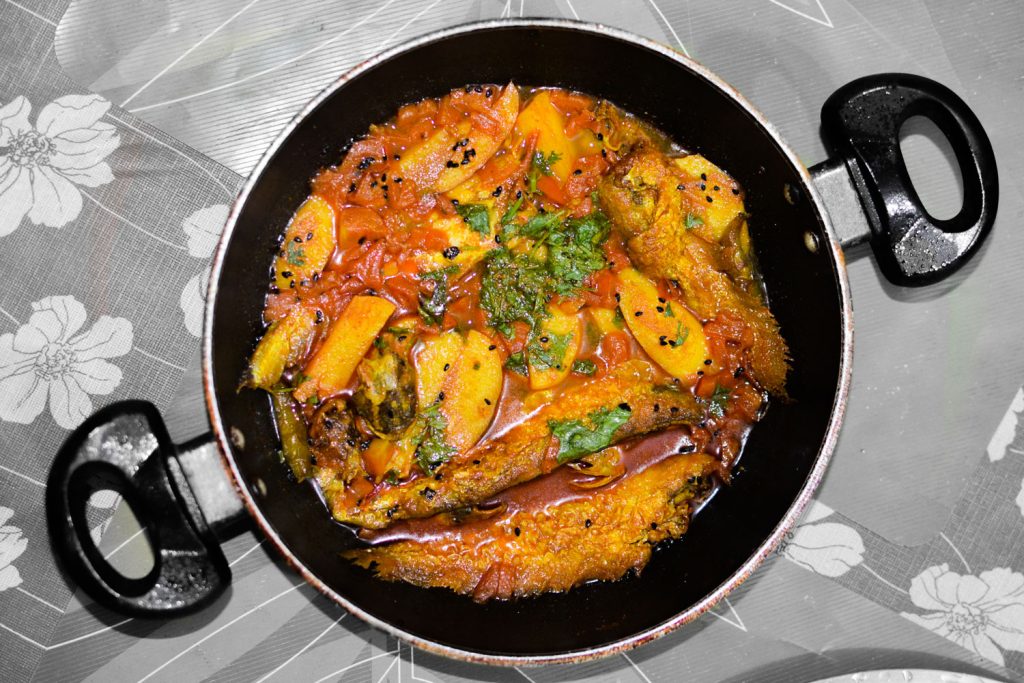 Macher Jhol is a traditional Bengali fish dish that is a rich and spicy fish curry. Macher Jhol translates to "fish stew" and is a staple in the eastern part of the country, in places like West Bengal, and Orissa.
The fish stew is most often made with lake water fish, commonly carp or hilsa, but also made with halibut, salmon, or cod. This curry has a fiery taste and really brings out the flavor of the fish. This is a simple dish to make with minimal ingredients, but it brings a depth of flavor to the forefront.
14 – Dal Makhani
Dal makhani is one of the most ubiquitous Indian dishes out there, and is just as popular globally as it is in India. It is a rich, indulgent, creamy dal that not only tastes amazing, but is also hearty, healthy, and wholesome.
Dal makhani is made with whole black beans, also known as black matpe beans or black gram, often along with rajma or red kidney beans. Dal makhani translates to "buttery dal" and is very popular in North India. In fact, it is believed to have originated in the Indian state of Punjab.
Dal makhani is traditionally slow-cooked over a coal or wood fire, and this simmering is what gives it its rich and creamy flavor. The dish is eaten with rice or rotis.
15 – Vegetable Jalfrezi
Vegetable jalfrezi is a delicious, tomato-based gravy that is loaded with vegetables, paneer, and an assortment of spices, herbs, and seasonings. Vegetable jarlfrezi is made with vegetables like potatoes, green beans, peas, carrots, baby corn, and paneer. It can also include vegetables like peppers, mushrooms, and eggplants, to name a few.
Fresh ground spices like turmeric, garam masala, red chili powder, green chilis, cumin seeds, cinnamon, bay leaf, and other whole spices all add an extra depth of flavor to this wonderful dish. Vegetable jalfrezi is eaten with rice or Indian bread.
16 – Malai Kofta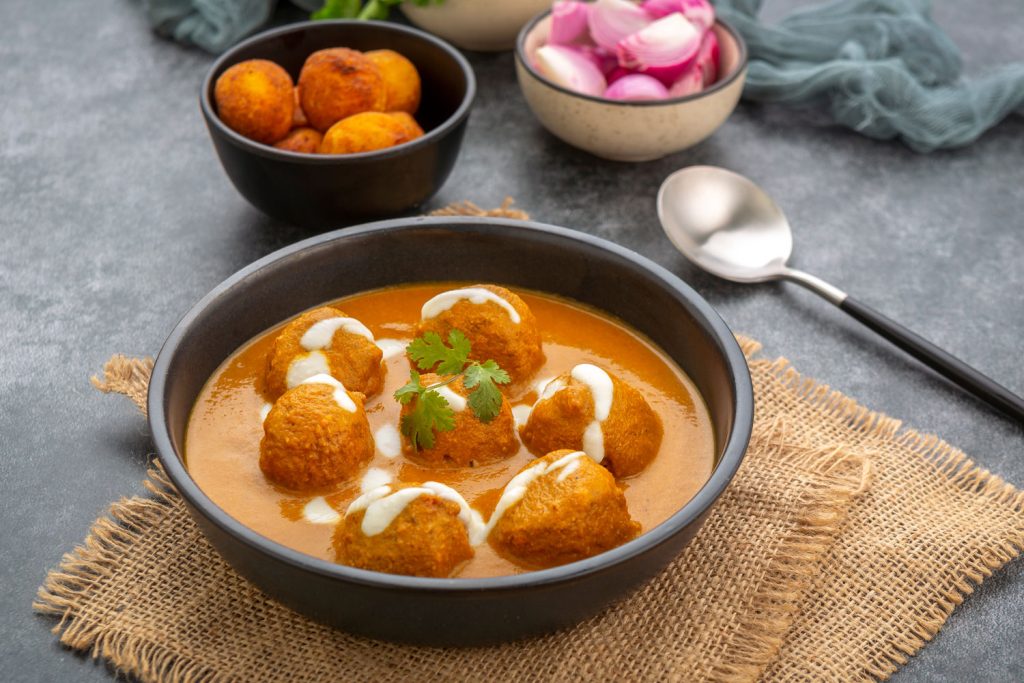 Malai kofta is a delicious, melt-in-your-mouth, succulent paneer fritter, simmered in a rich onion and tomato gravy. The paneer is sometimes stuffed with potatoes and is seasoned and well spiced before being fried and cooked in a creamy curry.
Malai kofta is one of the country's most famous and popular dishes, and it is very much decadently delicious. The paneer fritter is crunchy on the outside, and soft and creamy on the inside. Malai kofta is commonly eaten with pulao, basmati rice, naan, and paratha.
17 – Palak Paneer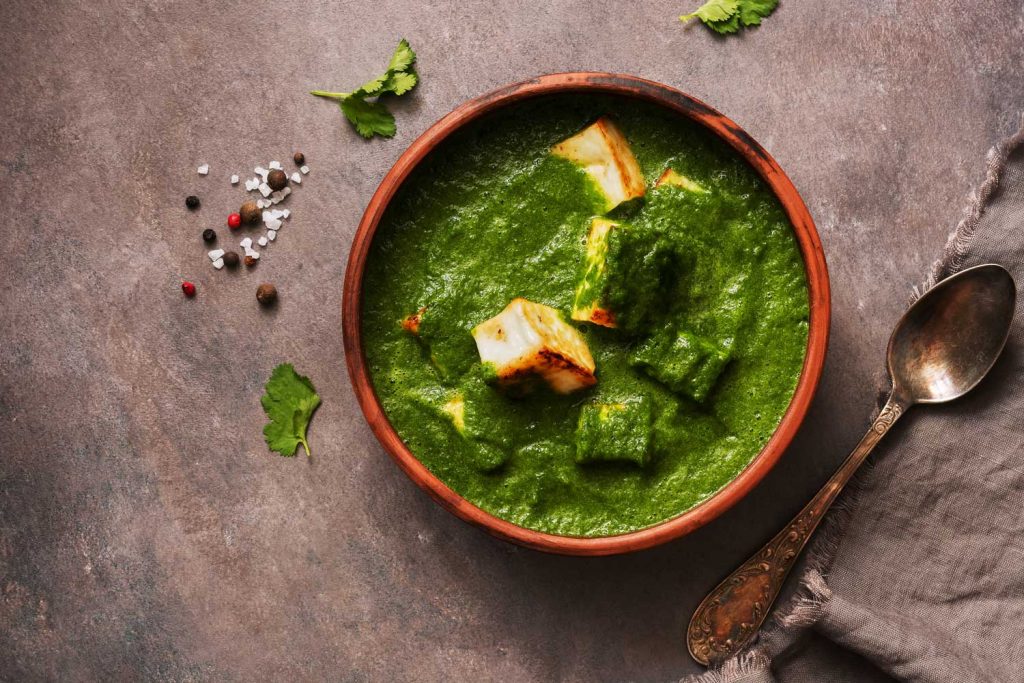 Another popular paneer dish is palak paneer. This curry consists of cubes of paneer that are cooked in spinach gravy.
Palak means "spinach," and palak paneer is a nutritious, filling, and delicious Indian curry. It can be eaten with rice or Indian bread.
18 – Mor Kozhambu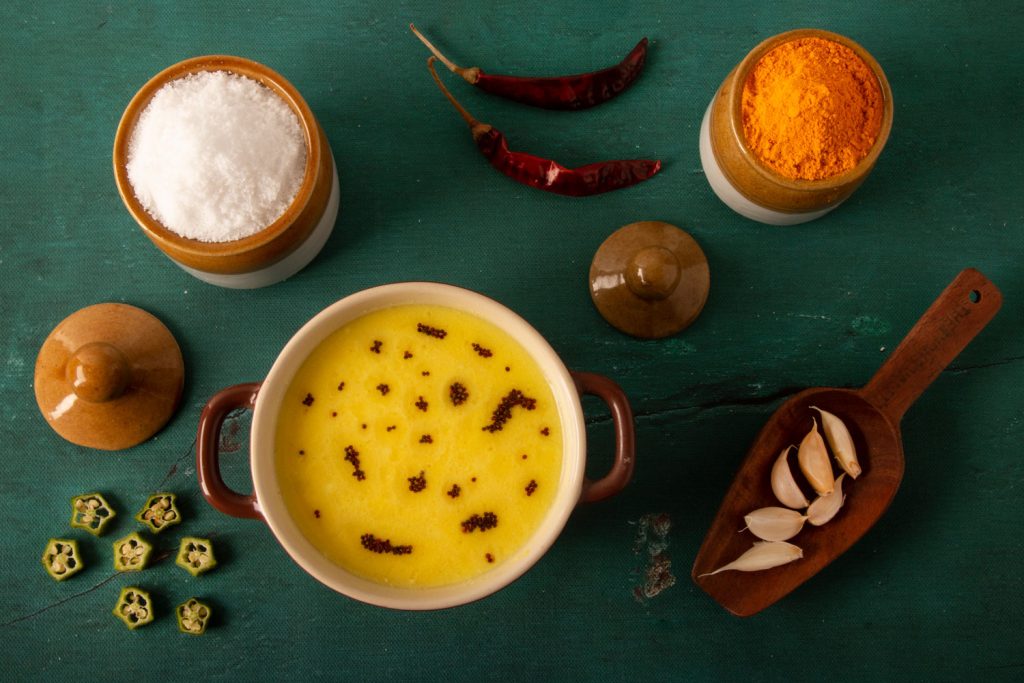 Mor kozhambu is a South Indian yogurt-based gravy that is similar to the kadhi. It consists of diluted yogurt cooked with a coconut-green chili-cumin seed paste. Sometimes turmeric powder is added to it to give it a bright yellow color, and the dish is often tempered with curry leaves and red chili.
Mor kozhambu sometimes contains cooked vegetables like okra, Colocasia, plantains, or even spinach fritters. The dish is eaten mixed with rice, sometimes accompanied by sauteed vegetables.
19 – Rogan Josh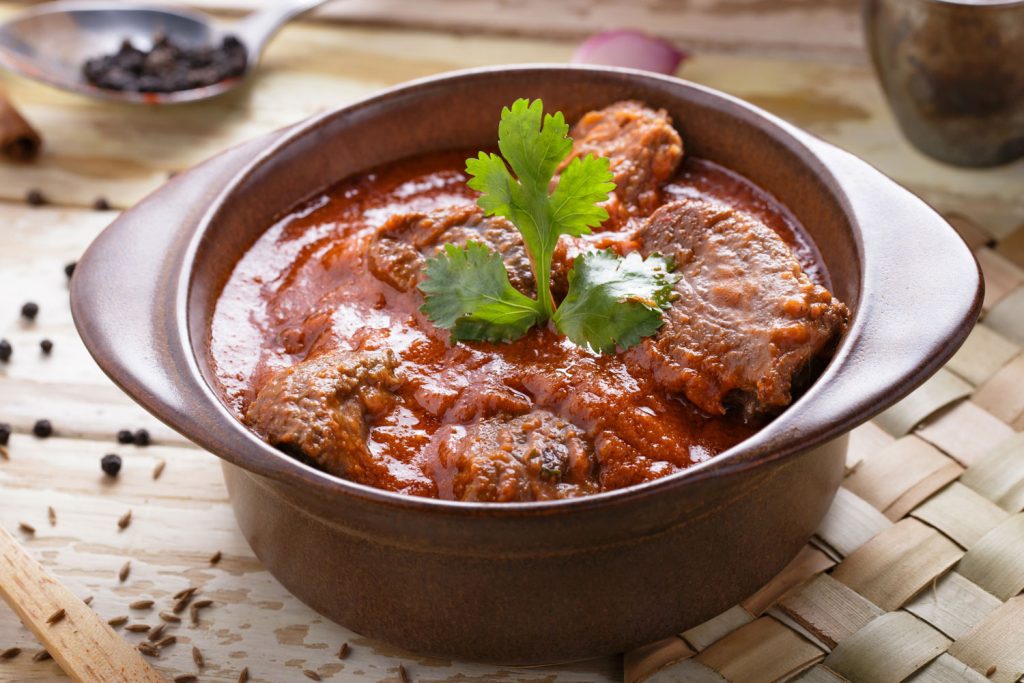 Rogan josh is believed to have originated in Kashmir, with roots in Persian cuisine. In fact, the name Rogan josh comes from the Persian language, with rogan meaning "oil," and josh referring to "intense heat or passion."
Traditional mutton rogan josh is thick, delicious, flavorful Indian curry. Rogan Josh is integral to any Kashmiri celebratory meal and can be made with lamb or mutton, best enjoyed with rice.
20 – Dhansak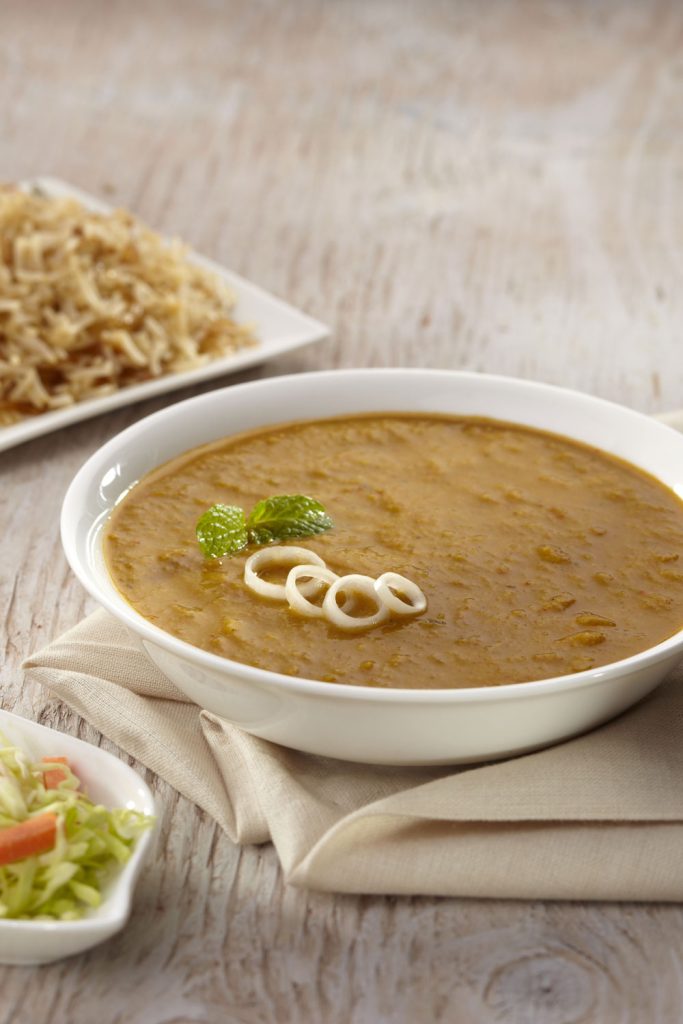 Dhansak is a Parsi curry that is made along with mutton, vegetables, and lentils. Dhansak takes influence from both Persian and Gujarati cuisine and usually has at least four types of lentils and a lot of spices, both whole, and ground spices. It is a rich curry that is eaten along with brown rice.
Indian Curries Summary
So many people know that curries are a huge part of Indian cuisine, but know very little about the sheer scope and depth of curries that can be found both in India and the rest of the world.
Whether you're traveling in India, or a place where Indian cuisine has had significant influence, be sure to seek out and try as many of these dishes as possible.
Indian curries really do emphasize the magic of Indian cooking, with their heat, spice, intense flavor, aromatic qualities, and both sweet and savory flavors, that people from all walks of life enjoy. Try them with a range of delicious sides, and see how much of the heat you can handle!
You Might Also Like to Read
Save and Pin for Later
Keep these Indian curries for safekeeping by saving this article to one of your foodie or recipe Pinterest boards.
Contributor: Nandhini Parthib is an Indian content writer, deeply passionate about Indian culture, travel, and cuisine, who is keen to share more about India through her writing.