This post may contain affiliate links, meaning if you book or buy something through one of these links, we may earn an affiliate commission at no additional cost to you. Learn more
Planning a trip to experience the wonder of Italy's capital city, but not quite sure where to stay in Rome? Our guide to staying in Rome features 12 Roman neighborhoods that have something for everyone and will help you choose a base that is just right for you.
Whether you're keen on meeting locals, love a little designer shopping, traveling on a budget, or want to be near green parks, let our expert Roman writer guide you through the best areas to stay in the city.
Where to stay in Rome
1 – Termini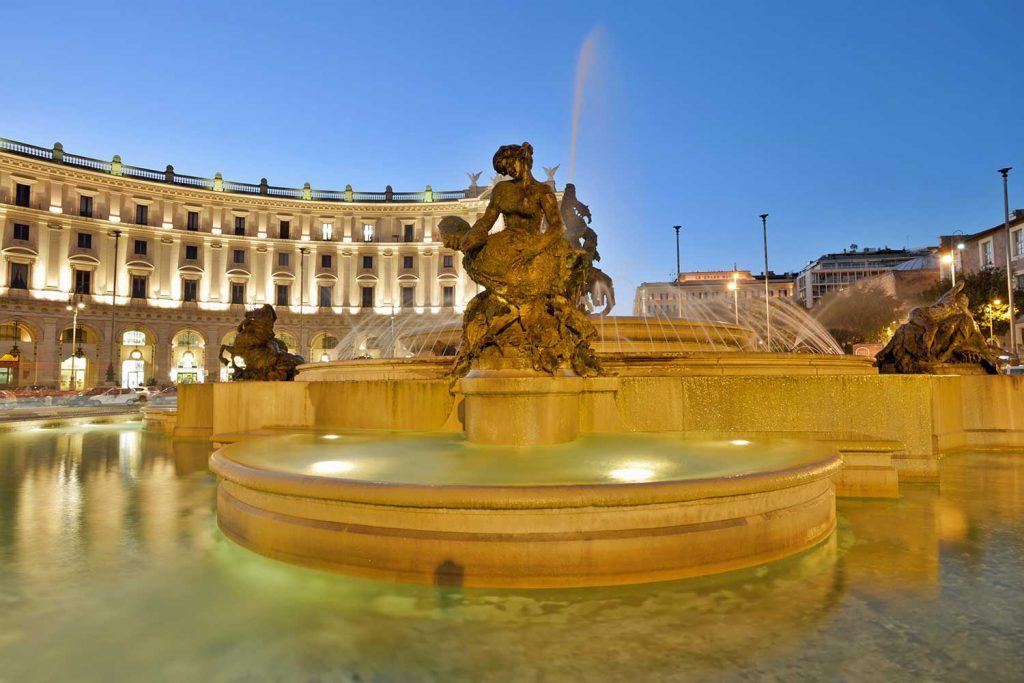 The area close to the main train station in Rome can be very practical and convenient, especially since you'll be close to metro lines A and B as well as several buses and trams. Furthermore, the train station is very close to the city center, and you can reach the Colosseum or Piazza Venezia in just a half-hour walk.
Though this is a very convenient location, as many train station areas, it does require extra caution late at night. It may be safer to avoid staying in the area near Via Giovanni Giolitti, whereas the opposite side of the train station near Via Marsala tends to be quieter. Even better, less than five minutes from Termini the area near Piazza Repubblica is probably the best place to stay and still very close to the train station.
Budget accommodation: The Yellow, a popular hostel with a bar, a club, and lots of activities for visitors who wish to party and meet other fellow tourists.
High-end accommodation: The Hive Hotel, a trendy 4-star hotel with a big rooftop terrace with gorgeous views and an open-air restaurant.
2 – Monti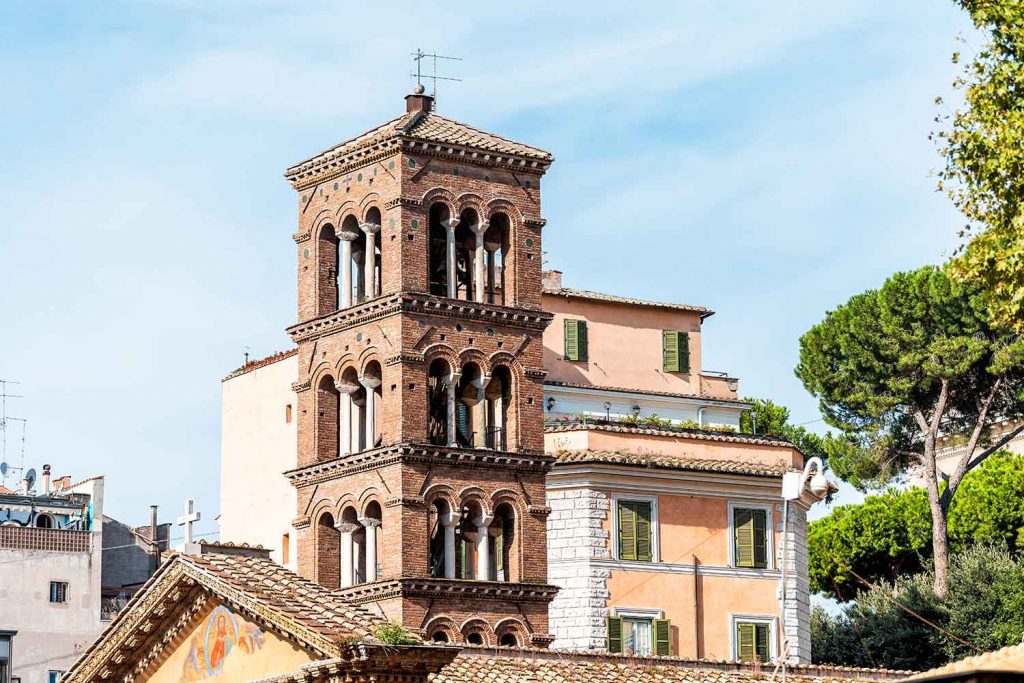 The lively and picturesque neighborhood of Monti is probably one of the best areas to stay in. Halfway between Termini train station and the Colosseum, the small neighborhood is a cobweb of narrow alleys, colorful old buildings, and gorgeous little squares.
The area is filled with traditional restaurants and bars and has a lively nightlife. You'll also find vintage stores and many unique little shops selling handmade accessories, clothes, and souvenirs. Monti Urban Market is open every weekend and sells both new and vintage clothes, jewelry, and art.
The area is served by metro line B, but you'll be just a 15-minute walk from Termini where you can also find metro line A and several buses. Monti is definitely the artsy, trendy neighborhood in Rome, and it is also in a perfect location to explore the city.
Budget accommodation: A&F Colosseo, a cozy bed and breakfast close to Cavour metro station.
High-end accommodation: The Inn at the Roman Forum, a 5-star hotel with elegant rooms and a rooftop terrace, just a few minutes from the Roman Forum.
3 – Tridente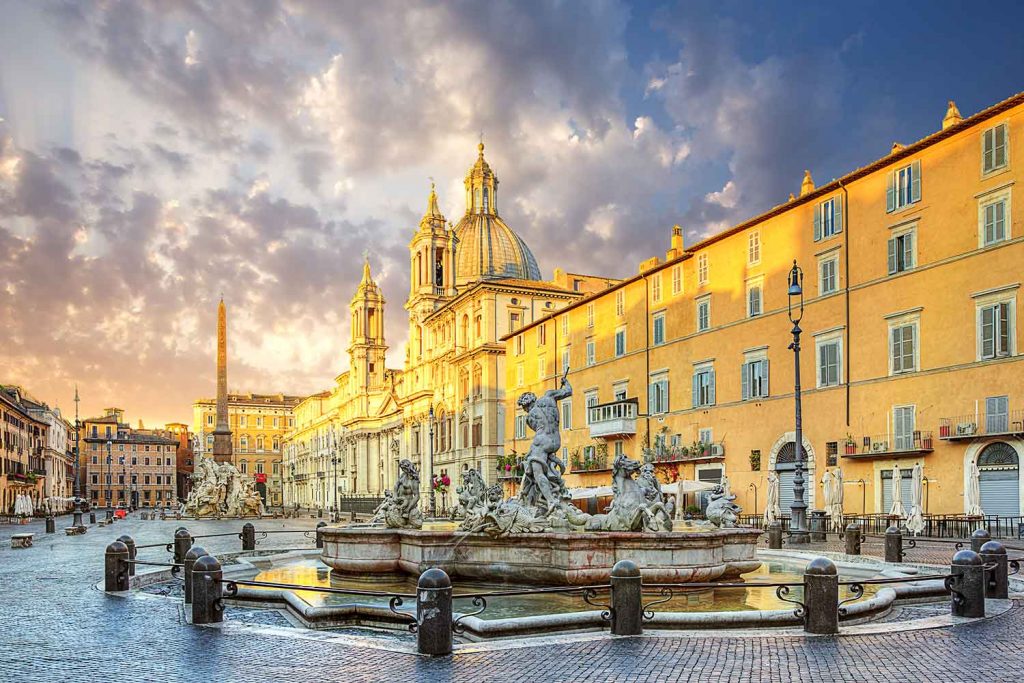 Tridente is a trident-shaped area enclosed in between Via di Ripetta and Via del Babbuino, with Via del Corso running in the middle, from Piazza Venezia to Piazza del Popolo. This is the area with the most tourist spots, so it's perfect if you want to be within walking distance from places like the Spanish stairs, Fontana di Trevi, Pantheon, Piazza Navona, and Piazza del Popolo.
Given the location is close to the luxury shopping streets and many landmarks, the area tends to be more expensive, and also has fewer supermarkets and convenience stores. On the other hand, you'll find many restaurants, whether you're looking for fancy places or more affordable eateries. Tridente is the place to stay if you want to be able to reach Rome's beautiful squares and fountains in a few minutes' walk.
Metro line A has stops in Piazza di Spagna and Piazza del Popolo, making this area very easy to reach from most parts of Rome.
Budget accommodation: Rifugio degli Artisti, a bed and breakfast in a 17th-century building, near Piazza del Popolo.
High-end accommodation: Hotel Valadier, a 4-star elegant hotel near Piazza del Popolo, with everything from the three restaurants and the piano bar to a fitness center.
4 – Trastevere & Campo de Fiori
If you want to experience the true Roman nightlife, the neighboring areas of Trastevere and Campo de Fiori are among your best choices. Trastevere is probably the most picturesque neighborhood in Rome, with narrow cobblestone alleys, buildings covered in vines, and traditional restaurants with lovely terraces.
Campo de Fiori, on the opposite bank of the Tiber River, is no less charming, with its big square that gives the name to the neighborhood that hosts one of the most famous farmers' markets on weekends.
This whole area tends to come alive in the evening until late at night, visited by locals and tourists alike. Trastevere tends to be more frequented by locals, while Campo de Fiori is more international, but there is usually quite a mixed crowd at both.
The area is also within walking distance from several tourist spots, such as Piazza Navona, Castel Sant'Angelo, Largo Argentina, and the Jewish Ghetto. Though no metro lines are reaching Trastevere or Campo de Fiori, you can easily reach them by bus or tram.
Budget accommodations: B&B Ventisei Scalini a Trastevere, a quirky, colorful bed and breakfast close to Piazza Trilussa, in the heart of Trastevere; Navona First Rooms, in Campo de Fiori, just a few minutes from Piazza Navona.
High-end accommodations: Donna Camilla Savelli, a gorgeous hotel in a former monastery in Trastevere that looks like a 17th-century palace, with a beautiful garden; Hotel Ponte Sisto, a 4-star hotel right by the river in Campo de Fiori, with a lovely rooftop terrace and city views.
5 – Ludovisi & Sallustiano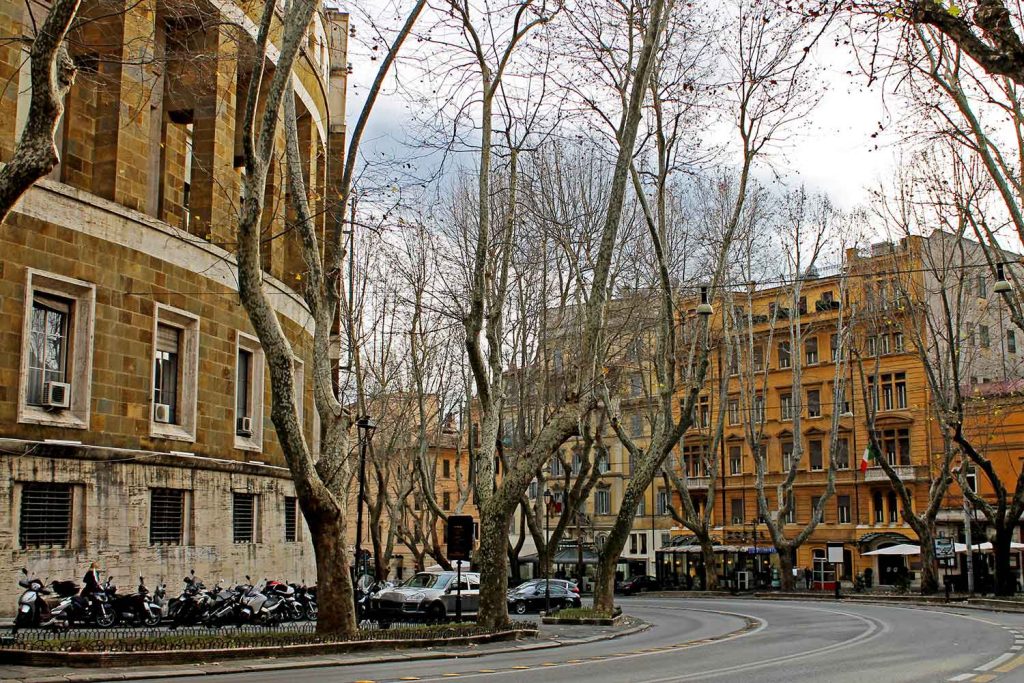 Ludovisi is the neighborhood where you'll find Via Veneto, a beautiful, neat street lined with high-end dining spots, upscale cafés, and expensive hotels. This is probably the most elegant and expensive area to stay in when in Rome, with hotels like the Majestic, Ambassadors, and Grand Hotel Palace. The street starts in Piazza Barberini and ends at the beginning of Villa Borghese.
The nearby rione (neighborhood) is Sallustiano, certainly a more affordable area but still quite elegant and curated, with cozy restaurants and trattorias. The two neighborhoods are located very close to many landmarks, and you can easily walk to Piazza di Spagna and Fontana di Trevi.
You will also be right next to Villa Borghese, the most famous park in Rome. The area is well connected by public transportation, with metro line A stopping at Barberini.
Budget accommodation: Cicero Rome Center, a cozy guest house just a few streets away from Villa Borghese.
High-end accommodation: Romanico Palace Luxury Hotel & SPA, a classy 4-star hotel that feels like a baroque palace, with a rooftop terrace and a spa with sauna; Hotel Majestic, the iconic 5-star hotel right on Via Veneto.
6 – Pigneto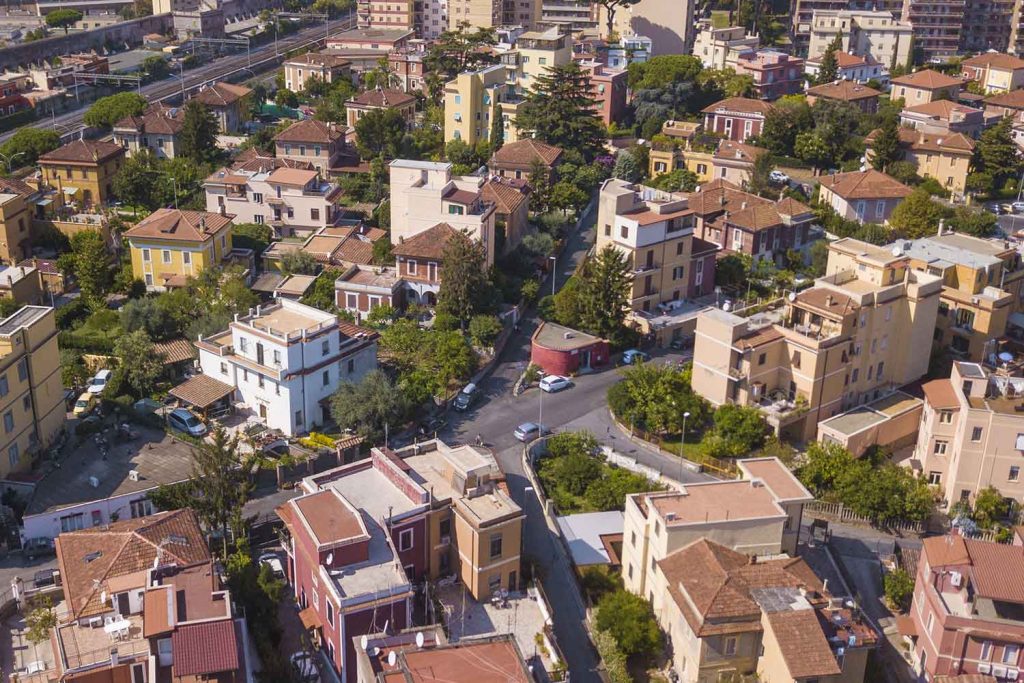 Pigneto is an up-and-coming, alternative area, and one you should stay in if you want to have a truly local experience. The neighborhood feels more like a small cozy village, but it livens up during the evening and on weekends.
Only 15 minutes by tram from Termini train station, the area is now well connected to the city center, also by metro line C, making it quite practical to move around.
Once a neglected, popular neighborhood, nowadays Pigneto is the hub of arts and culture, with lively bars, live music venues, small art shops, and art galleries, and lots of street art. The pedestrian street in Pigneto is lined with bars and restaurants in the afternoon and evening, while every morning, it fills with fruits and vegetable stands for the daily farmers' market.
Budget accommodation: B&B Abitazione Pigneto Rome, a family-run bed and breakfast near the pedestrian street, simple and homey.
High-end accommodation: Eurostars Roma Aeterna, one of the few, if not the only, high-end hotels in the area, with a terrace and a fitness center.
7 – San Lorenzo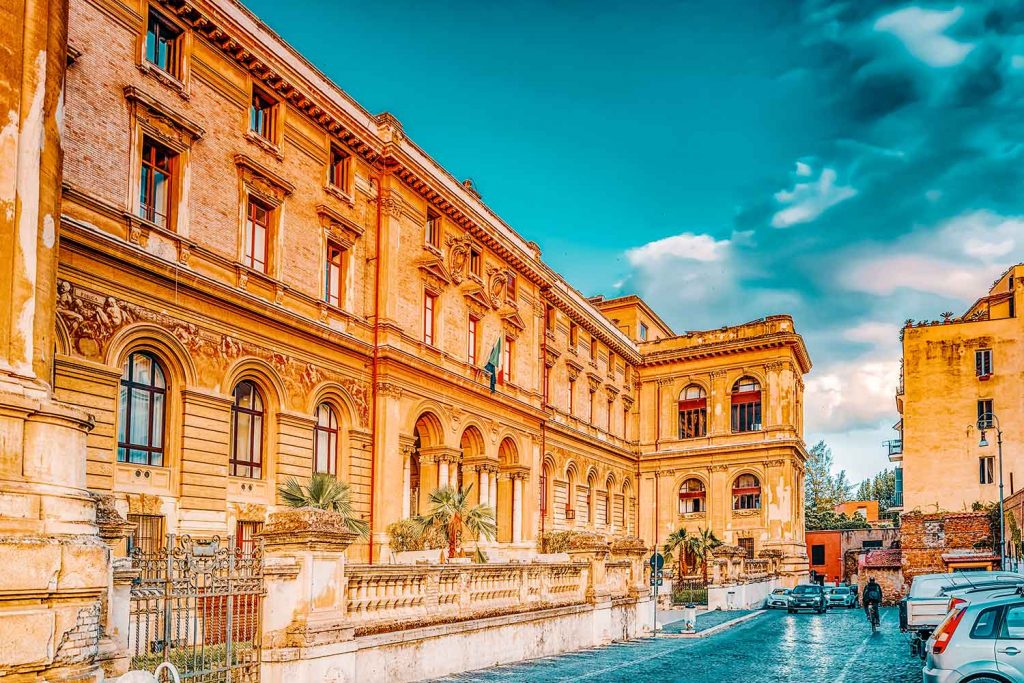 San Lorenzo is one of the popular student areas in Rome, given its proximity to Sapienza University. This means it's the spot to have a cheap aperitivo or beer in the evening and mingle with local youth.
On top of traditional trattorias and cheap bars, you'll also find a few fancier places, like the renowned Said, an old chocolate factory dating back to 1923 where you can buy artisanal chocolate. The neighborhood is also known as a cultural spot, with cultural associations and an arthouse cinema theater.
San Lorenzo is conveniently located close to Termini train station, which can also be reached on foot in around 15 minutes. There is no metro station nearby, but tram lines 3 and 19, and a few buses, will take you to most places like the Colosseum or Termini in around 15 minutes.
Budget accommodation: B&B Hotel Roma San Lorenzo Termini, a simple, modern bed and breakfast with gracious rooms, in the heart of San Lorenzo.
High-end accommodation: Ateneo Garden Palace, as high-end a hotel as you'll find in San Lorenzo, with a beautiful garden and a bar.
8 – Piramide & Testaccio
A mix of residential areas and picturesque old streets, the area that comprises of Piramide and the neighborhood of Testaccio has a lot to offer in terms of restaurants, nightlife and culture.
From the Piramide metro station, the wide tree-lined Viale Aventino leads to Circo Massimo, the more residential area, with quiet streets, beautiful villas, and a lot of green areas. Nearby you'll find the beautiful Orange Garden overlooking the Tiber River, and Saint Peter's through the keyhole.
Testaccio is the area that from Piramide extends towards the river, and it's filled with traditional restaurants, bars, shops, and theaters. Here you'll find the Mattatoio, a former slaughterhouse that is now a space dedicated to cultural and artistic events, and the beautiful Protestant cemetery. The area near the Mattatoio is filled with many clubs, so this is a great place to stay if you want to experience the nightlife.
Budget accommodation: B&B Testaccio, a small, modest bed and breakfast in the heart of Testaccio.
High-end accommodation: Hotel San Anselmo, a stylish, 4-star hotel in a quaint area close to the keyhole view in Piazza dei Cavalieri di Malta.
9 – Ostiense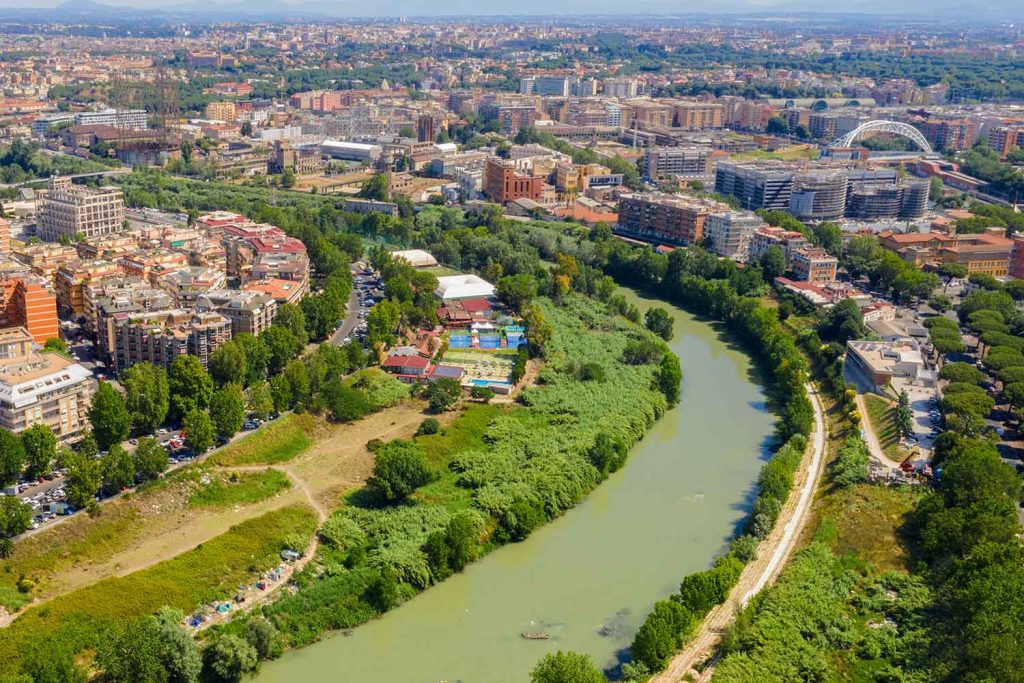 Further south from Piramide, Ostiense used to be an industrial area but has now evolved into a mix of modern and old. Various unique landmarks have thankfully been preserved during its redevelopment, including the hollow structure of an old gas holder, known simply as the Gazometro, towering over the whole neighborhood.
Proceeding south along Via Ostiense, you'll reach another student area, close to Roma Tre University. This area is filled with bars and clubs, and is home to the unique museum Centrale Montemartini, an old power station turned into a museum, that combines ancient Roman sculptures with industrial machinery. The narrow streets around the Ostiense neighborhood are filled with street art, which is why the area is also known as the open-air museum.
Ostiense is not very close to the more famous landmarks, which means it still preserves a local feel, and you'll find fewer tourists around. However, it is well-connected to other areas by metro line B from Garbatella or San Paolo stations.
Budget accommodation: Roma House Piramide, a guest house with simple, comfortable rooms, near Piazza del Gazometro.
High-end accommodation: Gasometer Urban Suites, a modern aparthotel near the neighborhood's symbol, Gazometro, with sleek, modern rooms.
10 – Prati – Vatican City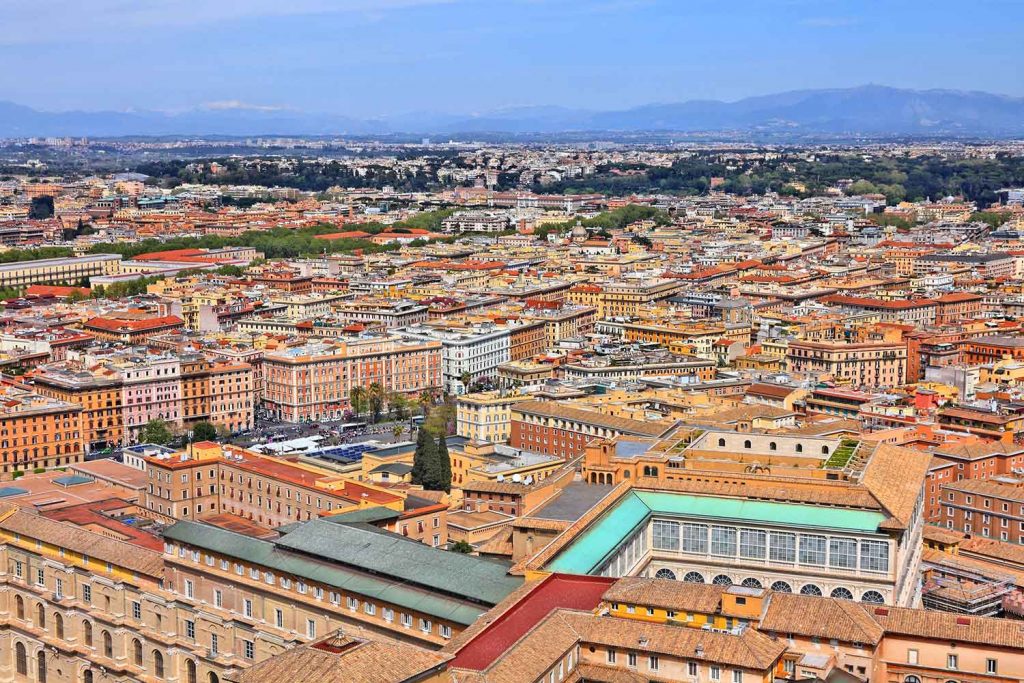 Another popular area to stay in is Prati, the neighborhood right next to Vatican City. A residential, upscale neighborhood, Prati is known for its boutique stores, refined bars and restaurants, and high-end hotels. Being so close to the Vatican, the area is very convenient to visit the Vatican Museums, Saint Peter's Basilica, and Castel Sant'Angelo.
Metro line A has multiple stops in the area, making it easy to reach other areas of Rome, especially the tourist spots. If you wish to walk, Piazza del Popolo is just a short walk from the heart of Prati, and from there you can easily reach other landmarks. There is not much nightlife in the area, but you'll be within walking distance from Campo de Fiori and Trastevere.
Budget accommodation: Little Aurelius, a small 1-star hotel near Piazza Cavour, with simple, bright rooms.
High-end accommodation: Le Méridien Visconti Rome, a 4-star hotel with design rooms near Piazza Cavour.
11 – Parioli & Trieste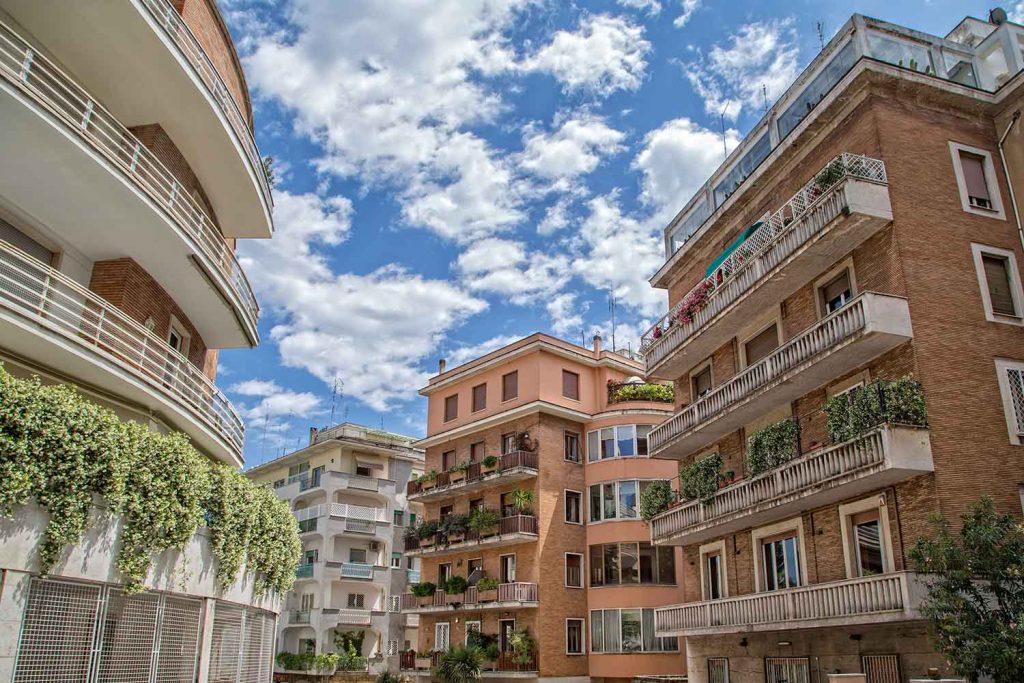 The residential neighborhoods of Parioli and Trieste are a great choice if you're looking for a quiet, curated area to stay, with beautiful villas, lots of green areas, and fancy bars and restaurants.
Parioli neighborhood is an extensive residential neighborhood in the north of Rome, comprising of the beautiful Villa Ada, a perfect place if you're looking to be close to green areas.
Right next to it, Trieste is a more commercial area, with many shops, bookstores, supermarkets, and restaurants. Here you'll also find the gorgeous area called Coppedè, filled with beautiful and unique Art Nouveau buildings.
Parioli is not very well connected to the city center, and you can only reach it by bus or by urban train. Trieste is quite well connected by metro line B1, which will take you to Termini and the Colosseum in 10 to 15 minutes.
Budget accommodation: Hotel Coppedè, a 3-star hotel in an Art Nouveau building in the district with the same name.
High-end accommodation: Hotel degli Aranci, upscale, 4-star hotel with beautiful, classy rooms and gardens with orange trees.
12 – EUR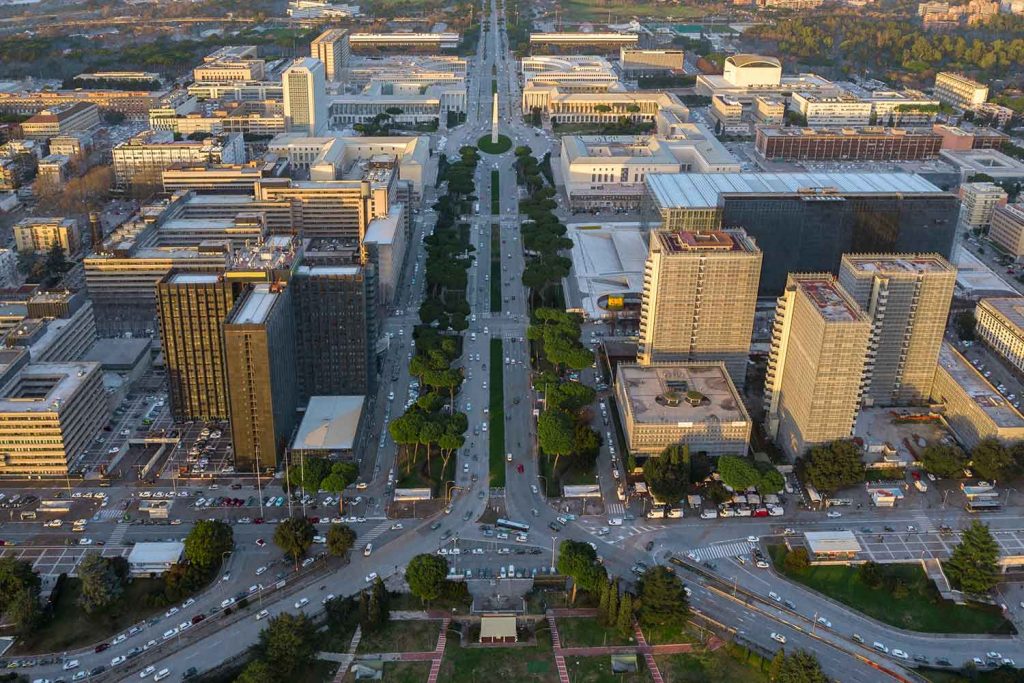 The newest area in Rome, EUR is a neighborhood built in the 1930s for the World Fair of 1942. The name EUR comes from Esposizione Universale Roma, meaning Rome World Fair, a fair that never took place due to the war.
In time, the neighborhood was expanded, and many important buildings were built here, including governmental buildings and big convention centers. Nowadays, EUR is a residential and business area, with modern buildings and an artificial lake.
EUR is a quiet neighborhood to stay in, filled with green areas, and it is home to a large shopping mall, Euroma 2. Despite the tranquil and seemingly laid-back atmosphere, there are quite a few restaurants and bars in the area, as well as a couple of famous nightclubs and events venues, like Spazio 900. Furthermore, the neighborhood is connected to the city center by metro line B, so in 15 minutes you can be at the Colosseum.
Budget accommodation: Arch B&B, a small bed and breakfast close to EUR Palasport metro station and the lake.
High-end accommodation: Ibis Styles Roma Eur, a modern, stylish hotel near the EUR lake, with a restaurant with a terrace and a fitness center.
Where to stay in Rome Summary
Rome has something for everyone, and where you choose to stay will hugely impact your time in the city. After all, if you're an early bird, that last thing you want is to end up staying right next to bars and nightclubs!
Whether you're looking for arts and culture, fashion and shopping, rich history, or plenty of parks and nature, Rome really does have it all for you.
But educate yourself before you go. Find a place to stay in an area that suits your interests, and you will have such a better time in the city. You'll uncover plenty of gems, meet like-minded people, and experience things that go beyond the recommended tourist attractions.
Wherever you stay in Rome, soak up as much as the city has to offer. Rome is a truly unique place, and there's nowhere else like it on Earth!
You Might Also Like to Read
Save and Pin for Later
Planning a trip to Rome? Keep these top neighborhoods to stay for safekeeping, by saving this article to one of your travel boards.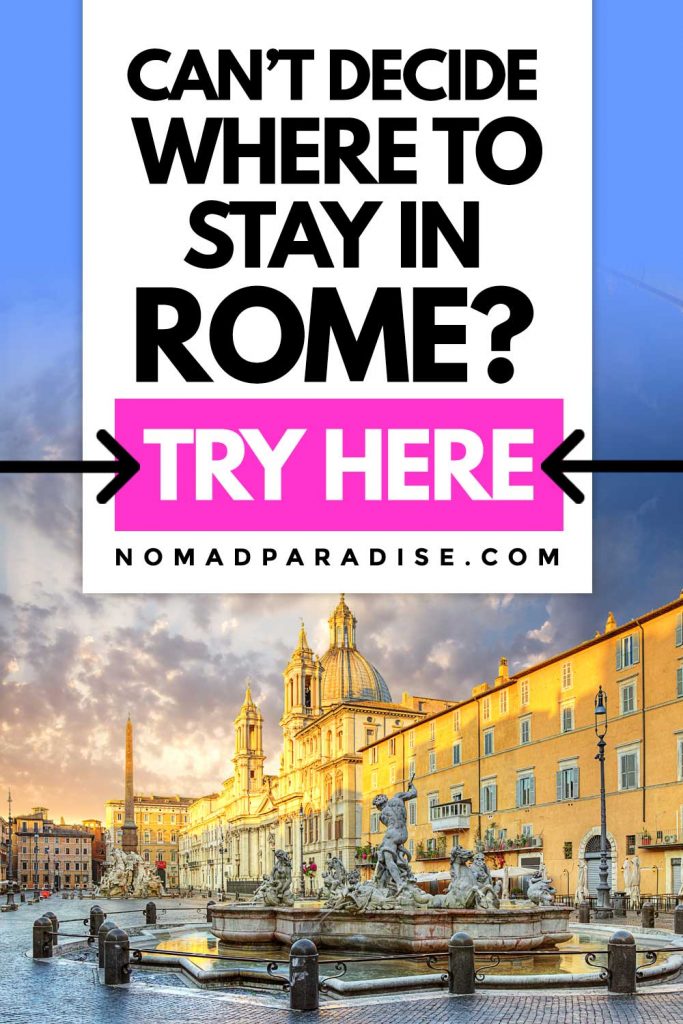 Author: Roxana Fanaru is a Rome-based Romanian-born journalist and content writer, who has a deep love for Rome, having lived in the city for over two decades.