This post may contain affiliate links, meaning if you book or buy something through one of these links, we may earn an affiliate commission at no additional cost to you. Learn more
Delve into one of the most decadent and delicious sides of French cuisine with these French pastries, and see for yourself why France is world-renowned when it comes to all things bakers' confectionary.
For a truly authentic experience, no trip to France is complete without an afternoon sitting outside a bakery enjoying a hot coffee and savoring the delights of a freshly baked sweet treat (or two) from the window.
The world of French pastries is vast and wondrous, but these 10 magnificent creations, in particular, as recommended by a local, should be on your must-try list. Bon appétit!
French Pastries
1 – Millefeuille (Dessert Made of Puff Pastry Sheets and Pastry Cream)
Meaning "one thousand sheets" in French, millefeuille is a decadent dessert that is aptly named, due to the sheer number of sheets of pastry used. The dessert consists of three layers of puff pastry alternating with two layers of pastry cream.
The pastry cream (French: crème patissière) is traditionally made of whole milk, egg yolks, sugar, flour, corn starch, a knob of butter, a pinch of salt, and flavored with half a vanilla bean.
The top of millefeuille is glazed using either icing or fondant, then beautifully decorated with a marbling of melted dark chocolate.
Millefeuille is a very popular pastry in France. You can find it in most pastry shops (pâtisseries) across the country.
I used to eat millefeuille every Sunday at my grandmother's house growing up. I would eat the layers of puff pastry and cream first, and then the icing, the sweetest part!
2 – Tarte Tropézienne (Brioche Filled with a Mixture of Pastry and Whipped Cream)
The origin of this mythic sweet treat dates back to 1955 in Saint-Tropez, the famous town on the French Riviera. Alexandre Micka, an established Polish pastry chef in the region, was hired to prepare the meals for the crew of the movie "Et Dieu…créa la femme", directed by the Frenchman Roger Vadim and shot in Saint-Tropez.
The cream pie he prepared according to his grandmother's recipe was so popular with the film crew that the movie star, Brigitte Bardot, suggested that the pastry chef name it "Tarte de Saint-Tropez" ("Saint-Tropez pie"). Alexandre Micka finally named the cake "Tarte tropézienne" and resultantly registered the trademark and patent for the dish.
Tarte Tropézienne is made by first baking brioche dough, that has been brushed with egg and sprinkled with pearl sugar, then cutting the baked cake in half.
The cake is then sandwiched with a filling of orange water flavored pastry cream and whipped cream, which is piped across the top of the bottom half of the cake before the other half is placed on top.
If you are lucky enough to visit the legendary town of Saint-Tropez, I recommend you go to the pastry shop named "La tarte tropézienne", run by Albert Dufrêne, Alexandre Micka's hand-picked successor. There, you can try the best tarte tropézienne in France!
3 – Fiadone (Traditional Corsican Cheesecake)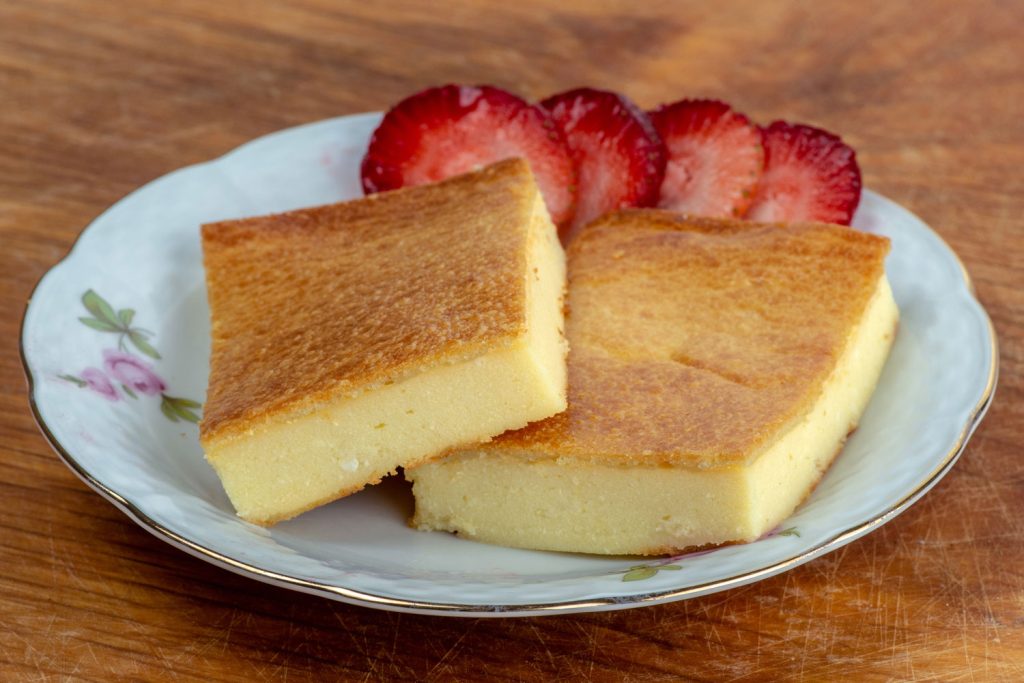 Fiadone is a cheesecake originating from Corsica, the Island of Beauty, and made with a traditional Corsican cheese called Brocciu.
Made from sheep's and/or goat's milk, this cheese is the emblem of Corsica. So much so, it is protected by a French AOC (Controlled Designation of Origin). The cheese is made from whey instead of milk, and its texture is similar to that of Italian ricotta. At the end of the 19th century, the French poet Émile Bergerat wrote about Brocciu: "Whoever did not taste it does not know the Island."
Fiadone is made of Brocciu, eggs, sugar, organic lemon zest, and myrtle liqueur (mirto) or brandy.
Originally, fiadone was the Corsican family cake, particularly popular in the region of Corte, in Haute Corse. It was prepared for the end-of-year celebrations, Easter, baptisms, communions, and weddings.
Nowadays, you can buy fiadone in practically all the pastry shops on the island. If you love cheesecake, this should definitely be top of your must-try list!
4 – Paris-Brest (Round Choux Pastry Filled with Praline Cream)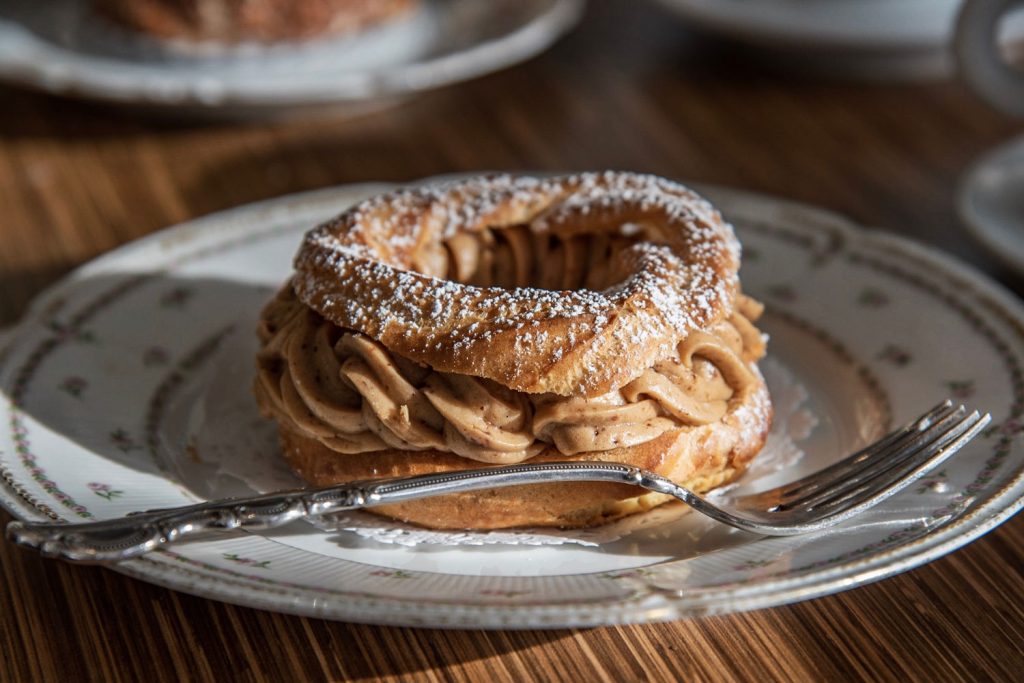 Paris-Brest was created in 1909 by the French pastry chef Louis Durand to commemorate the Paris-Brest-Paris bicycle race, first hosted in 1891.
First enjoyed by the racers and spectators, Paris-Brest is today a popular choice in pastry shops all over France!
This delightful cake is made of choux pastry filled with a delicate cream called "crème mousseline." Crème mousseline is a pastry cream to which butter is added, and it is much lighter than buttercream (crème au beurre).
The crème mousseline used in Paris-Brest is flavored with praline: a mixture of almonds, hazelnuts, and sugar. Once prepared, the cake is sprinkled with almonds.
5 – Eclair au Chocolat (Oblong Choux Pastry Filled with Chocolate Pastry Cream)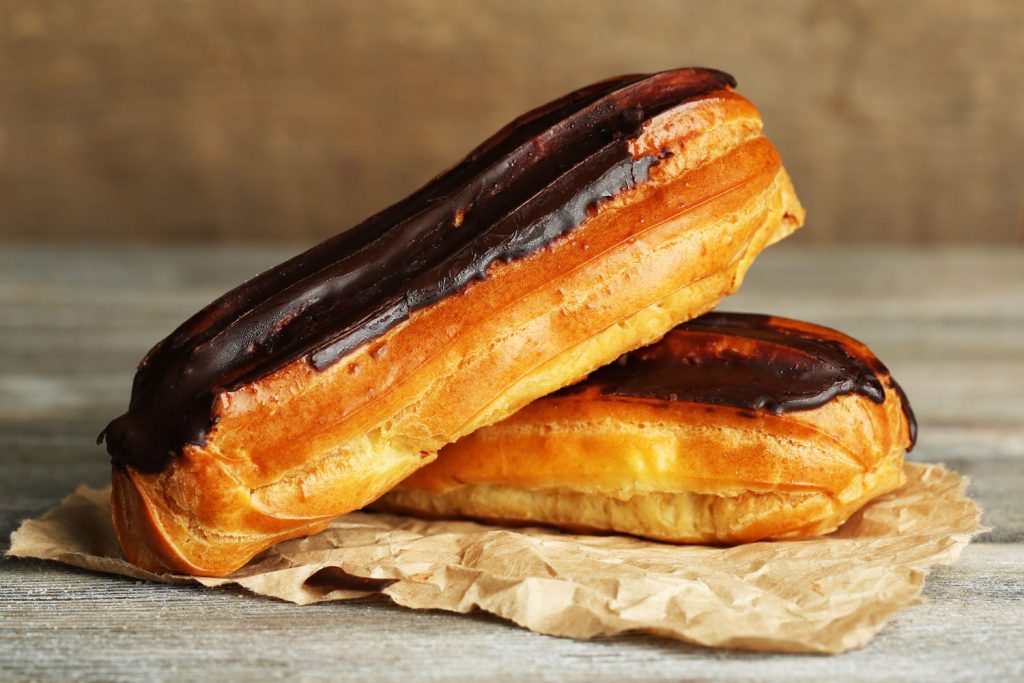 As a chocolate lover myself, éclair au chocolat is typically the dessert I am fondest of! This famous sweet treat consists of a delicate choux pastry filled with a generous amount of chocolate-flavored pastry cream, topped with a matching chocolate fondant icing. Simple and delicious!
To achieve the iconic eclair shape, the dough is added to a pastry bag and piped into shape, then baked until it is crisp and hollow on the inside. No raising agent is used.
Due to the high moisture content of the dough, steam is created during the baking process, thus the pastry puffs up. Once it has cooled, the pastry is filled with chocolate cream and covered with chocolate icing.
If you are not too keen on chocolate desserts, you can commonly find coffee-flavored éclairs, too, throughout France.
Eclair au chocolat is hugely popular, and you're almost guaranteed to find it in any pastry shop you frequent. As it is one of the country's most beloved pastries, remember to go to your local pâtisserie early, especially on Sunday mornings, before all the éclairs have sold out!
6 – Opéra (Chocolate and Coffee Layered Cake)
Opéra is a sophisticated pastry that combines two iconic flavors, chocolate and coffee, into one sumptuous cake that is packed with richness and aroma.
The cake consists of layers of almond sponge cake (known as biscuit Joconde in French) soaked in coffee syrup, sandwiched between interchanging layers of coffee buttercream and chocolate ganache, and topped with chocolate icing.
It is said the dish owes its name to the Opera Garnier in Paris because of its rectangular shape. The cake was made popular by the French pâtisserie house named Dalloyau, but it is unclear if the elaborate recipe was created by Cyriaque Gavillon in 1955 or Gaston Lenôtre in 1960.
One thing is for sure: whoever first created this cake left a legacy in France that will live on for generations. You should definitely try this amazing treat the next time you visit France!
7 – Tarte au Citron Meringuée (Lemon Meringue Pie)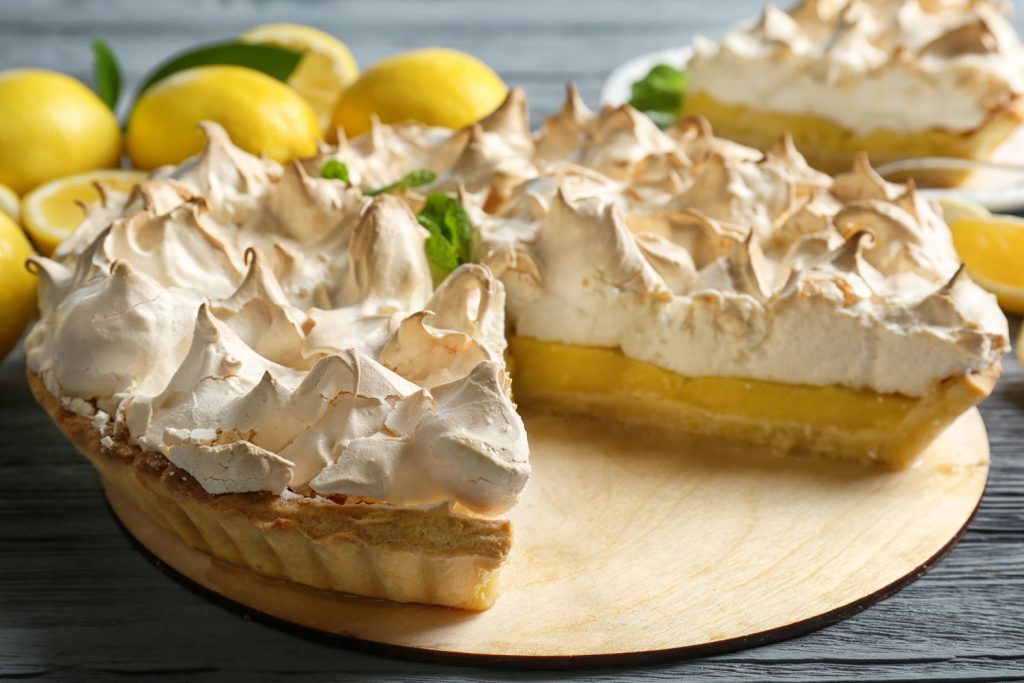 A true favorite of the French people, tarte au citron meringuée, or lemon meringue pie, is undoubtedly one of the most well-received and beloved desserts around the world.
Tarte au citron meringuée in essence is a development on the original tarte au citron (lemon pie). Tarte au citron is a shortcrust pastry filled with a lemon curd made with egg yolks, lemon zest, juice, and sugar. Tarte au citron meringuée takes this classic recipe and adds a top layer of briefly baked delicate and airy meringue.
The meringue is said to have been created in 1720 by pastry chef Gasparini, who named his recipe after his birthplace, the Swiss town of Meiringen. Lemon curd, on the other hand, was first invented in the late 18th century by a religious society known as the Quakers in the United Kingdom.
As for the tarte au citron meringuée as a whole, it is said to have been created in 1806 by Elizabeth Goodwell, a pastry chef from Philadelphia. In fact, the concept of a fruit-based dessert topped with meringue was first invented in France, dating back to the start of the 18th century.
Very much a fusion of different influences, there's no denying that the marriage of lemon custard and meringue is a divine one!
8 – Macarons (Meringue-Based Sandwich Biscuits)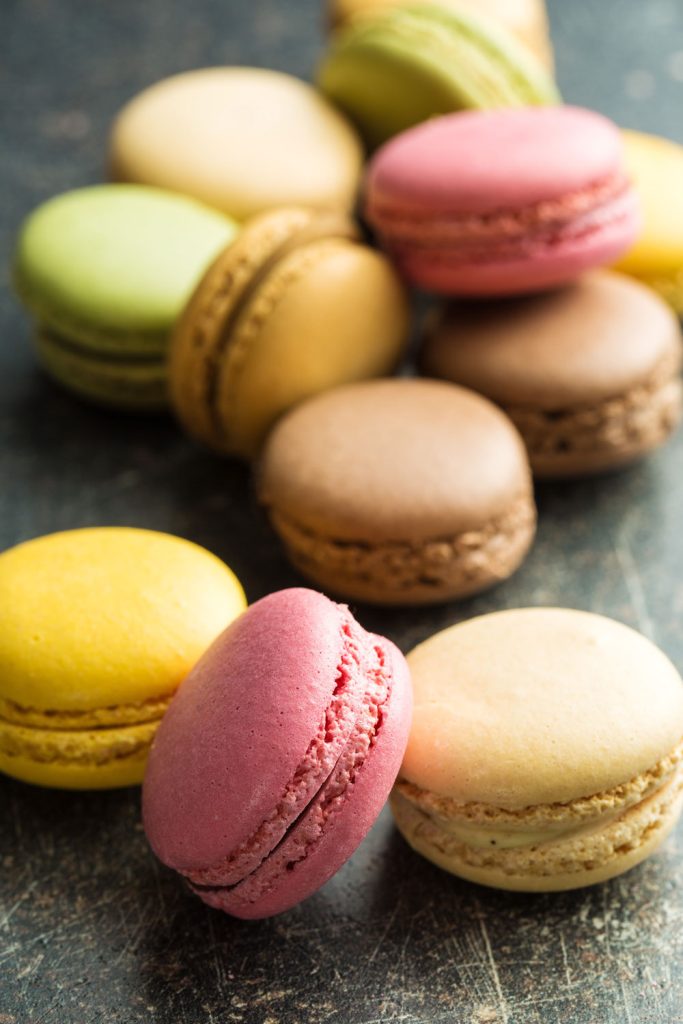 One of the country's most recognizable desserts, these exquisite bite-sized pastries are a must-try if you come to France, especially in Paris.
The macaron is said to have been introduced in France during the Renaissance (16th century) by the Italian pastry chef who served French queen Catherine de' Medici. At that time, the macaron was a simple yet delicious almond biscuit. The macaron as it is known today, consisting of two disks of almond meringue with a filling, is said to have been created in 1930 by Pierre Desfontaines of the French pâtisserie Ladurée.
Classically, the biscuit is made of almond powder, egg white, icing sugar, granulated sugar, and food coloring. The shell of a successful macaron should be both crunchy and melt easily in the mouth. The filling, whether it be jam, buttercream, or ganache, should always generous!
Traditionally, popular macron flavors included chocolate, vanilla, and caramel. Today, pastry chefs are very creative and source ingredients from all over the world to offer original macarons in a wide variety of colors and flavors.
If you are looking for some truly unique and mind-boggling flavors, I recommend you try macarons from the most luxurious and well-known Parisian brands such as Ladurée, Pierre Hermé, and Fauchon. Some brands, like Ladurée, even offer vegan macarons.
As I write this, I am seriously considering ordering a box of Pierre Hermé macarons. You have to try their gorgeous pink Ispahan macaron, with its delightful combination of a crispy shell, sweet rose-flavored cream, lychee, and raspberry.
I'd also highly recommend their original Mogador macaron, with its heavenly marriage of milk chocolate ganache and passion fruit puree.
For a snack, a dessert, or to accompany a tea or coffee, there are so many opportunities to share a box of macarons in France!
9 – Tarte Tatin (Apple Tart Baked Upside Down)
Tarte Tatin is an apple tart that is baked pastry side up then flipped just before serving so that the brown sugar and butter cover the apples in a scrumptious caramel crust.
This famous French apple tart is named after the Tatin sisters who accidentally invented it in the 1880s and served it in their hotel in Lamotte-Beuvron, in the Loir-et-Cher department, in the natural region of Sologne, about 170 km south of Paris.
There are several theories, but the most common is that Stephanie Tatin, one day overwhelmed in her busy kitchen, was making a conventional apple tart, but left the apples to cook for too long. With the smell of burnt apples in the air, she quickly tried to salvage the dish by placing the pastry base on top of the apples, finishing the dish in the oven, then flipping it right before serving it.
To her amazement, her guests seemed to enjoy the accidental dessert, and the dish became a staple in their hotel. The rest, as they say, is history.
Tarte Tatin is made with puff or shortcrust pastry. Originally, the dish was made with two regional apple varieties: Calville and Reine des Reinettes. Over the years, other varieties have been used including Fuji, Gala, and Golden Delicious.
Tarte Tatin can also be made with other fruits such as pears, pineapple, or peaches. Savory versions also exist, that use onions or tomatoes.
The traditional tarte Tatin with apple is best served with homemade whipped cream or with a scoop of vanilla ice cream.
10 – Croissant (Flaky Buttery Crescent-Shaped Pastry)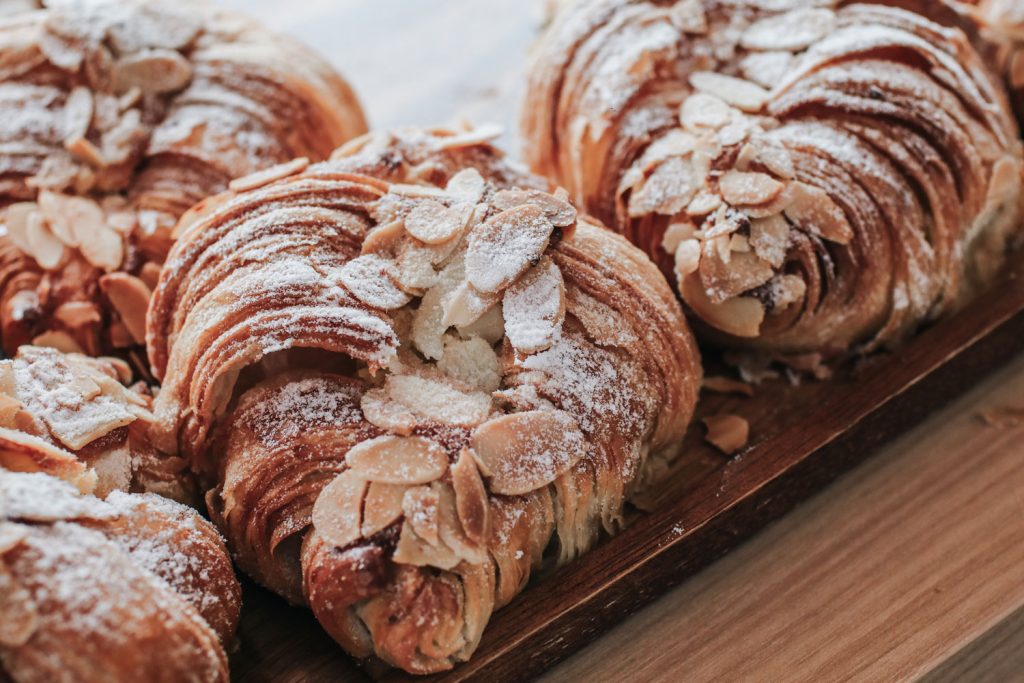 Although it is said to derive from the Austrian kipferl, the croissant is mostly associated with France. You can find it in any bakery (French: boulangerie) throughout the country!
A croissant is made from a flaky pastry containing yeast. The same goes for the French pain au chocolat, the croissant's counterpart, which is baked in the shape of a rectangle with two chocolate batons in the middle.
According to French pastry chef Christophe Felder, there are 50 parameters to master in order to make the ideal croissant!
The croissant is an emblematic pastry, traditionally served in the morning for breakfast with coffee or hot chocolate. It is common in France to either eat it plain or, for true gourmands, cut in half, slightly toasted, and spread with butter and jam or chocolate spread! Yummy!
Although in France there are bakeries on every street corner, the croissant is more of a "once or twice a week" treat, mostly at weekends, than a daily food.
French children have sometimes a croissant or a pain au chocolat as an after-school snack for the French goûter. In France, you can also find savory croissants filled with a mixture of ham, béchamel sauce, and grated cheese (Gruyere or Emmenthal), making them ideal for a quick snack at lunchtime.
While I was living abroad, a good homemade croissant was one of the French foods I missed the most. When you visit our beautiful France, make sure you buy a good homemade (French: fait maison) croissant, made with butter. They are so simple, yet so incredibly delicious!
French Pastries Summary
Pastries are far more than just delightful sweet treats in France. These foods are a huge part of French heritage and culture.
The towns and cities of France are lined with bakeries and cafes selling pastries of all shapes, styles, and sizes. Their aromas and decadence are almost impossible to avoid, while their soft, buttery textures and sumptuous flavors will have you "oohing" and "aahing" from the moment they touch your lips.
When in France, do as the French do. Succumb to the allure of the bakery windows. Take a seat outside a cafe and enjoy a pastry with a hot coffee while you watch the world go by. And let these wonderful treats take you on a culinary journey like no other throughout Europe.
You Might Also Like to Read
Save and Pin for Later
Planning a trip to France soon? Don't miss out on trying any of these pastries by keeping this article for reference, saved to one of your Pinterest boards.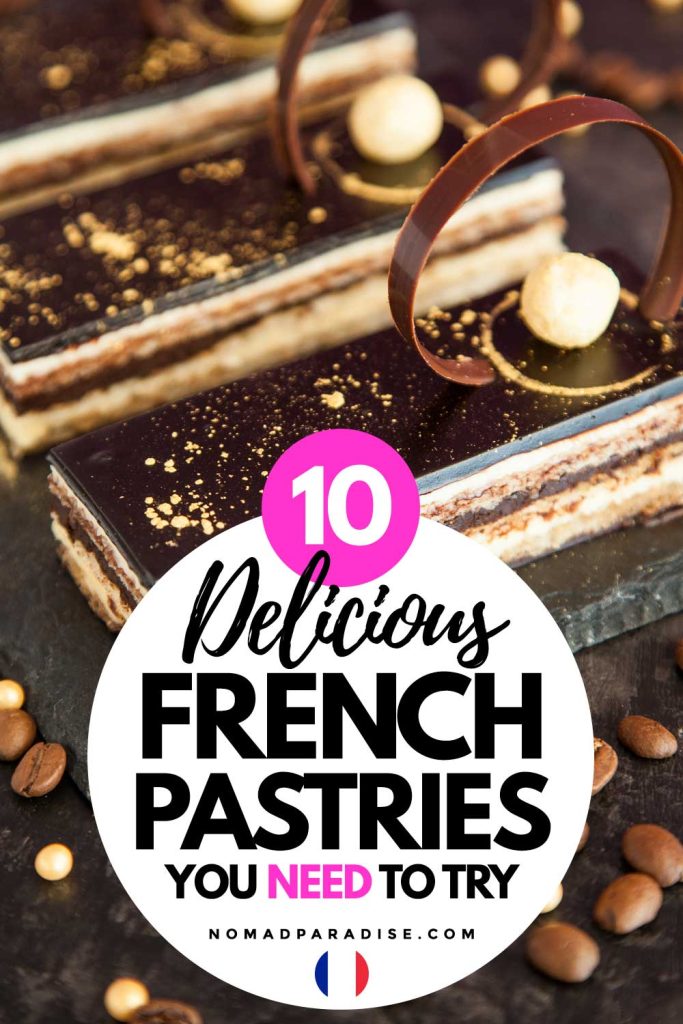 Contributor: Marie Gauci is a bilingual translator, proofreader, and content writer, with a deep passion for French cuisine, travel, and culture.
Images licensed via Shutterstock