This post may contain affiliate links, meaning if you book or buy something through one of these links, we may earn an affiliate commission at no additional cost to you. Learn more
Bursting with spices, fusions, and flavor, Malaysian food is a truly breathtaking journey of culinary complexity and diversity.
Built on a bedrock of indigenous Malay cooking, the vast array of Asian and European influences have created one of the world's most diverse cuisines.
Malaysia's geography also means the country's food is prepared with fresh seafood and a wide selection of flavorsome produce, grown across the country.
Prepare yourself for gorgeous colors, majestic fusions, and mind-blowing dishes, as a native writer introduces us to 18 of Malaysia's most beloved must-try foods.
Malaysian Food
1 – Satay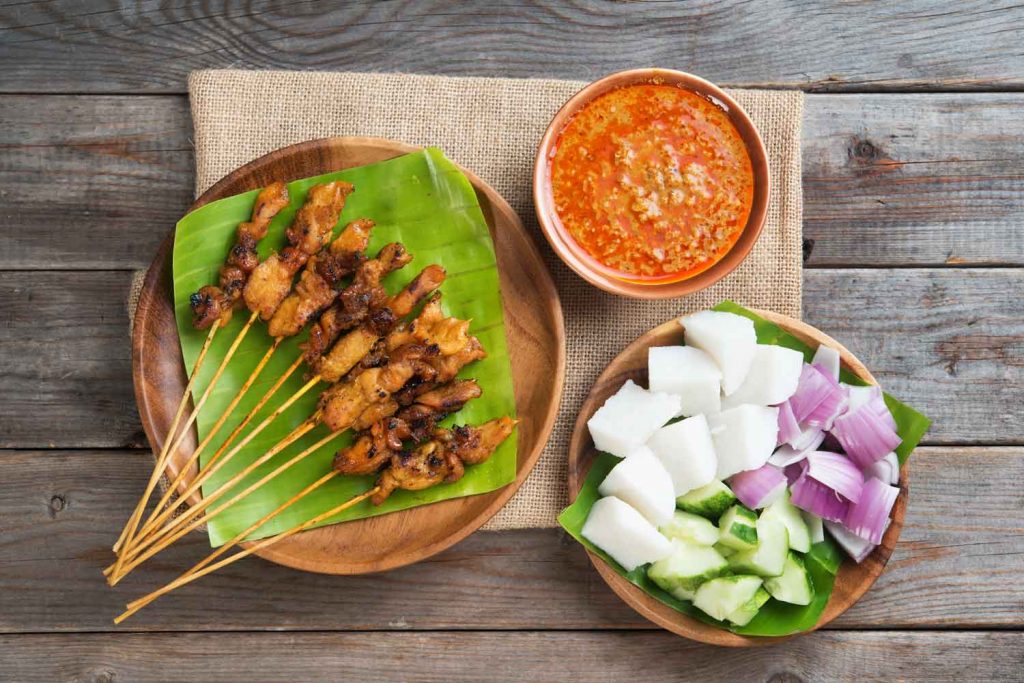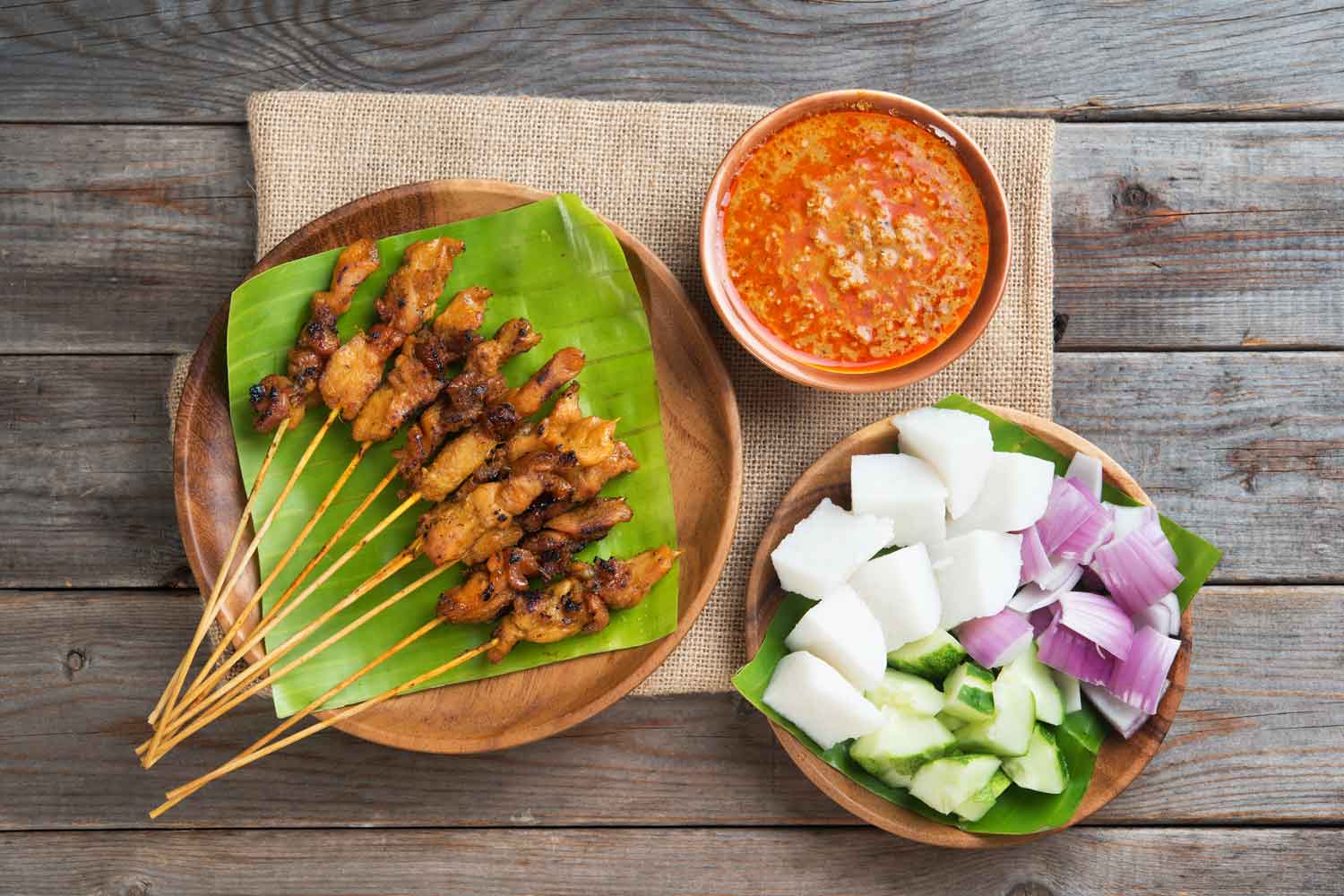 Satays are similar to shish kebabs, but without the vegetables in between the meat. This dish is one of the most popular street food in Malaysia, and it is also served in many high-end restaurants of late, due to its high demand.
Though its origin remains unclear, it's believed that satay was first created in the 19th century by Indonesians.
Satays are made of cubes of meat (chicken, beef, pork, and many more) seasoned with herbs and spices. The skewered meat, once prepared, is grilled over a charcoal fire until the meat turns golden brown.
The grilled skewered meat can be served both hot or cold. Satays are also enjoyed with many types of dipping sauces, most commonly with soy or peanut sauce. If you enjoy eating kebabs, you'll love satays!
2 – Kuih Angkoo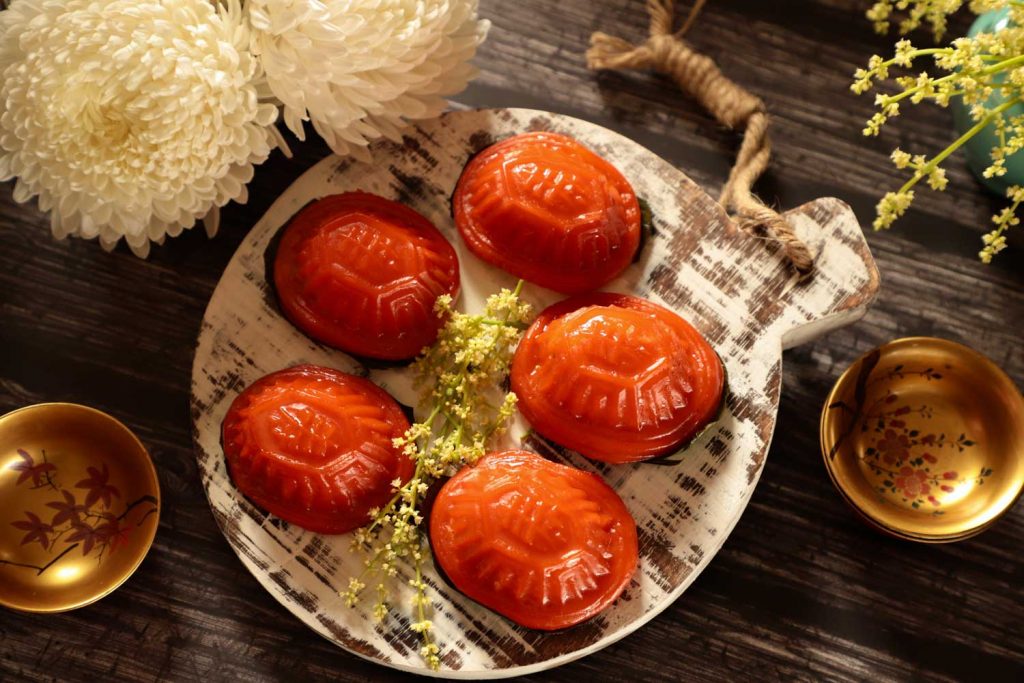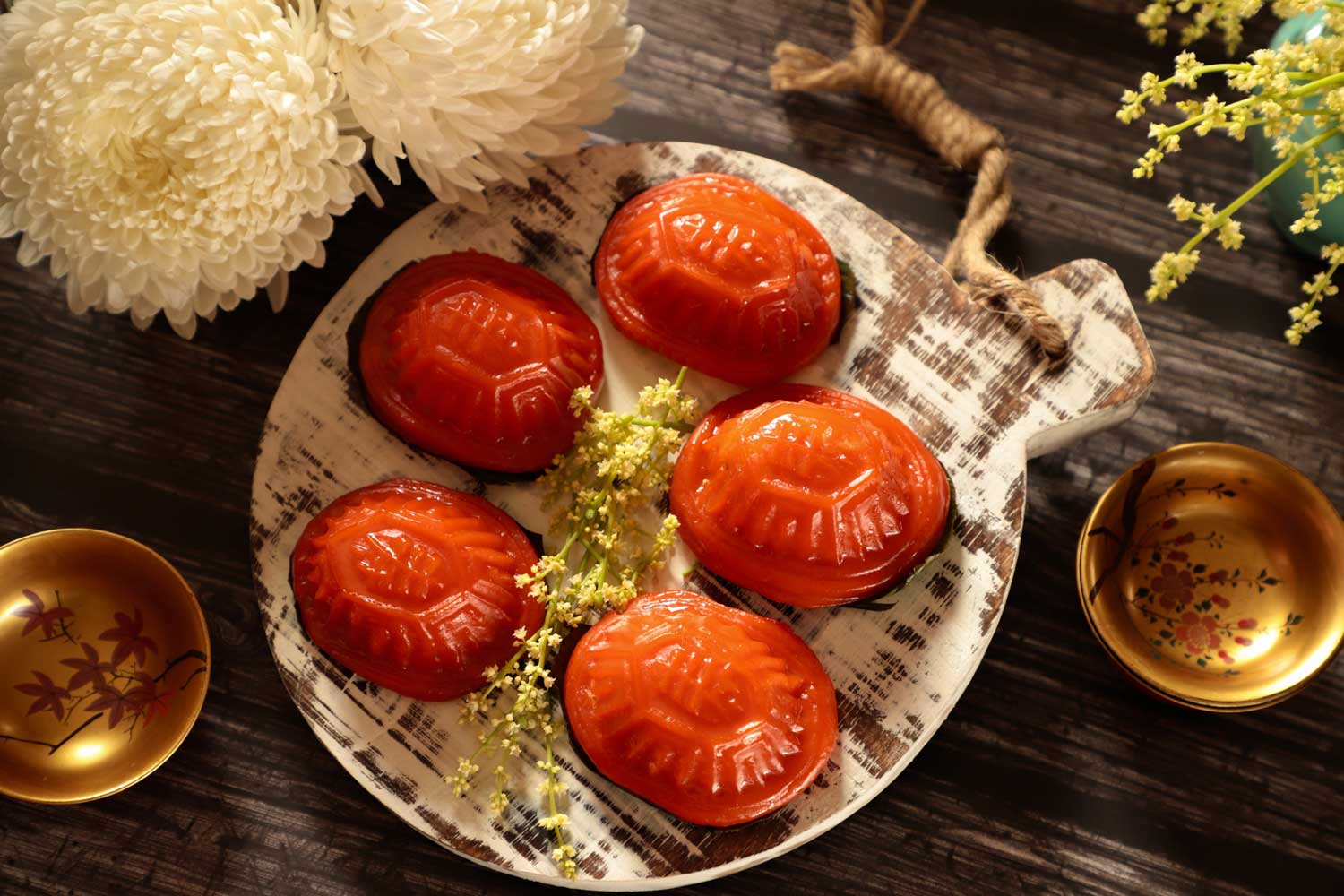 Kuih Angkoo is a famous pastry, made of glutinous rice flour. It comes as no surprise that the literal Hokkien translation of Kuih Angkoo is 'red tortoise cake', once you lay eyes on this Malaysian dish.
Kuih Angkoo has a Baba Nyonya origin, and it has a sweet taste. It is most often served on a square-cut banana leaf, with sweet fillings in the center.
Traditionally, this sweet treat is stuffed with ground peanuts and sugar. However, if you're lucky enough to take a walk through a Malaysian market, you'll find Kuih Angkoo of many colors and fillings.
In fact, red Kuih Angkoo are often served during Chinese festivals such as the Chinese New Year. This is because the color red is believed to signify luck and prosperity. As foods in Malaysia go, its one of the most important.
3 – Kuih Gulung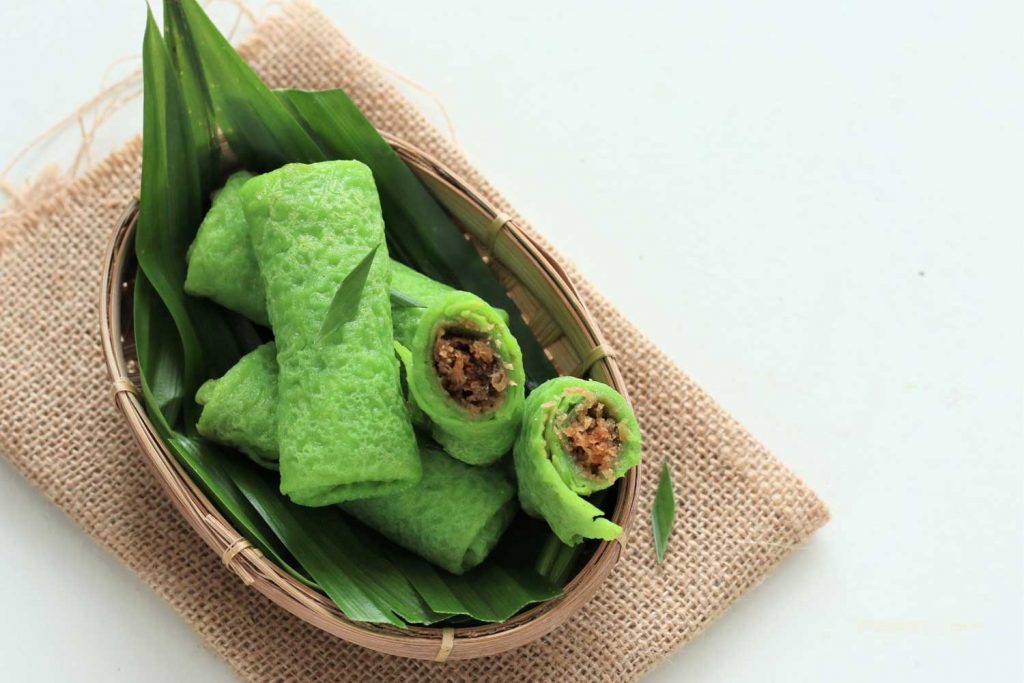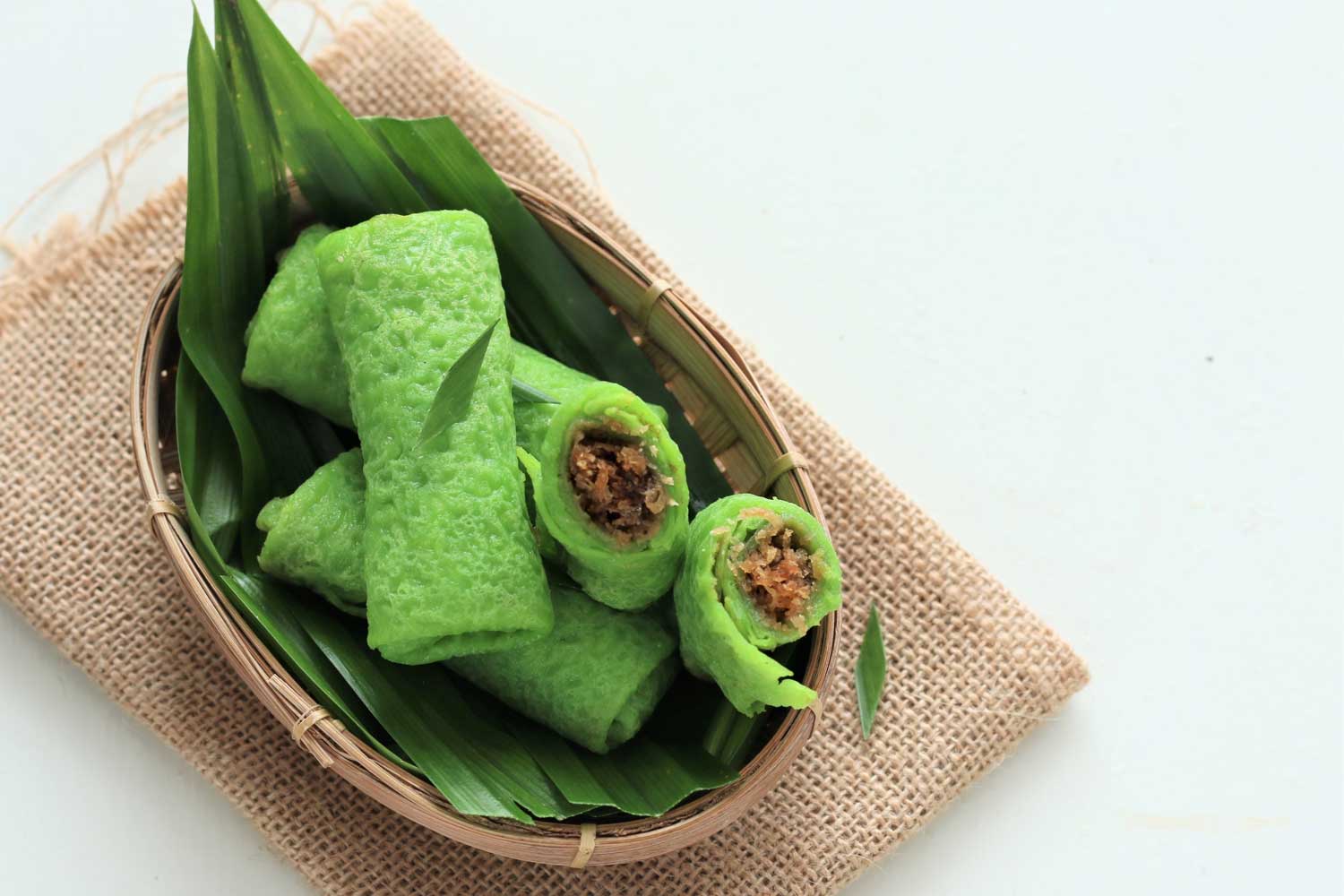 This traditional pastry is also widely known as 'Kuih Ketayap' or 'Kuih Dadar', throughout Malaysia. In essence, Kuih Gulung is a delicious crepe-like dish, with a sweet coconut filling.
There are two parts to making the pastry: preparing the batter and putting together the filling.
The batter is made by thoroughly kneading a mixture of wheat flour, tapioca flour, oil, egg, and salt until the consistency is thick and paste-like.
Little amounts of pandan essence are then added to the resultant paste, giving the dish its green color. Then, the batter is fried in a pan with oil to make thin crepes.
The sweet, coconut filling is made from freshly grated coconut and Gula Melaka, a type of sugar.
Delicately sweet and light, Kuih Gulung is a truly delicious sweet treat you should definitely try from Malaysian food markets and restaurants.
4 – Bubur Cha Cha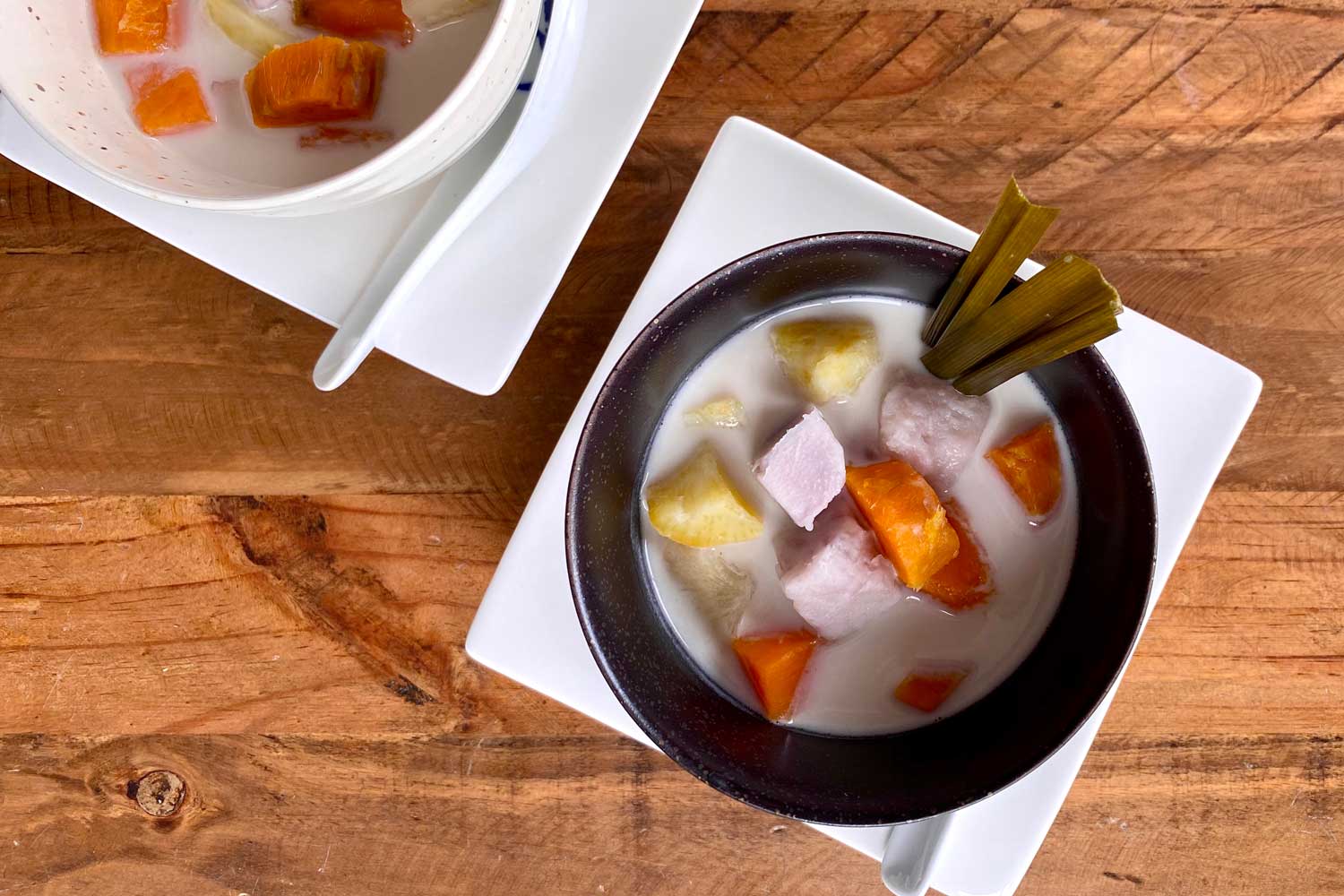 A truly unique appetizer, Bubur Cha Cha is a sweetened coconut-based soup that can be enjoyed as both a starter or a dessert.
There are many variations to this soup, due to the number of ingredients that can be added to the recipe. Tapioca balls, sweet potato cubes, and bananas are just three of many popular ingredients.
In Malaysia, the most common variation of this dish uses yam, pandan leaves, tapioca balls, and different colored potatoes (orange, yellow, purple, and also white).
Though it may seem like there are a lot of ingredients to work with, the process of making it is very simple. Bubur Cha Cha can be prepared in under thirty minutes and served hot or cold.
This colorful and diverse dish perfectly epitomizes the versatility of Malaysian food.
5 – Air Cincau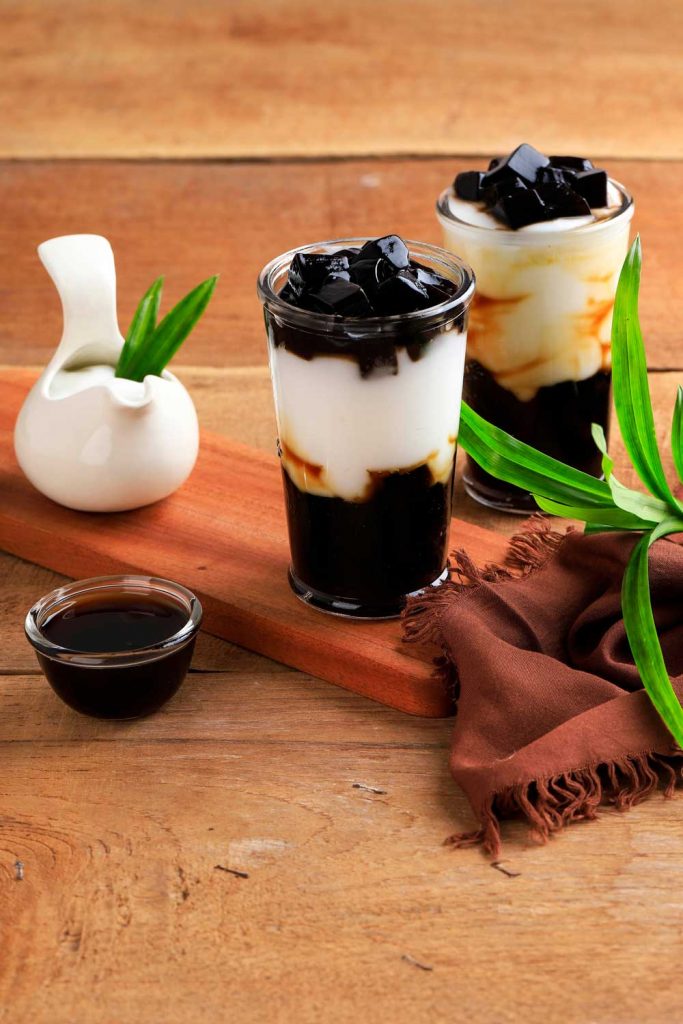 Cincau, a Malay word, means 'grass jelly' in English. This strikingly sweet food is the star ingredient in Air Cincau, a sweetened drink Malaysians across the country know and love.
Simple to make, many Malaysian households prepare and enjoy this drink at all times of the day, from breakfast to supper.
Air Cincau consists of chunks of grass jelly, soaking in milk or fresh syrup, with a little extra sugar added at the end. It can be served either hot or cold, and it is often drunk to rejuvenate yourself or kick-start your day.
6 – Kuih Bahulu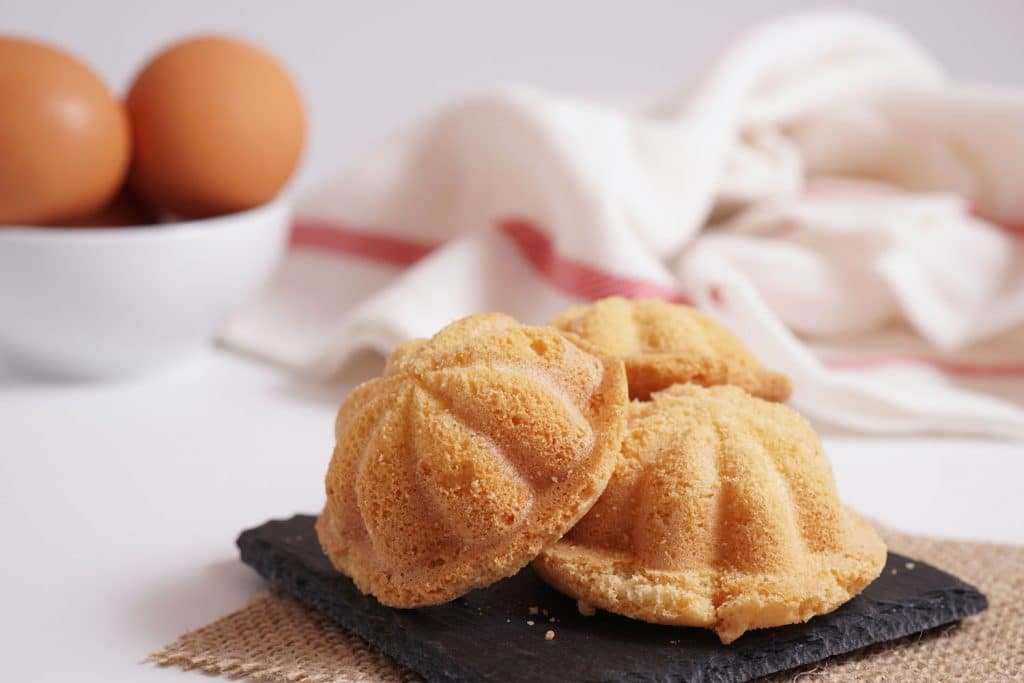 If you walk in the streets of Malaysia and come across a packet of small sponge cakes, the cakes shaped like Bundt cakes, you have just spotted Kuih Bahulu.
The main ingredients of this crumbly pastry are all-purpose flour, sugar, eggs, and baking powder. The ingredients are mixed together, poured into a mold, and baked until golden brown.
Bahulu Gulung, Bahulu Cermai, and Bahulu Lapis are the three most common types of Kuih Bulung you will find in Malaysian stores.
These delicate little bite-sized cakes were traditionally baked for important celebrations, such as Eid or Chinese New Year.
In today's Malaysia, you can eat Kuih Bahulu all year round, for any occasion. It is popular at breakfast, as a snack, or as a dessert.
7 – Nasi Lemak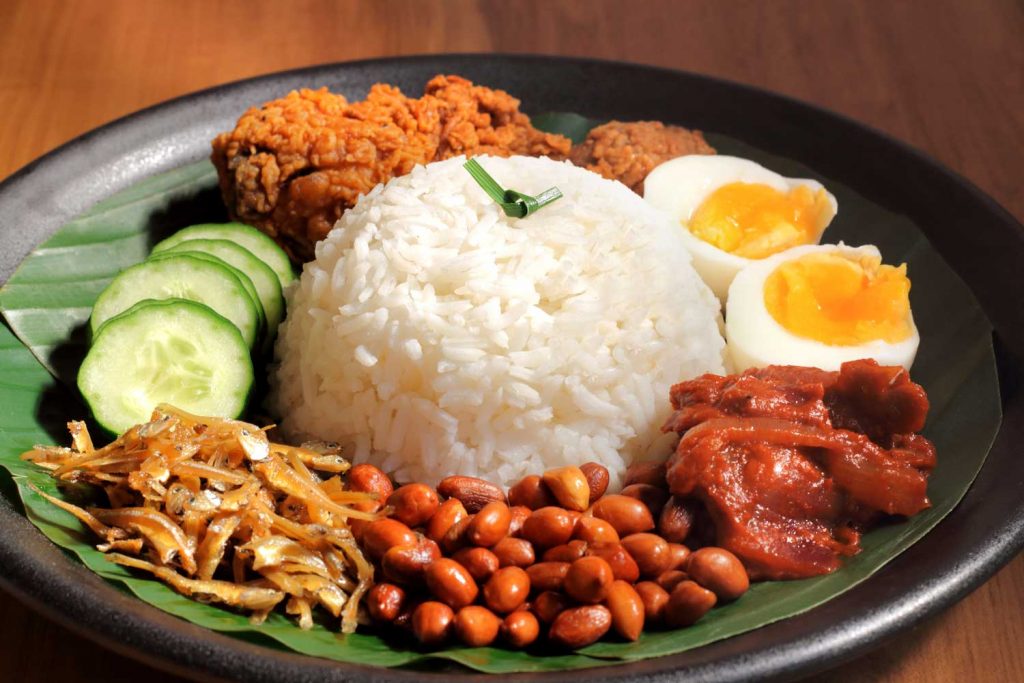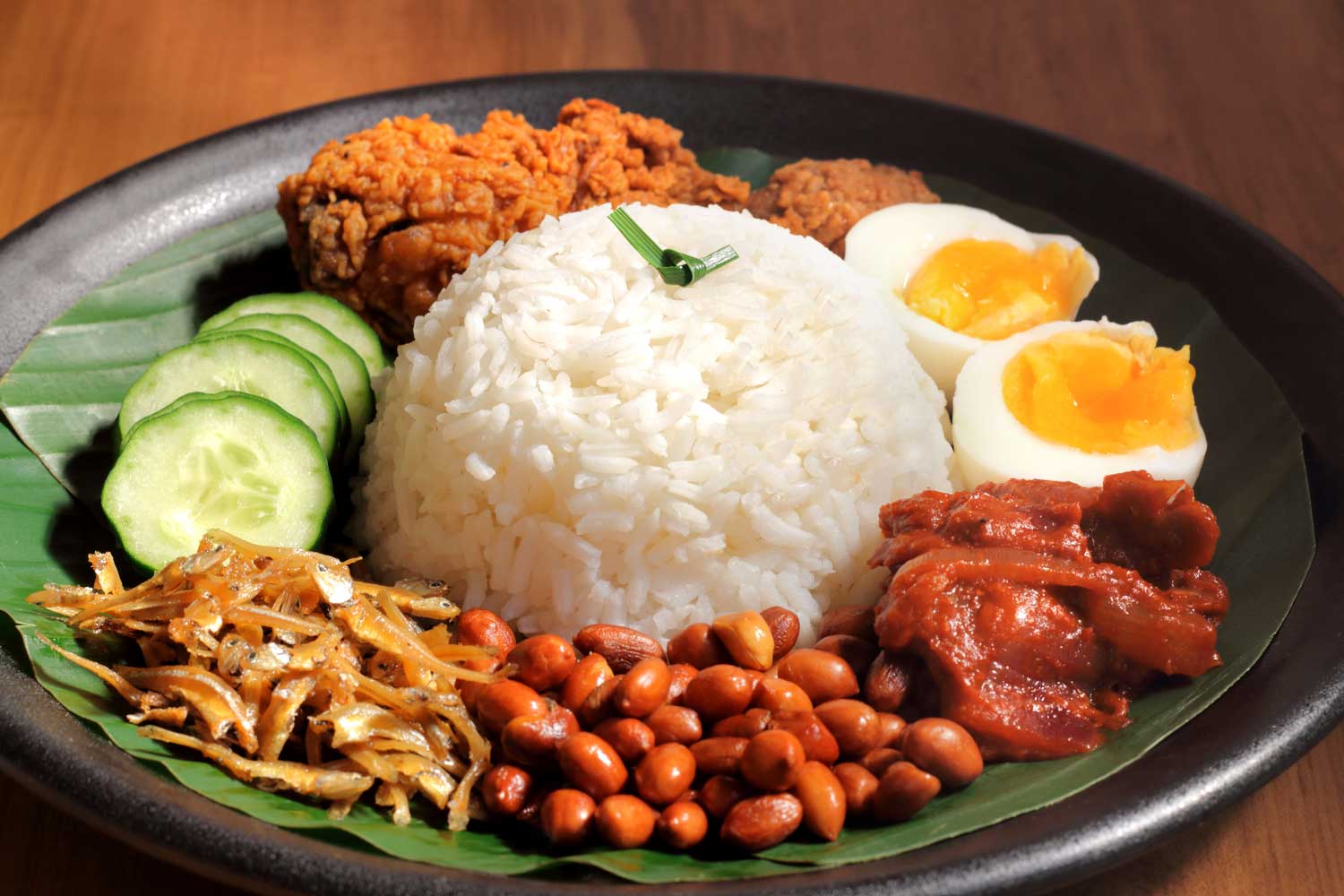 Nasi Lemak is Malaysia's national dish. And based on its popularity amongst both locals and tourists, it is not difficult to see why.
This Malaysian food is a flavorsome dish of fragrant white rice, cooked with coconut, sambal (a type of chili gravy), fried egg, fried chicken, fried anchovies, sliced cucumber, and groundnuts/peanuts.
Nasi Lemak can be found in all regions of Malaysia, and it is most commonly eaten at breakfast. Nasi Lemak has also found its way into Singaporean and Indonesian cuisine.
When visiting Malaysia, you simply have to try this dish. Its cultural and historical significance alone make it one of the country's most important foods.
8 – Kueh Teow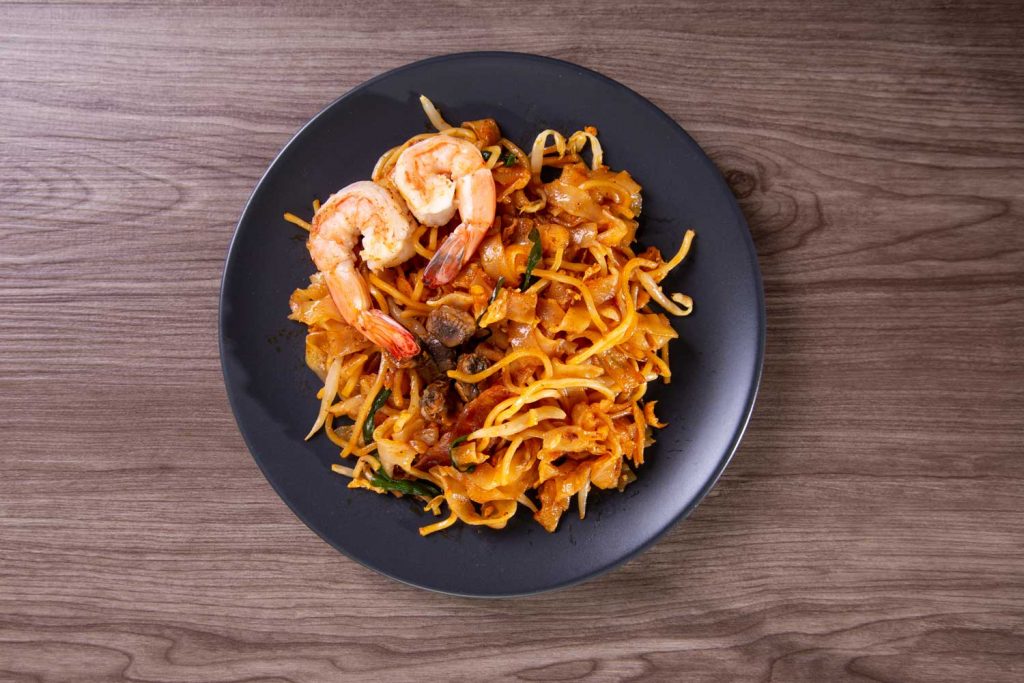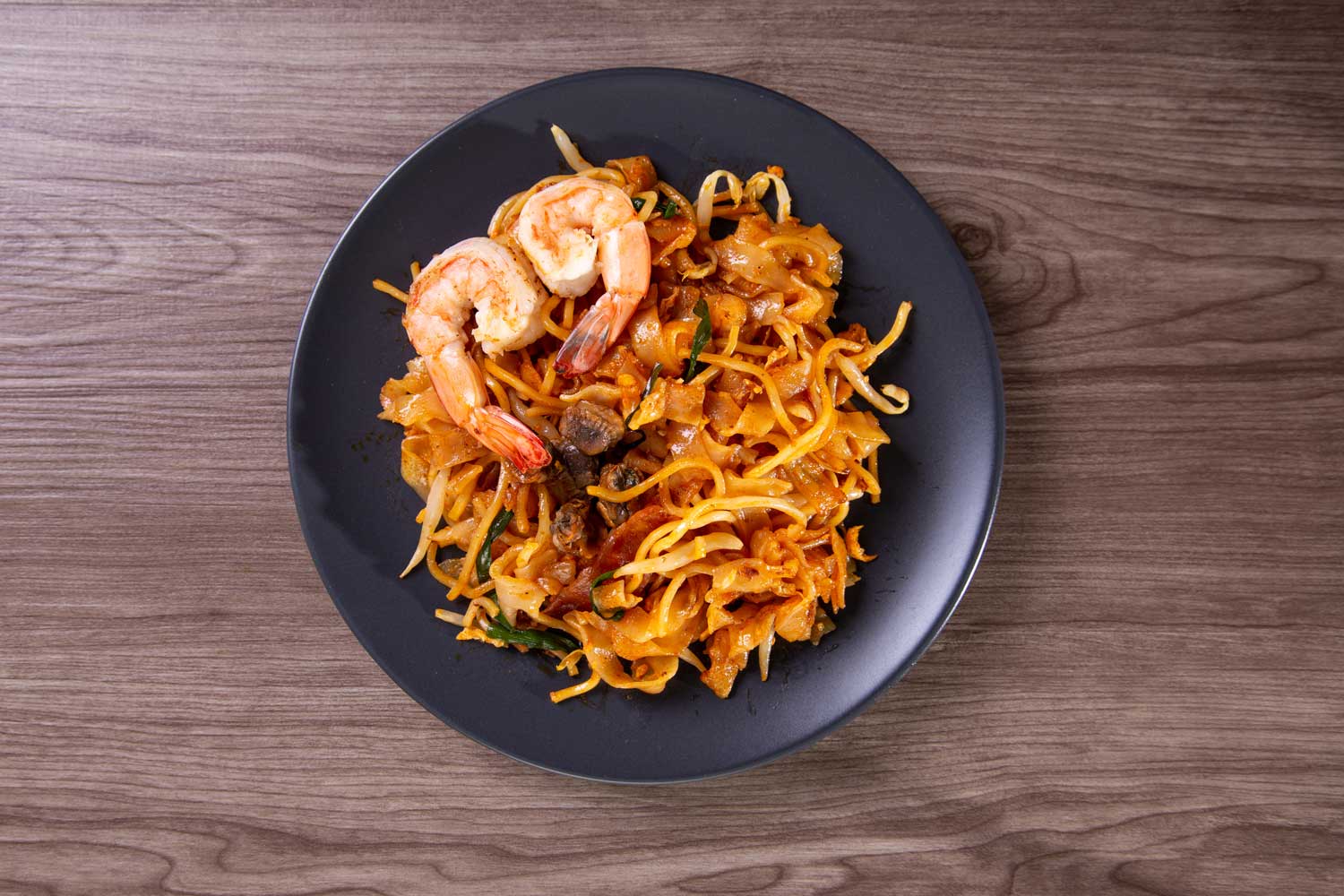 Kueh Teow is a Chinese street food specialty that has a special place in Malaysian cuisine. Kueh Teow is a dish of flat rice noodles, fried in a wok with shrimp, bean sprouts, egg, and soy sauce.
This dish originates from Maritime Southeast Asia, and it has been enjoyed across the continent for centuries.
Kueh Teow can be eaten both in a stir-fry, using thick noodles, or Kueh Teow soup with narrower, string-like noodles.
This dish has tang, heat, and texture in abundance, and it is such an irresistible street food.
9 – Roti Canai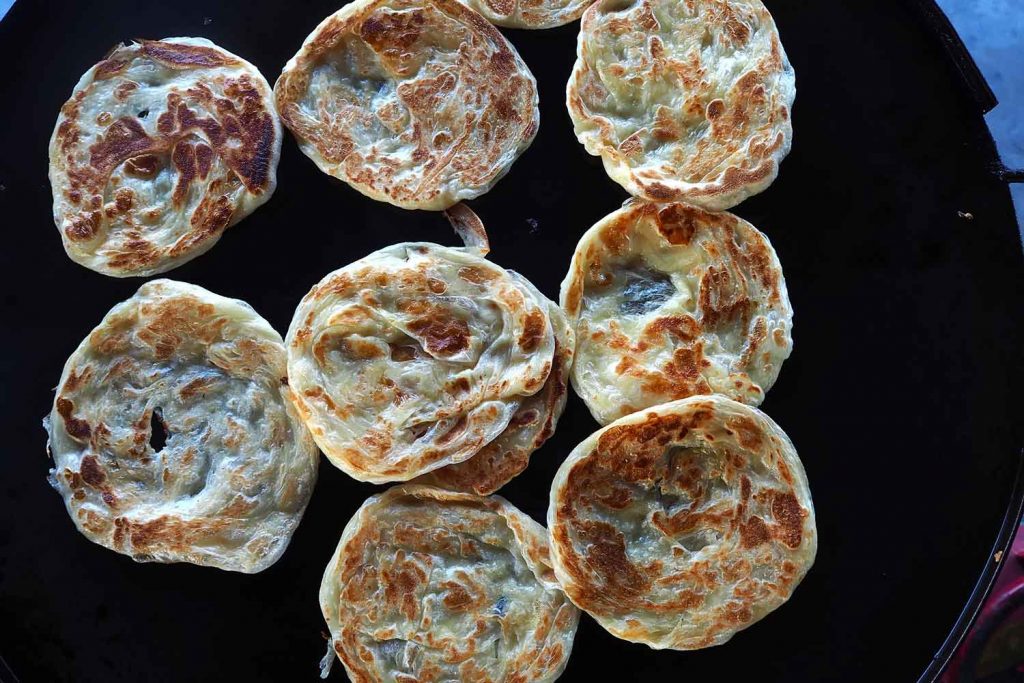 Head to the Mamak stalls at Malaysian food markets or street corners, and you're sure to catch a waft of the mouthwatering aroma of roti canai.
Roti canai is a rich, textured flatbread, and a result of Indian influence on Malaysian cuisine. This hearty food can be eaten as it is or dipped in a range of chicken, fish, and dahl curries.
Watching food vendors make roti canai is often just as satisfying as taking that first bite from the flatbread.
You can watch them knead a dough of flour, water, salt, and oil, and flip it multiple times in their frying pan.
10 – Nasi Kandar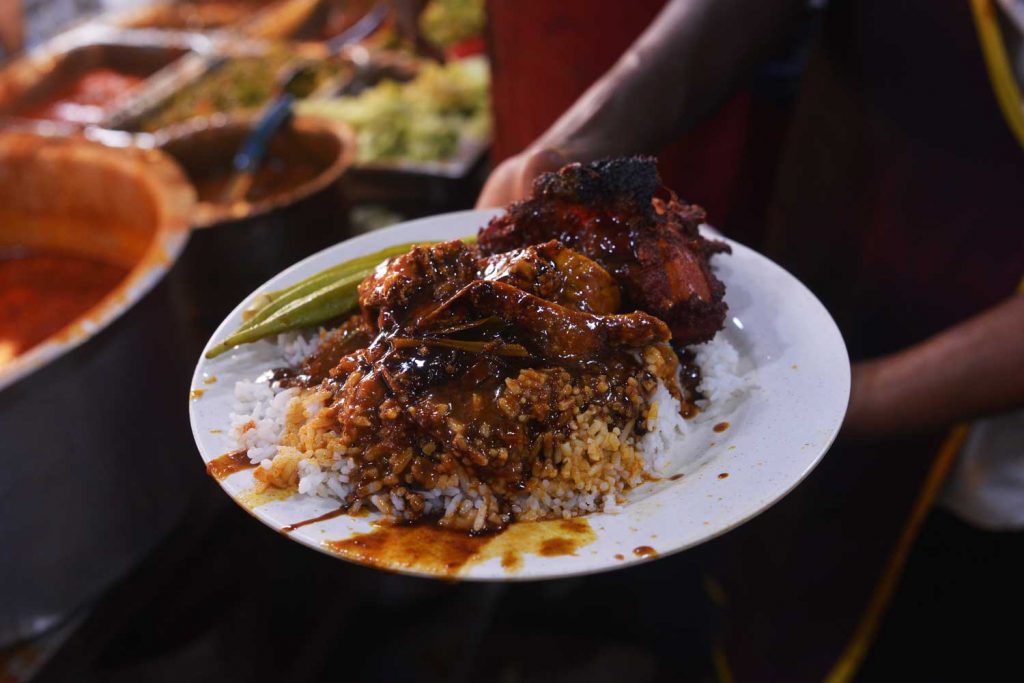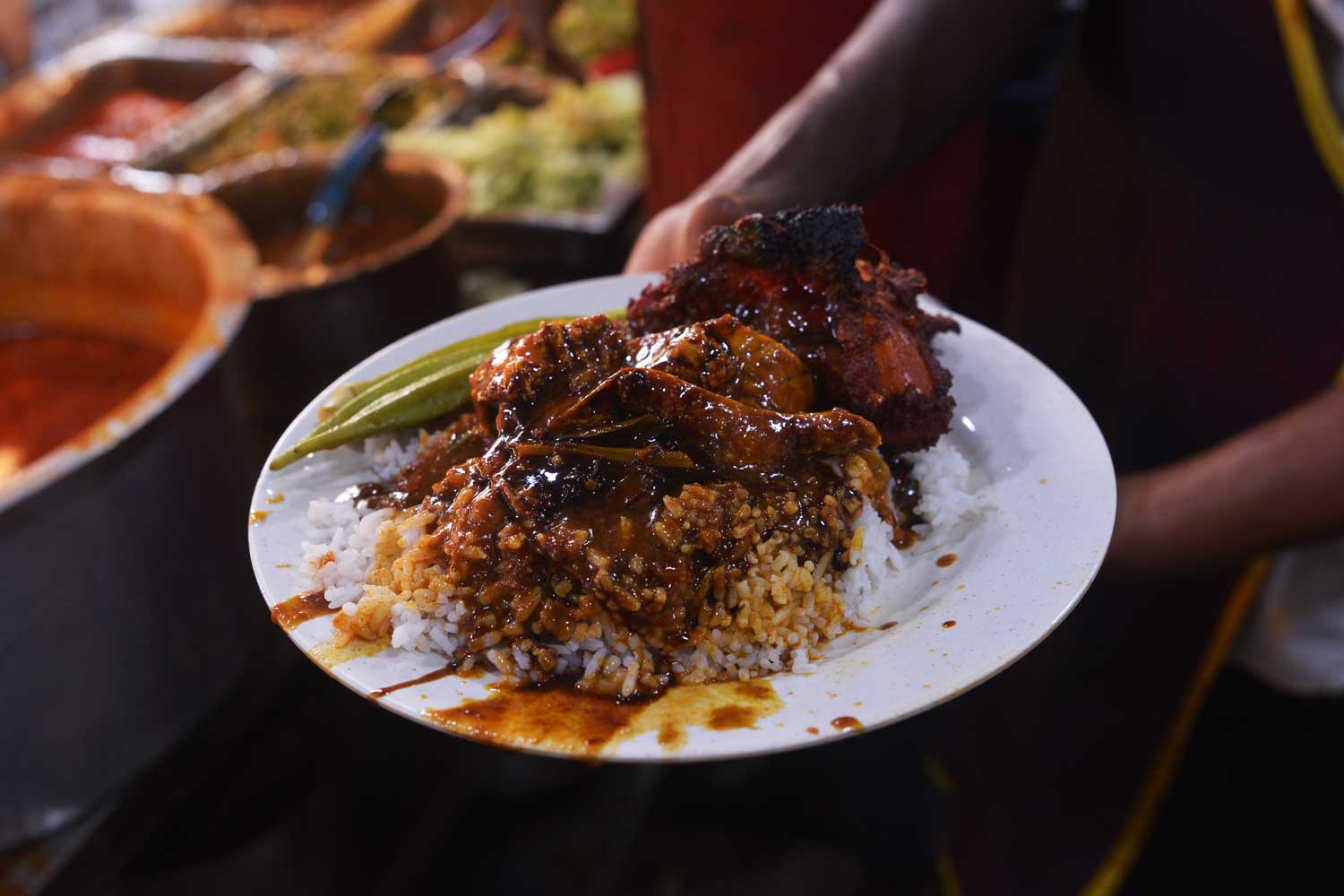 If you're visiting the state of Penang in Malaysia, make sure to stop by a Nasi Kandar eatery to try this spicy, filling Malaysian dish.
Nasi Kandar always has an appetizing aroma. This is because the rice used in the dish is kept in a scented wooden container, trapping and infusing various herb and spice flavors within the rice.
The bed of rice is topped with meat and vegetables, coated in a thick, spicy sauce. You'll commonly find fried chicken, beef spleen, lamb, and fried prawn Nasi Kandars.
If you are a vegetarian, okra and bitter gourd are two wildly popular vegetable-based Nasi Kandar dishes enjoyed throughout Malaysia.
Nasi Kandar is a simple and diverse meal, that caters to a range of preferences. It again demonstrates the diversity in Malaysian food.
11 – Murtabak
Murtabak is a fiery, spiced stuffed pancake, very similar to an omelet. While its origin is deep-rooted in Arabia, this firecracker of a food today is a wildly popular Malaysian street food.
Its Malaysian name is derived from its Arabic name mutabbaq, which often translates as 'folded' in English.
The pancake is made of a dough of flour, ghee, water, and oil. Once shaped, the dough is pan-fried, and the pancake finally stuffed with a range of delicious ingredients.
In Malaysia, minced beef or chicken are common choices, mixed with garlic, onion, and egg, and topped with sliced cucumber and pickled onions, among other ingredients.
Because this wholesome, spicy pancake is folded and cut into squares, it makes for the perfect grab-and-go street food.
12 – Nasi Goreng Pattaya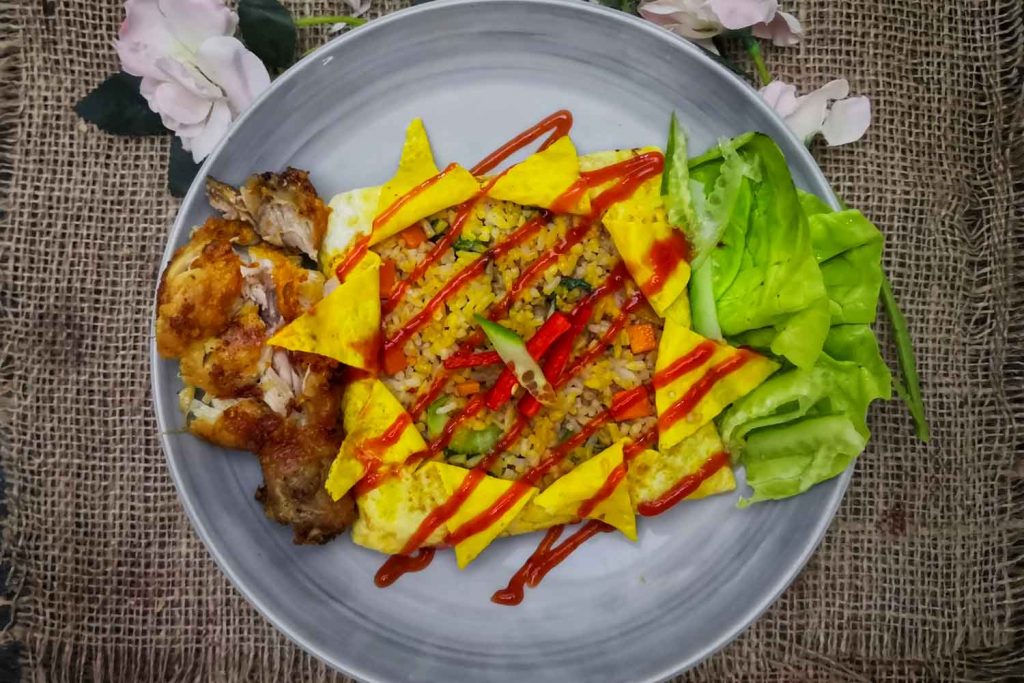 This classic dish may have been named after the Thai city of Pattaya, but its primary roots are firmly believed to be in Malaysia.
Nasi Goreng Pattaya is a wholesome dish of chicken fried rice, wrapped in a thin layer of omelet or fried egg, depending on preference.
It is served with sliced cucumber, shallots, and Keropok (fried crackers). Ketchup or chili sauce can be drizzled over the top, to add a little extra acidity.
Today, this dish is widely popular in Singapore and Indonesia, too. If you're eager to try Nasi Goreng Pattaya, find the nearest Malay Hawker stall for some of the freshest, most delicious Nasi Goreng Pattaya you'll find in Malaysia.
13 – Goreng Pisang (Banana Fritters)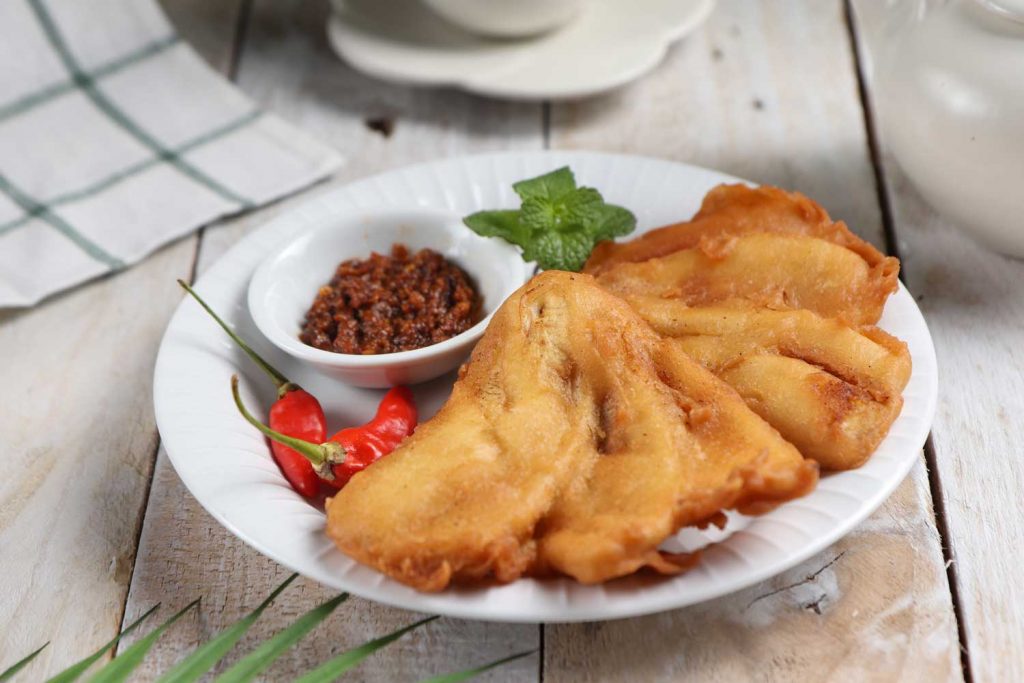 Goreng Pisang is a dish of banana fritters, made from deep-frying fresh banana pieces in a crispy, golden batter.
The batter is made from a mixture of ice-cold water and cornstarch that the banana strips are coated in before being placed in a frying pan.
Malaysians opt to use a specific type of banana, Pisang Raja, when making Goreng Pisang, due to its richer taste.
Once the banana slices are fried until crisp and golden, they are ready to be devoured.
Head to one of the many food markets in your area, and no doubt you'll be able to find a vendor selling this indulgent Malaysian food.
14 – Kuih Lapis (Layer Cake)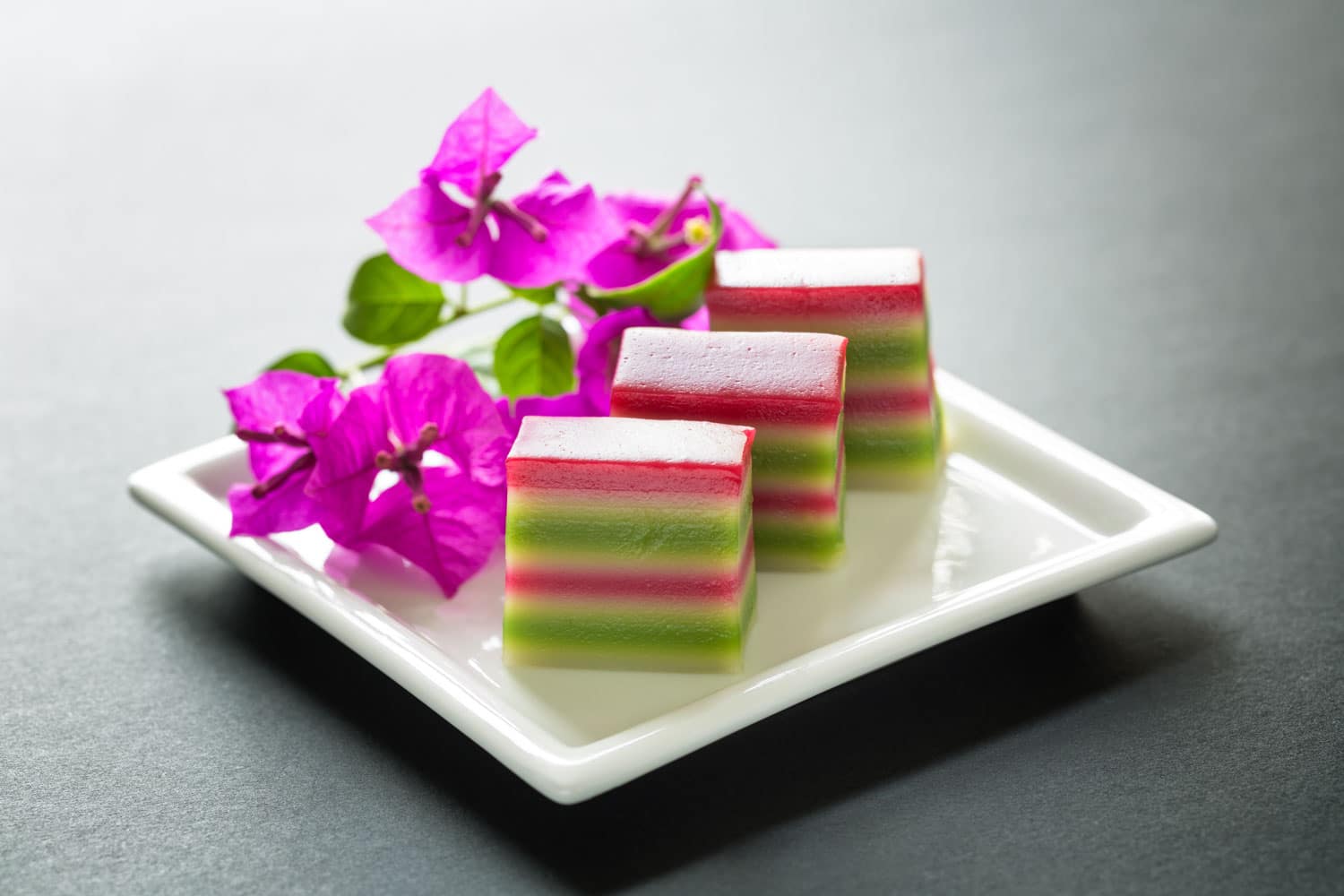 Kuih Lapis, with its vibrant stripes of color, is just as Instagrammable as it is utterly delicious!
This Malaysian layer cake has a sweet taste and sticky texture, and it is made of a pudding of rice flour, coconut milk, tapioca starch, and sugar.
The cake is steamed very slowly, and traditionally the colored layers achieved using a combination of colorings, such as red frozen food coloring, and green pandan coloring.
Nowadays, however, artificial food colorings are more commonly used in the making of Kuih Lapis. This sweet snack is best served warm, at tea-time.
There are many variations of Kuih offered in Malaysia, including Kuih Pelita, Kuih Talam, and Seri Muka, among many others.
15 – Cendol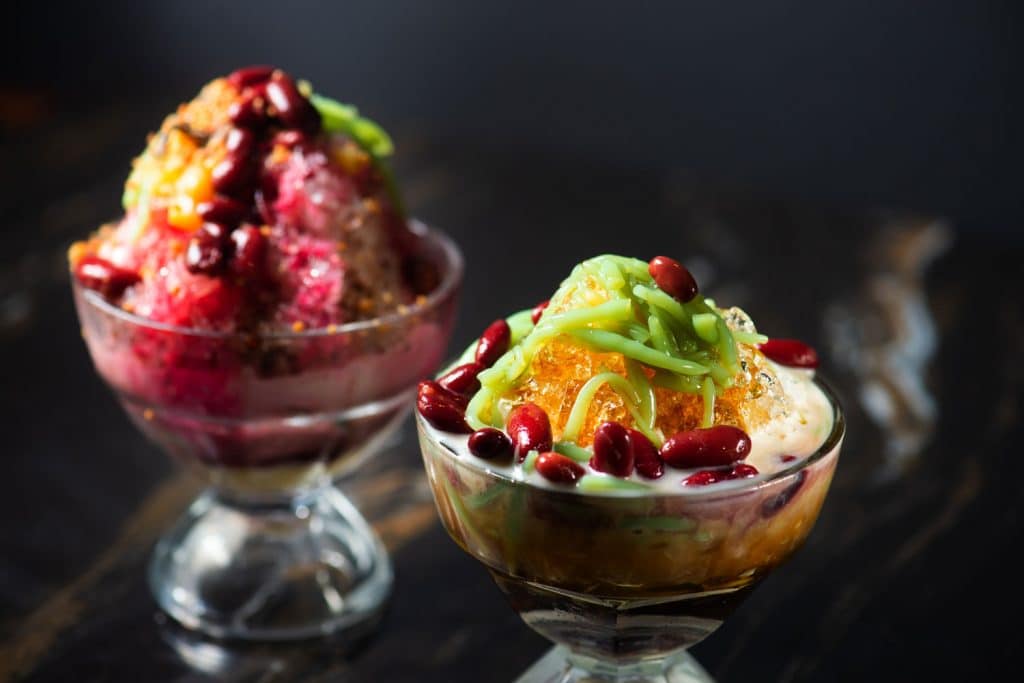 Cendol is a cold drink of shaved ice, green rice flour jelly, palm sugar, and coconut milk.
Cendol also comes in many variations, such as Cendol Pulut, Cendol Bandung, Cendol Campur, and many more.
Depending on which state you're visiting, you can choose different toppings to top this breathtakingly fresh and colorful dessert.
For example, in the state of Johor, kidney beans are the most popular condiment of choice.
There is no right way of eating cendol. You can drink it with a straw, or eat it from a bowl with a spoon.
16 – Keropok Lekor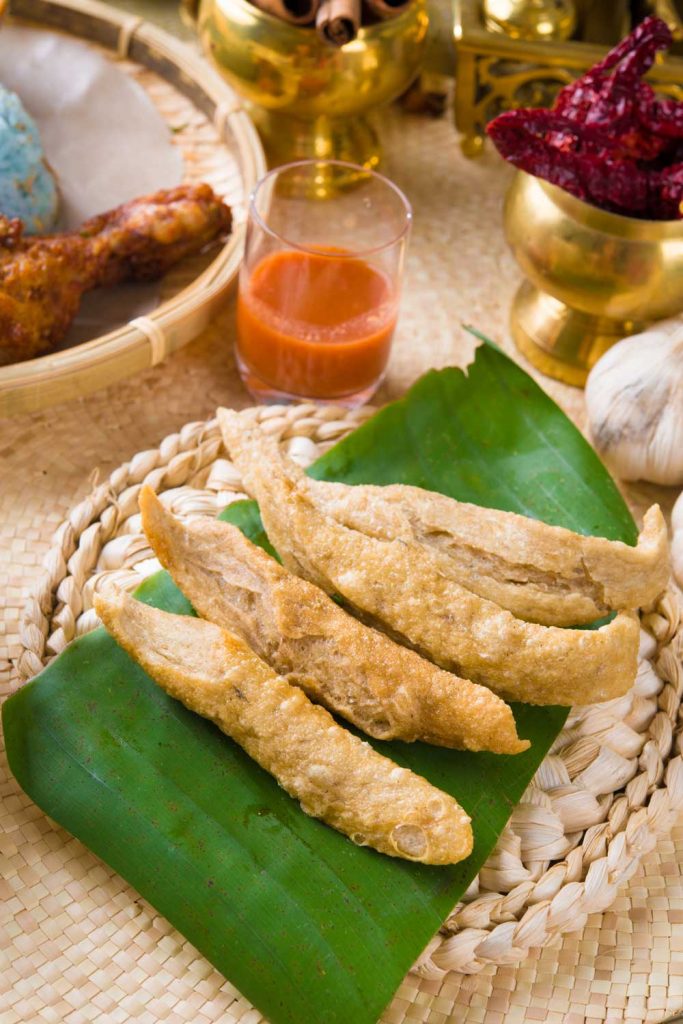 A visit to the region of Terengannu simply isn't complete without trying Keropok Lekor.
Keropok Lekor is a fish cracker, made from a mixture of fish and sago flour, seasoned with both salt and sugar.
Originating from the Terengannu region, this native Malay dish has a distinctive off-grey color and strong, seafood-infused aroma.
Keropok Lekor is the elongated, chewy version of this dish. You can also try Keropok Rebus, steamed fish crackers, and Keropok Keping, a thin and crispy cracker.
This unique dish is best served hot, paired with its heavenly condiment of chili sauce for dipping.
17 – Ais Kacang (ABC)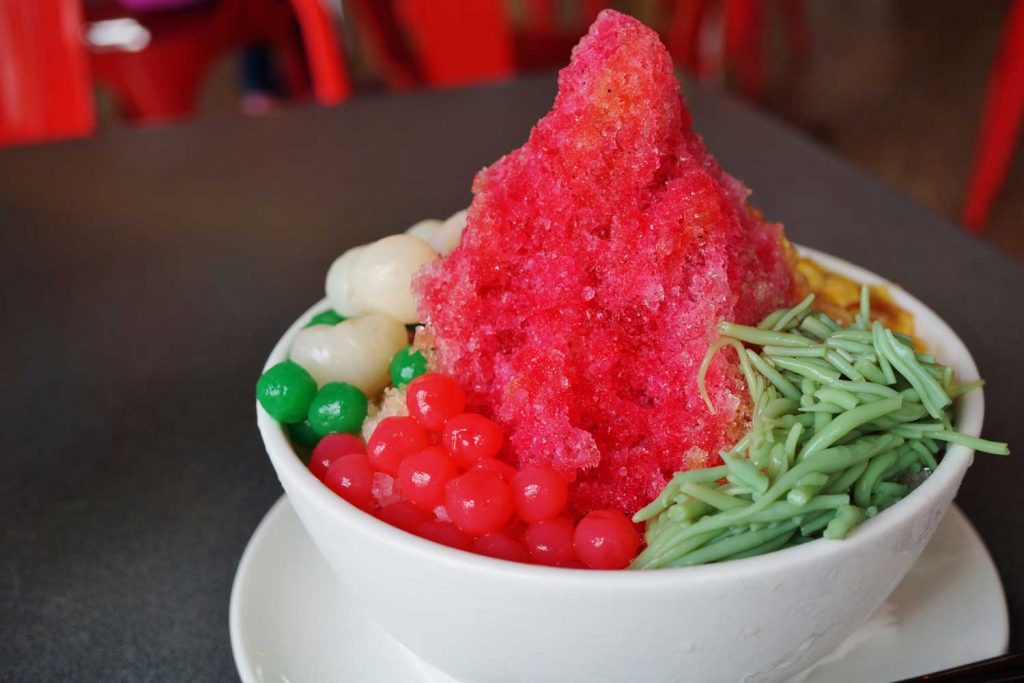 Ais Kacang, traditionally, is a wonderful dessert of shaved ice and red beans. It is also known as Ais Batu Campur, or ABC for short.
In time, this Malaysian dessert has evolved to include a wide range of colorful, sweet, and delicate ingredients, submerged beneath a mound of breathtakingly refreshing ice.
The ice itself, often dispensed from a machine, is commonly a mixture of condensed milk, colored syrup, and Gula Melaka, a type of native sugar.
Within your bowl, you'll often find all kinds of sweet and savory goodies, including creamed corn, grass or fruit jellies, and red beans.
Without a doubt, this refreshing dessert is a great taste quencher, especially during scorching hot days in Malaysia.
18 – Putu Mayam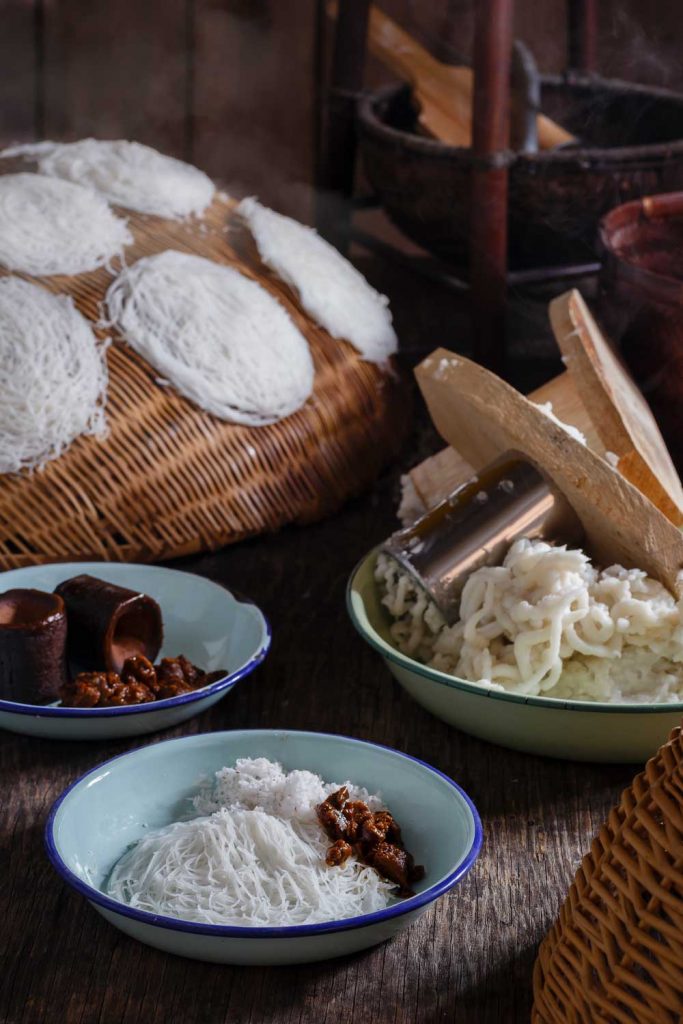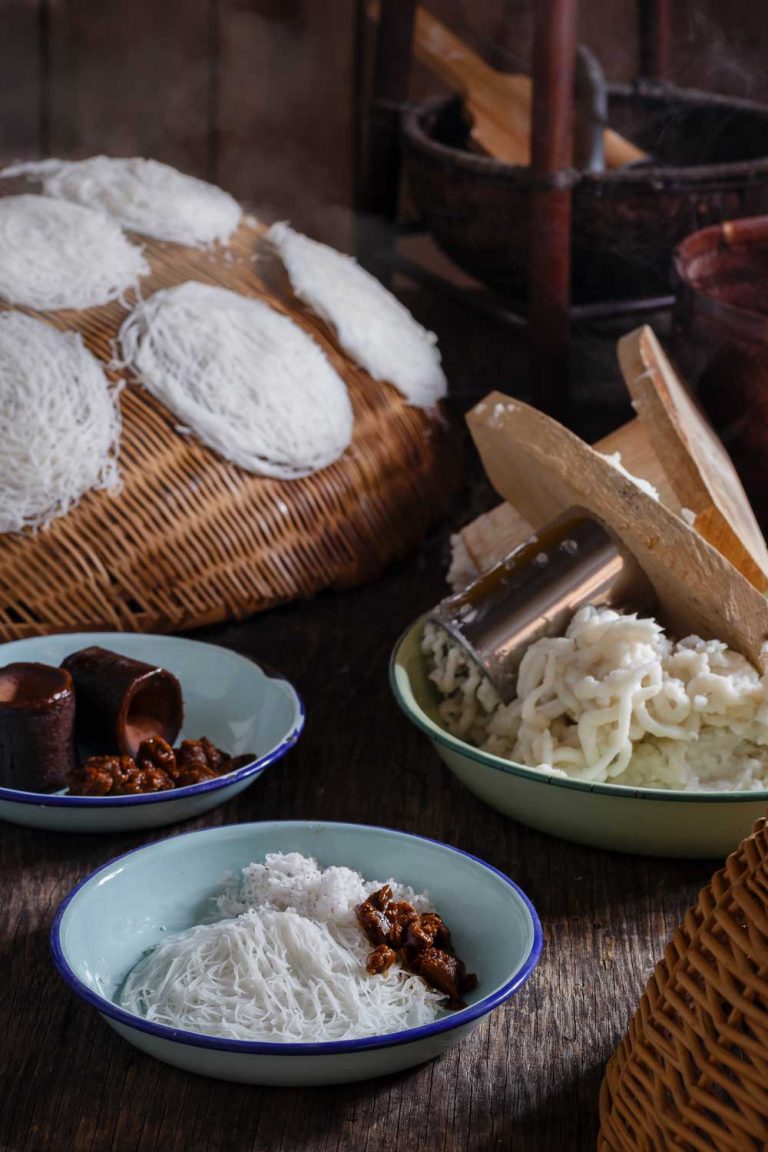 Putu Mayam is a unique and wholesome dessert, adapted from a South Indian dish popular in many Southeast Asian countries, known as 'iddiyappam'.
This savory Malaysian dessert is a dish of rice noodles, made from a mixture of rice flour dough and coconut milk.
The thin, stringed shape of the rice noodles is achieved by wrapping the dough and milk mixture in cloth, then placing it in a conical steamer.
Often, pandan leaves are added during the steaming process to infuse the dessert with a strong aromatic fragrance.
Putu Mayam is best enjoyed chilled, to help cool you throughout the baking hot Malaysian dry season.
If you prefer your desserts a little sweeter, fret not, as Gula Melaka can be added upon request as an additional sweetener.
Malaysian Food Summary
There's no doubting that Malaysian cuisine is bursting with bright color, eye-catching compositions, and intriguing fusions. For a culinary adventure of discovery, there are few cuisines quite like it.
But peel back the layers of color and decadence, and you'll find food that not only looks intriguing, but tastes refreshing, bold, and balanced.
The foods that are popular in Malaysia are an eclectic mix of time-tested indigenous cooking and a wide array of international flavors.
All of these factors come together to make exploring Malaysian dishes and native food one of Southeast Asia's most underrated delights.
Whether you're gracing the glitz and awe of Kuala Lumpur, or deep into rural Malaysia, be sure to eat at as many food markets and local warungs as you can.
As with so many other Southeast Asian countries, food is prepared with such love and attention. It is an integral part of the culture in the region, and the spices, fusions, and flavors used can broaden your palate in ways you never thought possible.
So, one last time before we go, here is the full list of all Malaysian foods covered in this article.
Be sure to have this list of Malaysian food handy when you visit so that you can try one or more of these popular and traditional foods.
Satay
Kuih Angkoo
Kuih Gulung
Bubur Cha Cha
Air Cincau
Kuih Bahulu
Nasi Lemak
Kueh Teow
Roti Canai
Nasi Kandar
Murtabak
Nasi Goreng Pattaya
Goreng Pisang (Banana Fritters)
Kuih Lapis (Layer Cake)
Cendol
Keropok Lekor
Ais Kacang (ABC)
Putu Mayam
You Might Also Like to Read
Save and Pin for Later
Want to keep all these delicious Malaysian food picks in a safe place? Save this article and pin it to one of your Pinterest boards for later.
Contributor: Irshika Suthakar is a freelance writer from Kulai, Malaysia. She writes about a number of social and cultural topics in both English and Malay and has written for various publications.
Images licensed via Shutterstock