This post may contain affiliate links, meaning if you book or buy something through one of these links, we may earn an affiliate commission at no additional cost to you. Learn more
Keen to know more about how to rent a car in Europe but don't know where to begin? You've come to the right place.
From the mountains of Eastern Europe to the Portuguese coast, I have taken many road trips and journeys through some of Europe's most beautiful countries.
And while renting a car can be straightforward, there are still plenty of things you should know and understand before you do it.
So fasten your seatbelt as we take an in-depth look at how to rent a car in Europe and answer some commonly asked questions.
How to Rent a Car in Europe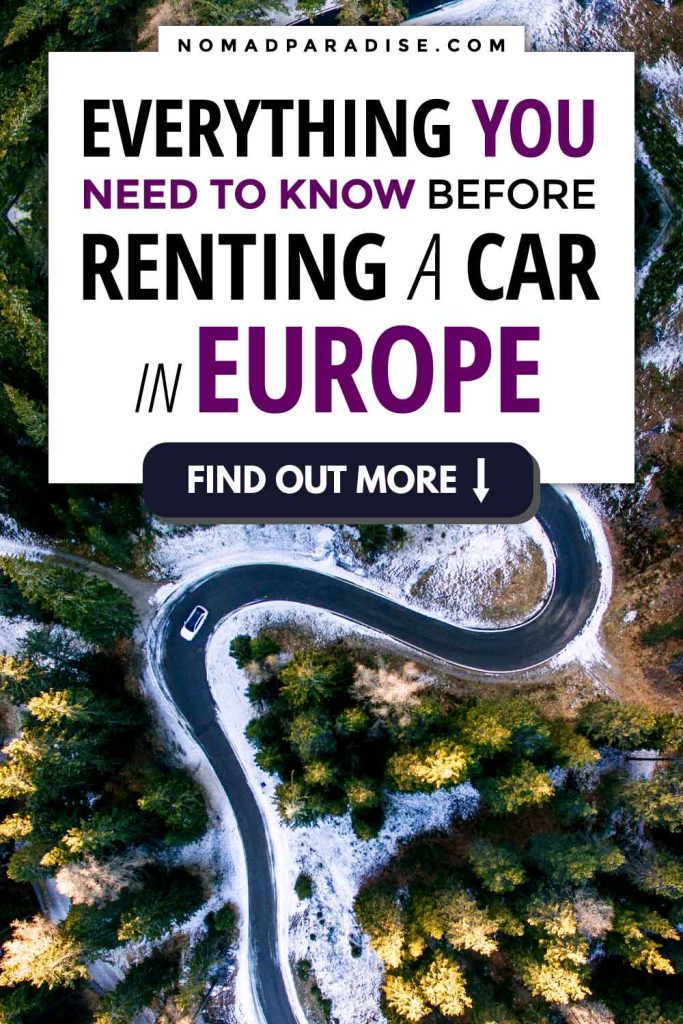 Introduction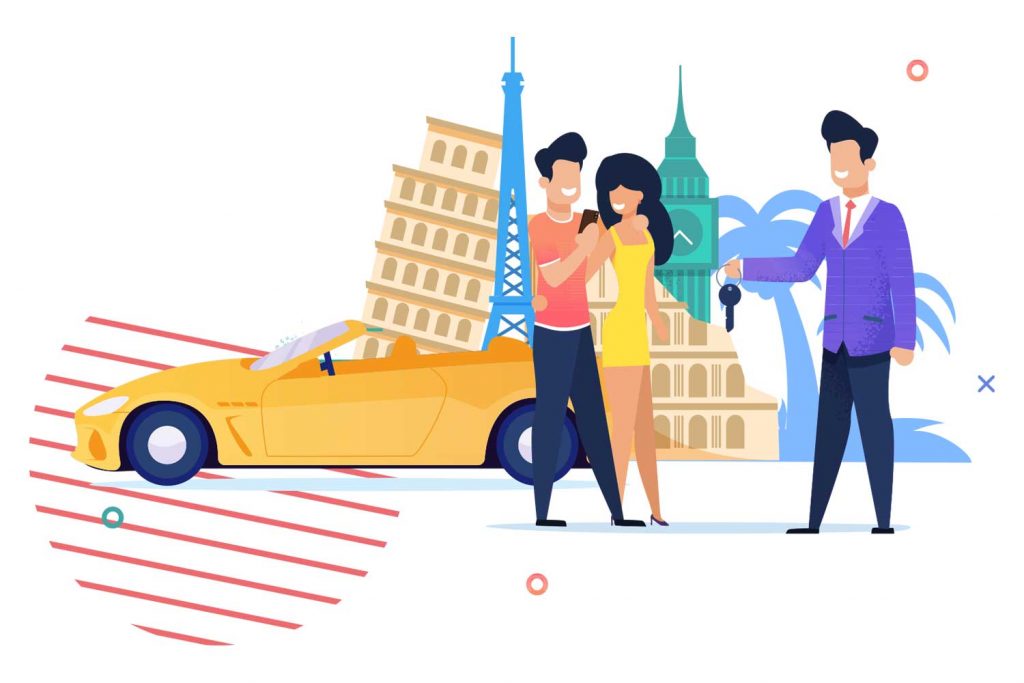 Lined with beautiful beaches, graced with gorgeous mountains, and settled with cultures across the spectrum, Europe has something for everyone.
And courtesy of the E.U.'s border policy, trotting between countries is more accessible than anywhere else on the planet.
The E.U.'s investment fund has spent tens of millions of euros over the years, improving roads, airports, infrastructure, and public transport.
Planes, buses, and trains are all efficient ways to migrate between cities on the continent, naturally.
However, for many of us, travel is not just the A to B — it's also the journey of getting there.
Road-tripping can be a truly wonderful way to see the beauty of Europe on your terms.
Plus, with the vast rise in popularity of car rental over the last two decades, it's never been easier to hit the road in comfort, style, and without getting too lost on the way!
Although, let's face it, that's part of the fun, right?
Why you should rent a car in Europe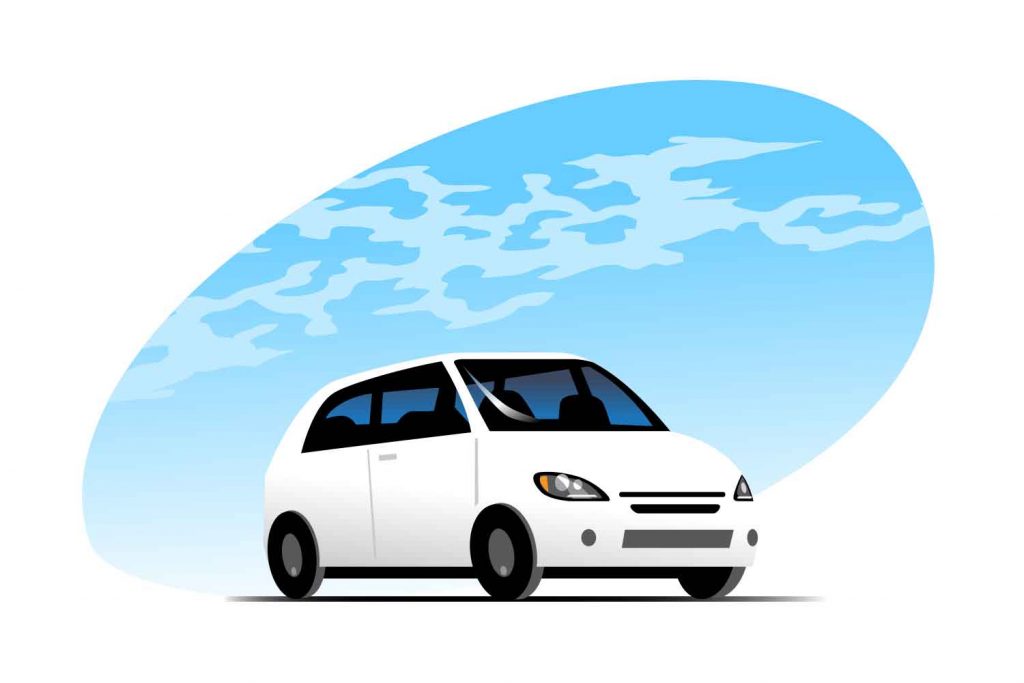 There are many reasons to choose five doors, four wheels, and your hands on a steering wheel over other modes of transport. Here are our top reasons.
Scenery
If you're a lover of nature and being off-the-beaten-track, driving gives you total autonomy to follow roads that meander along coastlines or through mountains.
Convenience
Running for a bus, pores leaking sweat, and carrying heavy luggage is never fun, right? With a car, everything is on your terms.
Leave a few minutes late? No problem. See something interesting in the distance? Pull over and check it out. Feeling hungry? Oh, there's a restaurant in a few miles.
Speed
Public transport has to cater to the majority. This means many stops and, more often than not, a combination of planes, buses, and/or trains to get to your destination if you're visiting somewhere other than a major capital city.
In a car, you don't have to stop. Your GPS will tell you the quickest route, and all you have to do is follow the roads. If you stay on highways, you can be covering at least 70 miles per hour on average.
Comfort
On public transport, so much is out of your hands. There's little privacy, temperature control, and the driver of the vehicle determines the schedule.
Inside a car, you have privacy, temperature control, music, and, if you suffer from motion sickness, there's far more you can do about it.
Oh, and speaking of motion sickness – our pro tip is to wear motion sickness wrist bands.
Why you should not rent a car in Europe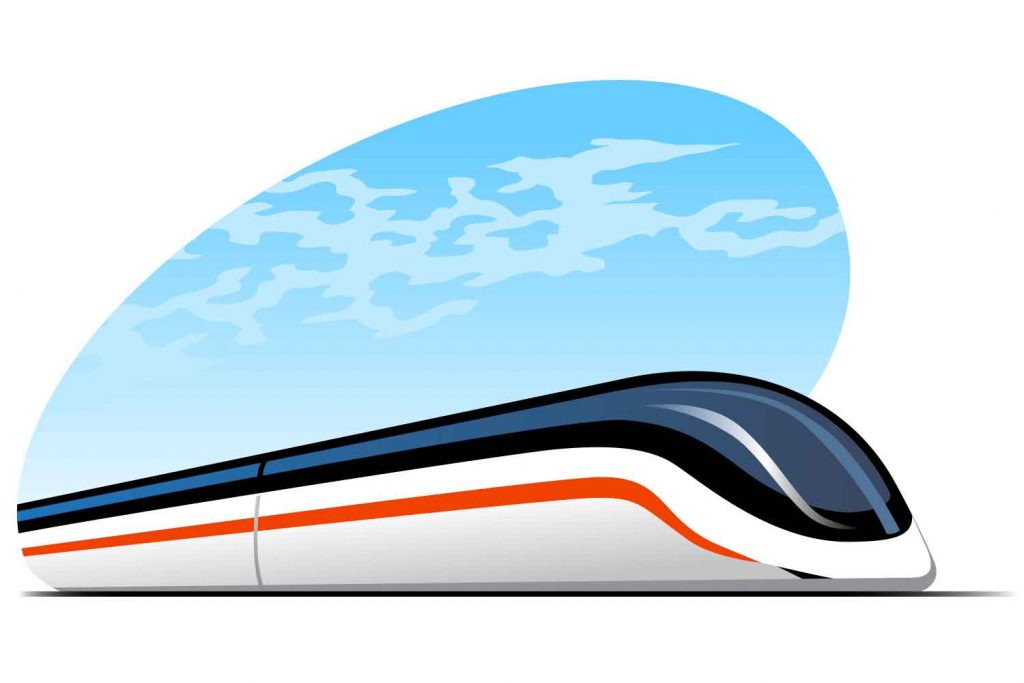 All of the above sounds great. But there are reasons where using other means to get from A to B make far more sense.
Simple itinerary
There's a reason the E.U. is home to some of the best public transport and road systems in the world.
Flights take off every few seconds, connecting you to major airports within a couple of hours. High-speed trains roar across borders, connecting the continent's significant cities within a matter of hours.
The Eurostar can take you from London, under the ocean, to Paris, in around two and a half hours! Quite the feat in engineering, I think we can agree.
If you're in Amsterdam and want to get to Paris, and only Paris, a comfortable, high-speed train, makes far more sense than renting a car.
Driving confidence
Every country breeds a different culture. In some countries like the U.K., people are generally obedient of speed limits and lane order.
However, as many of us have likely already seen, that's not the case in many other countries.
Driving in congested cities can be confusing and stressful. Driving on highways where the culture is to ignore speed limits can be daunting.
And driving on the other side of the road, or in a manual if you're used to automatic, can be dangerous.
If you're not a confident driver, think long and hard about getting yourself behind the wheel in a foreign country before you do.
Budget travel
The BBC's Race Across the World challenged five pairs to get from London to Singapore for the price of a one-way flight, without using any air travel at all. It's a fantastic show if you're looking to pass a few hours.
And there's a reason the pairs made the bulk of their journeys on ferries, buses, and sleeper trains: because they're all very cheap.
The costs of renting a car, from insurance extras to fuel, can add up quickly. If you're backpacking on a budget, car rental will eat into your reserves more aggressively than the Cookie Monster disguised as a health and safety officer at an Oreo distribution depot.
Should I reserve my car rental online or in-person?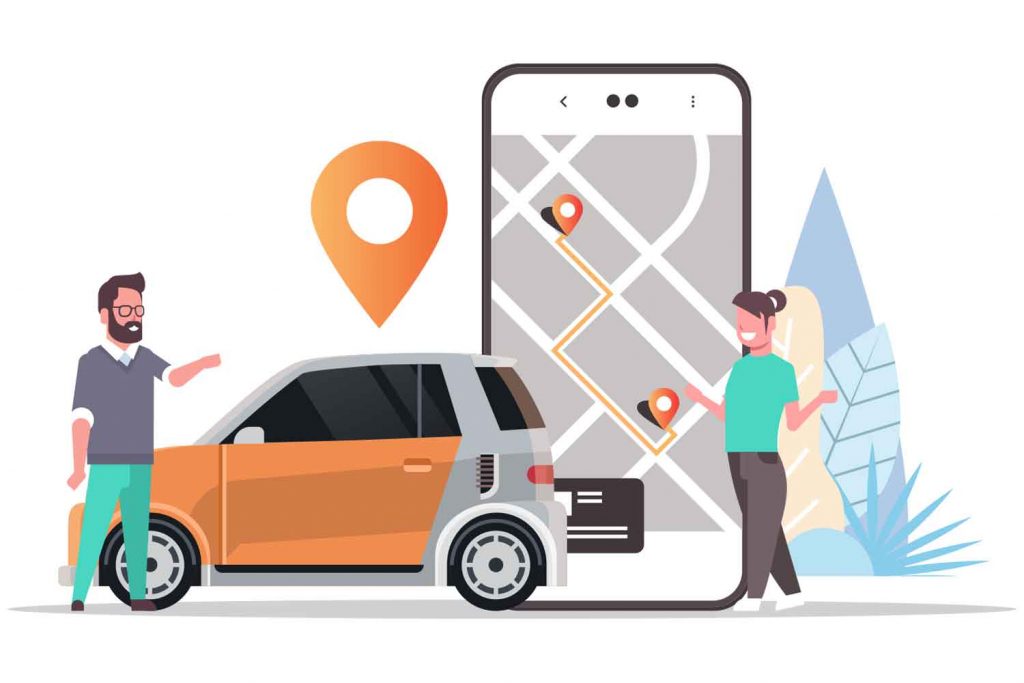 With the popularity of price comparison sites soaring in the last decade, nowadays the better deals are almost always online than in-store.
For our Lisbon to Gibraltar road trip, we reserved online at a better price. However, that doesn't mean a little inquisition in-person can't get you some discounts at the counter.
Although our counter assistant could not drop the price, she did waive the additional driver fee and upgraded our insurance policy, amounting to around $200 in savings. And all because we were friendly and well-mannered.
It's also worth noting that some car rental places have discounts for certain cardholders.
For example, if you have the American Express Platinum card in the U.S., you get discounts and special privileges with Avis and Hertz, among others.
---
Compare Prices Online
---
What you need to rent a car in Europe
In most cases, you'll only need to provide two documents to be eligible for car rental:
Driver's license
A form of I.D. (more often than not, your passport)
However, in some countries, your driver's license may not suffice. You may need to have an international driver's license. Be sure to do your research into this beforehand.
How old do you have to be to rent a car in Europe?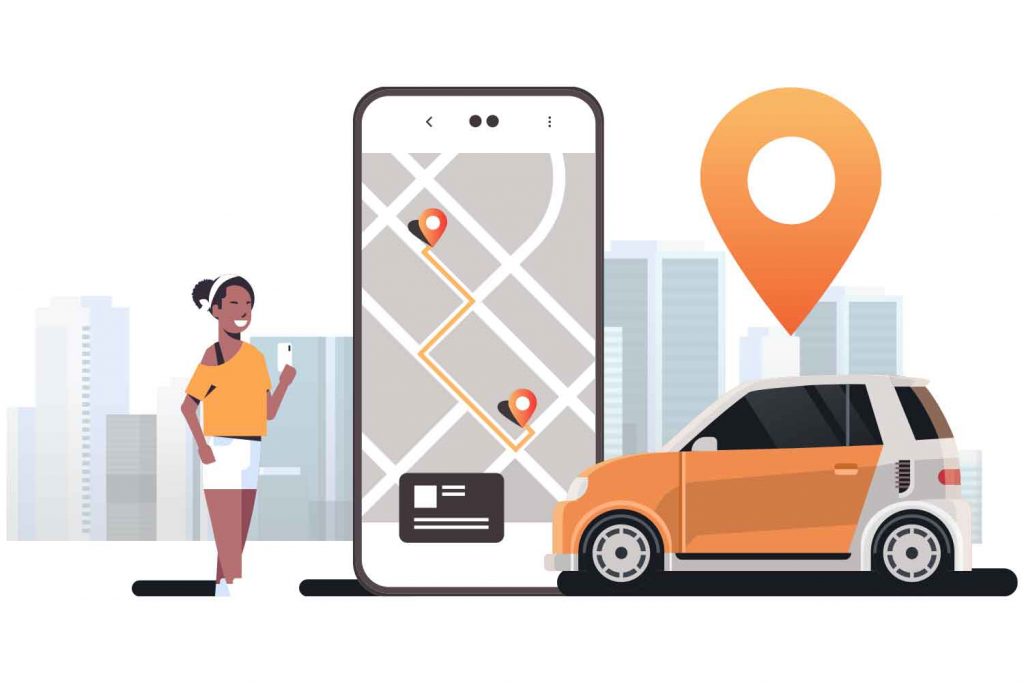 If you're under 25
Although the driving age varies from country to country, realistically, you're going to need to be at least 18 years old.
However, due to the astronomical insurance fees for the providers, being under the age of 25, will put you at a disadvantage.
Many car rental companies require you to be at least 25 years old or have at least five years of driving experience.
But many companies also do let you rent a car if you're 18 if you pay an additional 'Young Driver' fee.
The fee varies from company to company and from country to country. It could be €10 per day in Spain or £35 per day in the U.K.
Our best advice is to use an online comparison website. With your data input correctly, they will whittle out the unwilling parties and show you what's available. From there, the ball is in your court.
If you're over 70
Surprisingly, in some European countries, several companies have an age limit on rentals. Insurance providers often set this age limit.
Therefore, be sure to check the fine print thoroughly on your contract before purchasing. Some of the situations you may encounter include:
The company might charge a 'senior driver fee' on top of the regular rental price.
The company might require you to provide a letter from your doctor that you've been in good health for 12 months.
The company might need a letter from the insurance company that you haven't had an accident within the last five years.
You can check if you'll pay the senior driver fee by booking via RentalCars.com.
If you don't check the 'Driver aged between 30-65?' box, any rental deals shown will specify if a senior driver fee needs to be paid.
Should I get rental car insurance?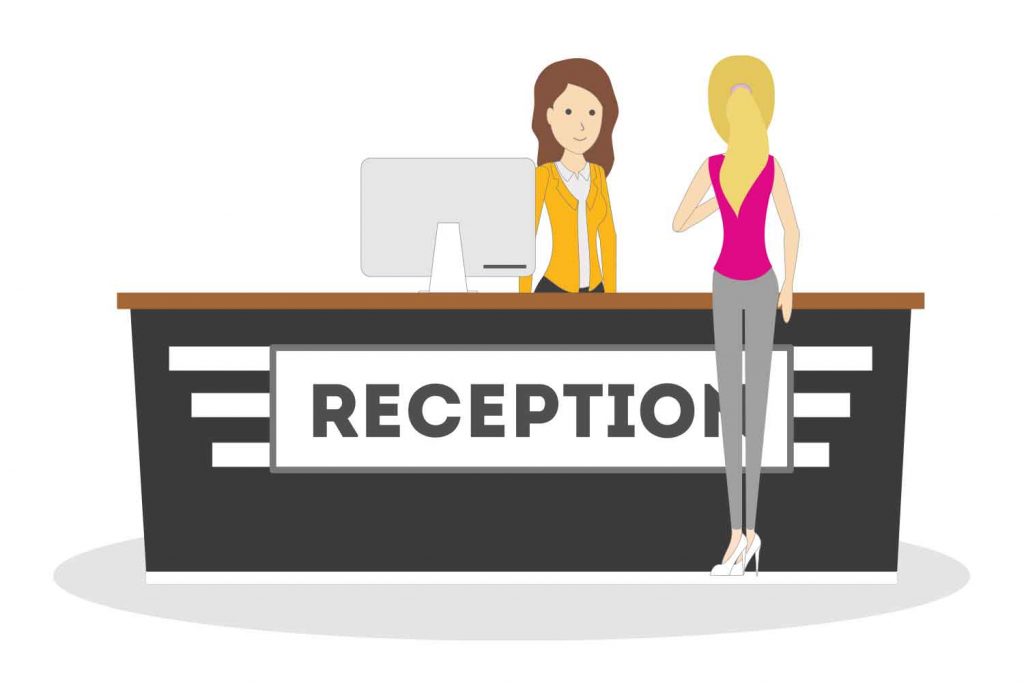 It's a tough and sometimes pricey pill to swallow adding on the insurance extras. But for peace of mind, it's more than worth it.
If something were to happen to the car, the fees you'll pay on top are often nauseating.
Now, this is where you need to be careful. If you book online, more often than not, you'll be given the lowest price.
Fair enough so far, but, if you take a closer look at particularly the deductible (or excess) for just the baseline insurance, that number can often be in the $1000s.
At the counter, it is common for the assistant to ask you if you do want any additional cover. This is when, if you're a little confused, you can talk through all your options with them.
At the counter in Lisbon, we upgraded our basic insurance to a fully comprehensive one.
The assistant told us that, due to the roads being so narrow, it's common for parked cars to get hit by oncoming traffic.
Sure enough, in Gibraltar, we had to park our car on a very narrow, very steep hill. The day we drove back, we noticed a large scratch on the side of the door.
Our upgrade, which cost an additional €120, saved us paying €1000 in excess. Car rental companies are notoriously meticulous when checking the car for damage, so it's definitely worth paying extra, to fully eliminate any possibility of high excess fees.
It's worth noting that you may be covered under your credit card agreement or travel insurance. Many major credit cards (at least in the U.S.) include coverage on rental cars.
Study your policy closely to understand how much cover you have, as many have specific rules you have to follow and only cover certain types of damage.
Travel insurance might also cover your rental car. Again, you must read the policy to check and see the rules for yourself.
Other things to consider
1 – Dropping off your car in another country will cost extra
You need to ask and verify if the rental agreement allows you to take the car out of the country to other countries within the E.U.
Some companies allow that, while others do not or have very steep fees ($200-$300+ extra) to do so. Also, most will charge extra if your car breaks down in a country other than the one where you rented the car.
2 – Automatic transmission costs more than manual
Depending on the provider, automatic transmission cars can cost up to double (in rare cases) compared to their manual counterparts.
If you're happy to shift gears, it may be worth opting for a manual drive to save a little money.
3 – Be aware of restricted zones charges and penalties
Some cities like London, Florence, or Rome will charge congestion charges (of which many tourists are unaware) and a very steep penalty for non-payment.
The car rental companies, in turn, will often charge an administrative fee on top for handling the payment of the penalty.
4 – Check your route for any toll roads or highway taxes
Keep cash (and coins) with you for tolls. At the counter in Lisbon, they gave us a toll tag (for an extra charge) to use in Portugal.
The tolls would register on the tag, and we would get charged after returning the car.
But the tag did not work outside of Portugal, so we had to keep cash on hand for all the other tolls. Some take credit card, but not all do!
Furthermore, some countries (like Austria, Romania, Bulgaria, Hungary, Slovakia, Slovenia, the Czech Republic, and Switzerland) don't have the typical toll booths where you pay for the use of the highways.
Instead, they require you buy a vignette (a window sticker) for driving on the motorways.
They have many highway cameras to enforce the rules, and the penalties can be very high. If you rent the car in a vignette country, it will have a vignette for that country.
If you drive through other vignette countries, you'll either have to buy the vignette or avoid the highways.
Beware though that in countries like Romania, it is necessary to have a valid vignette not only on motorways but also when passing other roads belonging to the national road network.
Depending on the country, you can purchase the vignette online, at the border, and gas stations near the border in the surrounding countries.
5 – Be sure to confirm all additional fees at the counter
Nonchalance can burn your budget like wildfire if you don't get all the facts. Additional fees that we encountered include our GPS unit, toll tag, and an additional driver.
Online, they'll do their best to bury additional charges in paragraphs of small print, so be sure to comb through with an attentive eye.
Top Tips for Driving in Europe
Once your rental is purchased, documents signed, and keys placed in your hand, all that's left to do is load up, buckle in, and begin your adventure.
But that doesn't mean you shouldn't be eating up the European miles unprepared.
Here are ten top tips to help you maneuver your way through Europe as smoothly as possible:
1 – Get familiar with European road signs.
Unlike in the U.S., many road signs use colors and symbols rather than words. Plus, if you don't understand the native tongue, you may also struggle. Use this guide to help.
2 – Be aware of blood alcohol content levels
In many European countries, the legal blood alcohol levels for driving are lower than in the U.S. Be sure to check before driving.
3 – Avoid city centers
This is especially true of city centers ones that charge a congestion fee and penalties.
4 – Get familiar with the rules of the roundabouts
Roundabouts can be very overwhelming if you're not used to them. Use these pointers to help you:
Yield to traffic in the roundabouts.
Stay in the outside lane if you're getting off right away.
Always signal your exit.
Change lanes carefully.
5 – Be aware of turning right on a red light
Most countries in Europe don't allow you to turn right on a red light (unless there is an arrow indicating you can do so). Make sure you check the rules for the applicable countries.
6 – Be wary of aggressive drivers
Drivers usually drive more aggressively in some countries in Europe than in the U.S., so be aware of this.
Do some research beforehand about the country's road habits. In some places, driving too cautiously will actually put you at a greater risk of crashing.
7 – Do not use your phone or headphones
In most European countries, it's illegal to use your phone or headphones or headsets while driving.
8 – Check for compulsory gear
In some European countries, it's compulsory to have certain gear. Varying from country to country, that can include reflective jackets, warning triangles, snow chains, or winter tires.
9 – Keep loose change in your car for tolls
Many older toll roads and bridges do not have digital payment systems in place and will expect you to pay in cash. See our tolls section for more info.
10 – Wear your seatbelt at all times
Generally, seatbelts are mandatory for the driver and the passengers. This will keep you safer in places where people drive fast or aggressive, and in some countries, you can be fined if caught not wearing a seatbelt.
Driving tips for specific European countries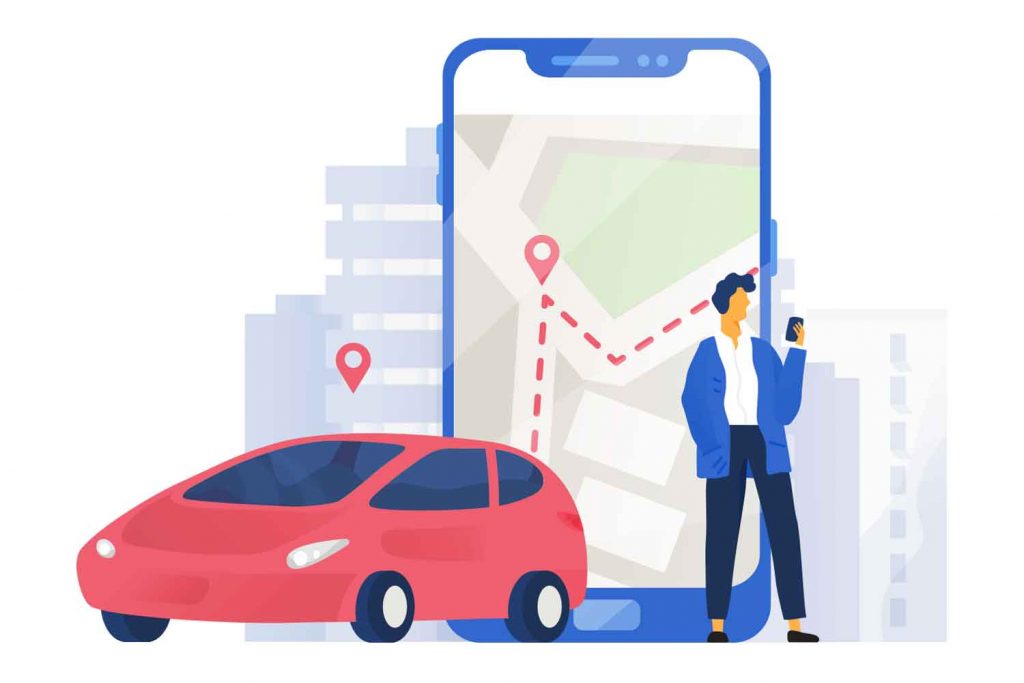 Tips for driving in Portugal
Portugal, outside of the cities, I found relatively easy to drive through. Lisbon, however, due to its narrow streets, was stressful at times.
If you're rusty on parallel parking, be sure to practice beforehand. Most drivers in Lisbon have to park on steep hills, either side of single-lane roads.
Tips for driving in Spain
In addition to the speed at which people drive at, don't be intimidated if drivers flash their lights from behind you.
That signal means they're about to overtake you, not that they're angry at you.
Tips for driving in Gibraltar
Parking is very limited in Gibraltar. We were lucky our hotel provided parking. The entire time there we walked around the city and only drove in Gibraltar on arrival and when leaving.
If you're unsure about your options, you can park in La Linea, Spain, by the border.
Many people who work in the city do this, and simply catch a bus, or walk across the border.
If you're planning to visit the Nature Reserve and/or Top of the Rock, it is forbidden to take your car there. You'll either have to book a taxi, use the cable car (recommended), or walk.
Tips for driving in Romania
I often suffer from motion-sickness on Romanian roads, due to their windiness and uneven surface. To combat this, I wear an anti-motion-sickness wrist band.
If you're prone to suffering from motion-sickness, I'd highly recommend investing in one.
Extra tips for renting a car in Europe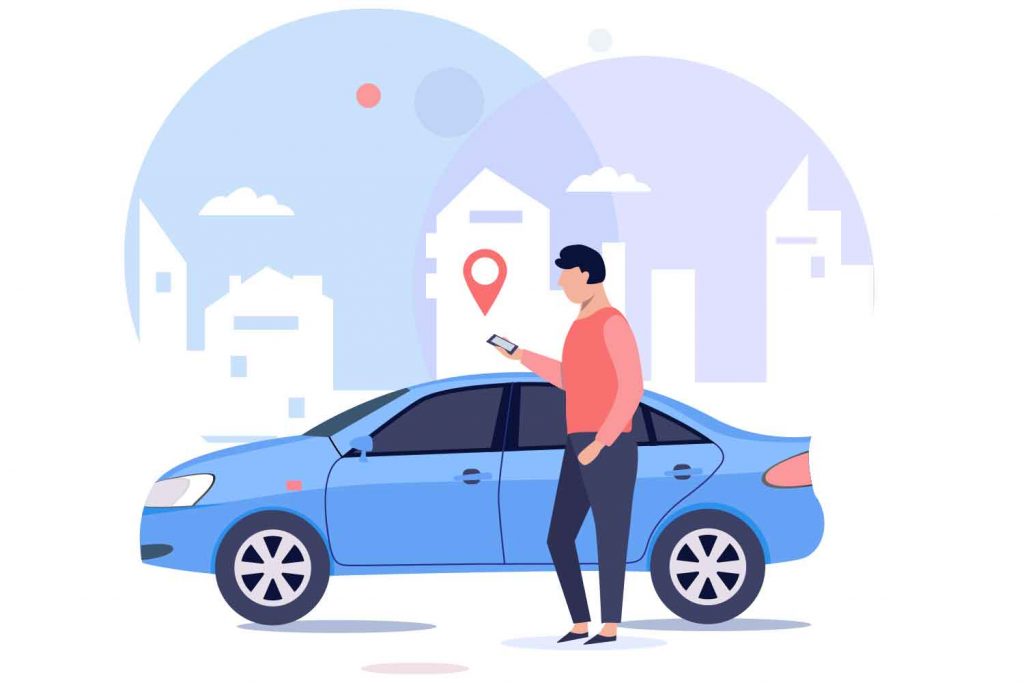 1 – Check the car for damage before renting
On receiving the car, be sure to check the outside of the car and inside for any scratches or damage.
Document anything you see on your smartphone in case the provider flags them upon return and tries to charge you for the damage.
2 – Opt for the weekly price
If you're renting for 5-6 days, go for the weekly price. The weekly price is often lower per day than the daily price.
3 – Use your smartphone for GPS
If there isn't a built-in GPS unit in your vehicle, your smartphone is more than capable of showing you the way.
Use Google Maps or Waze for navigation and remember that you can download maps for offline use beforehand.
You don't need data once you've downloaded the map – only GPS for tracking.
How to Rent a Car in Europe Summary
Take it from us — driving is one of the best ways to see a more rugged and rural side to the vastness and beauty of Europe.
However, that doesn't mean it's without challenges and things you need to be aware of.
Armed with our knowledge and insight, you should have no problem in finding a deal that suits yous and navigating the roads in a smooth, painless fashion.
Wherever the roads take you, we wish you a memorable journey like no other!
You Might Also Like To Read
Save and Pin for Later
Are you planning to rent a car in Europe? Pin this article to one of your Pinterest boards, so that when the time comes to embark on your epic trip, you'll have all the information you need in a safe place.
---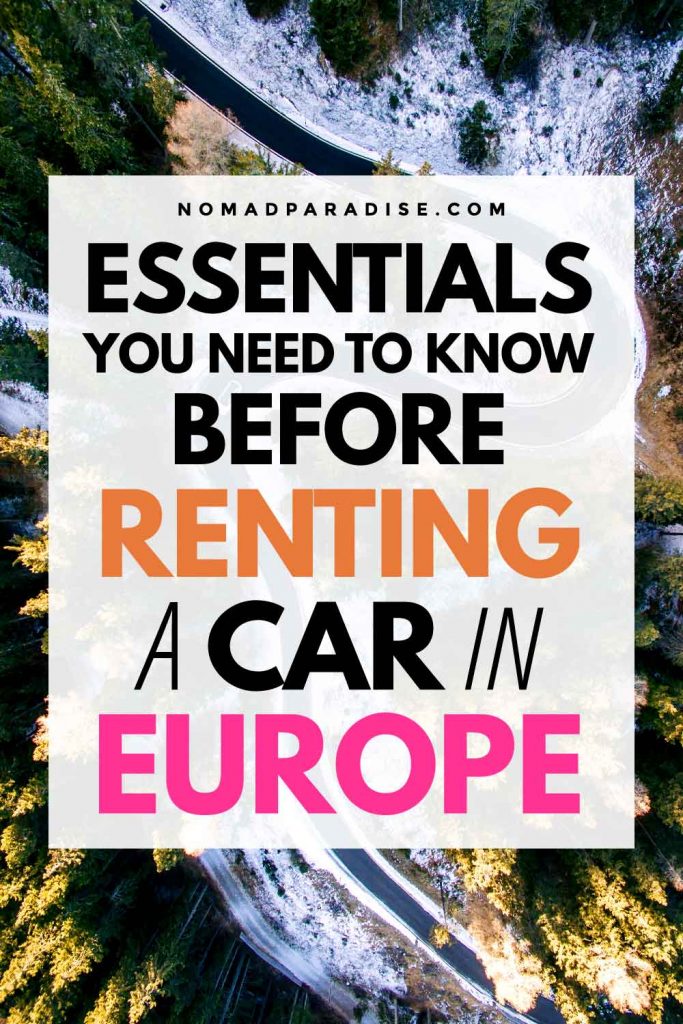 Author: Doina Johnson is a content writer, strategist, and full time digital nomad. She has road tripped across Europe for many years, visiting a vast array of beautiful places and countries.
Images licensed by Shutterstock