This post may contain affiliate links, meaning if you book or buy something through one of these links, we may earn an affiliate commission at no additional cost to you. Learn more
For anyone facing a mammoth flight, in today's market, there are a wide range of carry-on essentials designed to make your time airborne far less stressful and far more comfortable.
For many people, flying any distance is often a stressful experience, even if you're able to fall asleep mid-flight with relative ease.
Often, the mere sight of '11hrs' on the booking website is enough to trigger the cold sweats, let alone the flight itself.
Fortunately, many product designers have identified the pain points of long-haul flights, and a range of products are available online for you to buy.
We've compiled our list of carry-on essentials for long flights that will go a long way to making your next long-haul flight a far more comfortable experience.
Best Carry-On Essentials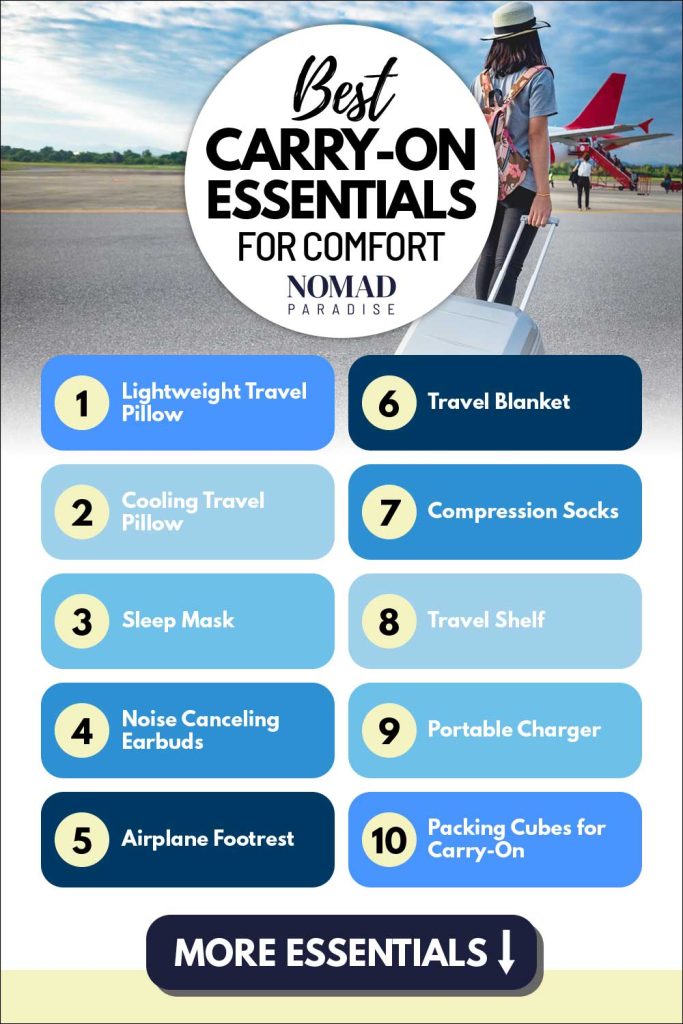 1 – Lightweight Travel Pillow
Check Price on Amazon
The Pillow Light is a truly innovative product from Ostrich that addresses both issues of head support and light intrusion when trying to sleep.
Admittedly, you will look a little like the third member of Daft Punk with this on! But, when trying to get some much-needed shut-eye in-flight, few of us are probably going to care!
It's a versatile travel pillow, too. You can either slip it around your neck or have it over your head and cover your eyes, depending on your preference.
The fabric is so soft and very gentle on the skin. It almost feels like you're in a cocoon, and it's perfect for putting you in the right conditions to fall asleep.
As travel pillows go, this is one of the most innovative and successful on the market. It will, however, take up some room in your carry-on.
I'd highly advise buying a set of clips and using one to attach it to your carry-on straps.
Read more: Best Travel Pillows
2 – Cooling Travel Pillow
Check Price on Amazon
While we're on the subject of travel pillows, I'd like to take a worthwhile trip to the product line of Cabeau.
If you're willing to sacrifice a little more space, Cabeau's Evolution S3 Travel Pillow is most definitely for you.
It comes highly regarded. Many, myself included, have the issue of your heading falling forward while sleeping in-flight.
The pillow comes with back straps that can easily be strapped to the seat wings, keeping you in an upright position.
As a travel pillow, it's the combination of memory foam and support position I believe is unparalleled in the market.
It's so comfortable, and the fabric is cool and soft, meaning you won't awake with burning hot, flushing skin.
Likewise, with the Ostrich Light, bring clips so it can attach to your carry-on.
The Evolution S3 also comes with a bag, so you can easily attach that to a strap. If you struggle to sleep on flights, this is a must-buy product.
3 – Sleep Mask
Check Price on Amazon
We're told, time and time again, that the combination of earplugs and eye masks will help you sleep on a flight.
Yet how many of us find ourselves lying there, our ears aching, eyes irritated, and head throbbing, all because the plugs and masks we have were so poorly designed?
Step forward, Alaska Bear. When it comes to eye masks, few can compete in the marketplace.
Firstly, their excellent canthus design makes the mask feel as though it's resting on your face, rather than pushing tightly into it. The cover is also large and stops even the tiniest threads of light coming in.
Then, there's the silk fabric. It's so smooth on the skin and doesn't push against the bridge of your nose or eyelids.
Combine that with the adjustable headband, which doesn't dig into the back of your head, and you've got an eye mask designed with extreme comfort in mind.
Oh, and their range of designs is also fantastic. The cap nap is my personal favorite, but there's plenty of great colors and fun designs to pick from.
4 – Noise Canceling Earbuds
Check Price on Amazon
I'm always envious when I look over to someone, mid-flight, sitting fast asleep with great, burly headphones on over their ears.
As life-changing as noise-canceling headphones are, I just cannot sleep with a large pair of headphones on my head.
Step forward Bose's QuietComfort earbuds. I opted for the wired, but you can also get a wireless Bluetooth set too.
The noise cancelation is electronic and works by sliding a switch on the lightweight base unit.
Once switched, all the surrounding noise is significantly reduced, and sounds as though it's melting away. It's mind-blowing if, like me, you'd never experienced noise cancelation before.
And, because they're earbuds, and comfortable ones at that, you don't have to carry a bulky set of headphones around with you.
They come in a small carry case and weigh only 1lb. The battery is USB charged, so be sure to charge before you fly (around 2 hours). Fully charged, you'll get 16 hours of muted bliss!
Play music, and it's as though you're in a vacuum, with only the music for comfort. Yes, it's a steep price for earbuds but, trust me, the noise cancelation is a game-changer.
Just be very cautious when traveling with them. As we all know, earbuds are far more delicate than headphones.
5 – Airplane Footrest
Check Price on Amazon
Another wonderfully innovative product, the airplane footrest will be particularly relaxing if you're 5"8 and under, and your feet regularly don't reach the floor.
It's a very simple concept. You hang the footrest by the adjustable straps from the tray table in front of you. Once adjusted, you can slip your legs in, and enjoy the range of motion and sway provided by the footrest.
The footrest is made of thick memory foam, so it's incredibly comfortable on your legs.
I can't tell you the number of times my feet have ached from being pushed against the cabin floor, or hard footrest beneath the seat.
Being able to sway and move your legs, particularly in a confined space, is so relieving. And the strain it takes off your back, I can't even describe.
6 – Travel Blanket
Check Price on Amazon
It goes to show how ridiculously cold airplanes can get when a camping blanket is marketed for flying! Over the years, many airlines have cut back on their free items, such as blankets and compression socks.
Trying to sleep when that relentless air conditioning is practically pulling your arm hairs out of their pores is fun for no one.
Rumpl's Original Puffy is well-regarded amongst campers and van-lifers. At a lightweight 3.3lbs, and rollable into a drawstring bag, it's simple to attach to your carry-on before boarding.
Once unwrapped, you have an 88" x 84" synthetic and cozy blanket to snuggle in.
It is made with the same material used in high-end sleeping bags and insulated puffy jackets, so you know it's going to be warm!
Comfortable, large, and easily washed, it blows the standard-issue blankets out of the water.
If you're willing to invest in a product for the long term (pet owners have also commented on how good they are), it's well worth the investment.
7 – Compression Socks
Check Price on Amazon
DVT is a genuine risk on long-haul flights, yet so few of us take it seriously. We've all tried on the standard-issue compression socks handed out by the flight attendants, but naturally, they're not the most comfortable of socks.
Charmking packs plenty of science into their compression socks. The 85% nylon composition allows for a 360-degree stretch.
The socks are very flexible and incredibly durable. Pull them on, and you'll instantly feel the difference. You can feel the blood warm your muscles, without any discomfort from the fabric.
Naturally, however, my choice of Charmking comes down to their designs. They are fantastic and have so many to choose from.
Highly regarded and used by athletes, they more than hold their own when keeping your circulation strong during a long flight.
8 – Travel Shelf
Check Price on Amazon
Another great piece of innovative engineering comes from the spAIRTray (see what they did there!) Travel Shelf.
If like me, you've never been a fan of window seats, all of that could now be set to change. While adding an extra 12 x 4 inches to your tray room, the tray simply slides between the shade track of the window.
From there, you unfold, and you now have your very own second tray for extra storage.
It's great for holding your rubbish while you wait for the attendant or to store additional items.
The tray also comes with its own drawstring bag and fits nicely in your carry-on bag. spAIRTray claims that it can add up to 33% extra storage space on your flight.
One thing to note: it won't work on all airplanes. They're constantly improving the model, but be sure to check with them to see if the model of plane you're flying on is covered in their specs.
9 – Portable Charger
Check Price on Amazon
The fear is real. You're six hours into an eleven-hour flight, and you're burning through playlists and movies like there's no tomorrow. You check your battery, and there's only 4% left.
If like me, you've flown long-haul on an old-model Boeing, with no USB ports, the frustration doesn't subside.
All you can do is constantly check your battery life, and pray it makes it through to the other side.
Having a portable charger in your carry-on is always a life-saver.
Remember to always charge the charger the night before a flight; otherwise, you're going to be devastated when your phone and tablet hit empty!
10 – Packing Cubes
Check Price on Amazon
Keeping your carry-on organized will go a long way to reducing stress and frustration mid-flight.
We've all sat there, hands digging through our bags, desperately trying to find a chord or an item of clothing, with no luck.
Once you start using packing cubes, you'll wonder why on earth you didn't start years ago. My personal pick for your carry-on is the eBags Classic cubes.
With the set, you get one large (17.5" x 12.75" x 3.25"), one medium (13.75″ x 9.75″ x 3″), one small (11″ x 6.75″ x 3″) and three slim (2.8″ x 14″ x 5″) cubes.
This allows you to pick and choose a combination that works in your smaller carry-on.
eBays are known for their durable cubes, and their self-healing zippers are also a welcome touch.
If you split your cubes to organize tech and clothes, you'll never have to worry about fumbling through a bag of all sorts ever again.
Related: 12 Best Packing Cubes for Travel
11 – Collapsible Water Bottle
Check Price on Amazon
As I mentioned at the start of this article, dehydration is such a critical factor in uncomfortable flights, yet is often overlooked.
Most travelers will opt for sugary drinks and snacks when they're tired and irritable, which will only make the problem worse.
Having a water bottle on hand, filled up at one of the water fountains in the airport, is always a life-saver.
I've chosen Annture's Collapsible model because we need products that are light and pack well.
The bottle is expertly designed to collapse to the level of the water inside. Made from BPA-free silicone, the bottle also comes with a clip.
If it doesn't fit inside your carry-on, you could easily attach it to a strap or handle, with no fuss.
The bottle comes highly recommended and is a great, inexpensive way to stay hydrated throughout your flight. After all, none of us are keen to pay several dollars for a small bottle of water, right?
Related: 12 Best Water Filters and Water Purifiers for Travel
12 – Document Organizer
Check Price on Amazon
Being organized can go a long way to reducing stress on a flight. Particularly as in some countries you'll be expected to fill out a declaration form, having everything in one place helps make the process smooth and seamless.
Related: 18 Best Passport Wallets and Holders for Travelers
13 – Slim Sonic Toothbrush
Check Price on Amazon
Flight-induced stress is often exacerbated by uncleanliness. Clammy hands, sweaty brows, and dry mouths can all occur the longer you stay on the plane.
The under 100ml rule for flights means you can still carry a small tube of toothpaste with you. Violife's Slim Sonic has been designed with travelers in mind.
It's a lightweight, slim toothbrush that packs plenty of power. Clocking an impressive 22,000 brushstrokes a minute, you'd be surprised how much better you feel after washing your face and cleaning your teeth.
14 – Facial Spray
Check Price on Amazon
If your skin is feeling dry, or dirty, a good facial spray can go a long way to making you feel fresh and cleansed.
Take a trip to the toilet and spend a little time in there washing your face and hands, then applying your spray.
Mario Badescu facial sprays come in a range of flavors and are a great way to keep your skin hydrated, feeling soft, and smelling clean.
Carry-On Essentials Summary
Flying poses all kinds of challenges for the modern traveler. Thankfully, with plenty of companies pushing the boundaries of innovation, there are so many essential items you can bring on the plane with you.
A little investment can go a long way to helping you have a comfortable, enjoyable flight.
That way, once you arrive at your faraway destination, you'll feel energized and excited to get straight into your itinerary.
Whether you struggle to sleep, sit still, or keep warm on planes, don't suffer in silence by boarding the plane without any gear.
Even just a couple of these essentials could dramatically improve your next, and future, flights. You may even wonder how you possibly managed without them!
You May Also Like to Read
If you're still keen to add to your travel gear, be sure to check out some of our other articles:
Save and Pin for Later
Always struggled with long-haul flights? Keen to get some of these carry-on essentials for a future flight? Keep this article in a place you can remember by pinning it to one of your boards.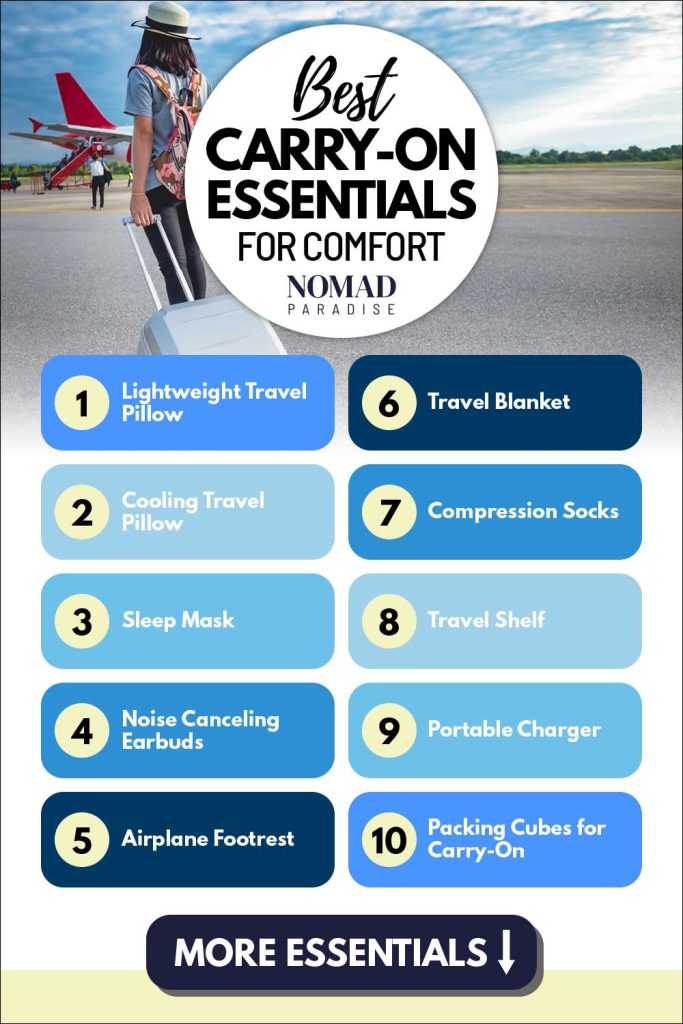 Author: Dale Johnson is a content writer, strategist, and full-time digital nomad as of 2016. To date, he has visited over 30 different countries.
Images licensed via Shutterstock