This post may contain affiliate links, meaning if you book or buy something through one of these links, we may earn an affiliate commission at no additional cost to you. Learn more
Picking the best daypack for your needs is no mean feat. Whether you're an urban explorer or an outdoor enthusiast, you need to find a bag that delicately balances a stylish, compact design, with the core functionality of a backpack.
Our guide to 7 of the best daypacks on the market will help steer you in the right direction. Whether you favor lightweight or waterproof, style or space, we've got you covered.
Best Daypacks for Travel
Top Pick
Check Price on Amazon
An excellent choice for the cross-section of urban explorers and outdoor thrill-seekers, Osprey's compact and functional daypack is a well-designed bag with a range of features. Read about it here.
Quick Picks
Don't have time to read through the article? Then take a look at the quick picks, which will get you to the best daypacks for travel in a flash, depending on your specific needs.
Daypack Considerations
Capacity
Striking that balance between having everything you need with you without carrying too much weight is important for you to utilize your daypack effectively.
As a general rule of thumb, anything in the 20-30L capacity is considered a good amount of space for daylong activities. Hence, for example, Osprey has the 22L daypack range.
If your activities are, say, in a busy city, or you're only planning on hiking for a few hours, you could go lower. Alternatively, if you're planning activities that will last an entire day and even overnight, such as camping, consider a daypack with a higher capacity than 30L.
Shoulder and Back Padding
Consider the activities you plan to be doing and the comfort features included with the daypack. Padded should straps, for example, are going to allow you to carry your daypack for longer when out hiking.
Whereas ventilation on the back panel will stop your back from getting sweaty and uncomfortable when carrying the daypack for long periods of time.
Hipbelt
Particularly for hiking, having a daypack with a versatile hipbelt will massively help distribute the load and keep you comfortable, for longer.
It's easy to think that, because you're carrying a lighter load with a daypack, you won't take on the strains of carrying a larger hiking or camping-style backpack. But carrying any type of weight over a period of time is eventually going to start to take its toll on your shoulders, back, and body.
Water Resistance
Both water-resistant materials and mechanisms are very common in backpacks for work, leisure, and outdoor activities, and hence should be considered for daypacks.
Consider what you are carrying in the daypack. If you're in the city for a day with your laptop and tech, or packing clothes and equipment for a hiking trip, a daypack with water-resistant features will go a long way to protecting you against the elements.
Pockets, Compartments, and Storage
While daypacks may be smaller than hiking or laptop backpacks, that doesn't mean you need to forgo compartmental organization.
Take a closer look at the daypack, and understand what compartments it has and how you could pack your items and accessories.
Daypacks commonly come with a range of features and pockets that conventional backpacks use, including side pockets, mesh pockets, hidden compartments, and sleeves. If you're planning to pack a laptop, look for a laptop sleeve.
Alternatively, if you're using it for hiking, look for side mesh pockets for water bottles, or hidden zippered pockets for valuables, for example.
Best Travel Daypacks Picks
If you're ready to learn more about the specifics of our daypack picks, then let's waste no time in diving right in!
Best Urban Daypack
1 – Osprey Packs Daylite Daypack
Check Price on Amazon
Summary
If you're looking for a great urban daypack that you can take to work but also use for a variety of outdoor activities on evenings and weekends, the Osprey Packs Daylite Daypack is a great choice.
Capacity and Compartments
With product dimensions of 18" x 9" x 9", the Osprey Daylite pack is deceivingly roomy.
Originally designed as an additional pack to be attached to a larger outdoor backpack, the Daylite model quickly became a popular stand-alone daypack, and for good reason.
To accompany the main zippered compartment, there's also a slightly smaller, but still roomy, front compartment. Inside the main compartment, you'll find an interior sleeve.
This sleeve can be used to store a laptop of up to 14", or a variety of other larger items, such as a reservoir for outdoor activities. Altogether, you get around 13L of capacity.
With your larger heavy-duty items stowed away in the main compartment, the front compartment can be used to stash smaller items easily and quickly.
Two stretch-mesh side pockets, one on the left and the other on the right, give you space for water bottles and other objects you don't want to carry.
Lastly, using the straps from the front panel, the Daylite can be attached to a range of Osprey packs.
Check the listing for compatibility. At 1.1lbs, you've got a lightweight daypack that isn't going to bear too much weight on your shoulders.
Materials and Durability
Layering the top and sides is a durable 410D Packcloth, which has also been used to layer the base of the daypack. This gives the daypack a solid level of durability, particularly when the elements get a little testing.
Materials and Comfort of Straps and Back
To keep your back largely free of soreness, Osprey has used a mesh-covered die-cut foam panel across the back. This allows for both a comfortable touch against your back and plenty of ventilation for your skin to breathe.
The underside of the straps is also layered with mesh to help keep your shoulders soft.
Two adjustable front straps, one across the chest and the other from the base across the waist, help align the weight accordingly. The Daylite takes from its Osprey heavy-duty hiking counterparts, just on a smaller scale.
Waterproof Features
There aren't any water-resistant or waterproof features within the mix of the material advertised. The Daylite could hold up a little while against precipitation, but for heavy downpours or rougher weather, you're not going to get high levels of protection.
Hydration Features
As previously mentioned, the interior sleeve can be used to stow and carry an external reservoir pocket. This isn't included with the daypack but can be paired with reservoirs from Osprey and a range of other brands.
Pros
A sleek and stylish design, in a range of colors, means the Osprey Daylite finds that delicate balance between a daypack for work and a daypack for the outdoors exceptionally well.
The upgrade from the previous models to the 410D Packcloth makes this one tough backpack that's very durable.
Its compatibility to attach to other larger Osprey backpacks gives you options if you're planning longer, resource-intensive outdoor activities.
Cons
Its position between urban and outdoors means you should proceed with caution if you need a daypack to withstand the elements when the going gets rough. Great for day hikes, cycling, and other activities, but don't stray too far off the beaten track.
The side pockets are a great addition, but you'll struggle to fit large water bottles and sizeable items in them.
Some buyers of tall stature, often 6" 2+, have mentioned the top of the straps being tight against the neck. Be mindful of this, due to the daypack's very compact size.
Best Packable Daypack
2 – Osprey Ultralight Stuff Pack
Check Price on Amazon
Summary
They say good things come in small packages, and Osprey's dainty and versatile entry to the list very much backs up this theory. Their Ultralight Stuff Pack is a great pick if you need a daypack that packs down compactly at the end of the day.
Capacity and Compartments
At full dimensions, the daypack measures 17" x 9" x 7" and, in all, gives you a capacity of around 18L. For a bag of its size, particularly as it can be packed down, that's mightily impressive.
At just 0.19lbs in weight, it's jaw-droppingly lightweight to carry. Once you've removed all items from the daypack, you simply fold the bag inside out into the stuff sack located in the top zipper area, and presto!
This packed-down version will fit into a larger backpack with plenty of room to spare.
Unlike other daypacks, which come with a separate bag, this is a unique feature that really brings the bag into its own.
You'd be amazed at how small you can pack it down. It's like some sort of Tardis-like illusion. It's around the size of a tennis ball when completely packed down.
On the daypack itself, the 18L capacity is spread across a main zippered compartment and a smaller front compartment. The stretch mesh side pockets also allow you to carry some handheld items, such as water bottles.
Materials and Durability
Ripstop nylon is the order of the day for the pack. This durable nylon should hold up well against your standard wear and tear and rough and tumble situations.
Materials and Comfort of Straps and Back
When it comes to the back panel and straps, the air mesh harness helps keep the daypack comfortable against your skin. The straps themselves, naturally, are adjustable.
But they don't have as much leeway as some other daypacks on the market. There also aren't any sternum or waist straps: just the two adjustable shoulder straps.
Waterproof Features
The ripstop nylon exterior is water-resistant, but definitely not waterproof. Be very mindful of this. A little rain and you'll have no trouble.
But if you plan to take a daypack out into the elements, you may want to look for something with a little more protection.
Hydration Features
Nothing, in particular, to note of. Again, as this daypack isn't necessarily targeted towards the outdoors, more so general day-to-day activities, it's not needed.
Pros
The built-in foldable design is truly magnificent. Giving you a packed-down bag around the size of a tennis ball when not in use means you'll have no trouble packing this for your travels.
18L of space is mightily impressive for a daypack of this size.
The ripstop nylon really does hold its own under pressure. This is a bag you can stuff to the brim, and the material goes above and beyond to hold it tight.
Cons
A lack of length when adjusting the straps, in addition to the absence of front straps, means you shouldn't try to pack this bag with anything too heavy.
Due to the nature of the stretching material and lack of organizational structure within the daypack, it's better served holding items such as clothes and travel items, rather than expensive tech, such as laptops.
Serves better as a travel or overnight pack, rather than an outdoor or hiking daypack. For outdoor activities, you'll want something with more structure that holds up better against the elements.
Best Lightweight Daypack
3 – Outlander Ultra Lightweight Hiking Daypack
Check Price on Amazon
Summary
While this daypack may not physically be the lightest on the list, when it comes to the volume of capacity you get against the weight, the Outlander Ultra Lightweight Daypack really does come into its own. Hikers, in particular, should take a closer look at this daypack.
Capacity and Compartments
Outlander gives you a range of options when it comes to their hiking daypack. With a wealth of colors to choose from, size-wise you can select either a 20L capacity daypack or a 33L capacity.
At 0.46lbs and 0.5lbs, respectively, both are incredibly lightweight for bags of that capacity.
Inside the spacious main compartment, there's also an internal zippered security pocket to store your valuables. At the front, you have a zippered main pocket, as well as a smaller zippered pocket atop it.
Finally, on both sides, you have two mesh pockets to hold items such as water bottles.
As with the Osprey stuff pack, the Outlander daypack has the ability to be folded into itself. That folded-down pocket is eye-openingly compact and can be zippered shut once assembled.
The daypack also comes with a metal carabiner, so that you can attach the folded-down pack to your larger bags with a simple clip.
Materials and Durability
Made from rip-resistant and water-resistant nylon, Outlander's daypack has been designed with hiking in mind.
The bag is reinforced at the seams and other stress points for a little extra give, and the 2-way abrasion-resistant metal zippers, fastened on both the main and front compartments, come with an extra injection of durability. Both the handle and bar tracks have also been reinforced.
Materials and Comfort of Straps and Back
The shoulder straps have been lined with breathable mesh sponge padding, which feels smooth and comfortable against your shoulder. The adjustable shoulder straps also give you plenty of length to work with.
Waterproof Features
The nylon structure is water-resistant. Out hiking, under heavy precipitation, you'll have a decent amount of cover.
However, the bag is not waterproof, so do not expect the nylon to keep the floodgates closed under prolonged heavy precipitation or submerged under water.
Hydration Features
There is nothing to note in the design, but a reservoir could fit in the main compartment. With capacities of 20L or 33L, you would have room for both a reservoir and your gear.
Pros
The amount of capacity against the weight of the bag, for both the 20L and 33L versions, is truly remarkable.
Its ability to be rolled up into its own zippered pocket and clipped to a larger bag makes it perfect for traveling with.
With hiking in mind, the lengths gone to make the bag durable are mightily impressive. Reinforced handles, top bars, durable nylon, and zippers all play their part in a daypack that's been designed to last.
Cons
No compartment sections inside the main compartment, so unless you're going to stuff the bag full, items will not be organized.
Breathable mesh has been lined on the straps. While the nylon on the back is still comfortable, there are other daypacks on the list with extra comfort features in this area.
Water-resistant, but not waterproof, so be mindful of this if out in the elements and rainfall is heavy.
Best Waterproof Daypack
4 – The Friendly Swede Waterproof Dry Bag Backpack
Check Price on Amazon
Summary
You'll have noticed many backpacks will be listed as water-resistant, but not waterproof. For waterproofing, you largely need to venture into the 'dry bag' categories.
Finding a crossbreed between the waterproof capabilities of a dry bag, with the functionality of an everyday daypack, is not common. Hence, step forward The Friendly Swede, and their waterproof dry bag backpack.
Capacity and Compartments
At 11.4" x 5.1" x 19", you get a functionally roomy daypack with 15L of capacity and around 1.5lbs extra weight. Designed for urban use, the daypack is equipped with an organizational design on par with a backpack.
The internal laptop pocket allows you to stow a 13" laptop snuggly and tightly. In addition to the main compartment, with its 15L volume, the outer shell of the daypack has a few tricks up its sleeve.
Two zippered side pockets, and one front zippered pocket, give you room to slide in some small tech and valuables.
Materials and Durability
Naturally, where this daypack comes into its own is in its waterproof ability.
Assembled with a waterproof, eco-friendly 500D PVC tarpaulin, you're getting waterproof protection akin to some of the dry bags on the market. The roll-top and welded seams, as with dry bags, stop water leakage.
The design cleverly brings all the tricks of a dry bag to the backpack market, to create a daypack that will protect your tech and valuables far better than any water-resistant daypack could. We've all been caught in the rain!
And, even though it's been designed for urban use, there's no reason why you could not take this daypack hiking or outdoors, as you would a standard dry bag.
Materials and Comfort of Straps and Back
Breathtakingly sleek, the daypack's minimalist design and adjustable shoulder straps give you the functions of a regular backpack or daypack.
It's lightweight at 1.5lbs and compact at 15L, so it won't be overbearing on your back and shoulders.
Waterproof Features
As we've just discussed in the materials section, you are getting waterproof levels of protection. Heavy precipitation need not be a fear any longer.
Hydration Features
The laptop sleeve can very much double up as a reservoir pocket, should you choose to take this daypack hiking.
Pros
Whereas many daypacks claim to be waterproof but are actually only water-resistant, with this daypack, you are actually getting a waterproof design with the basic layout of a daypack.
The built-in laptop sleeve is a welcome addition many urban daypacks overlook and reinforce this pack as suitable for both work and outdoor usage.
The sleek and minimalist design makes it simple, compact, and very easy to use.
Cons
Its PVC tarpaulin exterior and dry bag design mean, naturally, it does look like a dry bag. While still sleek to behold, this is definitely a daypack that places waterproof functionality over style.
It is not equipped with many of the comfort features of other daypacks, such as breathable mesh padding on the back panel, or sternum and waist belts.
If you like your daypacks to be multi-functional and full of secret pockets and compartments, the basic design of the daypack may not have enough storage options for you, despite the laptop pocket.
Best Hiking Daypack
5 – Venture Pal 40L Lightweight Packable Hiking Daypack
Check Price on Amazon
Summary
Finding a bag with the functionality of a hiking backpack without the considerable bulk and size is no mean feat.
Fortunately, Venture Pal's impressive 40L packable travel hiking daypack hits plenty of the notes hikers are looking for, and then some.
Capacity and Compartments
Just the simple fact a 0.7lbs packable daypack can offer up to 40L of capacity makes it worthy of our hiking pick. But it's not just its impressive capacity that makes it such a great daypack for hiking enthusiasts.
The daypack has been constructed with the equipment-plentiful hiker in mind. Inside the main compartment, you'll find one separator and one small zippered pocket to organize your items.
On the other side, there's a wet pocket to separate a small number of wet items from your dry ones.
The double-side ninety-degree panel fold, as with hiking backpacks of this nature, gives you a great canvas on which to organize your equipment.
Two mesh side pockets also give you a place to store water bottles and other items. And, as mentioned, 40L is a mighty amount of space for a bag of unfolded 12.5" x 6.3" x 19.3" dimensions.
Finally, when the bag is not in use, it can be folded up into a zippered pouch to a much more compact size of 6.6" x 1.9" x 8.2". This makes it perfect for stowing away in your luggage when traveling.
Materials and Durability
The daypack is made from high-quality nylon, that is both tear and water-resistant. This gives you plenty of protection in rugged, demanding terrain.
To go that extra mile, both bar-tacks and various stress points on the bag have been reinforced, giving you a little more peace of mind when the elements or the terrain are particularly challenging.
Heavy-duty zippers and a double-layered base complete the reinforcements of the bag.
Materials and Comfort of Straps and Back
It's not just durability that Venture Pal has pulled out plenty of stops for. A chest clip, complete with whistle buckle, connects the two straps, allowing you to distribute the weight and take the strain off your back and shoulders.
The straps themselves come complete with breathable mesh and sponge padding, allowing your shoulders to breathe easily when the weight of the bag or sudden movements can be painful. Plus, the nylon is soft against your skin.
Waterproof Features
The water-resistant nylon gives you protection against wet conditions and downpours while you're outdoors. As noted with other daypacks, however, water-resistant does not mean waterproof.
This is a great daypack for hiking in wet conditions, but do not expect water to stay at bay under prolonged heavy rainfall, or when submerged beneath the water's surface.
As mentioned earlier, the wet pocket is also a neat little feature. Keeping wet or sweaty items separate from your dry items is a great option to have, even if the pocket only allows for a handful of items to be stowed.
Hydration Features
While there are no hydration-specific features on this daypack, you will be able to hold a reservoir inside the main compartment.
Pros
40L capacity for a packable daypack is an immense achievement and will give you plenty of space to carry all the equipment needed for longer hikes and outdoor activities.
Its range of durability features, from the tear-resistant nylon to the reinforced stress points, mean this is a daypack well-equipped to deal with the challenging conditions of outdoor hiking.
The wet pocket is a great little future. None of us want wet or sweat-drenched clothes and items packed in with dry items.
Cons
While the compartments are a great feature, as the back is packable, you're not going to have the rigid structure of a backpack when it comes to packing sturdier items.
It can definitely be used for everyday or urban use but is very much geared toward hiking and outdoor activities. If you want to find something that strikes a balance between outdoors and everyday use, there are more balanced options on the market.
The back panel is not padded, only the straps.
Best Stylish Daypack for Women
6 – Osprey Packs Tempest 20 Women's Hiking Backpack
Check Price on Amazon
Summary
If you're a woman looking to expertly fuse the functions of a hiking backpack with style that wouldn't look out of place on the high street, look no further than Osprey. Their Tempest 20 Women's Hiking Backpack finds that balance so well.
Capacity and Compartments
At 20" x 14" x 4" and a lightweight 1.63lbs, the Tempest 20 gives you a spacious 20L of capacity to work with.
A 15" laptop should fit comfortably inside the main compartment if you're keen to use the daypack for everyday and urban use.
In addition to the main compartment, top lid storage and two side pouches give you some extra options for carrying smaller items.
Materials and Durability
The Tempest is a highly versatile daypack, that's for sure. Compression straps allow you to tighten and loosen loads, depending on your preference.
Included with the bag, you also get a trekking pole attachment and helmet attachments, for gear-heavy outdoor activities.
Materials and Comfort of Straps and Back
Comfort is where this daypack truly excels. It boasts an impressive airspace back panel, lined with foam ridges that are both super soft against your back, and helps keep you cool when you're out of breath, or the heat is rising.
In addition, mesh-laden, foam-covered straps, and hip-belt give you plenty of extra support when it comes to distributing weight.
The thick foam layer keeps your shoulders and waist comfortable against the straps.
Waterproof Features
The daypack is water-resistant, but not waterproof. It will hold up well against the elements but shouldn't be exposed to excessive rainfall or submerged in water.
Hydration Features
An external hydration sleeve can be found in the back panel. Here, you can load in your own reservoir, that's fully protected, whilst being straightforward to refill. For heavy-distance hiking, it's a fantastic feature.
Pros
A beautiful bag to behold, the Tempest range expertly combines striking colors, stylish design, and a seamless exterior.
The comfort features of this daypack are mightily impressive. The airspace back panel, mesh and foam padded straps, and hip and chest belts, all make this a very comfortable daypack for both everyday and outdoor use.
The impressive list of features, including the hydration sleeve, helmet attachment, and pole attachment, make it an excellent choice for outdoor activities where essential gear is needed.
Cons
While more than suitable for everyday use, the lack of organizational slots inside means your items may end up bouncing around.
If you're not planning to use this daypack for outdoor activities, many of the features will end up being unnecessary.
Be mindful of the 20L capacity. With all the outdoor features, this is still a compact daypack that isn't going to hold large amounts of clothing and equipment.
Best Stylish Daypack for Men
7 – Osprey Packs Talon 22 Men's Hiking Backpack
Check Price on Amazon
Summary
For active men looking to fuse urban use with outdoor durability, look no further than the Osprey Talon 22.
Similar in look and design to the Tempest Women's range, Osprey once again brings a quality daypack to the market with plenty of tricks up its sleeve.
No doubt, this is a unisex daypack, despite the Talon being designed more so for a male-shaped body.
Capacity and Compartments
Versatile, the Talon 22 gives you 22L of capacity within 21" x 15" x 4" and 1.34lbs of a premium daypack. The main compartment is protected with a dual-zippered panel, that itself has storage within it.
In addition to the main compartment and top pocket, you also get two side pockets to stow away water bottles and other standalone items.
At the front, you also have a larger mesh pocket to hold more items. The Talon set offers a range of larger backpacks, but the Talon 22 achieves that delicate balance between rucksack and daypack expertly well.
Materials and Durability
Set with that famous Osprey seal of quality, this daypack has been made for hiking. It's durable against the elements, and you should be able to get plenty of use from it.
Attachments for trekking poles and helmets also come in very handy when you're hiking with a lot of gear.
Materials and Comfort of Straps and Back
As with the Tempest range, the Talon brings a whole host of cutting-edge daypack features to the fray.
The precision-cut, mesh-covered, foam-ridged airspace back panel (whew, trying to say all that in one go!) goes above and beyond to keep your back comfortable.
The heavily padded straps, equipped with biostretch harness, also extend across the chest and hip belts. You'll be able to wrap this daypack around you snugly and distribute the weight with ease.
Osprey has designed this daypack to be used for long days of hiking, so the comfort features really do bring this bag into its own.
Waterproof Features
The daypack is water-resistant, but not waterproof. As with other daypacks on this list, don't over-expose them to the elements, or submerge them beneath the surface of a body of water.
Hydration Features
As with the Tempest, an external hydration sleeve can be found in the back panel. Slot in your own reservoir, and away you go.
Pros
A mightily impressive array of mesh, padded, and precision-cut comfort layers make this one of the most comfortable daypacks you'll ever place over your back and shoulders.
It is stylishly designed for a daypack that's geared more toward hiking and comes in a range of colors to accompany the sleek design.
As with the Tempest, the impressive list of features for outdoor activities, including a hydration sleeve and helmet attachment, make it an essential choice for hikers.
Cons
It will stow a laptop, but the main compartment has a lack of sleeves and an organized structure.
If you're not planning to hike, all the additional features may be more of a hindrance than a help.
The side and front pockets are not the most spacious, and are more for holding items, than stowing multiple items within a compartment.
Best Daypacks Summary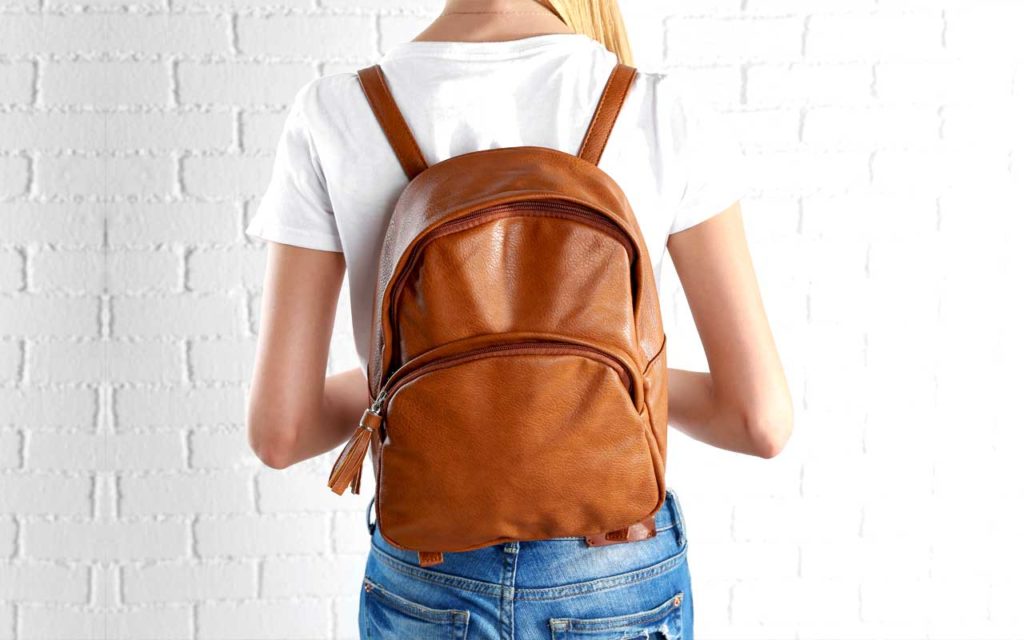 Daypacks are an essential investment for travelers. From a day of hiking through to having a bag to just take your laptop to the coffee shop and back, it's worth having a smaller bag to accompany your larger ones.
Hopefully, with our guide, you'll be able to select one of the best daypacks money can buy, that works for what you need.
One final time, let's take another look at the seven best daypack picks on the market.
You Might Also Like to Read
Save and Pin for Later
Keen on one of the daypacks in our selection? Save this article to one of your Pinterest boards. That way, you'll always have a quick way to get back to this article.
---
---
Non-product images licensed via Shutterstock