This post may contain affiliate links, meaning if you book or buy something through one of these links, we may earn an affiliate commission at no additional cost to you. Learn more
Packing for a solo road trip can be overwhelming, particularly if this is your first rodeo. However, for your own enjoyment, and more importantly, safety, it is something that should not be overlooked. If you feel like you don't know where to start, then thankfully, you've come to the right place.
Below, I've compiled a comprehensive list of solo road trip essentials, covering everything from the essential to the camping specific.
Depending on the type of trip you're undertaking, not everything here will be required. The great thing about a solo road trip is the space you have to bring items with you. With a front seat, two or three back seats, and a trunk, you have plenty of space to work with.
Unlike a group road trip, where you have to be more selective, I'd suggest utilizing the space and, if you're not sure if you'll need a particular item, bring it anyway. That way, you'll always have peace of mind, even if you don't end up using it.
I've placed all items into one of six categories:
Essential – Items, for your own health and safety, you simply must travel with
Practical – Highly recommended to travel with, as they address a number of issues/problems that commonly arise
Comfort – Items that will go a long way to keeping you warm, comfortable, and stress-free
Overnight – If you've booked overnight stays, be sure to pack these extra items
Camping – If your overnight stay is at a campsite, pack these in addition with the above
Entertainment – Lastly, items you should bring to make sure you have fun, stay entertained, and don't get bored
Solo Road Trip Essential Items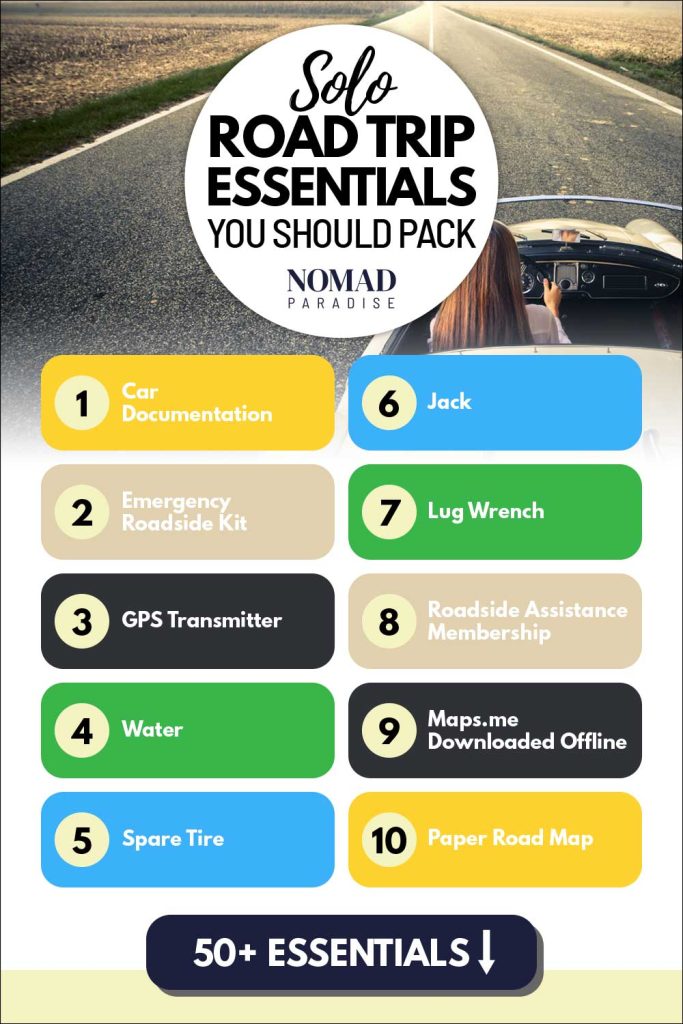 1 – Documentation
Check Price on Amazon
You'll want to have three pieces of documentation with you in the car at all times. First, is your license and registration. The second is proof of your insurance policy. The third and final is the car's manual, which will allow you to look up and understand how to fix any issues or problems with the car.
A document holder, to store these documents, is a good investment. You can keep it in your glove compartment, and take it with you when you leave the car.
2 – Emergency Roadside Kit
Check Price on Amazon
A roadside assistance emergency kit covers you for a wide range of scenarios.
Essential items include jumper cables to help you start a flat battery, a tire repair tool to temporarily fix a flat tire if you can't change on a spare tire, and a tow rope if you're able to get someone passing by to help.
These are just some of the many items that come with the kit. It all comes in one neatly assembled pack that you can keep in your trunk.
3 – GPS Transmitter
Check Price on Amazon
If you're planning to go off the beaten track for long periods, this is an essential piece of gear.
A GPS transmitter will allow a significant other, a friend, or a family member to log on and see exactly where you are.
The GPS transmitter also allows you to send pre-scripted messages and send out an SOS call if needed. Note that a service subscription agreement is needed.
4 – Water
Check Price on Amazon
It's essential to have plenty of water stored in your car. My advice is to get yourself a large 5-gallon container and fill it up before you leave.
Throughout your trip, you'll be able to stop at gas stations to fill it back up. Never travel long distances without water.
5 – Spare Tire
Getting a flat can happen anywhere, at any time. If you don't have one, note down the name and model of your tires, then go to your local garage.
They'll be able to order in one at a much lower rate than the manufacturers sell online.
6 – Jack
Check Price on Amazon
While we can't all be mechanics when things go wrong with car engines, knowing how to change a tire is something you can learn quickly how to do.
A jack allows you to raise the car from the ground so that you can unscrew the lug nuts and remove the tire.
7 – Lug Wrench
Check Price on Amazon
Once you've removed the lug nuts (you may need a special key to remove them, which would have come with your car, check your manual), taken off the flat tire and replaced it with the new tire, you'll need to screw the lug nuts back on.
A lug wrench will allow you to screw them back on and tighten them accordingly.
8 – Roadside Assistance Membership
Plenty of things could go wrong with your car, without you being able to do anything about it.
A roadside assistance membership will give you peace of mind, knowing that you can call someone out to come and get you and fix the car.
Just be careful if you're going off the beaten track for long periods. Without reception or data, you may not be able to contact them.
Practical Solo Road Trip Items
1 – Maps.me
Download maps.me to your phone, and you'll have detailed road maps to follow, via GPS, that work offline.
2 – Paper Road Map
Check Price on Amazon
It's always good to have a road map handy, in case your phone dies or cuts out. The Adventure Edition of the National Geographic Road Atlas is a sound investment for your trip.
3 – Notebook and Pen or Pencil
Check Price on Amazon
You'll want to have a way of jotting down notes, ideas, and key information, other than your phone.
4 – Flashlight
Check Price on Amazon
A flashlight is an essential solo road trip item, in case you need to go out at night or get stranded after dark. The GearLight S2000 comes highly recommended.
5 – Toilet Roll
We're all aware you never know when nature could call. If you haven't been caught in a stall with no toilet paper before, don't make your solo road trip the first time it happens!
Have some toilet roll in the car, just in case. It's a solo road trip essential you should never travel without.
6 – Snacks
Check Price on Amazon
Sometimes, hours may pass before you run into a diner, gas station, or civilized area.
Having pre-packed food on hand will help stave off any hunger. There are plenty of products on the market, such as protein and energy bars.
Clif bars are one of the leaders in the market. Never take risks with essentials such as food and water. Always have a stash handy, just in case.
Read more: Road Trip Snacks You Should Pack to Keep Hunger Away
7 – Towel
Check Price on Amazon
Douglas Adams (Hitchhiker's Guide to the Galaxy) says 'a towel is about the most massively useful thing an interstellar hitchhiker can have.' That definitely rings true for a road trip, too!
Read more: Best Travel Towels
8 – USB Charger Cable
Check Price on Amazon
If you're relying heavily on your phone for navigation, you'll need to keep it alive for the duration of the trip.
New cars have USB ports built-in, but if not, you'll need the next item on your list.
Your phone is an essential piece of road trip gear. It's reassuring to know you can recharge it with ease.
9 – Phone and Portable Device Charger
Check Price on Amazon
Portable phone chargers and device chargers can be true lifesavers. Just remember to fully charge the portable charger up before you hit the road.
You always want to have your devices ready to go, in case of emergencies. So being able to charge them is very important.
10 – Painkillers or Ibuprofen
Driving long distances in a confined space can sometimes bring about headaches and upset stomachs. It's always good to have painkillers on hand, just in case.
11 – Multi-tool
Check Price on Amazon
You never know when you might need to cut open a can, dislodge a nail, or remove a splinter.
Multitools are small, lightweight, and a great tool to have on hand. They come in all shapes and sizes and have a wide range of functions.
They are an essential road trip item that, once you have, you'll never travel without again.
12 – Tire Sealant
Check Price on Amazon
It's important to note that the car tire sealant is only a temporary fix for a flat tire. Once sealed, it's best to locate the nearest garage and get the tire changed accordingly.
But it's good to have some in your car, in case of a tire emergency. As solo road trip essentials go, any essentials for your tires are so important.
13 – Local Guidebooks
Check Price on Amazon
Wherever you are heading, someone (or several people), somewhere, will have written an in-depth guide on the place.
From local experiences to great eateries, be sure to search online to see what you can find. Lonely Planet and National Geographic are a good start.
14 – Motor Oil
Check Price on Amazon
It's always good to have a spare can of oil in your car, in case your engine needs topping up.
If you're low on oil and you continue to drive, you'll do serious damage to the engine over time.
Don't overlook your car's vital fluids and mechanisms. Safeguard against any damage, and make sure you have spare fluids in your trunk.
Solo Road Trip Items for Comfort
1 – Sunglasses
Check Price on Amazon
If you're driving through a hot state or stretch of road, the sun against the windscreen can be strong, even blinding.
Hence, sunglasses can be an essential piece of road trip gear. Driving blind or with the sun in your eyes is dangerous, so don't take the risk.
2 – Coat
Check Price on Amazon
Layers, particularly if you're heading somewhere cold, are always good to have stashed. Cars at night can also get very cold.
Keeping warm when it's cold outside is important, so be sure to have a thick, comfortable coat packed in your car.
3 – Blanket
Check Price on Amazon
Again, a blanket will help keep you warm if you're traveling through cold stretches, whether at the wheel or pulled over to sleep.
Read more: Best Travel Blankets
4 – Travel Mug
Check Price on Amazon
A travel mug is a great way to travel with hot, or cold, liquids, as you can keep their core temperature constant.
Plus, mugs are very personal items. So you can decorate your travel mug with fun quotes or cool designs.
5 – Water Bottle and Filter
Check Price on Amazon
A water bottle is great to have with you in the front of the car, so you can stay hydrated as you drive.
Staying hydrated is important for driving long distances, so be sure to pack this essential road trip item before leaving.
Read more: Best Travel Water Filters
6 – Hand Sanitizer
Check Price on Amazon
Driving for hours can make you clammy and sweaty. Plus, you may come across very unhygienic toilets that you have no choice but to stop at.
A small bottle of hand sanitizer will go a long way to keeping germs and bacteria at bay.
7 – Portable Wifi
Check Price on Amazon
If you want to stay connected for long periods, but don't want to burn through your data, pre-packaged portable wifi could be worth bringing along.
As long as your path doesn't take you off the beaten track too much, you'll be able to connect your devices to your very own hotspot.
8 – UV Window Shade
Check Price on Amazon
A UV window shade will help keep your face and arms cool against the strength of the sun through your windows.
As with sunglasses, it's really important to stay focused when driving for long distances. The cooler you can keep yourself, the better.
9 – Sunscreen
Check Price on Amazon
Sunscreen is always important to pack, particularly if you're heading out into arid, desert territory.
With road trips, you'll often take detours and make unscheduled stops. Sunscreen will help keep your skin protected if you decide to venture out into the heat.
10 – Body Wipes
Check Price on Amazon
It's difficult to know when, or if you'll be able to shower if you haven't pre-booked your accommodation.
Body wipes are a great way to keep you feeling cleansed and hygienic, particularly if you're sleeping in your car, or on a campsite.
11 – Cooler
Check Price on Amazon
A cooler is an essential car item if you're packing food and drink. It will keep your drinks cold and your snacks chilled, particularly if you're traveling through hot places.
12 – Daypack
Check Price on Amazon
It's always good to pack a smaller, lighter bag amid your larger storage items.
You may want to hike or leave the car for a little while, but only want to take a few essentials with you.
Best: Best Daypacks for Travel
Solo Road Trip Items for Overnight Stays
1 – Toiletries Kit
Check Price on Amazon
If you want to bring your own toiletries, invest in a sturdy toiletries bag. If, however, you don't want to ruin some of your more expensive items, you can buy pre-assembled toiletries packs online.
Toiletries are an essential part of everyday life, so it's good to have your own with you at all times.
2 – Pillow
Check Price on Amazon
It's always good to have a spare pillow, in case the hotel bed pillows don't support your neck or if you intend to sleep in the car or at a campsite.
Read more: Best Travel Pillows
3 – Anti-Theft Backpack
Check Price on Amazon
Few of us would hit the road without a trusted backpack, so investing in an anti-theft backpack is an excellent item.
You'll want to be able to unload essentials to and from the car to your accommodation and keep everything else in your trunk.
Read more: Best Anti-Theft Backpacks
4 – Spare Clothes
Make sure you pack and organize clothes beforehand, and don't try to bring too many.
Due to the space in your car, you can be a little less strict with your choices. You can use your trunk as storage.
Solo Road Trip Items for Camping (in addition to overnight)
1 – Sleeping Bag
Check Price on Amazon
Make sure you invest in a good, warm sleeping bag, as conditions at night can be very cold, no matter where you are.
Staying warm at night is essential, so don't think a few blankets will do the trick. Find a sleeping bag that goes the extra distance to keep you warm and healthy.
2 – Canister Stove and Extra Fuel
Check Price on Amazon
If you're planning to do your own cooking, your first purchase should be a canister stove.
Canister stoves are a lightweight and inexpensive way to cook food once you're parked up for the night.
Models vary, but most will last roughly two hours on high heat, and four on low. Therefore, you should also bring some spare fuel canisters with you too.
3 – Cooking Pot
Check Price on Amazon
Once you have your stove, you'll need a pot that can fit on top of your stove.
Many canister stoves can be bought as a combination with a recommended cooking pot. If you're solo road tripping, you won't need something too big.
4 – Plates, Bowls, and Cutlery
You're going to need to eat your food off a plate or from a bowl, so be sure to pack some at least one inexpensive set you have at home.
Also, pack a sponge and washing liquid, so that you can clean your bowls, plates, and cutlery after use.
5 – Tinned Food
Living off snacks is not going to be healthy for you in the long run, so make sure you buy some hearty tinned food you can cook on your stove.
If you're road-tripping for a day or weekend, snacks should be fine. But anything longer, be sure to cook yourself proper meals to keep your energy up and mood stable.
6 – Tent
Check Price on Amazon
Lastly, and most importantly, be sure to bring a trusted, sturdy tent if you plan on sleeping on the campsite, and not in your car.
Naturally, tents are an essential road trip item for those overnight stays. Be sure to find a balance between space, but also the quality of the tent.
Combined with your pillow, sleeping bag, and blankets, you should have little trouble creating a warm, cozy environment to lay you head in every night.
Solo Road Trip Items for Entertainment
1 – Journal
Check Price on Amazon
A journal is a great way to document your thoughts, feelings, and write about everything you did each day.
Because you're road tripping solo, you'll want to keep your mind active and engaged. Plus, writing down your thoughts and feelings helps clear your mind.
2 – Coloring Book and Pens
Check Price on Amazon
Coloring books are an excellent way to unwind after a long day of driving, and keep you from feeling bored while you rest up in your room or car.
3 – Music Playlist and Speaker
Check Price on Amazon
Get yourself a Spotify premium account, or upload your playlists or choice to your phone.
You're going to be on the road for a long time, so make sure you have much more than a few hours of music available. Newer cars will allow your phone to connect via Bluetooth.
If you're traveling in an older car, think about investing in a small Bluetooth speaker, or a Bluetooth FM transmitter, that allows you to play music through the device via a free radiofrequency.
4 – Camera
Check Price on Amazon
Camera phones have come a long way, but with all that spare time on your hands, you can really get creative with photography.
Investing in a professional camera will help take your photography to another level. You can have much more fun with it, and take excellent photos.
Whenever you pull over, take plenty of photographs. Check if the device is compatible with your phone so that you can download your favorite photos to your phone and post them online as you go.
5 – Books
Check Price on Amazon
Nothing beats losing yourself in a good book when you have some downtime.
If you're looking to travel lighter, a Kindle is a good investment. You'll have access to thousands of books, all in one device.
Start with a Free Kindle Unlimited trial.
6 – Audiobooks
If you're not too keen on reading, why not try audiobooks? You can download them to your phone or tablet.
An Audible subscription gives you an unlimited number of downloads on certain audiobooks.
Start with Audible here.
Whew! There we have it. That was quite the list, but now, if you comb through everything on our checklist, you should have all your bases covered.
---
Solo Road Trip Checklist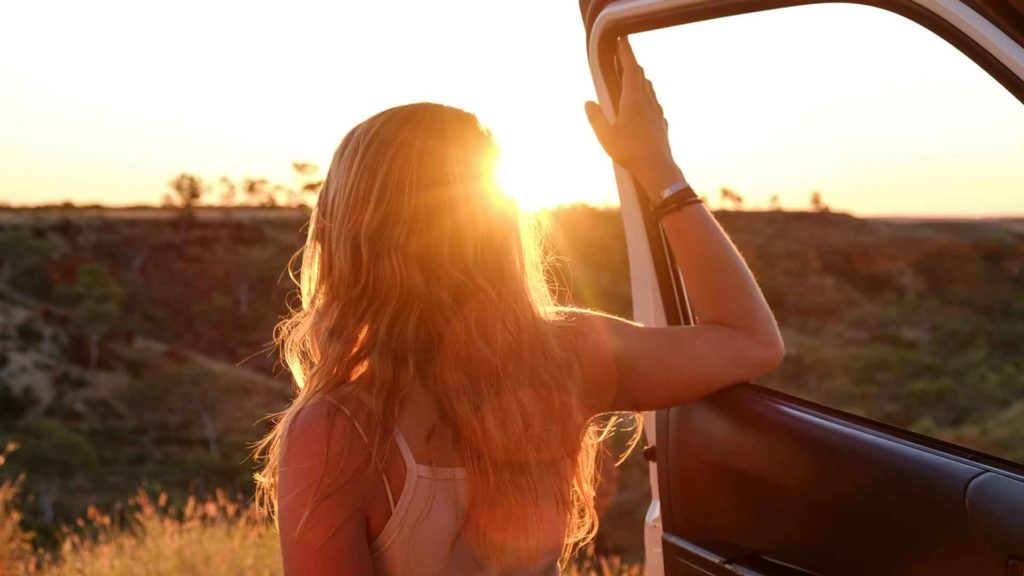 Want this comprehensive list on a single sheet you can print and tick off, one by one? You can get our free downloadable solo road trip items checklist by clicking the button below!
Download Checklist
---
Whether you're exploring national parks, seeing where a long road trip takes you, or taking a solo trip for the first time, these essentials will go a long way to helping you journey be a safe, smooth, and comfortable one.
Pack the essentials, see what else on this list would make your trip more enjoyable and comfortanle, and be sure to download our road trip packing list to help you keep everything accounted for. And wherever your road trip takes you, we hope you have a truly memorable time!
You Might Also Like to Read
Save and Pin for Later
Are you planning a solo road trip soon? Pin this article to save it for later! That way, you can instantly find our list of solo road trip essentials, and cross them off your checklist when doing your itinerary.